Top 3 Methods to Copy A DVD in Windows 7

As a computer illiterate, you might not know how to make full use of computer to copy a DVD in Windows 7. What should be the most efficient method to copy a DVD in Windows 7? How to find some methods to copy DVD for free? The article provides some frequently used methods to get a DVD. Just check out more detail about the solutions from the article now.
Part 1: How to Copy a DVD on Windows 7 with the easiest way
If you are new to Windows 7, you should need some professional and easy-to-use program to copy a DVD disc. Tipard DVD Cloner is specially designed to meet users' particular demand of making up-to-date DVD backups. It is an outstanding solution to copy a DVD in Windows 7/8/10, which is qualified to copy DVD swiftly and simply. The program provides multiple DVD copy modes enable you to restore DVD according to what you need. After just few clicks, you can copy favorite DVD discs in Windows 7 with ease.
Step 1
Download and install the program
Download and install Tipard DVD Cloner on your computer. After few seconds, the main screen will appear at your Windows 7 as follows. Amazingly, there is some quick useful guidance for you to operate with this software.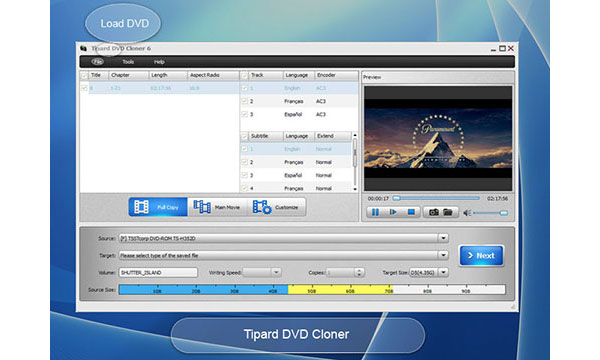 Step 2
Select the source DVD
Select the source of your DVD as you like. You can do it by click the little upside-down triangle at the bottom of the source column. You can choose either "Open DVD Folder" or "Open ISO" as you like.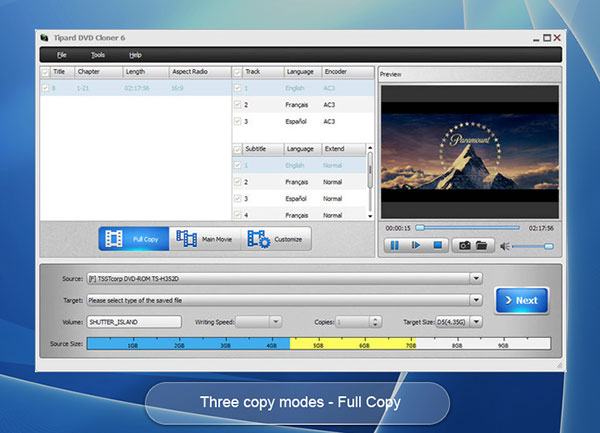 Step 3
Choose output format
After the selection of the DVD source, do not forget to choose the type you want for the saved files. And then click the little upside-down triangle. Then you can choose the target you like. "Save as DVD Folder" or "Save as ISO" both are accessible for you to select.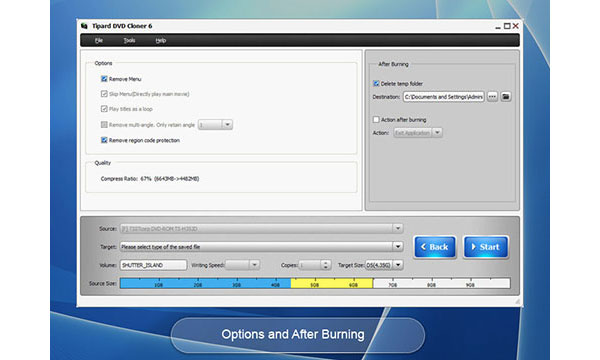 Step 4
Ignore Extra Information
You may see a window pop up as the following picture. Do not be afraid, you can just simply mark the little square which means "Do not show this message again", and then click "Yes", so that this page will not appear again to disturb you.
Step 5
Copy a DVD in Windows 7
After all the steps are done as advised, now you can click "Next" to copy a DVD in Windows 7. It may take a little time. just wait patiently for the whole process. After a few minutes, the DVD copying software on Windows 7 can backup photos, videos on DVD accordingly.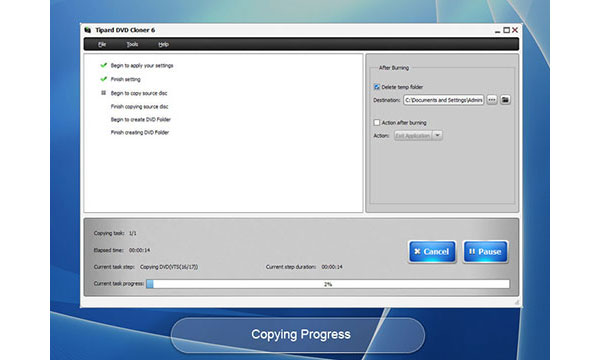 Part 2: Copy DVD in Windows 7 with Windows DVD Maker
Windows DVD Maker, a professional DVD copying app for Windows users, is available and free on Windows Vista and Windows 7 only. It means Windows 7 users can use this software to copy a movie DVD in Windows 7 for free. Let's learn more detail about the process.
Step 1
Run Windows DVD maker
Click the Start Menu and type in "Windows DVD maker" or just change the "Blank DVD options" to using Windows DVD Maker after an "AutoPlay" window pop up when you inserting a blank DVD into your DVD drive.
Tip: if you do not have internet connection, you can use bootable USB drive to update to the latest software.
Step 2
Add photos and videos
When the main screen shows, click "Choose Photos and Videos" button at the right bottom of the page. Click "Add", select all the you want and then click "Add" to copy a movie DVD in Windows 7.
Step 3
Settings for Output DVD
DVD Video is optional. You can arrange the output DVD by changing the settings of "Choose DVD playback settings", "DVD aspect ratio", "Video format" and other parameters to adjust the output DVD before you click "next" button.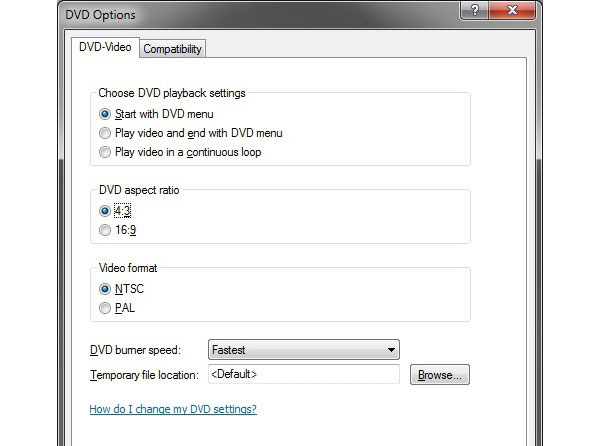 Step 4
Burn a DVD in Windows 7
Choose the one you want to copy and click the button "Burn" to start burning video files to DVD with Windows DVD maker. And then you can copy a DVD in Windows 7 for free with the default Windows DVD Maker.
Part 3: ISO DVD on Windows 7 with Windows Disc Image Burner
What should you do if you just need an ISO DVD instead of a DVD disc? When the DVD drive is not available or DVD disc is not ready, you can copy an ISO DVD on Windows 7 first. Just learn more detail about the process to copy ISO DVD as below.
Step 1
Insert a blank DVD and make sure the computer can recognize the DVD disc. And then you can access to the recognized driver on Windows 7.
Step 2
Right click DVD on an ISO file, and then select "Burn Disc Image", which leads to the "Burn Disc Image" window. Select the drive that contains the blank disc.
Step 3
After that you can copy an ISO DVD on Windows 7 by click the "Burn" button. Choose to verify the disc after burning.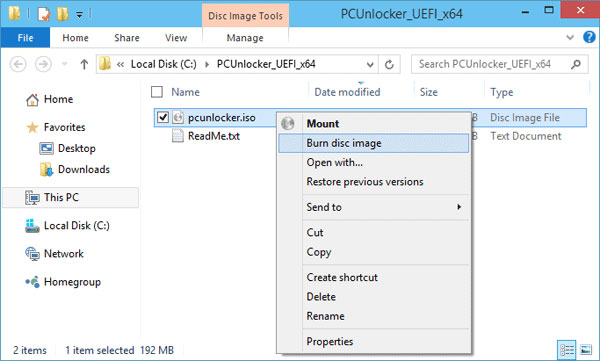 Part 4: FAQ about Copying DVD on Windows 7
How do I copy a DVD to another using Windows Media Player?
Insert a DVD disc which has videos in it first. Open Windows Media Player. In the Player Library, select the Burn tab, and then choose DVD. Insert a blank disc into your DVD burner. Search for the items in your Player Library that you want to burn to the blank disc, and then drag them to the list pane to create a burn list. When you're finished with the list, select Start burn. That's all.
Does Windows 10 have any DVD copy software?
NO. Even Windows 10 does not come with any DVD player software. They removed Windows Media Center software from Windows 10 onwards. So, if you want to copy DVD on Windows 10, you would need a third-party software. We recommended Tipard DVD Cloner to you. It can make up-to-date DVD backups swiftly and simply.
How do I copy DVD to Mac computer?
Here are details about ripping unprotected DVDs. Open Disk Utility. Locate your DVD and click on it. Then choose New Image shown in the center along the top. After this , you need to choose Image Format. Set Encryption to None. Finally, click Save and the DVD will start copying to the destination you selected. If you want to rip copy-protected DVDs on Mac, you would need Tipard DVD Cloner. It can copy DVD for backup and supports a wide variety of video formats.
Conclusion
The article explains the 3 frequently used methods to copy and burn a DVD in Windows 7. When you need to copy a commercial DVD in Windows 7 or need some profession method, Tipard DVD Cloner should always be the first choice. Of course, you can also access to the default solution of Windows 7, such as Windows DVD Maker and the Windows Disc Image Burner. And then you can create the DVD in the desired format accordingly. If you have any other query about how to copy DVD in Windows 7, just share more detail about your comments.

Click here to join the discussion and share your comments