How to Play Your MP4 Videos on DVD Player without Quality Loss
"I copied some MP4 videos into a flash drive and plug it to my DVD player; however, my player cannot find them at all, how to play MP4 on DVD player?" The MP4 is a widely used video format. The high level of compatibility makes it working well on the internet, computer and mobile. However, most DVD players cannot read MP4 videos directly. Does that mean you cannot enjoy your movies on large screen? The answer is no and you can learn multiple ways from the post below.

Part 1: Why You Cannot Play MP4 in DVD Player
The DVD discs use MPEG-2 or DivX, but the MP4 video usually relies on MPEG-4 video codec and AAC audio codec. In another word, DVD and MP4 use totally different codecs. A DVD player is used to decode DVD, but not other codecs. That is why you cannot play MP4 in DVD player directly.
Part 2: Best Way to Play MP4 without DVD Player
Today, you have more ways to play MP4 on large screen without DVD player. For example, you can use a video streaming service to broadcast MP4 videos to HDTV from your computer. Here you will need a good MP4 player, Tipard Blu-ray Player.
Key features of the best alternative of DVD player
1.Play MP4 video files without any DVD player.
2.Support almost all video formats and optical discs.
3.Keep the original video and audio quality including 4K.
Briefly speaking, it is the best option to play MP4 videos without DVD player.
How to Play MP4 and MKV with No DVD Player
Step 1
Import an MP4 video
Download the best video player software and install it to your hard drive. Click the Open File button to trigger the open-file dialog. Find the MP4 video you want to view and click the Open button to import it.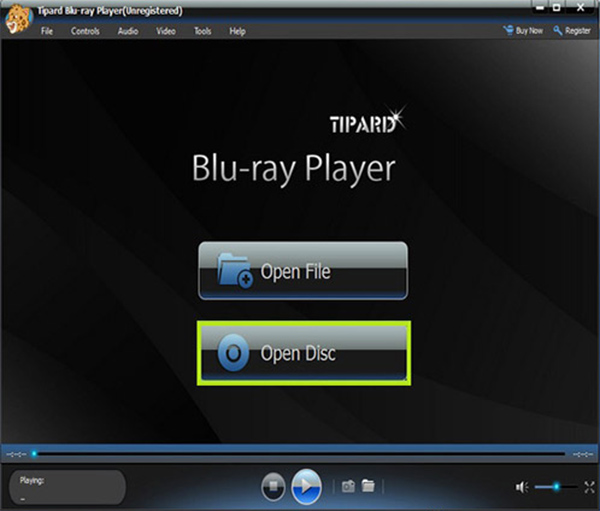 Step 2
Control video playback
When the media player window pops up, press the Play icon to play the MP4 without DVD player. Now, you can enjoy the video on your computer or stream it to HDTV. The quick control buttons allows you to control MP4 playback simply, such as stop, pause, forward, backward, snapshot, and more. Plus, the top menu bar lets you adjust the video based on your wish.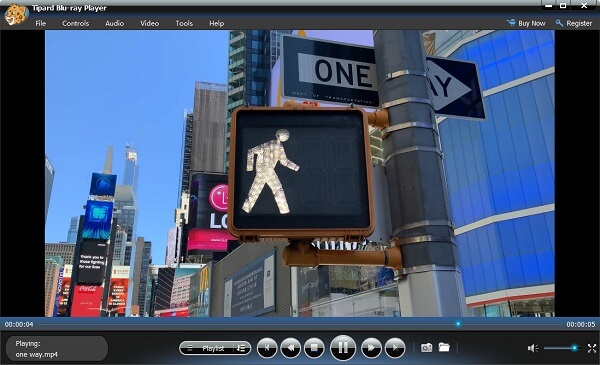 This software can also the universal player to play AVI, MOV, WMV, etc., on your computer.
Part 3: How to Burn MP4 to DVD for Playing in DVD Player
Though there is the built-in DVD burning functionality on both Windows and Mac OS X, it can only make data discs. The problem is that most DVD players does not support data DVDs. Chances are that you cannot play MP4 on DVD player even you burn it to a disc. Therefore, you need a right tool to do it. Tipard DVD Creator can meet your need.
Main features of the best MP4 to DVD creator
1. Make playable DVDs with your MP4 videos quickly.
2. Keep the original video and audio quality while burning.
3. Offer a wide range of bonus functions, like DVD menu.
Needless to say, it is the best way to burn MP4 videos to DVD for playing in your DVD player smoothly.
How to Burn MP4 for Playback in DVD Player
There are two versions of the best MP4 to DVD creator, one for PC and the other for Mac. Download and install the right version based on your system. Then open it and click the Add Media File(s) button to bring up the open-file dialog. Find and select the MP4 files you wish to play on DVD player, and open them.
Now, you can preview the MP4 files and edit them with the built-in video editor. Next, go to the bottom and set the DVD Type, Aspect Ratio, and Video Quality based on your condition. Click Next button to open the menu template window. Apply your favorite menu template and customize it with the options or check No Menu if you do not want to use DVD menu.
Step 3
Burn MP4 for DVD player
Once you are ready, insert a blank DVD into your disc drive and click the Burn button to start burning MP4 to DVD for playing on DVD player. According to our research, it only takes a few minutes to make a playable DVD on desktop.
More details about burning MP4 to DVD on Windows and Mac computer can be found here.
Part 4: FAQs of Playing MP4 with DVD Player
Can Blu-ray player play MP4 files?
Generally, most Blu-ray players support MP4 format, but there are strict limitations on the video codecs, container, resolution, frame rate, bit rate, and audio codec. That may be why many guy are facing issues while playing MP4 on Blu-ray player. The best solution is to burn your MP4 videos to a Blu-ray disc and then play it on Blu-ray player.
Which video format is best for DVD player?
Most standard DVDs are MPEG-2 format discs. So, MP4 is not the best format for DVD player though it is widely used on digital devices and internet. DivX, on the other hand, is a high compression digital video format as well. Most DVD players will decompress the DivX files and play it smoothly.
What is the USB port on my DVD player for?
The USB port on DVD player is for USB flash drive. Depending on the player, you can view picture files and listen to music. If you are lucky, it will allow you to view movie files. Not all players with USB ports can read everything. It may have limits on storage capacity, file codecs and more.
Conclusion
This guide has showed you 100% working methods to play MP4 files on a DVD player. First of all, MP4 is a friendly video format on digital devices, such as computer and mobile device. Tipard Blu-ray Player is the best MP4 player for desktop. If you play it on a DVD player directly, you may get nothing but a message said the MP4 format is not supported. You'd better burn MP4 to DVD with Tipard DVD Creator. More questions? Please write down below.