Ultimate Tool and Guide to Convert GoPro Video to MP4, AVI, ETC.
We cannot deny how advantageous it is to use GoPro nowadays. As a matter of fact, many users of all genres, such as film producers, videographers, photographers, and action-sports enthusiasts, have been fond of using it to take high-quality clips. GoPro can produce HD quality videos along with its biggest features like water and dust proofs. Furthermore, it has a robust function while being easy and convenient to carry. Most of the GoPro cameras record up to 4K videos. They are with MP4 or, most of the time, HEVC as the format. However, as these advantages may look higher at hand, we cannot disregard the drawbacks that will cause you to need the best GoPro video converter, which you might already need when you are here.

Part 1. Why Will You Need to Convert GoPro Video
As mentioned previously, GoPro cameras capture videos in very high definition of up to 1080P or even 4K. That means it leads you to have a very large file size. For that reason, these huge videos are unsuitable for playing, editing, or uploading to online sites. For instance, GoPro videos can't be decoded on some media players, can't be edited in NLE systems like Windows Movie Maker, Adobe Premiere Pro, Final Cut Pro, iMovie, and Sony Vegas Pro, and unfortunately, can't be shared to websites like YouTube and Vimeo due to their file limits.
Also, If you are a GoPro HERO 6 or HERO7 Black user, your output videos are saved and encoded in H.265/HEVC. This type of video is not so widely accepted by video players, mobile devices, desktops, and video editor software as H264. Also, it has an increased computational complexity compared to other video formats. For this reason, the need to convert GoPro video to MP4 is dominant.
Part 2. Recommended Video Format for GoPro
Before you convert your GoPro videos, allow this part to show you the recommended video format for GoPro.
Your GoPro video will always be in an MP4, although it may be in the H.264 or H.265 video codecs, which depends on your camera type and settings. If you are not yet familiar with the H.264 coding format, it is also referred to as AVC or Advanced Video Coding. It is somehow one of the most commonly used formats for video compression, recording, and distribution. Meanwhile, H.265, also known as HEVC or High-Efficiency Video Coding, is the successor to H.264. It offers the same level of video quality but with better data compression. However, H.265 is not as flexible as H.264, so you may find the GoPro video in this format choppy and unsupported by some video editing software.
Since you are about to use a GoPro video converter, here are the recommended formats to still maintain an excellent image display.
• MP4 with H.264 codec.
• MOV with H.264 or H.265 codec.
• AVI with H.264 codec.
• MKV wirth H.264 or H.265 codec.
Part 3. Best Way to Convert GoPro Videos Without Losing Quality
What makes your GoPro video conversion easier yet more powerful is through Tipard Video Converter Ultimate. It is a software that works best on Windows and Mac and offers beyond conversion. It offers hundreds of video codecs and more than 500 media formats it supports. Thus, that's also the number of formats you can choose as your output for conversion. To flex its video conversion more, this Tipard Video Converter Ultimate works with the infusion of advanced technologies and accelerations. It can actually process numerous video files in one procedure. Yes, you can upload all your GoPro videos at once, then convert them in bulk while keeping their video quality intact. In addition, its conversion process works so fast, as it converts 60 times faster than the regular process. Hence, it is the perfect tool for those who value their time and can't wait for a long process.
What's more, it provides you with amazing editors where you can compress, enhance, and edit all your video files and perfect them before you post them online. You don't need to worry even if it's your first time on video editing because we guarantee an easy-to-master workspace prepared for beginners like you. Also, not to mention the making tools it has, such as a movie maker, collage maker, 3D maker, and GIF maker, where your GoPro videos are the source. As excited as you are, we give you detailed steps on how to convert GoPro videos to your desired video formats using this amazing Tipard Video Converter Ultimate.
Step 1Install the Software
First thing first, you need to install the software on your computer by clicking the Download buttons below. Note that you can choose a version that will suit your computer's operating system.
Step 2Upload the GoPro Videos
After installing, you can fire it up and do the importation process. To do so, you need to click the Plus button at the center of the interface and select all the videos you need to convert.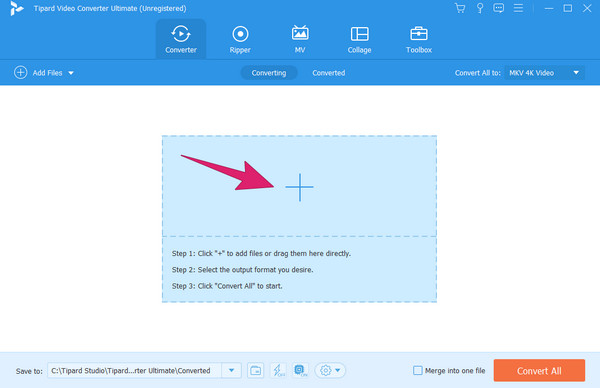 Step 3Select the Output Format
When the videos are already loaded in the interface, click the arrow button on the Convert All To section. Then, choose your desired output format for your GoPro videos under the Video section. Also, choose the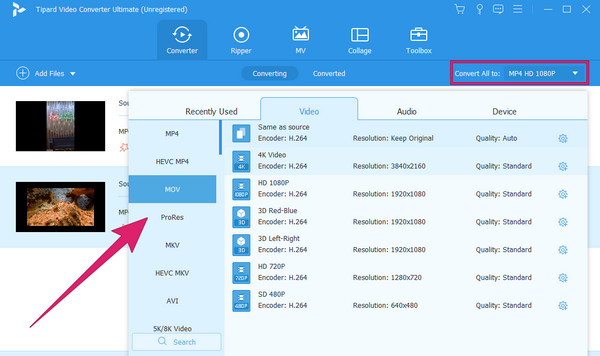 Step 4Start the Conversion Process
After setting, you can already hover over the Convert All button and click it. Consequently, the conversion process will quickly start. After a moment, your videos are ready to check.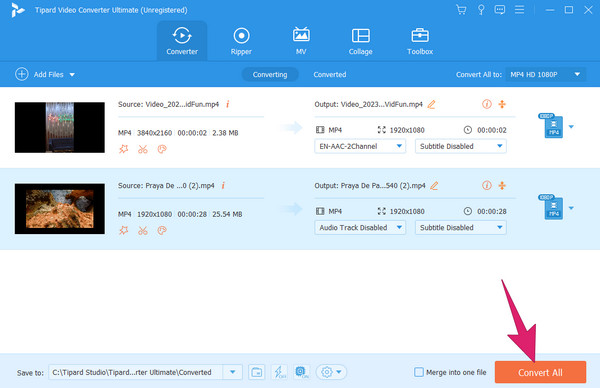 Part 4. FAQs About GoPro Videos
Does GoPro film to MP4?
Yes. GoPro cameras often record videos on MP4 containers with H.264 or H.265 (HEVC) as the video codec and with an AAC (Advanced Audio Codec) audio as its typical encoding.
How do I transfer videos from my GoPro to my computer?
To transfer your GoPro videos to a computer, you can use one of the following methods: a cable wire, memory card reader, GoPro app, and GoPro Quick. Choose the method that will suit your preferences best. But please make sure that your camera is turned on for it to be recognized by your computer.
Does VLC play GoPro videos?
Yes. VLC can play GoPro videos as it supports videos with H.264 and H.265 codecs.
Conclusion
As you embark on your journey to convert GoPro videos to MP4 (H.264) and other recommended formats, you will definitely enjoy it if you use the Tipard Video Converter Ultimate. It will make your task extra special with an extra powerful procedure, so go and try it now!