What is ProRes: Its Definition and Workflow Explained
One of the most preferred codecs in the production industry today is ProRes. For efficient playback, it has a combination of steep, high display quality and size. Furthermore, to the benefits of the ProRes codec, the ProRes RAW, which is labeled as the new kid on the block, contributes to the robustness of RAW videos. However, the videos that are compressed using Apple ProRes are still large and can occupy more disk space. Still, they allow a flawless editing experience as long as you use a good editing program. However, if you still do not understand what these all mean, do not worry because this article will guide you to understand what ProRes is as you read along until the end.

Part 1. Understanding ProRes Format
Apple ProRes is a codec made by Apple way back in 2007. It is a popular video codec format due to its high-quality coding capabilities. This codec efficiently compresses the video content while reducing visual information loss. This is why making it is the preferred choice in post-production and professional video production.
Part 2. ProRes Versions and Codecs
There are different versions of ProRes, and each version varies on compression and image quality levels. Here is the list.
ProRes 422
ProRes 422 offers a good balance of size and quality and is suitable for extensive post-production and video editing needs.
ProRes 422 Low Throughput (LT)
This version of ProRes provides a greater ratio of compression that results in a smaller file size compared to the 422 version. Thus, ProRes 422 LT is a suitable project for your storage space concern.
ProRes 422 Proxy
This version has the highest level of compression. That said, it produces the smallest file sizes with the lowest display quality among the other versions. Prores 422 Proxy is normally used for extensive limits on storage and for offline editing.
ProRes 422 High Quality (HQ)
As its name suggests, it is a version that offers a higher image quality. However, due to the quality, it comes with a slightly larger file size than the ProRes 422. It's often preferred to use when better image fidelity is required.
ProRes 4444
ProRes 444 is another version that supports high-quality and visually lossless display in addition to the normal color information. This version is perfect for projects that require alpha channels and transparency support.
ProRes 4444 Extended Quality (XQ)
The highest quality a ProRes format could have is this 444 XQ version. It offers the least compression but with the best image quality that is suitable for projects that maintain the highest fidelity of image display.
ProRes 4K
ProRes 4K is the version that has the 4K resolution, providing a detailed and clear resolution.
Part 3. ProRes Workflow and Compatibility
ProPres Workflow
• You can record videos using a camera that supports ProRes.
• Import the file and edit it smoothly on video editing software.
• It provides seamless editing performance.
• Apply effects and color grading to enhance its quality.
• Render it when it is ready for export.
• Then, it can be distributed or broadcast.
ProRes Compatibility
• Apple ecosystem.
• Adobe Creative Suites.
• Avid Media Composer.
• And other popular editing software.
Part 4. ProRes Encoding and Decoding
The encoding and decoding of ProRes involve a compression and decompression process on video data. Here's the overview of the codings.
Encoding:
• Data preparation- Prepare the video to encode by arranging it into frames. Then, manage the color information.
• Color quantization- The color information of the video is quantized and sampled for compression optimization.
• Bitrate control- Control the bitrate to influence the compression level. Higher bitrates mean a higher level of quality.
• Macroblocks and DCT- The frames of the video are divided into macroblocks. Also, DCT is applied to have frequency data from spatial data.
• Entropy encoding- The Huffman coding technique is applied for the entropy encoding after the transformation.
• File creation- After the compression and other metadata and settings are encapsulated for ProRes, it is prepared for storing.
Decoding:
• File reading- Retrieving of file from its source.
• Decompression- Reverse the compression by applying the corresponding decoding algorithm to ProRes.
• Color space and sampling reconstruction- Reconstruct the color space and sampling embedded.
• Frame rebuilding- Reconstruct the frame divided.
• Output- Save the decoded video data for playback and customization if needed.
Part 5. ProRes vs. Other Video Codecs
To see the difference between ProRes and the other video codecs, here is a table that shows ProRes vs. DNxHR, HEVC, AVC, etc.
| Aspect | ProRes | AVC | HEVC | DNxHR | AV1 |
| --- | --- | --- | --- | --- | --- |
| Compression | Medium-high | High | Veru high | Medium-high | Veru high |
| Size | Large | Small | Small | Large | Small |
| Image Quality | Lossless | Good | Better | Lossless | Good |
| Editing Performance | Excellent | Good | Moderate | Excellent | Moderate |
Part 6. Best Way to Convert and Edit ProRes
Regardless of why you will convert or edit a ProRes file, the best way we recommend is using Tipard Video Converter Ultimate. It is the best solution if you also want to save time because it has an acceleration technology that works to provide you with an ultrafast conversion, which is 60 times faster than others. Aside from that, the same speed rate can also be expected even when working on bulk files at once. Another mesmerizing about it is that it has powerful tools perfect for providing you with a professional video editing solution even if you are a beginner. It comes with a video enhancer powered by Artificial Intelligence technology, so your videos will undoubtedly come as clean and excellent as they must be. And if you want more tools as powerful as this, many from the Toolbox are available. Meanwhile, let's see how you can convert your ProRes videos into 500-plus video formats, then see the steps below.
Step 1Fire up the program after installing it on your computer. Then, when you hit the Plus button, load the videos.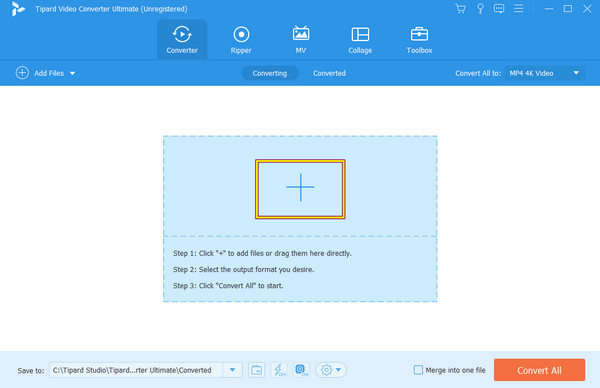 Step 2When the videos are loaded, go to the Convert All To section and click the Arrow button to see the format choices. Choose the output format you want.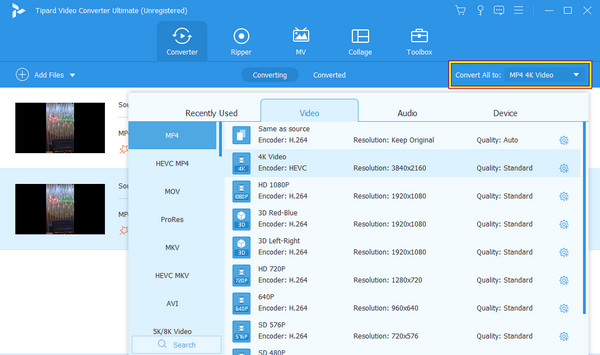 Step 3After that, you can click the Star, Scissors, or Paint buttons for the available editing tools on this window. Otherwise, proceed to click the Convert All button to start the conversion process.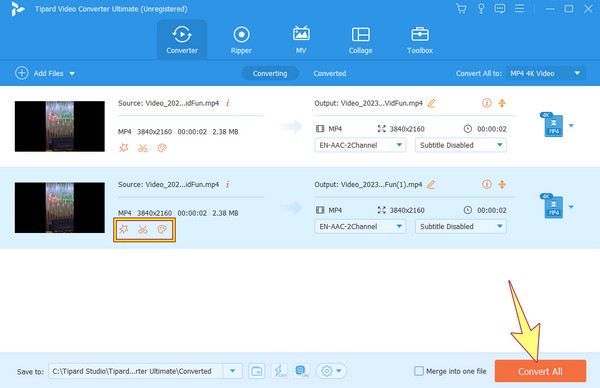 Part 7. FAQs About ProRes
Is ProRes the same as RAW?
No, it's not. ProRes is compressed, while the RAW is not.
Is ProRes better than a high-quality video?
ProRes is the preferred choice by many professionals because of its balanced quality, size, and editing efficiency compared to a regular high-quality video.
Is 256GB enough for ProRes?
It depends on the length of the video you record. An hour shot of ProRes video needs roughly 99GB of storage.
Conclusion
It is beneficial to have sufficient knowledge about Apple ProRes before you use it for video editing. Fortunately, this article brings you everything you need about it. And if you can't handle a high-end video editor and converter, then use Tipard Video Converter Ultimate.