Why and How to Convert DTS Audio to AC3, AAC, and MP3 [Explained]
When it comes to having surround sound, DTS is one of the recognized technologies that we want to get for a high audio quality home entertainment. Then why would others want to convert DTS to AC3 and other audio formats still? Allow this article to introduce you to more about DTS, for you to find out your very reason for converting it. Therefore, without any further adieu, let's cut to the chase by reading the information below.

Part 1. What is DTS Audio
Digital Theater Systems, popularly known as DTS, is a famous company of audio technology known for its surround sound formats and audio codecs. DTS audio, on the other hand, is the audio codec that DTS developed. This codec is used for high-quality audio playback and encoding. Furthermore, DTS audio is commonly used for delivering high-fidelity and immersive sound experiences to home theater systems, DVDs, Blu-ray discs, and other streaming media platforms. DTS audio comes in different variations, including the following below.
DTS-HD Master Audio
A lossless audio codec that is used on Blu-ray discs for HD audio. It supports up to 7.1 audio channels.
DTS Express and DTS-HD High Resolution
The two offer various levels of compression and quality and are used for various applications.
DTS Digital Surround
It is the older format of DTS audio that is used on DVDs. It offers the typical 5.1 configuration channel for multi-channel audio.
DTS:X
It is the object-based audio codec of DTS that gives a more immersive and flexible sound experience. If you want to have a more dynamic and more three-dimensional audio experience, DTS:X is a must-used.
Part 2. How to Open a DTS File
To open a DTS file, you must note that it depends on hardware, software, and the specific format available. Below are the common needs and ways of opening such a file.
1. Open DTS Via Powerful Media Player Software
If you are looking for the best media player to open your DTS files, then this Tipard Blu-ray Player is what we can recommend. It is a powerful media player that supports various formats, from Blu-rays, DVDs, and videos to music and other audio files, including DTS. It is an amazing player that offers you great features and functions that will enable you to adjust and modify your files with DTS audio, such as the ones for Blu-rays and DVDs. Furthermore, you will never need to convert DTS audio to AC3 in MKV files or other video files, as this Tipard Blu-ray Player can provide you with a powerful sound surround experience same as your favorite theater.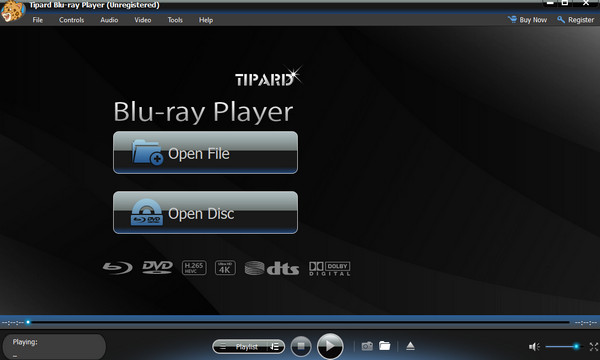 To open your DTS file with Tipard Blu-ray Player, you must initially install it to your computer by clicking the download buttons below. Then, simply click the open file button on its main interface to load your DTS file.
2. Open it via an A/V receiver or Sound System
If your home theater equipment or sound system supports DTS, then you can connect the device that contains the DTS and open it to play the audio file easily.
3. Open the DTS With a Disc Player
If the DTS audio is in a DVD or Blu-ray disc, you may use a disc player regardless of its hardware or software to play it.
4. Convert the DTS to MP3 to open it quickly.
All the methods above require them to support the DTS technology. Therefore, if what you have now does not support DTS sound, then the only way for you to open the file content is to convert it to a more supported format such as MP3.
Part 3. How to Convert a DTS File
Here are the recommended online converters you can use to convert your DTS files to other audio formats.
Convertio: DTS Converter
Converio is an online platform that caters to converting various files to your desired output format. It comes with a DTS converter that works for your DTS files and transforms them into numerous formats, such as AAC, AC3, MP3, WAV, FLAC, M4A, OGG, and many more. Aside from that, Convertio allows you to customize the file before converting it, where you can set your desired bitrate, audio channel, frequency, and volume of the file. You can also convert more than one file with this online audio converter, which you can analyze by looking at the quick steps on how to convert DTS to FLAC below.
Step 1Go to the official DTS converter and hit the Choose Files button.
Step 2Upload the DTS files you want to convert.
Step 3Set the output format to FLAC, and hit the Convert button. Wait till the conversion process finishes, then download the converted files.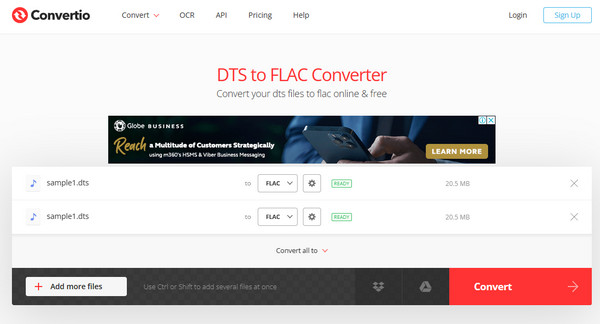 AnyConv: Online Online DTS Converter
Another online free converter to help you with your DTS conversion task is the AnyConv. This free converter has a simple but neat interface, and you can interact with it by converting videos, documents, CADs, and audio files to various formats. However, unlike the previous online converter, AnyConv only offers AAC, MP3, AC3, and WAV as an output of your DTS, and no additional settings you can make to customize it. Hence, here are the steps to convert DS to WAV files.
Step 1On the main page of the AnyConv DTS converter, click the CHOOSE FILE button.
Step 2Upload the DTS file, then set the output to WAV.
Step 3Hit the CONVERT button to initialize the conversion process, then download the converted file after.
Part 4. FAQs About DTS
Can you convert DTS to Dolby Digital?
Converting the DTS directly to Dolby Digital is not possible. Hence, you may use alternative solutions to transform such codecs, like re-authoring and transcoding.
Why DTS is better than Dolby Atmos?
Universally, DTS cannot be said to be better than Dolby Atmos or even vice versa. Both have the same advantages based on their perspectives.
How to play DTS audio in VLC?
To play DTS using VLC, you need to navigate and set the preferences to access the DTS audio. To do so, switch the preferences to All and select the Codecs option after expanding the Audio section. After that, find the DTS option there and enable it, then finally save the applied changes and restart the media player.
Conclusion
There you have it, everything you need to know about the DTS audio. You also learned how to open such a file and how to convert DTS to AC3 and other audio formats you want. See, you can have the conversion for free if you use the online converters presented above. But if you want an offline solution, you won't need to convert the file; just open it with the Tipard Blu-ray Player.