Blu-ray and DVD Aspect Ratio: Identification and Modification
As we encounter many types of videos, whether from Blu-rays, DVDs, or other devices in our daily lives, the aspect ratio is one of their very important factors. When trying to burn a DVD or Blu-ray, one of the options you need to decide is the aspect ratio your output will have. It's a crucially important factor for the video, Blu-ray, and DVD because if they have the wrong aspect ratio, your watching experience can be ruined. That being said, you must know something about the aspect ratio and how to change the DVD/Blu-ray aspect ratio. Fortunately, this article will introduce you to those two as you read the entire content below.

Part 1. Dig More Into the Meaning of Aspect Ratio
The term aspect ratio describes the proportional connection of the height and width of an image display. It is called a ratio since the height is compared to the width. This is how it is shown. For instance, the 16:9 aspect ratio means that there are 9 units of height for every 16 width units. As mentioned above, the aspect ratio is one of the fundamentals of visual content, which includes DVD and Blu-ray. The DVD and Blu-ray aspect ratio is important to preserve their anticipated cinematic experience. As the movie content is being converted to these formats, the maintenance of their original aspect ratio is crucial. Moreover, modifying the aspect ratio can ruin the image, for it may lead to introducing black bars or cropping out essential details that disrupt the playback.
Part 2. What Are the Standard Aspect Ratios of DVD and Blu-ray
Blu-rays and DVDs have almost the same standard when it comes to aspect ratios that they use when presenting movies or video content. Mostly, the aspect ratios supported by Blu-rays and DVDs include 1.33:1, 1.25:1, 1.78:1, 1.85:1, and 2.39:1. However, below are the standard aspect ratios used to display the content of Blu-rays and DVDs.
For Blu-ray
16:9 (1.78:1) is Blu-ray's full-screen aspect ratio and is the primary standard used. Predominantly, Blu-ray supports widescreen content, which provides superior image quality and higher resolution compared to the ones of DVDs. However, the most prevalent for both DVDs and Blu-rays is a 16:9 widescreen aspect ratio because it is highly compatible with the preference for cinematic viewing and with the latest high-definition displays. As a matter of fact, it provides a broader field of view, like what we see in a movie theater.
For DVD
Similarly, the DVD aspect ratios are 4.3 and 16.9. 4:3 (1.33:1), which is nearly square, was the original aspect ratio used for DVDs to suit the older television format we had before. On the other hand, the 16:9 aspect ratio is compatible with the latest widescreen monitors and TVs catering to modernization.
Part 3. How to Change Aspect Ratio
If you want to change the aspect ratio of your video or DVD content, Tipard Video Converter Ultimate is the best solution to use. It comes with a ripping tool where you can convert your DVDs into digital videos of your choice since it supports more than 500 different formats you can choose from. Furthermore, it holds various editing and editing options where you can find the tool for changing the aspect ratio. This tool offers you many aspect ratio options, including 16:9, 4:3, 21:9, 16:10, 5:4, 1:1, and 9:16. Aside from that, it comes with a zoom mode where you can choose among the letterbox, pan & scan, and full selections. If you want to customize your video's aspect ratio, zoom mode, and crop area manually, Tipard Video Converter Ultimate lets you grab its manual dragger.
Meanwhile, there are many more reasons to like this software, some of which are high-end technologies and features such as hardware acceleration, ultrafast, Artificial Intelligence, and so much more. What about its other functions? Well, you can use it as your 3D maker, movie maker, colleague maker, GIF maker, powerful video enhancer, media metadata editor, and many more. In other words, it is your all-in-one solution worth using. Hence, here are the detailed steps you need to follow to cut to the chase.
Step 1Acquire the Software Program
To start with, click the Download button given below to acquire Tipard Video Converter Ultimate. Please note that only click the one that suits the computer you use.
Step 2Import the Content to Work With
If you are going to work with a digital video, go to the Converter menu and hit the Plus button to add the file. If you want to work on DVD content, go to the Ripper menu and click the same button. But ensure you have placed the DVD into your disc drive first.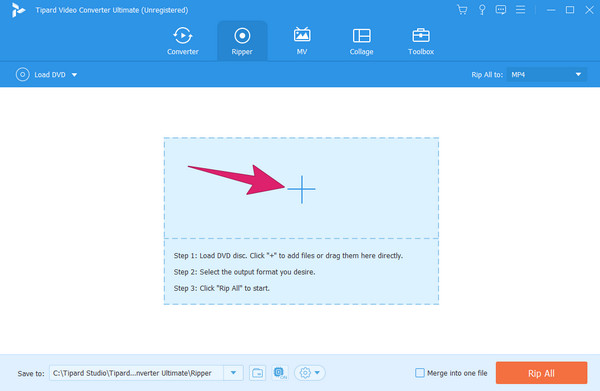 Step 3Change the Aspect Ratio
Once the video or content is loaded, click the Star button under it. Then, you will be brought to a new window where you need to go under the Rotate & Crop. Hover over to the Aspect Ratio and choose your desired aspect ratio for your video. Also, you can customize the Crop Area and Zoom Mode if you want to. As you see the Yellow bar on the preview section, you can manually adjust it as you wish. Please don't forget to click the OK button.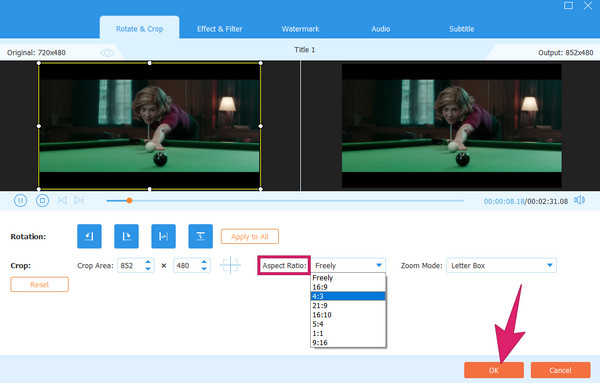 Step 4Choose Target Format and Rip All
Finally, you can set your target format by clicking the format button at the tail part of the video. Then, hit the Rip All button to begin the saving and exportation process.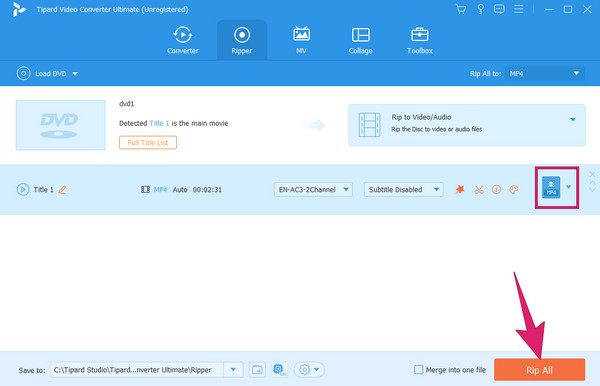 Part 4. FAQs About Blu-ray and DVD Aspect Ratio
Is a Blu-ray the same size as a DVD?
No. Blu-ray and DVD have different sizes, dimensions, and storage capacities. In comparison, Blu-rays have a 25GB to 50 GB storage size, while DVDs have 4.7 GB to 8.5 GB only.
Should I use 4:3 or 16:9 for video?
Your choice between 4:3 and 16:9 must depend on the video context and audience. If the video has a retro or nostalgic context, then 4:3 must be used. If your video is in a much higher resolution, then 16:9 must be used.
Do DVDs look better on a Blu-Ray player?
No. DVDs do not look better on a Blu-ray player. The content and quality of the DVD are still the same even when played on a more advanced player.
Conclusion
Understanding Blu-ray and DVD aspect ratios will help you have a high-quality viewing experience, as it is a fundamental factor for having one. And if your video has a different aspect ratio? You may choose to change it as long as you use Tipard Video Converter Ultimate.