How to Convert Blu-ray Audio to FLAC: Tool and Things to Know
FLAC is one of the digital audio formats that contain lossless compression. With this said, it is considered to be one of the audio perfect for huge files with high audio quality. On the other hand, as we know, Blu-rays have a seamless quality of both video and audio content. It often transfers a video or movie in a cinematic approach. For this reason, many users want to convert Blu-ray to FLAC to get the background music of their favorite Blu-ray movie in the same quality as possible. Fortunately, this article post offers a tutorial on doing the task efficiently. So, without further ado, let's begin extracting the audio from your Blu-ray, and expect an obviously excellent output after!

Part 1. What is Blu-ray Audio
There are various audio codecs to find on Blu-rays. And before you proceed to transform Blu-ray audio to FLAC, let's have this adequate information about it. With the recently added optional formats, there was still mandatory support of the Blu-ray. This means not all formats are supported by the Blu-ray disc you have, but it has to have the mandatory ones for it to be supported by the Blu-ray player. Therefore, the audio from the Blu-ray plays an important role in the successful playback using your target player. Hence, here are the Blu-ray codecs a Blu-ray must have.
Mandatory Codecs/Formats
● Linear PCM - A standard uncompressed audio format for Blu-rays, CDs, and DVDs.
● Dolby Digital - Also known as Dolby 2.0 or DD 5.1, Dolby AC-3. is a lossy format that compresses the audio to save much space on a disc.
● DTS - Also known as DTS Surround or DTS 5.1 and the DTS version of Dolby.
Optional Codecs/Formats
● Dolby Digital Plus - It is an extension of Dolby Digital standard.
● DTS-HD - This format comes with high-resolution audio in increased surround support of up to 7.1 sound channels.
● Dolby TrueHD - This format offers the best audio production movie soundtrack.
● DTS-HD Master Audio - It is a lossless audio of the DTS version.
● Dolby Atmos - It is mostly used for 3D Blu-rays.
Part 2. Can I Rip Blu-ray Audio to FLAC
With the Blu-ray audio formats met above, you may think if you can rip Blu-ray audio to FLAC. And yes, it is possible for you to rip the movie with a different audio codec into a regular digital audio format like FLAC. Aside from the fact that you need to extract the audio content into a high-quality digital format that can handle the standard of Blu-ray, you must also consider compatibility as well.
Part 3. How to Rip Blu-ray Audio to FLAC
If you need a powerful tool to rip the audio of your Blu-ray to FLAC, then this Tipard Blu-ray Converter. This Blu-ray converter has an intuitive and remarkable interface that enables you to enjoy the conversion process. Furthermore, it comes with a hardware acceleration technology that supports a Blu-ray conversion process 30 times faster than others. Additionally, it can batch convert Blu-rays, ISO files, IFO, and 3D Blu-rays to your desired output video and audio formats simultaneously because it works with batch conversions! Remarkably, if you choose to convert Blu-ray audio to FLAC, you can customize the audio settings to set the encoder, sample rate, channel, and output bitrate. Surprisingly, this amazing Blu-ray converter has various features that add to its robustness, such as a video compressor, enhancer, media metadata editor, 3D maker, and GIF maker.
Moreover, this multi-platform tool is accessible on Windows and Mac computers. And if you are curious about the types of formats it supports, you will be glad to know that it can convert your Blu-ray to more than 500 different file formats, and FLAC is just one among them. Some of its audio-supported formats are MP3, OGG, WMA, AAC, AC3, and more. Thus, know about this software by looking at the steps to rip Blu-ray audio to FLAC below.
Key Features
● Ultrafast ripping and conversion process.
● Enhance, edit, and customize video and audio outputs excellently.
● Edit your file's metadata like a pro.
● A lossless conversion that supports up to 8K videos.
Step 1Download and install the tool on your PC using the Download buttons above. Launch the tool and hit the Arrow tab of the Load Blu-ray tab menu to choose the applicable option for your Blu-ray file to upload.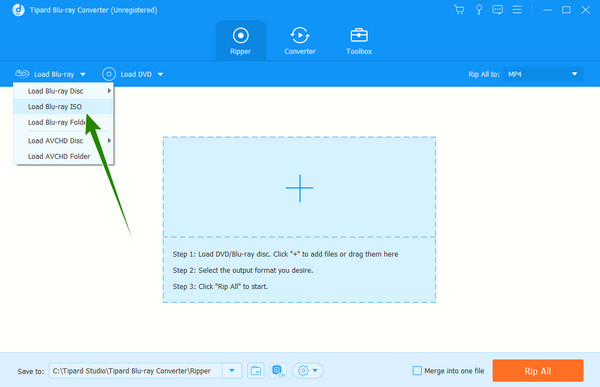 Step 2When the Blu-ray is in, hit the Arrow button of the Rip All To option or on the tail part of the Blu-ray. Then, choose the FLAC format from the choices under the Audio tab on the new window.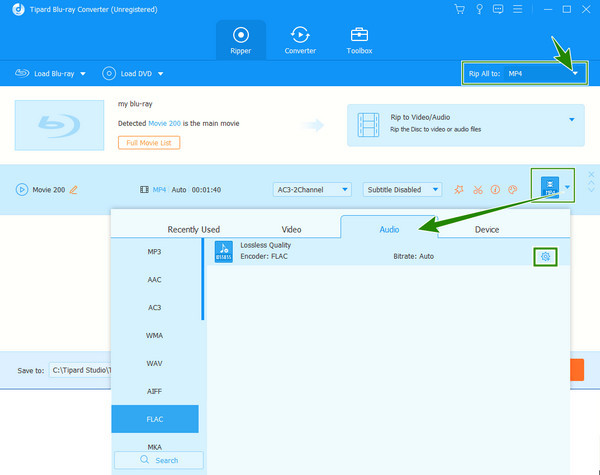 Step 3Optionally, you can click the Coggle icon at the right side of the window to customize the profile of your audio output. You can adjust the presets given in the new window, then hit the Create New tab. Once done, click the newly created FLAC profile you encoded.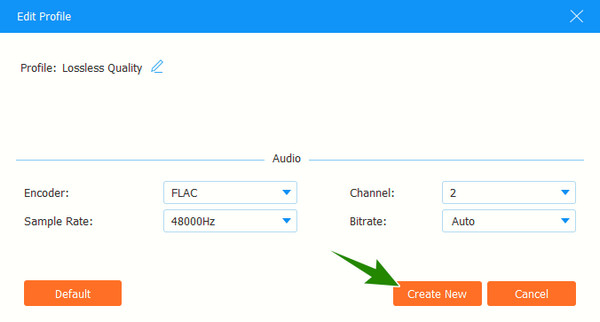 Step 4Another option is to hit the Star and Scissors icons when you return to the main interface. By clicking these icons, you can be free to edit the volume and delay of the audio and add audio effects such as fade-in, fade-out, fast split, and add segments.
Step 5After that, you can finally hit the Rip All button. Then, this amazing tool will rapidly rip your Blu-ray audio to FLAC losslessly. You also can use this tool to rip Blu-ray to MKV.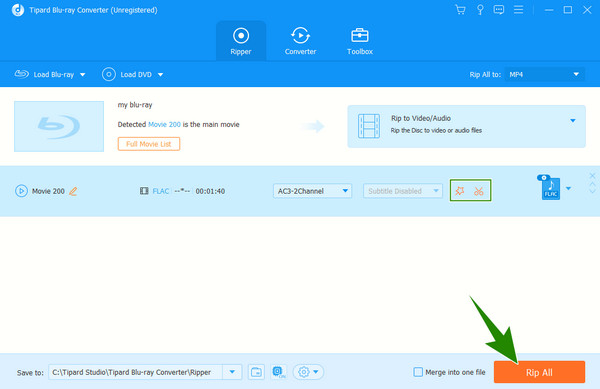 Part 4. Things You Should Notice When Ripping Blu-ray Audio
Here is the important list you should notice during and after your Blu-ray audio ripping process.
● Notice the ripping speed - The ripping process should not take time since you are only ripping the audio content.
● Notice the audio quality - After the conversion process, check if the audio is still the same as when it was still in the video.
● Notice the audio settings - Check the audio profile to see if they were applied as you adjusted.
Part 5. FAQs about Ripping Blu-ray Audio to FLAC
How much data storage can FLAC consume?
FLAC is one of those big formats. It can consume up to 5MB per minute of data storage.
Is FLAC better than MP3 for Blu-ray audio?
Yes. FLAC is better than MP3 since it is 5 times larger in data storage size, and at the same time, it has lossless compression that can handle high-quality audio.
Why can't I play the FLAC on my Mac?
Mac's built-in players do not support FLAC audio format. Thus, if you want to play FLAC on Mac, use a third-party audio player like Tipard Blu-ray Player.
Conclusion
This article post contains a tutorial on efficiently converting your Blu-ray audio to FLAC. Things to notice are also included to help you do it wisely. See that you use the best Blu-ray converter we presented if you want an excellent FLAC audio output. Therefore, download Tipard Blu-ray Converter now!