Best MP3 to OGG Converters: Easily Let Your Audio Files Have Higher Quality
One of the most popular conversion processes that everyone is doing is converting MP3 to OGG. This is due to the benefits that it gives users when it comes to audio quality. Yes, many of us agree that audio files in MP3 are easier to playback due to their compatibility with almost all media players. However, we cannot deny the fact that high qualitative music is being compromised when being transformed into MP3. On the other hand, OGG is one of my favorite audio containers because of its lossy compression. With that said, if you are still after quality over compatibility, then you really need to read this outline.
This article post outlines the best online and offline tools that will help you to convert from MP3 to OGG, acquiring a better quality. Therefore, as a user, you can choose among the tools below for an easy audio conversion task.

Part 1. Compare MP3 and OGG
To give you further knowledge about MP3 and OGG, we have prepared a comparison table that supplies useful information about the two.
| Information | MP3 | OGG |
| --- | --- | --- |
| Developer | Fraunhofer-Gesellschaft and Thompson Media | Viph.Org Foundation |
| Short for | MPEG- 1 Audio Layer 3 | OGG Vorbis |
| Size | Small | Small |
| Sound Quality | High quality | Higher Quality |
| Bitrate | Constant | It varies depending on needs. |
| Compatibility | All media players | Some popular players |
Part 2. Best Ways to Convert MP3 to OGG Offline
If you are the type of user who is looking for a standalone audio converter for your computer, then the list below is your perfect companion.
1. Tipard Video Converter Ultimate
Tipard Video Converter Ultimate is a versatile standalone media-converting software that allows you to batch convert MP3 to OGG and to various formats. Furthermore, it allows you to convert your files with just a few gestures, providing you with excellent outputs afterward. You will not surely doubt how fast this tool is when it comes to converting your files since it is infused with GPU acceleration together with ultrafast technology making the conversion process 70 times faster than others. Besides its converting capabilities, this Tipard Video Converter Ultimate also offers you many features, tools, and setting options that will enhance your audio and video files.
Most of its jewels in media file enhancements are found in its Toolbox, which you can access anytime. Besides the many video file editors within the Toolbox, there is also available media metadata editor, audio compressor, volume booster, file date changer, and audio sync that will delight you in editing your audio files. So, grab this MP3 to OGG converter via free download using the download buttons below, and proceed to learn the steps provided along.
Step 1Launch the software after the quick installation. Then, on the main interface under the Converter tab menu, hit the Plus icon to import all the MP3 you need to convert.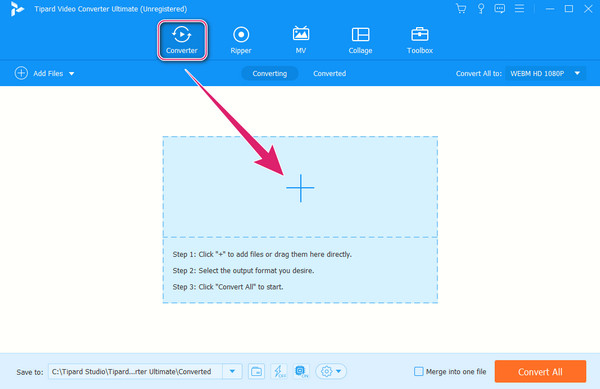 Step 2After that, when you see the files in place, go to the Convert All To portion and hit the Arrow button there. Then, a new window will appear where you can choose the output format. Click the Audio tab menu, and look for the OGG format on the left side.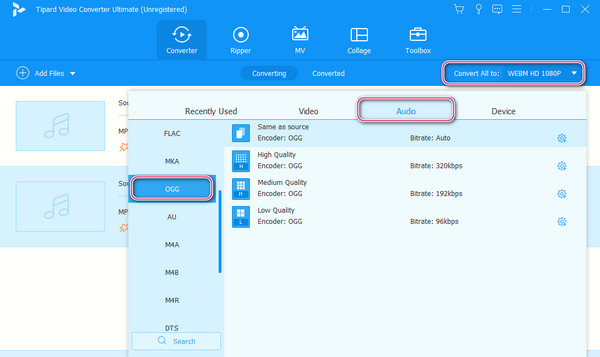 Step 3Now this is how to turn MP3 into OGG format. Hit the Convert All button. Also, you can customize the file destination in the Save To section.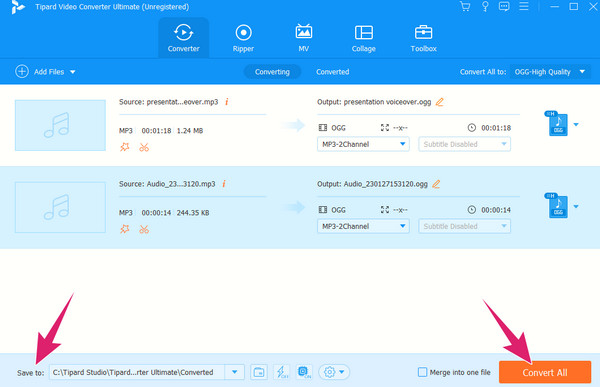 Pros:
• With an ultrafast conversion speed.
• It provides many tools for various needs.
• Allow you to customize the audio output settings.
Cons:
• The free version offers limited usability.
2. Audacity
Audacity is free and open-source software that works for a lossless audio converter. Furthermore, aside from its conversion capabilities, Audacity has some useful features, like a podcast editor, music recorder, and mixer. In addition, this tool enables you to transform your audio files and set them up to a maximum of 32-bit/384kHZ. So, let's see how this Audacity converts MP3 to OGG by looking at the steps below.
Step 1Take time to download and install the converting program on your computer. Once done, run the program and click the File tab at the top part of the interface.
Step 2Then, hit the Import tab and choose the Audio selection. For a shortcut, you can press the Ctrl+Shift+I on your keys.
Step 3Once the MP3 file is in, go back to the File tab, and this time choose to click the Export option. Then, click the Export as OGG dialogue.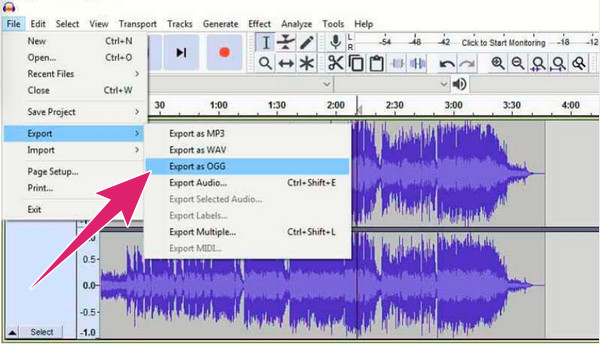 Pros:
• It has a fast process for conversion.
• It comes with additional features and an audio enhancer.
Cons:
• It requires a huge space on your computer.
• All the features are not for video.
• The user interface is a bit intimidating for beginners.
3. FFmpeg
Let us now try this FFmpeg to convert MP3 to OGG. If you are a user who wants a flexible and high degree of control of conversion, then this FFmpeg is a good choice to try. It is a professional tool that works with a wider range of audio and video formats while supporting a variety of settings and codecs for fine-tuning the outputs. Moreover, since it is a command-based program, you can access this FFmpeg in a broad variety of operating systems like macOS, Linux, and Windows.
Step 1Fire up the program on your computer, and launch its terminal command.
Step 2Make sure that you know the file location of your MP3 file. Then, type the ffmpeg -i input.mp3 output.ogg command to convert the MP3 to an OGG file.
Step 3Then, press the Enter key and wait for the conversion process to finish. Then, save the newly converted file to your chosen file folder.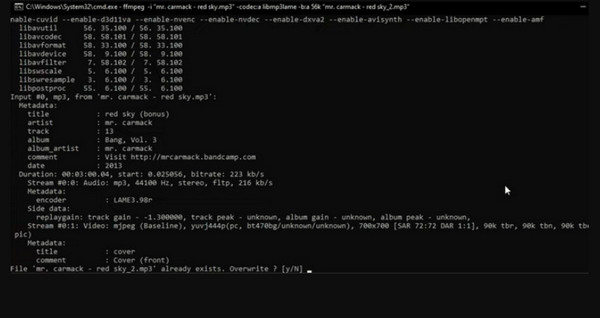 Part 3. Accessible Ways to Turn MP3 into OGG Online
If you wish to convert your audio files online, try the most suggested online tools below. Here we gathered not only the reliable ones but also the ones with the most accessible way to use them.
1. Convertio Online Audio Converter
First on the list is the audio converter of the famous Convertio. It is an entirely online tool that does not require any downloads or installation. One good reason to use it is that it supports all browsers, such as Windows, Mac, Linux, Android, and iPhone. Regarding its usability, Convertio has a simple and intuitive interface that doesn't require extra navigation. In addition, it allows you to convert more than one file. Meanwhile, here are the simple steps to follow if you want to convert MP3 to OGG online.
Step 1On your browser, go and visit the page of Convertio Online Audio Converter and hit the Choose Files button. This will enable you to upload the MP3 file you want to convert.
Step 2Once loaded, click the dropdown Arrow button beside the To option. Then, choose the OGG format for your output.
Step 3After setting the output, you can now hit the Convert red button. Wait for the process to finish, and download the OGG output after. You also can use this tool as an OGG to MP3 converter.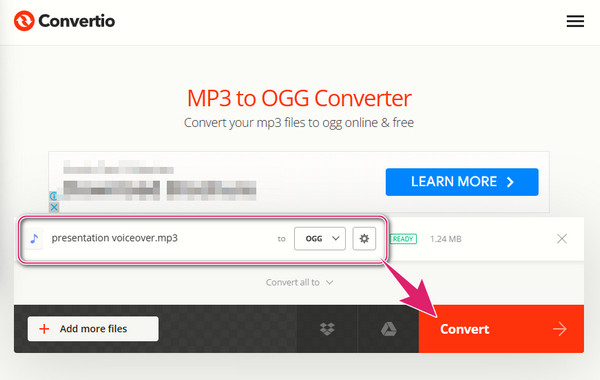 Pros:
• You can convert your files for free.
• The importation process is fast.
• It supports a wide range of audio formats.
Cons:
• It comes with ads.
• It has limitations on file size.
• With a limitation of audio editing tools.
• It is internet reliant.
2. Zamzar
Next to Convertio is this Zamzar. Another remarkable online converter that allows you to convert audio and video files to your desired output formats. And if you want to know how to change MP3 to OGG in another simplest and fastest way, Zamzar is a good choice. However, since it is a free tool, expect some limitations, especially with the size of the file, for it only caters to audio files up to 50MB. Want to see how it works? Proceed to the steps below.
Step 1When you reach the official website of Zamzar, click the Choose Files button to enable you to import the MP3 file.
Step 2After that, proceed to the next option and choose the OGG option for your output.
Step 3Finally, you can already click the Convert Now button to start the conversion process.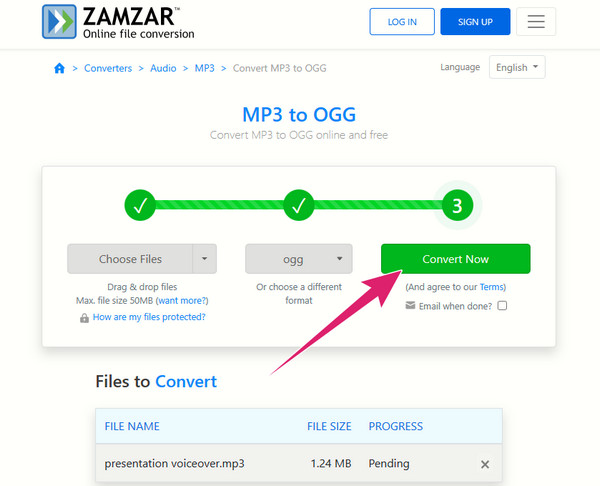 Pros:
• Use it for free without any ads.
• It is super easy to use.
• With a wide range of format support.
Cons:
• The file size is limited to 50MB.
• It doesn't allow you to edit your file.
• It is internet dependent.
3. VEED.IO
VEED.IO is part of our list because it can do more than convert MP3 to OGG files. This online program also allows you to convert and edit your video files using its wide array of tools and features. Another reason for choosing it is that it comes with a clean and easy-to-use interface, making you work like a professional. Experience what VEED.IO can offer you by initially looking at the simple steps below.
Step 1Click the box that says Choose MP3 File. Then, on the next page, click the Upload a File button to upload your file that needs to be converted.
Step 2Wait for the importation process to finish, then go to the Convert To section and hit the Arrow drop-down button to choose the OGG format.
Step 3Finally, hit the Convert blue button to begin the conversion process. Download the converted file after.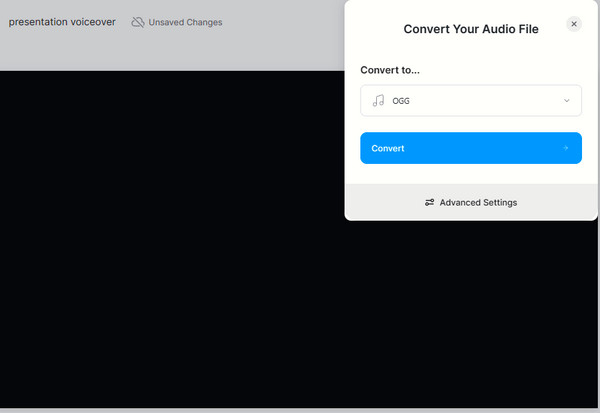 Pros:
• It is a free online audio converter.
• It is easy to use.
• It supports various popular formats.
Cons:
• The importation process takes time.
• It has limited advanced settings.
• You cannot use it without the internet.
Part 4. FAQs about Converting MP3 to OGG Files
Is OGG better than MP3?
Regarding the sound quality and compression algorithm, OGG has a higher hand than MP3. On the other hand, MP3 is the better choice when it comes to compatibility.
How long will it take the process of converting MP3 to OGG?
It depends on the converting tool you use, the speed of your computer, and the file size. If you want a sure fast conversion process, use Tipard Video Converter Ultimate.
Can I convert MP3 files to different formats like OGG on mobile?
Yes. However, you must use a third-party converting app on your mobile device.
Conclusion
Turning MP3 into OGG will never be difficult now, for you have just met the best audio converters presented in this article. All of the tools are intuitive and reliable enough for conversion. However, this converting software stood up amongst them due to its extra features and robust procedure. Yes, you are thinking it right. It is the Tipard Video Converter Ultimate.