How to Add Music to iMovie on iPhone and Mac: Solved With Complete Steps
For Apple users like you, having the iMovie is already a win-win situation. This app has almost everything you need to create your movies. But if you wish to add catchy tunes to your movie project but do not know how, then embrace this good news that your movie maker app can make it a piece of cake. Now, if you are ready to make your projects more captivating, proceed on this post's how to add music to the iMovie topic below. Then, discover other things to help you and your projects on iMovie more engaging and exciting.

Part 1. How to Import Music Into iMovie on Mac and iPhone
On Mac
In Mac's iMovie, you can optimize the media browser to add music from your Music app or local folders by dragging the audio files into your timeline via the Finder. Here's how to add a song to iMovie on a Mac.
Step 1On your Mac, locate the iMovie to launch. Now, open a project by clicking the File tab menu and choosing the Import Media option. Locate the music file you want to import from your music library or directly from your iTunes library.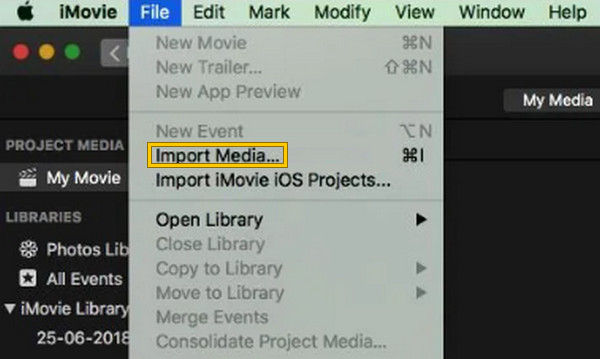 Step 2Once the music file is selected, it will be imported as another piece of background music for your project. To add it as a background sound for your iMovie project, you must drag the audio file and drop it on the video on the timeline when the Add button is seen.
Step 3After you add audio to iMovie, you can edit the background music you added by trimming, adjusting the volume, setting the effects, and others when you right-click it.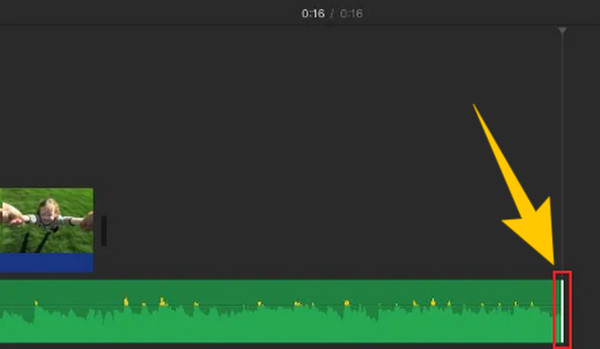 On iPhone
Step 1Using your iPhone device, open the iMovie app and tap the Add button. First, choose a video file from your media app and add it to the iMovie as your project. After that, tap the Create Movie button on your screen. Note that iMovie offers different themes you can utilize to enhance the quality of the clip you added.
Step 2Now, tap the Coggle button, choose the Theme Music from the selections, and turn it on. Choose your preferred theme for the video from the existing music collections. If you don't like anything there, tap the Plus sign to add the music or audio you want. After tapping the sign, this is how to add your own music to iMovie on iPhone: go to the Audio section and tap My Music.
Step 3You can now pick the music you want from the Playlists, Songs, Albums, or Artists available on the screen. Simply tap the Plus button to add it to your project. When the music is added to the project, you can save it to your device by tapping the Export button.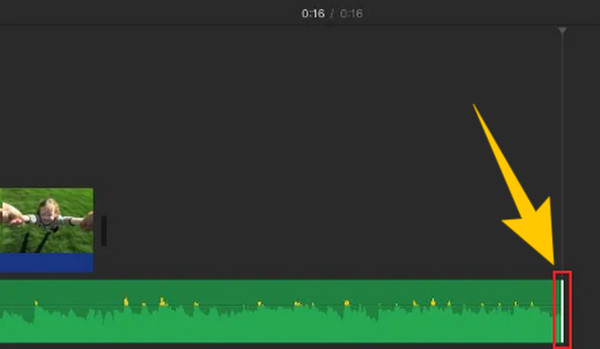 Note: Please note that you cannot add numerous music files all at the same time.
Part 2. Tips to Edit and Enhance Music in iMovie
You can greatly improve the impact and overall quality of your music on iMovie by editing and enhancing it. For this reason, aside from how to add a song to iMovie, here are the tips that will help you edit your music to release its maximum interest. Apart from improving the music in iMovie, below are more tips for enhancing your video editing tricks in iMovie.
• Trim the music to your desired length after you import it to iMovie. To do so, click the audio file on the timeline, then begin trimming it.
• Control the audio volume so that it will not empower the video's dialogue.
• Add some effects to it, such as a fade-in, fade-out, reverb, equalization, and more.
• Utilize crossfades to create great transitions between the background music you added.
• Use the loop to repeat the music section of your music.
Further Reading:
How to Cut A Video in iMovie Easily on Your Mac Device
How to Make a Movie with/without iMovie: Step-by-Step Tutorials
Part 3. Best iMovie Alternative for Windows Users
You cannot apply the learnings on how to add music to iMovie if you are using a desktop since iMovie is only available on Apple devices. Therefore, here is the best iMovie alternative you can use on a desktop.
Tipard Video Converter Ultimate is the best program that works more than being a video converter. It comes with tools and features that will enable you to add, edit, and enhance the audio you add when you create your movie with its movie maker. Aside from that, beautiful effects and filters are also available to use. And before you get to export your project, you can customize its format, resolution, quality, and frame rate according to what you desire. Surprisingly, this program supports more than 500 formats for audio and video, making you add any type of audio you want. So, if you have your recorded voiceovers and want them to be included in your video, then this tool has the easiest method.
How to Add Voiceover to iMovie's Alternative on Windows
Step 1Click the Download button below and grab the desktop version. Then, launch it and go to its MV tab menu.
Step 2Add the video project by clicking the Plus button at the bottom. On this portion, you can also add the Theme you want to use. Also, you can use the Edit, Trim, and other options given.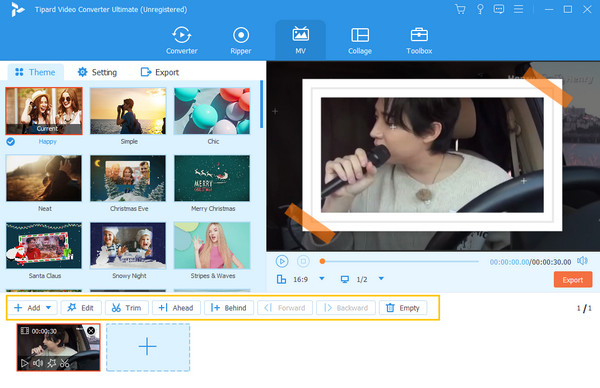 Step 3You can go to the Settings menu to add the voiceover or any audio or music file to the project. Then, under the Audio Track, hit the Plus button to add a file.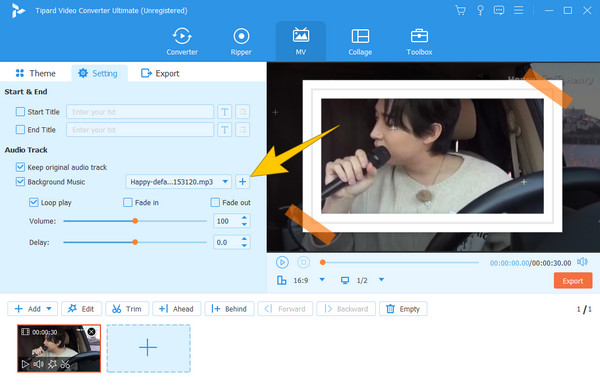 Step 4As simple as that, you can already proceed to the Export. Make some adjustments if you need to, then hit the Start Export button to save the final output.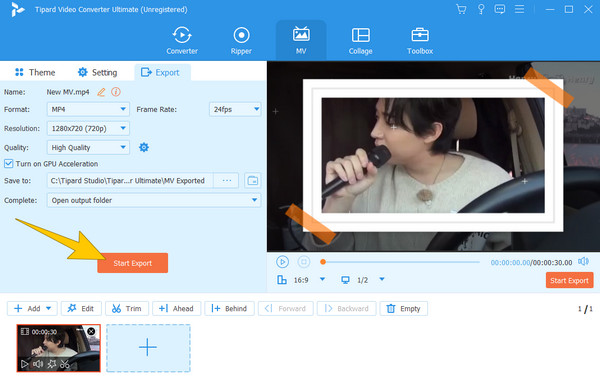 Part 4. FAQs Regarding iMovie Music Importation
Why can't I add songs from Apple Music to iMovie?
There are some limitations when adding songs from Apple Music to iMovie due to licensing and copyright restrictions. Hence, this could be the reason why you cannot add such music to iMovie.
Can you add music from Spotify to iMovie?
Yes, you can. To add music from Spotify, access the music app when adding media on iMovie.
Why is my music library not showing up in iMovie?
There are several reasons why the music library is not showing up in iMovie. But you can try troubleshooting it, like rebooting the app, reimporting the files, etc., to solve the problem.
Conclusion
This article shows you how to add music to iMovie on Mac and iPhone. You can now elevate your projects by adding some groove to it. Also, you can expand your movie-making and audio editing on your desktop with the help of Tipard Video Converter Ultimate. This software allows you to incorporate your chosen music into your video while maintaining its original quality.