What is DTS: Definition, Variations, Benefits, and How to Open
One of the best audio formats is DTS, especially for home theater. But, some users have no idea about the format and just ignore it. So, to give you more details about DTS, we included various information in this article. Also, we included the Dolby to show its differences from DTS. This way, you will know their capabilities as an excellent audio format. Plus, if you have a DTS file and have no idea about opening it, worry no more. The post will offer the best way to open the DTS file using a reliable offline program.

Part 1. An Overview of DTS Audio
DTS Meaning
Digital Theater System or DTS was developed as an audio encoder, processor technology provider, and decoder. It is for the movie theater and home theater industries. Aside from that, DTS is a fancy sort of equalizer. It allows qualified field application engineers to tune soundbars and TVs. DTS was founded in 1993 to compete with Dolby Labs for surround sound supremacy. The company had its break when Steven Spielberg decided to choose DTS for the dino-romp Jurassic Park. Also, DTS sound utilizes psychoacoustic principles to deliver an optimized sound experience. Plus, it can influence the way the bass response occurs. In addition to that, DTS is also a group of audio encoding systems used in movie theaters, video games, and home theaters.
DTS Variations
In this part, we are going to explore more about the variations. This way, you will better understand the discussion. So, if you want to learn more, see more information below.
DTS 96/24
DTS 96/24 is among the DTS family of surround sound and audio formats. It includes DTS Neo:6, DTS-HD Master Audio, DTS Digital Surround 5.1, and DTS: X. These formats improve the audio home theater systems and experience for home entertainment. It also provides good audio resolution than the traditional DTS Surround format. Besides using a standard DTS 48 kHz sampling rate, a 96 kHz is applied with DTS 96/24. With this, the DVD soundtrack can have more audio information embedded that translates to more details when played back on 96/24 devices.
DTS Neo:6
The DTS Neo:6 is a post-processing format. Unlike DTS Digital Surround, this format doesn't need to be encoded in a specific manner. Also, it can be decoded to extract the correct channel for the sound mix. Also, DTS Neo:6 offers two sound listening modes. These are Cinema and Music. The Cinema mode facilitates a surround effect that is perfect for movies. Then, the Music mode offers a subdued surround effect that is good for music.
DTS-HD Master Audio
It is a high-definition surround sound format that DTS created for home theater. It supports eight channels of surround sound with a higher dynamic range, sampling rate, and wider frequency response. DTS-HD Master Audio is used in the Ultra HD Blu-ray and Blu-ray formats. Aside from that, it is also useful in the discontinued HD DVD format.
DTS Virtual:X
It is an audio codec designed to offer sound a sense of dimensional space within an environment. DTS Virtual:X may sound complicated, but it can be understood as creating a few speakers that sound like many.
When DTS Started
To give you a brief background about DTS digital sound, we included a little information about the history of DTS.
• DTS was started in 1993 as a competitor of Dolby Labs in improving surround sound audio encoding, decoding, and processing technology for home theater applications and cinema.
• The first theatrical movie release that employed DTS audio surround sound was Jurassic Park.
• The Legend of Mulan is the first DVD with a DTS audio soundtrack in 1998. It is made for video and not the Disney version.
Benefits of DTS Sound
If you want to learn the various benefits of DTS, it would be best to view the details below.
• DTS is perfect for mixing and reproducing musical performances.
• It holds a transfer rate of up to 1.5 Mbps. It is because DTS is encoded with a 48kHz sampling rate of 24 bits.
• It can provide excellent sound quality, which is perfect for music lovers.
• DTS is a lossy sound system capable of 5.1 and 6.1 channels of surround sound.
• It can provide higher bit rates, creating a more realistic movie experience.
Applied Fields of DTS
DTS-encoded CDs are possible to play on compatible CD players. Also, the player needs to have a digital coaxial or optical audio output and good internal circuitry. It is to send a DTS bitstream to a home theater receiver for better decoding. DTS is also suitable as an audio playback option for DVD audio discs. The disc can be played on compatible Blu-ray and DVD players. So, to access DTS-encoded movie soundtrack data on DVD, CD, and Blu-ray discs, you need a home theater receiver with a built-in DTS decoder.
Part 2. Dolby vs. DTS
DTS Specification
• Constant bit rate from 255 kbps up to 1509 kbps.
• Up to 6.1 channels at 48 kHz, 5.1 at 96 kHz.
• Compatible with all legacy equipment.
Dolby Specification
• 5.1 channels at 448 to 640 kbps.
• Has mixing and streaming capabilities.
• Support sample rate up to 192 kHz.
Differences between Dolby and DTS
One of the differences between the two is the bit rates and compression levels. Dolby compresses 5.1 digital audio down to a bitrate of 640 kbs for Blu-ray discs. For DVDs, it manages up to 448kbs.
DTS supports higher bitrates up to 1.5mbs and is less compressed. Most of the soundtrack on DVD is encoded to 754kbps, and some DVDs have a 1.5mbs bit-rate.
In addition to that, DTS-HD supports up to 6mbs. On the other hand, Dolby Digital only supports up to 1.7mbs.
DTS Advantages
• It can offer higher bitrates.
• It has less compression.
• The DTS codec is efficient and can provide good sound quality.
• It can deliver amazing surround sound experiences.
DTS Disadvantages
• Some forms of DTS are lossy. It means that it has a degree of audio degradation from the source.
• DTS is not used for streaming services.
• It occupies a lot of space in the disc memory.
Dolby Advantages
• It can provide affordable equipment options.
• Dolby can give the best result as long as you use four-height speakers.
Dolby Disadvantages
• Some Home theater equipment doesn't support some speakers.
• It requires an Atmos receiver to experience Dolby.
Requirements to play DTS and Dolby
If you want to play these two formats effectively, there are many things you need to consider. In DTS, you must have a lot of memory space on the disc. Also, you need a compatible DVD player and a good DTS-capable receiver to play. It is because not all DVD setups can play DTS.
On the other hand, when playing Dolby, you also need to consider major points. To play Dolby, you must have a compatible receiver. Also, there are some bare minimums for playing Dolby. It is a 5.1.2 system. You can have 5 speakers, one subwoofer, and two height speakers. Plus, Dolby recommends four height speakers to get an amazing result.
Which one has better quality between DTS and Dolby
Looking at the specs above, we can tell that DTS is better than Dolby. But higher bitrates don't always mean higher quality. There are more factors you need to consider. It includes dynamic range, signal-to-noise ratio, and more. So, identifying which is better is an ambiguous matter. Both audio formats are great and can accomplish the same results in providing sounds.
If you are curious about opening DTS files, we recommend Tipard Blu-ray Player. It is an offline program that is available for Mac and Windows computers. Using the program, you can simply play DTS. All you need is to launch the software and load the file. Aside from that, there are more files you can play besides DTS. The program allows you to play Dolby, DVD, Blu-ray, Ultra HD 4K, and more. With the help of Tipard Blu-ray Player, you don't need to look for another complicated tool for playing your DTS file. So, if you want to know more about the procedure of opening DTS, see the steps below.
Step 1Download and launch Tipard Blu-ray Player on your computer. You can also press the Download button below to get the installer.
Step 2Once the interface shows up, click the Open File of Open Disc option to load the DTS file. After that, you can already open the DTS file.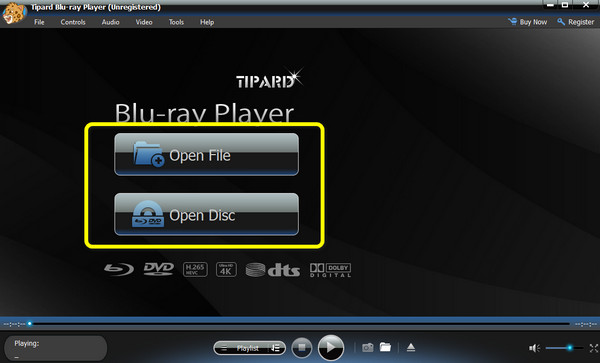 Extended Reading:
Top 10 FLAC Player for Windows/Mac/Android/iOS (100% Free)
How to Use the Best Audio Trimmer Apps to Trim Audio Files
Part 3. FAQs about DTS Sound
Is DTS the best audio?
Some experts say that DTS has better audio quality. IT can produce an excellent sound because of its high bitrate.
Is DTS audio lossless?
No. DTS audio is lossy. It means that DTS audio has a degree of audio from its source.
How do I play DTS audio on my TV?
The best way is to use the remote control and press the Settings button. Then, select the Display & Sound option. Select the Audio output and choose the Pass through mode > Auto. This way, you can play DTS on your TV.
Is Dolby Atmos the best sound quality?
Dolby Atmos is also another audio format that can provide exceptional sound quality. That way, you can say that Dolby Atmos has the best sound quality.
Conclusion
DTS can give you an excellent experience when watching movies. Also, besides DTS, you discovered its capabilities that would be helpful in the future. The post also shows you the differences between DTS and Dolby. This way, you will understand the two formats, including their pros and cons. Lastly, if you have your DTS file and want to open it much easier, never doubt Tipard Blu-ray Player. This program will let you open the file in a hassle-free way.