Discover Best Alternatives to iMovie for Windows
iMovie is an excellent program you can use. However, some users experienced that they couldn't use iMovie on their devices. If you are a Windows user, sad to say, you can't operate iMovie. So, consider using an alternative if you plan to download iMovie for Windows.
Thankfully, this guidepost will provide the best alternative to iMovie on Windows. Read the post to have insights about iMovie alternatives.

Part 1. Review about iMovie
Are you trying to find the greatest program to make your videos? You no longer need to worry because iMovie is what you need. So, what is iMovie? It is a program that offers the fundamental elements of movie editing. It includes straightforward editing features and makes switching between scenes simple. Also, it stores your changed files in digital format. iMovie will give you all you need without sacrificing quality. In addition to that, iMovie can offer more features you can enjoy. It is transitioning, and unique effects are one of its features.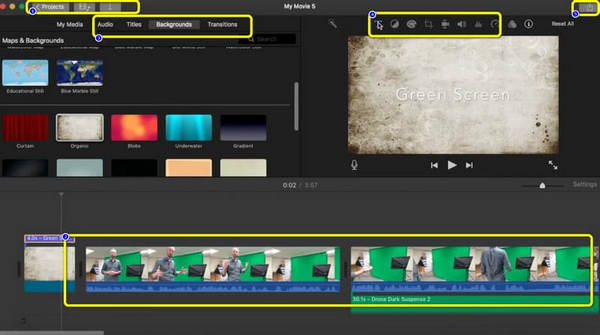 You may also edit videos using various tools. If you are familiar with videos, you may have noticed that editing is one important aspect of video quality. You can edit and organize your clips quickly and easily with the application. This tool will assist you in trimming the undesired portions of the imported clips. It can automatically separate your scenes into segments for you. You may import films from various sources, another feature you might encounter. You could believe that iMovie's forte is video editing.
How to Use iMovie
Step 1Editing your files using iMovie is easy. All you need is to open the application. Then, click the Create New > Movie option. After that, browse your file from your device.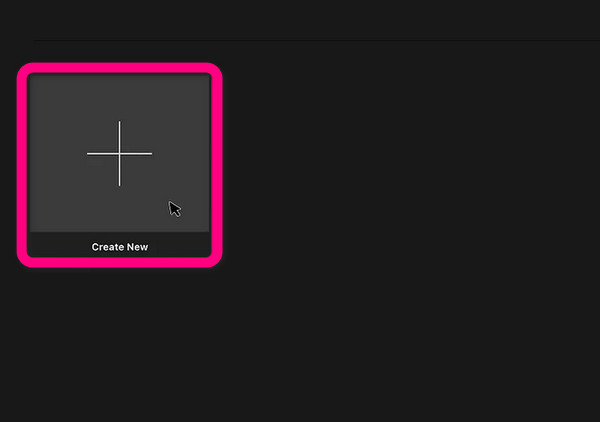 Step 2After that, put your file on the Timeline of the application. You can add multiple files on the timeline if you want. Afterward, you can arrange all the files from the timeline. Then, you can already edit your files. You can crop, trim, and split the videos/photos. Also, you can modify the file length easily and instantly. You can also add sound effects, audio backgrounds, transitions, etc. You can see all of these functions on the main interface of iMovie.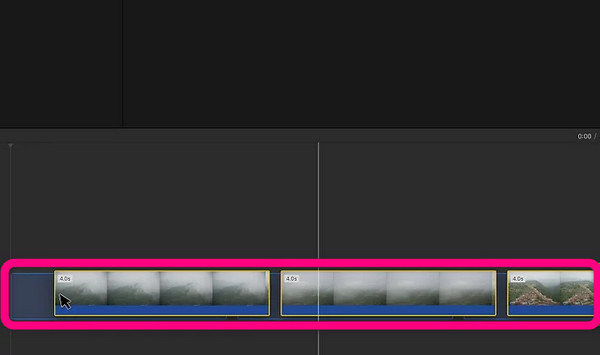 Step 3When you finish editing the file, click the Share > File option. After that, click the Next button and put the file title. For the final process, click the Save button to save the edited file on your device.
Supported OS: iOS and macOS
Part 2. Best Alternatives to iMovie for Windows
1. Tipard Video Converter Ultimate
An excellent alternative to iMovie for Windows is Tipard Video Converter Ultimate. With this offline program, you can edit your video efficiently. In addition, it offers the same functions you can encounter with iMovie. You can crop, slit, trim, video, and more. You can add filters, effects to improve your video. Plus, the offline program is easy to use and perfect for all users, especially beginners. Additionally, another thing you can do when editing videos is you can compress them. It allows you to compress video files to your desired file size. You can also merge multiple videos to create a single piece.
Aside from that, in terms of audio, you can also compress your audio to your preferred size. You can also modify the metadata to change the information in the file. Its interface is understandable, and the video editing process is easy. This way, even a user with no editing skills can use Tipard Video Converter Ultimate. Moreover, besides video editing, there are more features to enjoy when using the tool. It includes converting audio and video, making GIFs, music videos, collages, and more. Furthermore, the program is available on Windows and Mac computers, making it convenient for all.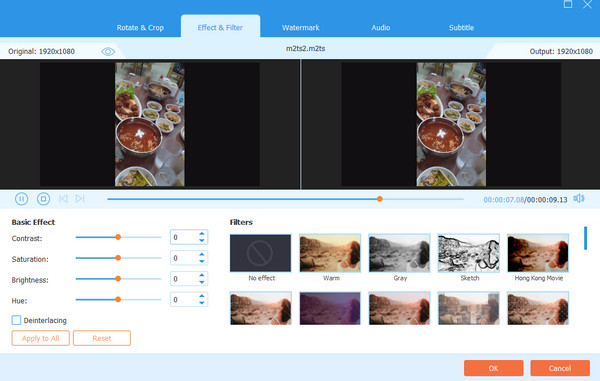 Key Features
• The program offers basic and advanced editing tools.
• You can convert audio, video, and image to other formats.
• It offers a Music Video creator with wonderful free themes.
• Export edited videos with high quality up to 4K.
2. DaVinci Resolve
DaVinci Resolve is the next video editor you can use as an alternative to iMovie. It is one of the common software that even famous filmmakers use to produce movies and videos. DaVinci Resolve can manage both simple social media clips and complicated videos. Also, it has an advanced video editor that takes time to learn. In addition, the program can offer free templates, so you don't need to create videos from scratch.
DaVinci Resolve lets users cut videos and add effects. You can also modify the colors based on your needs. You can adjust the video's saturation, brightness, hue, and contrast. It also offers a resolve fx relight feature. With the new Relight FX, you may add virtual light sources to a scene and change the atmosphere or the environment's illumination in interesting ways. However, since it has advanced features, some users might find it difficult to use the software. Also, the features are limited to the free version, so you need to get a subscription plan.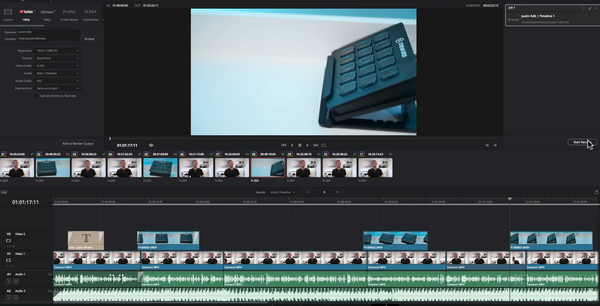 Key Features
• The tool lets you cut videos, add effects to videos, and adjust the video's color grade.
• It can access hundreds of video effects with Resolve FX.
• It utilizes Fairlight for audio post-production.
3. Adobe Premiere Rush
Another editing video you can rely on is Adobe Premiere Rush. This program is capable of processing multiple video and audio tracks. It can also apply graphics templates to animated films. The best thing is that this great cross-platform is perfect when you prefer a quick video-sharing process. Another editing feature you can encounter in this software is that you can bring multiple clips together. Also, you can add presets to your videos to make them more organized.
Plus, the software also offers an audio editing feature. With the help of this feature, you can achieve a nice audio quality on your video. You can even insert audio or sound effects into your video. How others see the addition of video and sound effects can significantly change your video production. You can arouse feelings and maintain viewers' interest. Unfortunately, Adobe Premiere Rush is not that simple to operate. Its main interface is confusing for beginners. Also, it is expensive when getting the paid version.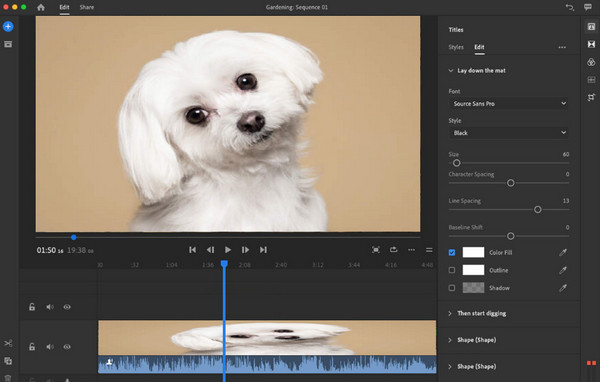 Key Features
• It has an audio separation feature that allows users to separate video from audio.
• The program enables you to improve audio quality.
• It is capable of correcting the video's contrast and exposure.
4. Adobe Premiere Pro
If you love creating wonderful videos to post on social media, Adobe Premiere Pro is the suitable video editing software. Biteable is considered a video composing platform. This downloadable program allows you to access a vast library of videos and animations for creating videos for social media. The software lets you cut, trim, and edit videos based on your preference. There are more editing features you can encounter when using Adobe Premiere Pro. It offers an auto-color correct feature. You can modify the video color by adjusting its hue, brightness, saturation, and contrast. If color correction isn't your strong suit, you may still utilize the auto color correct option to swiftly adjust and export a movie.
The program also provides safe margins and rulers. With this type of feature, you can ensure the balance of your video. This way, it will be more engaging and more satisfying to viewers. Also, if you are a professional user, you will enjoy the program since it offers advanced editing tools. However, since you are dealing with Adobe, expect that only professional users can manage the program. It means beginners will need help with using Adobe Premiere Pro.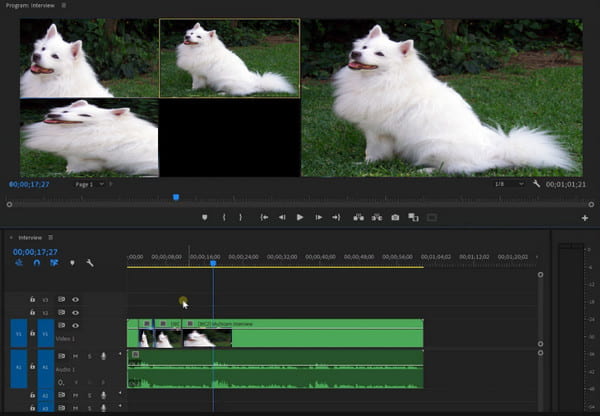 Key Features
• The editing software offers various effects.
• It can adjust video color like saturation, contrast, brightness, and hue.
• It allows users to apply transitions to the film and stabilize footage.
5. Shotcut
In terms of video editing, Shotcut will offer a high-performance level. This iMovie alternative software is free. You can edit your files in various ways. Shotcut can provide video and audio effects to improve your video. Also, this downloadable software can rotate the clip, wipe transitions, and blend modes. With these functions, you can expect a nice result after editing. There are many features you can enjoy on this editor. You can adjust the colors by modifying the video's shadow, highlights, and mids.
The software also lets you adjust the video resolution, fps, aspect ratio, scan mode, and more. You can also reverse the footage easily if you want. Aside from that, you can balance the white color with the help of an eye dropping tool. However, Shotcut has drawbacks. Like other advanced editing software, Shotcut has a confusing user interface. You can encounter many options, making it complicated for non-professional users. So you must seek assistance from professionals to use the program.
Key Features
• Users can use the Picture-in-picture effect.
• The software provides a Rutt-Etra-Izer filter for putting 3D effects.
• It is capable of modifying the file's resolution.
Part 3. FAQs about iMovie for Windows
1. What are the limitations of iMovie?
iMovie was created to be only compatible with a few formats. It means that regarding compatibility, it is limited. iMovie doesn't support some of the popular video formats like VOB, WMV, MKV, AVI, and more.
2. If an iMovie 11 crashes on startup, how can someone uninstall iMovie?
Actually, simply deleting the application does not fully delete an iMovie. Other programs that can be uninstalled are available. Since they remove all the files related to iMovie along with iMovie, programs like AppCleaner or AppDelete can be used to uninstall iMovie. The Mac OS X Application DVD or the ILife CD must be used to reinstall iMovie.
3. How to retain the complete picture in an iMovie?
When using an iMovie, choose the image or photo. Click on the window menu. Then choose the 'Cropping, Ken Burns, and Rotation' option to keep the entire image. Click the "Fit" button in that selection, followed by the "Done" button.
Conclusion
iMovie software is an excellent editing program. However, it is only accessible to iOS and macOS. So, you can't utilize iMovie if you use Windows. In that case, you can use the best alternatives to iMovie for Windows above to edit videos. However, as you observed, almost all the programs have a complicated interface. This way, it will be difficult for beginners to operate the software. Thankfully, you can use Tipard Video Converter Ultimate as an excellent alternative to iMovie. Unlike other programs, it offers an intuitive interface, making it more perfect for all users.