2 Best Players With Their Steps on How to Play Music on Android Phone
One of the most indispensable tools for an enthusiast of music is a music player. Aside from learning how to play music on an Android phone, it is also essential to know a few music players for Android. More than the high-quality audio and an easy-to-use interface, this type of app ministers your music playlist and library to a good organization while giving easy access to your favorite tunes. A music player provides easy-to-master navigation through the files saved on your device, giving you the ability to create playlists, play individual tracks, and organize them by artists, genres, and albums, allowing you to adjust the audio settings, such as the equalization and volume. Since you now have an idea of a music player's features, let's learn the best ways to play WAV, MP3, etc., files on an Android below.

Part 1. What Audio Formats Android Supports
There are several audio formats that the Audio Player of the Android platform supports. However, some formats are only supported by the newer versions of Android. This only means the ability of your device to support many audio formats depends on its used version. Hence, here is a table to show the supported audio formats with their details.
| Audio Format | File Container Type | Encoder/Decoder |
| --- | --- | --- |
| MP3 | MP3, MPEG-4, Matroska, etc. | |
| AAC LC | 3GPP, MPEG-4, MPEG-TS. | |
| AAC+ | 3GPP, MPEG-4, MPEG-TS. | Android 4.1+ |
| xHE-AAC | 3GPP, MPEG-4, MPEG-TS. | Android 9+ |
| AMR | 3GPP, AMR. | |
| FLAC | FLAC, MPEG-4. | Android 4.1+, Android 3.1+ |
| MIDI | RTTL/RTX, iMelody, OTA, Type 0 and 1. | |
| Opus | OGG, Matroska. | Android 10+, Android 5.0+ |
| Vorbis | OGG, Matroska, MPEG-4. | |
| PCM/WAVE | WAVE | Android 4.1+ |
Part 2. 2 Best Ways to Play Music on Android
So, how to play audio files on Android without any trouble? There are endless options of music apps from the Play Store. Therefore, choosing the best one for you may be challenging. For this reason, we will make your search job easier for you as we have already gathered the best apps (in no particular order) you could have.
Poweramp Music Player
Poweramp, as its name suggests, is a powerful free music player for audio and music files. Aside from letting you play your numerous local music files, it also lets you add some HTTP streams from various sites such as the Digitally Imported. Moreover, this app offers Android Chromecast, Auto, and Google Assistant to support bridging the hole left by the departure of Play Music. With this music player, it will be easier for you to find the menu when looking for the streams, playlists, and all the songs you have. Here's how to play WMA files on Android using Poweramp.
Step 1Install the app, allow access, and select the folder or storage where your music is saved into it.
Step 2Tap the four square button to see your Library, then tap the All Songs option.
Step 3Finally, tap to play the song you want to hear.
VLC for Android
If you are a traditionalist, then you will surely like this VLC app for Android due to its reliability, simplicity, and utility. This app is a bare-bones kind of music player, giving you a no gulf music playing experience. Furthermore, this VLC for Android is a complete audio player that supports the audio and video, images, and other file types included in your storage. Also, it supports various formats and containers, including MKV, MP4, MP3, FLAC, and OGG. Another good thing about it is that it is also a music equalizer on Android. However, one of the minor caveats of this app is its sensitive gesture control. Thus, to know how to play audio files on the Android version of VLC, see the steps below.
Step 1Open the VLC app and grant access to your music storage.
Step 2Once you launch the app, tap the Audio option among the tab menus at the bottom of the screen. Also, you can tap the Browse tab to access your other folders.
Step 3Then, you can choose and play the music you want to listen to.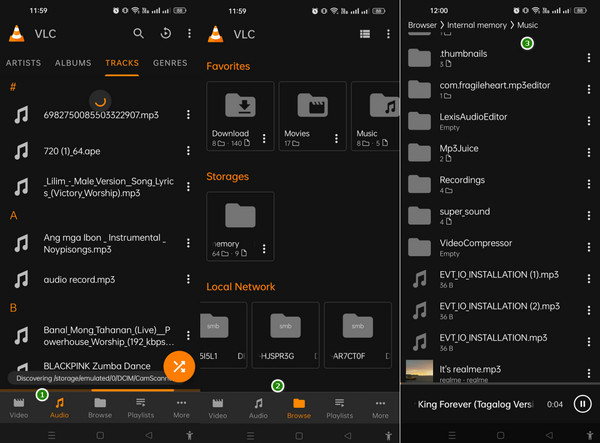 Part 3. How to Convert and Transfer Music to Android
Due to some limitations on the audio formats that Android's built-in player supports, there will be times when you can't play all your music to it. And suppose installing a new app on your phone is not a good option for you, then try to just convert the unsupported audio files with Tipard Video Converter Ultimate and transfer them to your Android for playback instead. It is the best video converter that will enable you to quickly and easily convert your audio files in batches. It lets you convert your music files of all types of formats into the ones Android supports without any trouble. Then, by just using your trusted USB cable, you can easily transfer the converted file into your Android folder. Here's how.
Step 1Start by installing the converter on your computer by using the Download buttons below.
Step 2When you launch the software, click the Add button at the center to import all the audio files you want to convert. Please note that you can also upload some videos you want to transform as audio.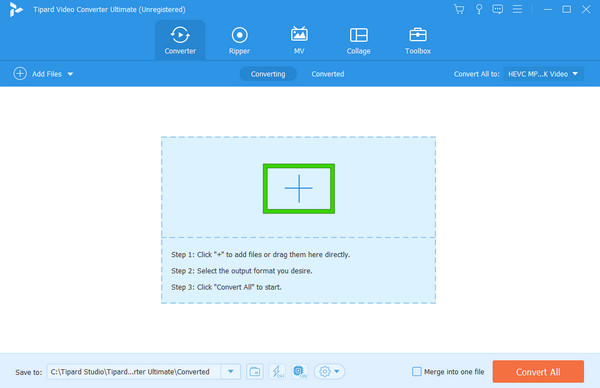 Step 3After that, click on the Convert All To option to set the output format. Choose among the formats under the Audio tab, and select your desired encoder to use.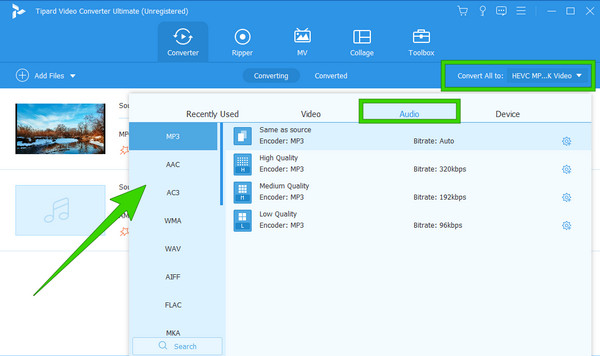 Step 4Then, click the Convert All button to start the conversion process. Afterward, you can connect your Android to the same computer via a USB cable and transfer the converted files to your phone by moving the files.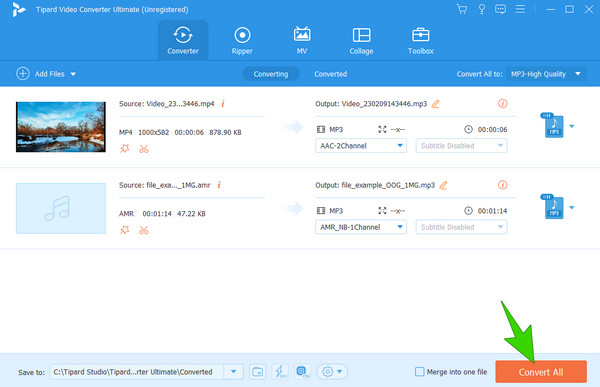 Part 4. FAQs About Playing Music on Android
Why does my Android phone not play music?
Various reasons cause music to not play on Android. It must be due to your volume settings, media output, storage, and hardware issues.
Why is there no music player in Samsung?
Samsung phones usually come with a built-in music player. However, the features of their music apps depend on the model and version of the phone.
How can I play music and still use my phone?
Playing a piece of music while using your phone is possible since almost all music players today, including the built-in ones, have a feature, namely background play on music.
Conclusion
You now know the different ways to play music on an Android phone. Having a third-party music player besides the typical one is a good idea to continue your groove. However, there's a special way to save storage on your phone for more important apps than a music player. If that's the case, then convert the audio files into a suitable format your in-built player requires using Tipard Video Converter Ultimate.