What can the AMD APP Acceleration do for you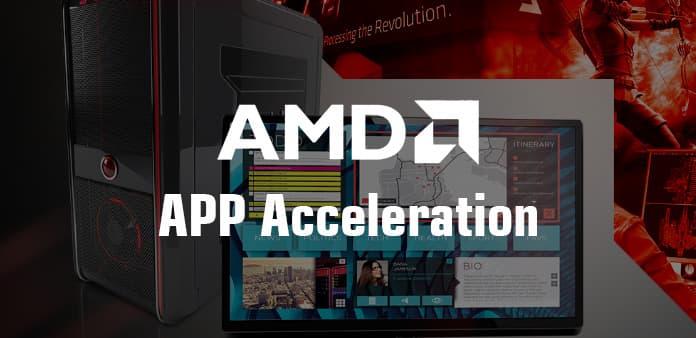 After adopting NVIDIA® CUDA™ technology, Tipard Studio has employed the newest AMD APP Acceleration, which can help Tipard converting apps demonstrate superior converting performance.
What is AMD APP Acceleration?
AMD App Acceleration is short for AMD Accelerated Parallel Processing, aims to improve the video quality and enhance application performance. It is a set of technologies available on AMD Radeon™ HD 6000 series and higher GPUs and is designed to improve video quality and enhance application performance. Full enablement of some features requires support for AMD Accelerated Parallel Processing (APP) technology and/or AMD's Universal Video Decoder (UVD). AMD Accelerated Parallel Processing technology works with applications designed to take advantage of its GPU acceleration capabilities.
The Introduction of AMD APP Acceleration
Since NVIDIA® CUDA™ technology has saved much time for those PC users with CUDA-enabled GPU, Tipard software developers have already moved on to concern about the other PC users with AMD APP-enabled GPU. Then, in order to give AMD users ultra-high converting speed and superior video processing performance, after constant research and development, the AMD APP Acceleration has been adopted to Tipard product ( Video Converter Ultimate, DVD Ripper, etc.).
How does AMD APP Acceleration affect CPU?
When AMD APP Acceleration is on, more spaces and resources of your computer CPU can be reserved for other tasks while ripping BD/DVD or converting video files. Users can optionally enable/disable GPU acceleration once AMD graphic card has been detected. Here, Tipard suggests enabling AMD APP Acceleration when converting HD video files, so that you could convert DVD to HD video with minutes.
Demonstrating superior converting performance with AMD APP Acceleration
Obviously, the right graphic has clearly shown that, the magic AMD APP Acceleration can save users much time when converting almost any video file to other video format with H.264 codec on your PC running on AMD APP-enabled GPU. At this point, you could quickly import AVCHD video and then convert MTS/M2TS to iMovie, or Adobe Premiere compatible video formats as you like.
Download and install AMD Graphics Driver
To use the AMD APP Acceleration, you have to install AMD Graphics Driver first. Please follow the following guide to finish the installation: https://www.tipard.com/install-amd-driver.html.
Note: 1. The above graphic is just one example. The actual acceleration situation is subject to the different source file, output format and PC Circumstances (OS, Processor, Graphic card, etc.).
2. The AMD APP Acceleration can work only if the converter outputs the format with H.264 codec. Another, it will be more obvious when converting HD video files.
Supported Graphics Card:
AMD Radeon™ R9 Series
R9 295x2, R9 290x, R9 290, R9 285, R9 280x, R9 270x, R9 270, R9 260, R9 255, R9 390x, R9 390, R9 380x, R9 380, R9 370, R9 360, R9 FURY x, R9 FURY, R9 NANO
AMD Radeon™ R7 Series
R7 265, R7 260X, R7 260, R7 250X, R7 250, R7 240, R7 370, R7 360
Radeon™ HD 8000 Series
AMD Radeon™ HD 8500, 8600, 8900
Radeon™ HD 7000 Series
AMD Radeon™ HD 7990, 7900, 7800, 7700
Radeon™ HD 6000 Series
AMD Radeon™ R9 Series
AMD Radeon™ HD 6990, 6970, 6950, 6870, 6850, 6790, 6770, 6750, 6450
ATI Radeon™ HD 5000 Series
ATI Radeon™ HD 5970, 5870 Eyefinity 6, 5870, 5850, 5830, 5770, 5750, 5670, 5570, 5550, 5450
ATI Radeon™ HD 4000 Series
ATI Radeon™ HD 4890, 4870 X2, 4870, 4850, 4830, 4770, 4600 series(4670/4650), 4550, 4300series
AMD Radeon™ HD 6000M Series
AMD Radeon™ HD 6900M series, 6800M series, 6700M/HD 6600M series, 6500M series, 6400M series, 6300M series
ATI Mobility Radeon™ HD 5000 Series
ATI Mobility Radeon™ HD, 5870, 5850, 5830, 5770, 5750, 5730, 5650, 5400 series(5430/5450/5470), 5450, 5430, 5165 series, 5145 series
ATI Mobility Radeon™ HD 500v Series
ATI Mobility Radeon™ HD 560v series, 550v series, 540v series, 530v series
ATI Mobility Radeon™ HD 4000 Series
ATI Mobility Radeon™ HD 4870, 4860, 4850, 4830, 4600, 4500, 4300
Note: All the Graphics card modes above mentioned is just a reference. All AMD information is subject to AMD official website