How to Burn Movies to DVD Effectively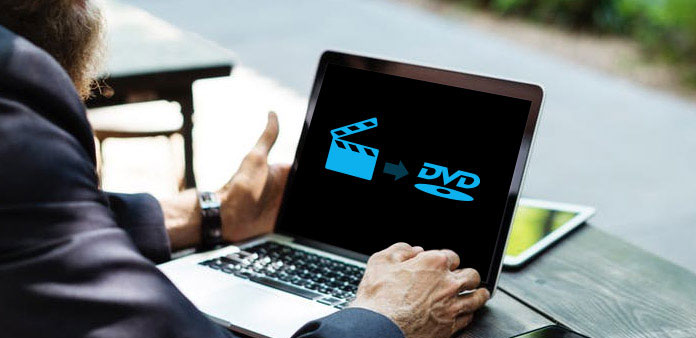 Today, almost everything about our life can be digitized and stored as data, from office documents to contact list, from private photos to family videos. We are living in a digital world now. But writing movies to DVD is not as simple as making a data disc, partly because their purposes are different. A data disc is used to store data without damage; while a movie DVD should be playable on DVD players, home entertainment system and PCs. Many DVD creators are able to produce playable discs; but only the excellent ones could create playable discs with high quality. In this tutorial, we are going to share the best ways to convert movies to DVD.
Method 1. Burn movies to DVD with Tipard DVD Creator
Tipard DVD Creator is one of the best DVD burning software on market. With this movie to DVD converter, you can enjoy many useful features to get the desired DVD files.
1. You can write movies in various formats to one DVD, such as MP4, MOV, MPEG, FLV, WMV, MKV, AVI and other video formats.
2. It allows you to burn movies to DVD from portable devices, such as iPhone and iPad.
3. You can make use of downloaded videos for DVD creating within DVD Creator.
4. There are extensive video and audio editing features allow you to trim and merge video clips, crop images, add watermark and audio tracks, apply effect and filters.
5. You can DIY menu for movie DVD or design the DVD menu with well-designed templates.
6. The embedded algorithm has the capacity to enhance the movie and create highest output quality possible.
How to burn movies to DVD with Tipard DVD Creator
Step 1
Insert a blank disc into computer's optical drive for burning movies to DVD and run DVD Creator. You can download and install this application from its official website according to your operating system.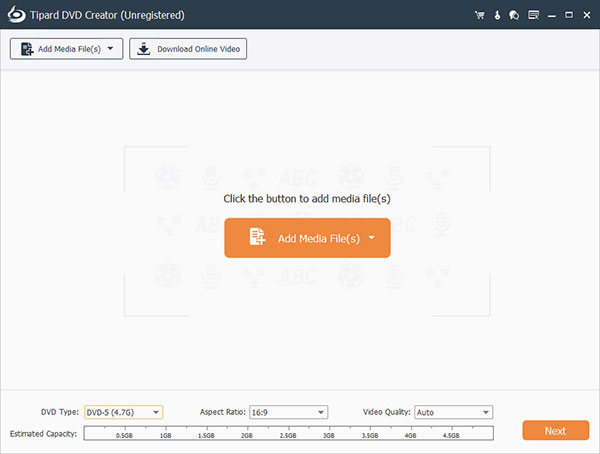 Step 2
Unfold the Add File menu on the top ribbon and choose Add Video option to open Windows Explorer. Select the movies you want to convert to DVD and click on the Open button to import them into DVD Creator.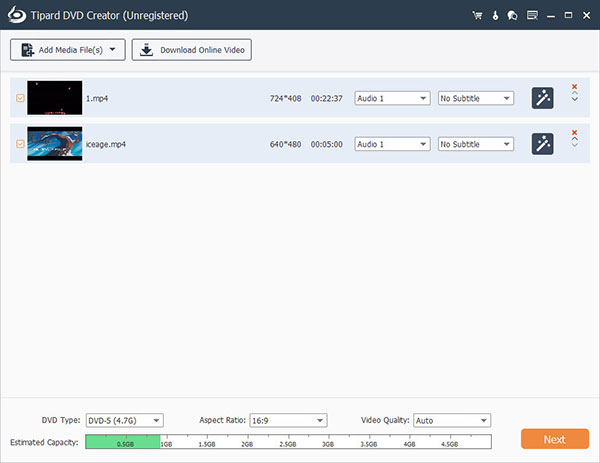 Step 3
After movies imported, you can select a movie and click on the Video Edit menu to go to editing window. Here you can edit the movie as you wish. If you want to add audio tracks or subtitles to the movie, the Add Audio menu and Add Subtitle menu are available on the top ribbon.
Step 4
Then click on the Edit icon in right DVD menu panel to go to menu editing window. Choose your favorite menu template on the left side and customize it for your movie DVD. Hit the Save button to confirm settings and back to main interface.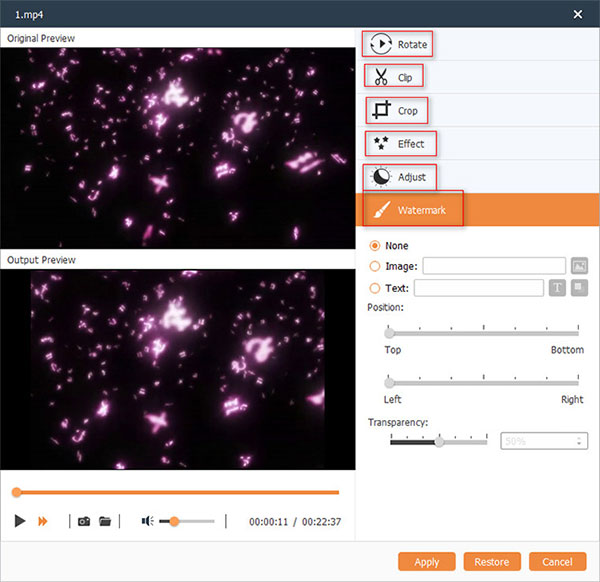 Step 5
Choose the optical drive from the Destination list and input a name in the Volume Label field. Finally, hit the Burn button to complete writing movies to DVD. Wait for a few minutes; you can reject the movie disc after writing process.
Method 2. Copy movies to DVD with Windows Media Center
Windows Media Center is a system utility in Windows 7, XP and Vista. It is also compatible with Windows 8/8.1; but you have to install it manually. This utility is not only a media manager, but also a disc burning application. When you want to create a movie DVD, you can insert a blank disc and follow the steps below to copy movies to DVD.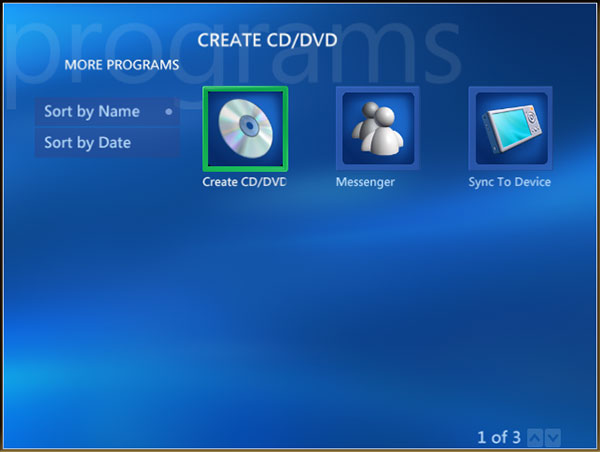 How to copy movies to DVD with WMC
Step 1
Open Windows Media Center. You can find it in Start menu > All Programs. On its Tasks list, choose burn CD/DVD.
Step 2
WMC movie to DVD creator will detect the blank disc and ask what disc format you want to create. Choose Video DVD and click on the Next button to continue.
Step 3
In the second window, enter a name for your movie DVD in the field and hit the Next button to move on. Then in media select window, choose Video Library and press the Next button to go to video library. Here you can select the movies you want to copy to disc.
Step 4
You can reset the movie file name by clicking Change Name or add more movies by pressing Add More. Then click on the Burn DVD button and then choose Yes on the confirm dialog to start copying movies to disc.
The order of the movie files you added on the disc burning window is the playing order.
Method 3. Transfer movies to DVD with Burn on Mac
While Mac OS X has built-in disc burning feature, there are some limitations. So, when you want to create a movie DVD on your Mac computer, you'd better use third party software, such as Burn. The movie to DVD burner is a free disc burning application supports to transfer movies to a DVD on Mac computers.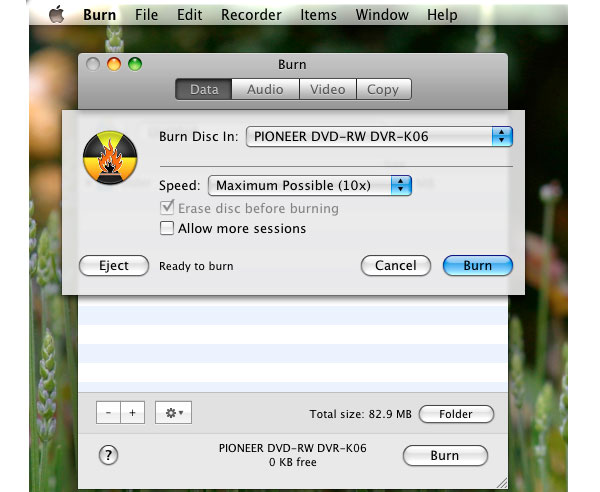 How to transfer movies to DVD with Burn
Step 1
Put the empty disc into your DVD drive and open Burn on your computer. If you have installed Burn, you can find it in Application folder.
Step 2
Press the Video tab on the top area of Burn to go to video disc making screen.
Step 3
Locate to the folder contains the movies you want to transfer to DVD. Drag and drop all the movies into the blank area of video disc making screen. Or you can use the Plus button and Minus button to add and remove movie files.
Step 4
Type a name into the field under the Video tabs and chooses DVD from the disc format list.
Step 5
When you are ready, click on the Burn button at bottom right corner. On the pop-up dialog, decide a burning speed from the Speed list and hit the Burn button to start transferring movies to DVD.
To keep the original image quality, you'd better choose a slower burning speed.
Conclusion
In this article, we introduced multiple ways to burn movies to DVD. These methods all have some benefits and advantages. Burn is a useful disc burning application for Mac computers. The built-in disc burning feature still has some shortcomings. Disk Utility, for example, only supports to burn limited file formats to discs. Burn has the capacity to burn movies to DVD without transformation. So, you can keep the original movie quality as much as possible. Windows Media Center is a media file manager for Windows. And this utility also has the capacity to write movies to disc without converting. If you need a professional movie DVD maker, you can try Tipard DVD Creator. This DVD burning application offers extensive features and has the ability to create highest output quality possible.

Click here to join the discussion and share your comments