Top VR Movie Converter Allowing the Users to turn the Regular Videos into 3D Video Clips [2022]
Use a VR Movie Converter to transform your videos into extraordinary ones. With that, this article presents you with the most trustworthy VR converters. But you can use Tipard Video Converter Ultimate to convert normal video to VR. Moreover, this ultimate video converter offers excellent features. These features are accessible without a cost because of the free download version. It is suitable for newbies and professionals because of its simple user interface.
Moreover, you will encounter informative steps to convert normal video to VR. So, you must expect to watch your favorite video and movie clips in a 3D format only if you will continue reading this post.

Part 1. Best Three VR Converters on Windows and Mac
1. Tipard Video Converter Ultimate
You may be wondering why Tipard Video Converter Ultimate is here. But little did you know that this software can convert normal video to VR. It comes with a Toolbox that features various options such as GIF Maker, 3D Maker, Video Enhancer, and more. A fast 3D movie maker is necessary when using a program. This video converter software offers a 70X speedier speed conversion. It also provides various editing tools allowing the users to crop, rotate, split, add watermarks and filters to their videos. Moreover, you can customize the format, quality, depth, anaglyph of the footage before generating the footage into a 3D file.
Extra information on the tool is written below to check its reliability. Thus, you must also follow the steps to experience it in real life.
Best Features of the Tipard Video Converter Ultimate:
1. Turn videos to 8K, 7K, 5K, 4K, and HD video clips.
2. Support batch file conversion.
3. Safe and easy-to-use software.
4. Offer a free download version.
5. Provide a photo and video collage with many templates and designs.
6. Can rip homemade DVD and Blu-ray files to your PC.
How to Convert Normal Video to VR in Tipard Video Converter Ultimate
Step 1Search Tipard Video Converter Ultimate on the Search engine. Then, click the download button. Install and open it, then go to the Toolbox.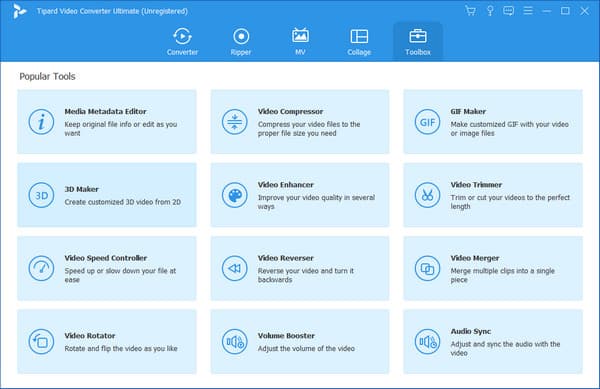 Step 2After that, kindly click the 3D Maker option.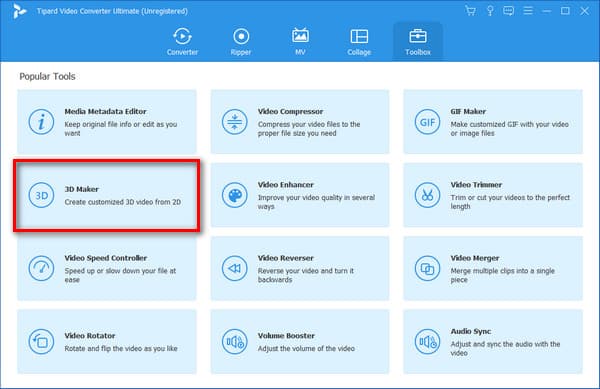 Step 3A new window will exist upon clicking the 3D Maker feature. Click the plus symbol in the center of the screen to add the video/s.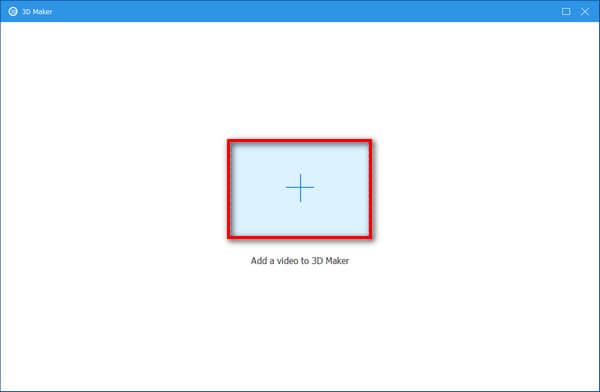 Step 4Finally, you can customize the tools to format, quality, depth, anaglyph, and more. Then you can choose a file location for your 3D movie from the Save to section. At last, click the Generate 3D button to start the conversion process.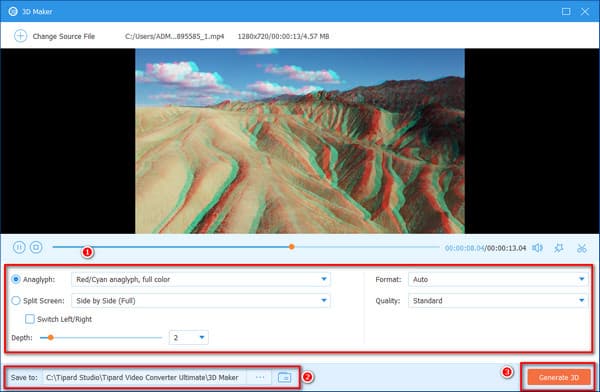 2. Wondershare Uniconverter
Wondershare Uniconverter is also great when converting normal video to VR. This program supports almost all popular formats, including format devices. It comes with a simple screen allowing the users to operate the functions with ease. It also provides a video editor, screen recorder, media compressor, and many more.
Pros:
1. Offer a 90x conversion speed.
2. It is not expensive.
3. Provide editing tools.
4. Compatible with Windows and Mac systems.
Cons:
The free version offers limited editing features.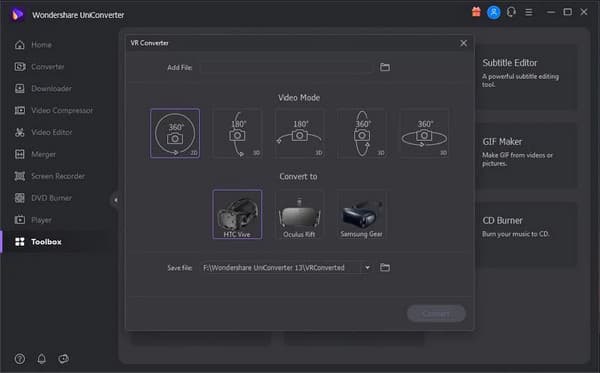 3. VideoSolo Video Converter Ultimate
Another excellent VR Movie Converter is the VideoSolo Video Converter Ultimate. Like the other program, this one also supports various media file formats. More interesting about this program is that it is compatible with popular VR headsets. It also allows you to optimize the brightness, saturation, and contrast of the 3D videos.
Pros:
1. Provide a 6X rendering speed.
2. It is easy and safe to use.
Cons:
1. Outdated version of Mac.
2. The premium version is pricey.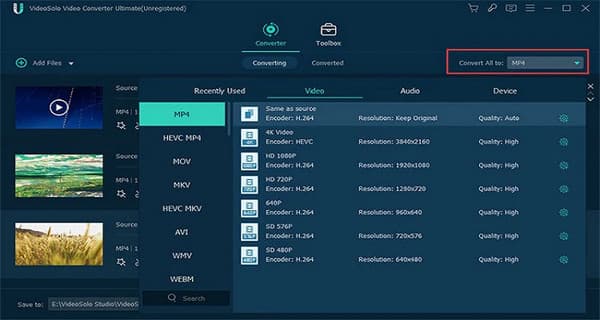 Part 2. Best MKV to VOB Converters
1. Zamzar
If the video converters are not enough and there is no space to download them on your PC, try VR Converter online. Thus, we recommend Zamzar. This online tool can convert your normal videos to 360 VR videos over the internet. Moreover, it can support popular formats that are compatible with various devices.
Pros:
1. Safe and easy to use.
2. Quick to convert videos without quality loss.
Cons:
Lack of editing features for video clips.
2. SwiftConverter
SwiftConverter is another option for VR Converter online. Thus, you can also use this to convert VR to 3D without any confusion. The online tool can convert normal videos to STL, 3DS, 3DP, OBJ, PLY 3D, and 3MF. You can turn your regular videos into extraordinary ones with a few clicks.
Pros:
1. Support image and audio conversion.
2. Can convert documents.
Cons:
The file size is limited to 100MB only.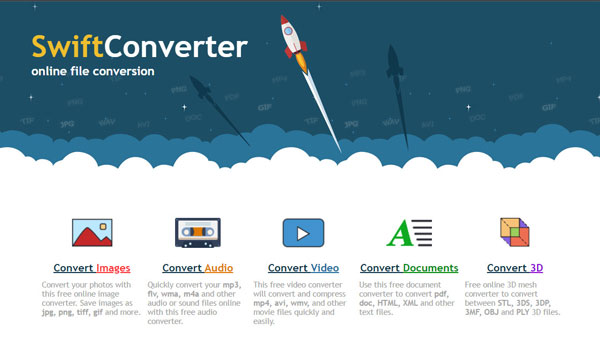 3. 3D-Convert.com
3D-Convert.com might be your last option as VR Converter online, but it is not the least among others. This tool enables online users to convert over fifty file formats into 3D video clips. It can also do a quick conversion speed. You might be asking if this online tool is safe. The good news is that the online tool deletes the data after 24 hours after the conversion process.
Pros:
1. Convert all file formats into a 3D video file.
2. Quick and safe to convert videos.
Cons:
1. Only 50MB file size.
2. Internet connection must be strong for a fast conversion.
3. No editing features.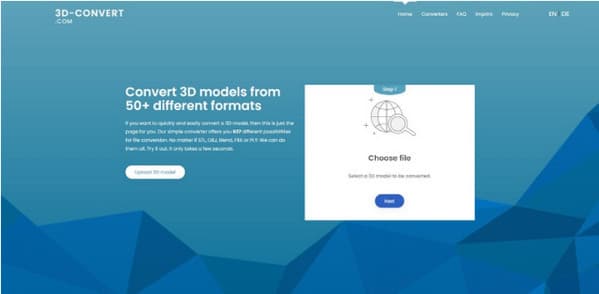 Extended Reading:
3 Best Methods to Convert Ordinary 2D Videos to 3D Side-by-Side
10 BEST 3D Movie Maker Software in (Verified & Recommended)
Part 3. FAQs of VR Movie Converter
What is the VR video file?
VR is a short-term for Virtual Reality; it is a video file with three-dimensional coming from computer technology. It is more concerned about experiential interface rather than observational. Furthermore, it operates with the help of a headset.
What is the purpose of VR videos?
The goal of VR videos is to bring the users into a natural environment. That is to say, it fills the peripheral vision using the visor and removing the surround sound headphones. Thus it can lead them into a scene that allows them to control the setting using head movements.
How does a 3D VR function?
From a digital manner, 3D is the forerunner of virtual reality. Because every VR form includes the third dimension, it inherently includes 3D. Thus, you get the upgraded version. Many sensors track your movement and react appropriately while watching through your VR glasses.
Conclusion
At last, you can now select the most reliable VR Movie Converter. That is why we urge you to try Tipard Video Converter Ultimate. This video converter program is the best tool among any other tools. It comprises fascinating features and capabilities to convert media files into different formats. More so, it offers a 3D Maker allowing you to convert a normal video into VR or Virtual Reality videos. As a result, do not follow all the steps above to achieve your goal. Indeed, you can enjoy watching your favorite movies and videos with an extraordinary experience. Moreover, do not forget to recommend this article to your friends to help them choose the eminent VR Movie Converter.
Please do not hesitate to contact or email this website if you want to raise another concern. Hence, this website is willing to answer and solve your issues.