7 Magnificent Volume Boosters: Honest Review of the Best Apps for Desktop, Android, and iOS
We are congratulating you in advance for being in this post since you are in need of the best volume booster app. We know how irritating it is to watch a video you can barely hear due to its low volume. What is more irritating is that even if you push yourself to adjust the volume, nothing changes. Fortunately, you won't need to replace the video just to have a good listening playback, especially if the video is irreplaceable for some reason. You will need a tool that will turn your video into what you expect and what is normal. However, you should be vigilant in doing the task while maintaining the excellent quality of your clip. Yes, many tools offer a feature to increase video volume, but most leave a damaging mark on the quality of the display, which is unexplainable.
And today, you are about to meet seven of the most recommended video editing programs of different platforms but specifically on computers, Android, and iPhones. So, see what they can offer you by reading the content below.

Part 1. Top 3 Best Volume Boosters on PC
To begin with, let us all see the top 3 most picked volume boosters you can use on your computer. Please be advised that the volume editing programs you will meet are downloadable editors and use a non-linear editing procedure.
Top 1. Tipard Video Converter Ultimate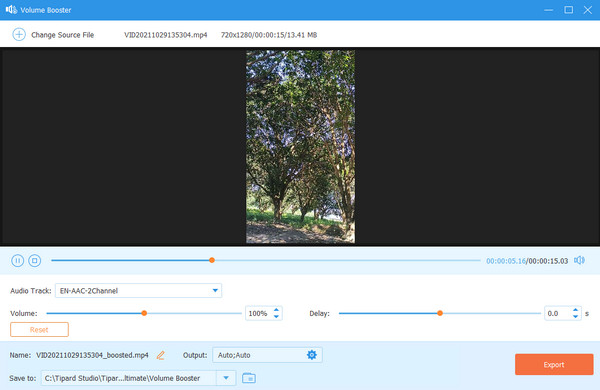 Everybody agrees that this Tipard Video Converter Ultimate is the best software that is able to boost the volume of any audio on their files. It is an all-in-one video editor that doesn't only allow you to adjust the volume level but also to convert, enhance, and make files to perfection. As its name suggests, it is the ultimate video converter that can convert your videos seamlessly. Also, this amazing Tipard Video Converter Ultimate has many advanced editing features, such as a video enhancer, audio sync, merger, compressor, audio trimmer, video watermark remover, 3D maker, and more from the Toolbox. But for today, let us focus on one of its Toolbox's powerful ones that will enable you to decrease and increase video volume without affecting any of their quality. This particular tool allows you to breezily adjust the volume and delay of the video according to your need. On top of that, it also comes with a preset output setting where you can smoothly adjust the format, resolution, encoder, frame rate, bitrate, channel, and quality of both the video and audio of the file.
Furthermore, it has remarkable support on almost all video and audio file formats, such as MP4, AVI, WMV, FLV, MKV, VOB, etc., for video, and WAV, MP3, ACC, AIFF, OGG, etc., for audio. What is more amazing is the advanced technologies that support all of its video editing procedures. Such technologies are hardware and GPU accelerations and Artificial Intelligence. This Tipard Video Converter Ultimate is what you can acquire on all popular operating systems, such as macOS, Windows, and Linux. So, if you want to boost the audio volume, there is no way you can't acquire it.
Pros:
• It comes with numerous editing tools besides a volume editor.
• It supports 500 plus and all the popular video and audio formats.
• It comes with a user-friendly interface.
• Contain many advanced editing features.
• It is highly flexible.
Cons:
• It is not free to use but comes with a free trial version.
Top 2. Boom 3D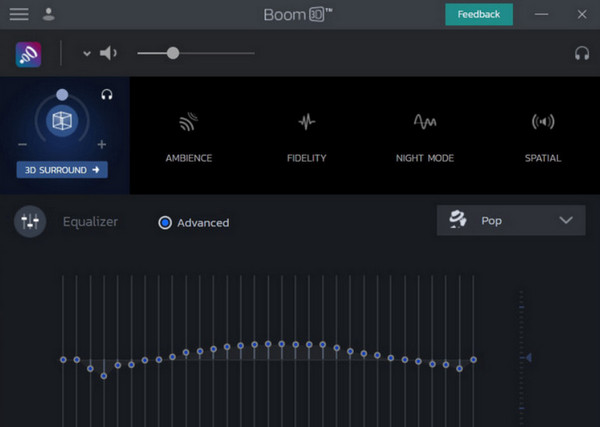 If you want an editing tool that will automatically work to boost the audio volume without adjusting any presets, then this Boom 3D is for you to choose from. Yes, you have read it right. This Boom 3D can work independently for your task as long as it supports it. Meanwhile, concerning its being a volume editor, this tool lets you make video louder or lower according to your preference since it has a manual volume adjustment available. Aside from that, it also comes with other features that will help you adjust or apply ambiance, fidelity, and spatial along with an equalizer setting. As good as it is, this tool still has disadvantages you can notice while navigating it.
Pros:
• You can use it manually and automatically to modify your file's volume.
• You can use it even without the internet to support you.
• It works to boost and lower the volume in high quality of output.
Cons:
• It is more advisable to use it by professionals.
• Its navigation needs to take time to master.
Top 3. VLC Media Player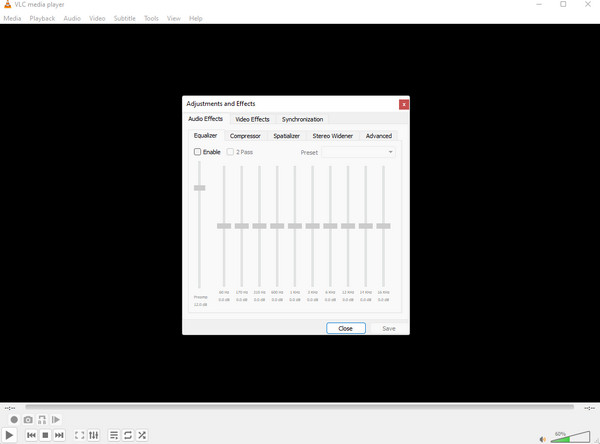 Naming one of the top volume booster apps you can install on Windows and Mac is this VLC Media Player for those familiar with it. Since it is their standard video player on their device, they know it comes with a built-in adjustment setting for the volume. And yes, it is noticeable because it is visible on its main interface, unlike other hidden tools. What is more remarkable about it is that its booster can turn up the volume to 125% if you wish. However, with this VLC's audio booster, you cannot monitor the robustness of your speaker, and it can fire up to its maximum even if your speaker cannot handle it.
Pros:
• It has a built-in tool to turn up and turn down the volume.
• You can use it without any payment.
• It allows you to volume up to 125 percent.
Cons:
• It cannot detect the loudness of the audio.
• It doesn't have a built-in equalizer for the enhancement of audio quality.
Part 2. 2 Best Volume Booster Apps for Android
Next on the outline is the list of apps you can acquire on an Android phone. Below are the apps chosen by many users and not only by our team, so you can assure their reliability as other customers also trust them.
1. Speaker Boost: Volume Booster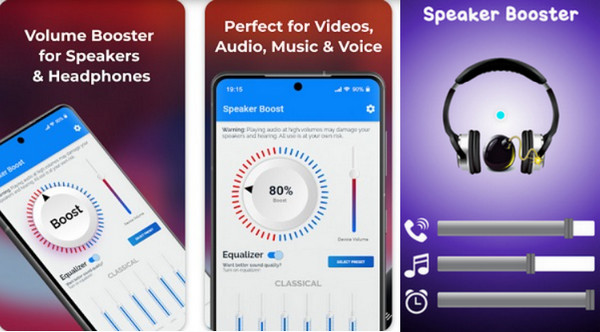 First on our volume booster for Android list is this Speaker Boost. It is an app that allows you to boost the sound level of the audio played on your device's speaker. Furthermore, it lets you use its extra-high audio system, allowing you to experience the booming volume produced by your file. Aside from that, this app can also be a tool as a headphone amplifier with a higher volume function. Its interface is intuitive when using its function to spice up even your phone calls.
Pros:
• This app comes with an equalizer feature.
• You can use it for various volume enhancers of many types of speakers.
• This volume boost app is easy to use.
Cons:
• It shows many ads while at work.
• It is not an entirely free app.
2. Volume Booster GOODEV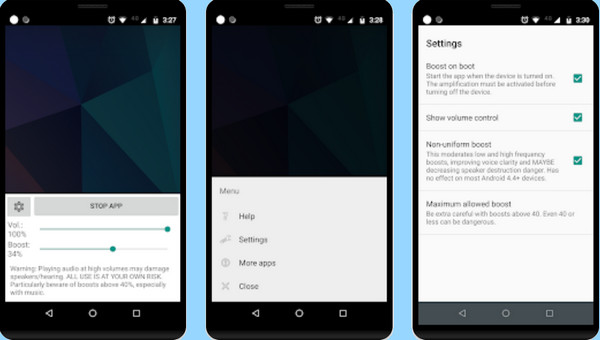 Another app that will help you with this volume-boosting on Android is this Volume Booster GOODEV. It has an easy-to-understand interface that you can manage quickly. Furthermore, it allows you to boost the volume of your file up to 60 to 70 percent with the help of its boost knob function. In addition, this boost knob will enable you to enjoy a high volume level while adjusting the boost level freely. However, the highest level of volume that it offers seems to be not satisfying for other users who use it.
Pros:
• It is a volume boost app that allows you to level up the volume to 70 percent more.
• You can use it easily due to its intuitive interface.
• You can use it for free.
Cons:
• It is not an ad-free app.
• The latest version is not better than its older version.
• It occasionally crashes when being used.
Learn more about how to crop videos on Android.
Part 3. 2 Amazing Apps to Boost the Video Volume on iPhone
This time, let us meet the apps proving their reliabilities on iPhone devices.
1. 1. Bass Booster - Volume Boost EQ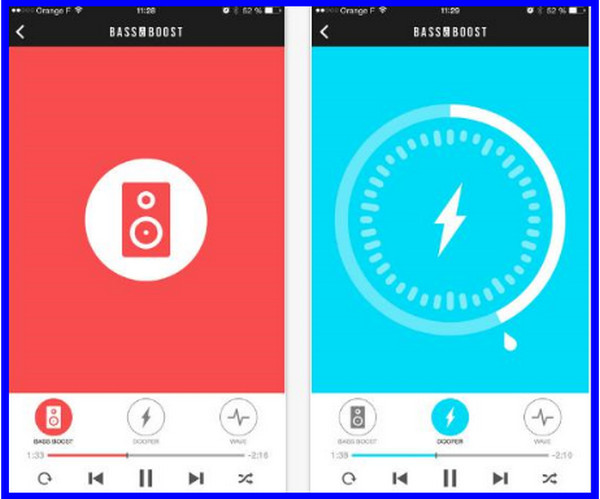 If you are an iPhone user and want to own an app that will help you equalize and boost the file's volume, then you better know this Bass Booster. This volume booster for iPhone is a multifunctional audio player that comes with smart amplifying, allowing you to work on volume leveling anyhow you like. What is more amazing about this app is that it offers ambient audio adjustments, such as for birds chirping and all road noises. In addition, it is infused with a Noise Compensation mode that automatically sets the volume level while working with a frequency masking algorithm responsible for achieving a piece of comfortable-sounding music.
Pros:
• It comes with multiple presets.
• Intuitive home interface widget.
• It supports different file types.
• It easily adjusts the frequency of volume.
Cons:
• It comes with pesky ads.
• It is only used with attached speakers and headphones.
2. Equalizer + Pro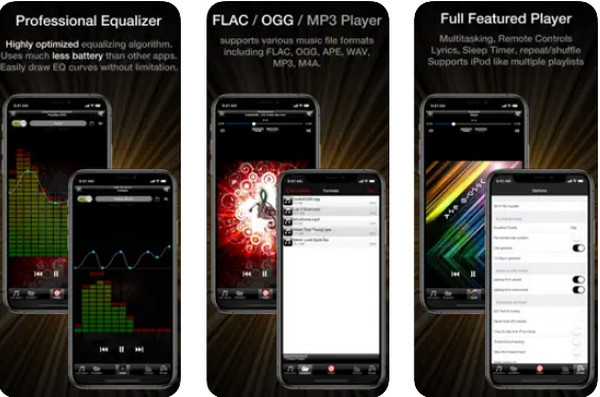 Next on the list of iPhone volume boosters is the Equalizer Pro. This app drastically enhances the audio quality of your file while working on its volume level simultaneously. Furthermore, after boosting its volume, you will love the multiple sound effects it offers to apply to your file. On top of that, you can even edit the files after importing them using its intelligent search.
Pros:
• It boosts the volume and, at the same time, the audio quality.
• You can use its 20-plus sound effects on your file.
• Advanced options for music search are available.
Cons:
• You cannot add or remove a file from its playlist.
• It occasionally crashes.
Learn more about how to flip videos on an iPhone.
Part 4. Bonus: How to Turn the Video Volume Up or Down Easily
Here are the steps to quickly boost audio volume using the best booster we can recommend, the Tipard Video Converter Ultimate.
Step 1Firstly, please install the software by hitting the Download buttons below.
Step 2Open the software and hit the Toolbox menu to see the Volume Booster tool. Click the said tool and upload the video you want to edit.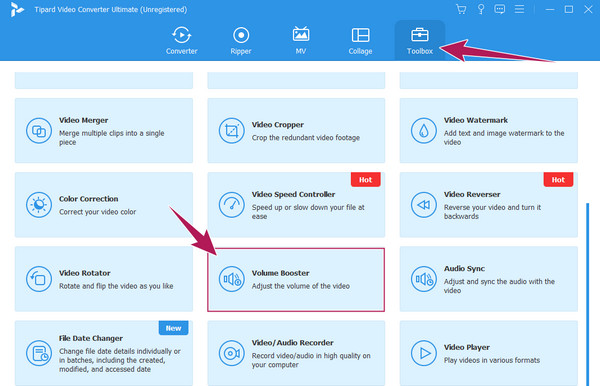 Step 3On the new window, you can now adjust the Volume and maximize it up to 200%
Step 4As simple as that. You can already hit the Export button to save the volume-boosted file.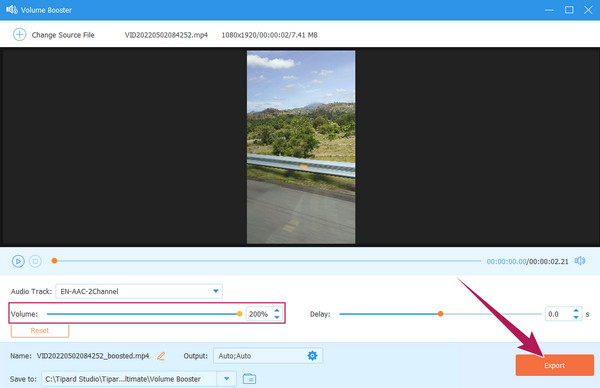 Part 5. FAQs about Volume Boosters
Is there a volume booster extension for Google Chrome?
Yes. There are tons of extensions to boost volume on Chrome that you can see when you search on your Chrome browser.
What is the best volume amplifier for Mac?
You can acquire many boosters on your Mac, but if you want software that will secure and let you level up the volume up to 200%, then Tipard Video Converter Ultimate is the one.
Does a tool that boosts the volume affect my speaker?
It depends. If you use a tool to boost the volume that your speaker cannot handle, it may damage it.
Conclusion
You can now turn the volume up using the best volume boosters you met in this article. Again, the assurance of their reliability is from our team and the people who personally used them. Now, if you want us to give you our 100% assurance of a tool, then use Tipard Video Converter Ultimate.