How to Merge FLV Files Using the Top Online and Offline Video Mergers
FLV is a file format that Adobe Flash Player and Adobe Air use. This file format is common for many video editors and users because it stores synchronized audio and video streams on the internet. In addition, tons of videos on the internet are embedded with the .flv extension, making it a standard format. And if you want to merge FLV videos so that you can make them as one, then we have a solution for you. In this article, you will know the tools that will effortlessly help you learn how to merge FLV files.

Part 1. How to Merge FLV Files Using an Ultimate Tool
Even though many video mergers are available on the internet, not all support FLV file formats. We searched for software applications that support FLV file format and can help you merge FLV videos easily.
Tipard Video Converter Ultimate is a video converter that is popular for many video editors. It is not just a file converter; it has many distinct features, such as video merger, cropper, and enhancer. And when it comes to the file formats that it supports, it supports over 500+ formats, including FLV, MP4, MOV, MKV, AVI, WEBM, VOB, and more. Furthermore, it has a straightforward user interface, making it a beginner-friendly tool. What's even more impressive about this tool is that it enables you to merge two or more videos. In addition to that, it supports 4K, 5K, 8K, and HD videos, so you do not need to be worried about your video's resolution. Therefore, follow the simple guide below if you are interested in using Tipard Video Converter Ultimate to combine FLV files.
How to merge FLV files using Tipard Video Converter Ultimate:
Step 1First, you need to download the Tipard Video Converter Ultimate by clicking the Download button below. Follow the installation process, and run the app.
Step 2Once you open the app, go to the Toolbox panel, and select the Video Merger option.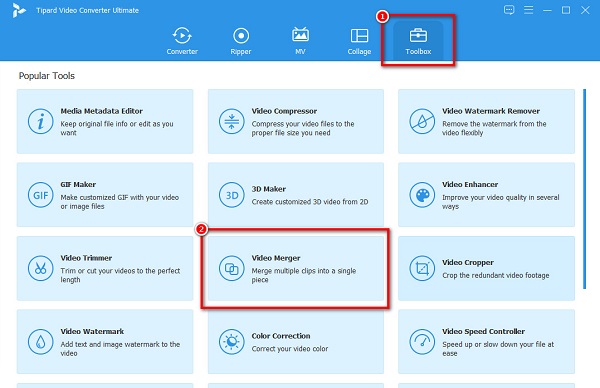 Step 3Next, click the + sign button to upload the first FLV file you want to merge.
Another way to import your video is to drag and drop your video to the + sign box.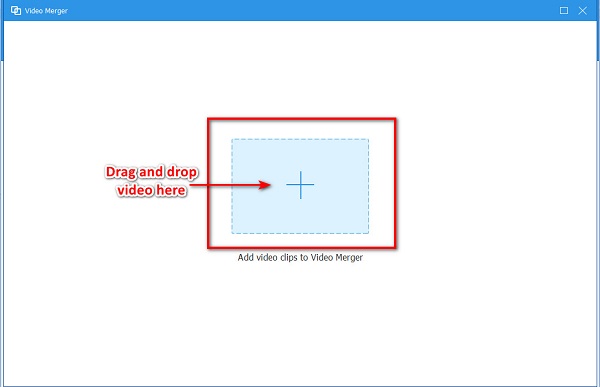 Step 4You will see the preview of your first video. To upload another video to merge, click the + sign button beside the first video you uploaded.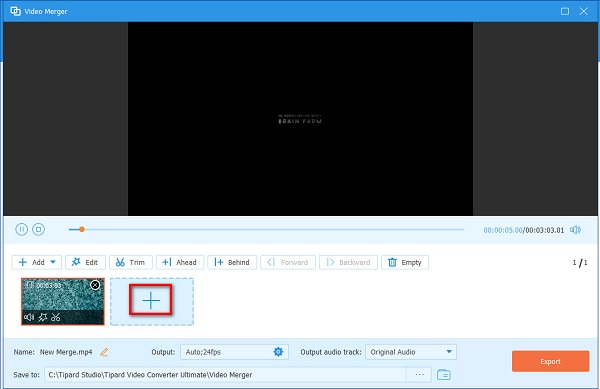 Optional. If you want to add more videos to merge, click the + sign button to upload videos. If not, proceed to the next step.
Step 5You can edit, trim, and reposition your videos using the editing options below the preview of your video. Once you are content with the output, click the Export button to save your video.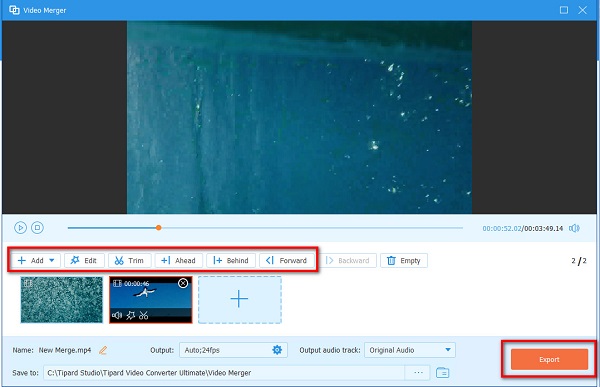 And that's it! By doing the guide above, you can easily combine FLV files with this great video merger.
Part 2. Using Format Factory to Join FLV Files
There is also a freeware tool that you can use to merge FLV videos. If you are a Windows user, you can merge videos using this freeware tool.
Format Factory is a freeware app that allows you to merge, convert, split, trim, and rip audios and videos. It has an easy-to-use software interface, and it's free.
Moreover, it works with many file formats, like FLV, MKV, WMV, 3GP, VOB, MPG, MP4, etc. Also, this freeware video merger assures you that it is safe to use. In addition, it has a fast processing interface, which you may save time using this tool. However, it may involve the risk of quality loss of your videos. Nonetheless, the Format Factory is still worth trying.
How to join FLV files using a freeware:
Step 1Download Format Factory on your computer and run the app.
Step 2Go to the Video Joiner and Mux to merge FLV files on the main interface.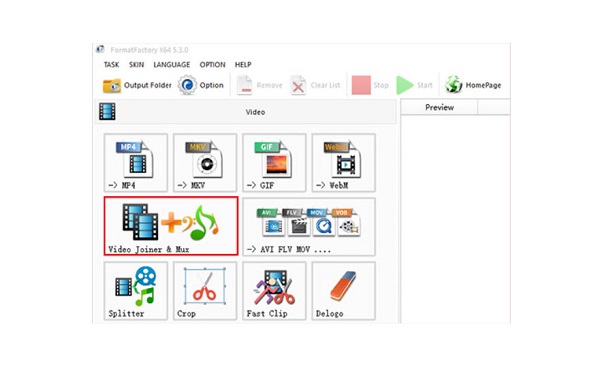 Step 3Next, batch import your FLV files by clicking the Add Files button. You can trim your videos by clicking the Clip button when your videos are uploaded.
Step 4Then, click the Output Settings to choose the output format that you want to have your video.
Step 5When you are done adjusting the output settings, click the OK button to go back to the main interface. And then, click the Start button to start merging your FLV files. Besides, you can use this way to combine AVI files.
Part 3. Comparison Between These Two Ways
If you are still uncertain about what video merger software application you will use, we will help you figure things out. So, read this part inclusively to have more in-depth knowledge about these tools.
| Features | Tipard Video Converter Ultimate | Format Factory |
| --- | --- | --- |
| Availability | Available on all media browsers, like Windows, Mac, and Linux | Available on Windows |
| Easy to use | | |
| Supported file formats | Supports over 500+ formats, including FLV, MKV, MOV, M4V, AVI, VOB, etc. | Supports the most standard format, like MP4, MKV, AVI, FLV, and more. |
| Can merge two or more videos | | |
| Can merge videos losslessly | | |
Now that you know a more detailed comparison of these two applications, you can now choose which video merging apps you want to use. But if you are a Mac user or a Linux user, you cannot use Format Factory.
Part 4. FAQs about Merging FLV Files
Can you merge videos using VLC Media Player?
Yes. Your VLC Media Player can help you merge videos. Follow the steps below to learn how.
Open the VLC on your device, and click Open Multiple Files.
Click the +Add button under the File tab on the Open Media panel.
Then click the Convert/Save button, and select Convert.
Click the Browse button and select the location of your video.
Lastly, click the Save button to save your merged video.
Are FLV files still supported?
FLV files are still supported with the use of Flash Player. Many video enthusiasts still use this file format to upload videos on the internet.
Can I use HandBrake to merge FLV files?
Unfortunately, HandBrake does not have a feature where you can merge videos. The only features it has are cropping, converting, adding subtitles, and adjusting the audio and video.
Conclusion
Now that you learned how to merge FLV files into one, it is now in you what method or tool you will use. Any of the software applications above can help you merge FLV files. However, not all of them have advanced editing features and produce a high-quality output. So, if you want to use a video merge that produces great-quality outputs that do not ruin your videos' quality, download Tipard Video Converter Ultimate now.