How to Make Reaction Videos on PC Easily with Multiple Videos on One Screen
Reaction videos are very popular on YouTube and TikTok now, which can reach millions of views sometimes. However, it's not easy to make reaction videos, especially wonderful reaction videos that attract many viewers.
Firstly, you need to learn how to combine several video clips into one screen, sync the different timelines, and add interesting effects, which are necessary for making reaction videos. This article will introduce the best and easiest way to achieve it. Moreover, you can learn more about some tips for making appealing reaction videos, including picking the topics, choosing a suitable recording environment, etc. And this article will tell how you avoid copyright strike problems which you must be concerned about. Please keep reading to create a wonderful reaction video.

Part 1: The Best Way to Make Reaction Videos on Windows/Mac
Tipard Video Converter Ultimate is a versatile reaction video maker that can combine several videos into one screen with designed templates. It supports combining up to 12 reaction videos and the original video into one screen. To make wonderful reaction videos, you can also use it to cut, crop, add filters, add subtitles, etc.
1. Make reaction videos from several video clips with simple steps.
2. Easily adjust the designed templates to change the video size.
3. Able to edit, cut, add filters, add subtitles, etc.
4. Support any video format and resolution for different social platforms.
Step 1Free download Tipard Video Converter Ultimate on your Windows/Mac and launch it. Click the Collage menu and click the Template option at the bottom. Then you can see tens of different templates to choose from. According to the number of people who participate in making reaction videos, you should select the corresponding templates.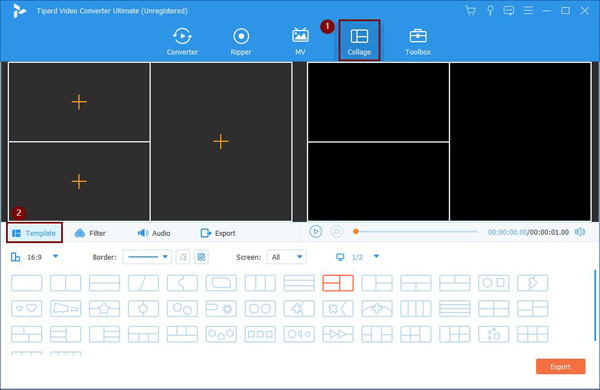 Then you can adjust the borderline easily to a small size and pull the reaction window to the corner so as not to block the original video.
If you have no video samples, you can use a video recorder tool to record a video.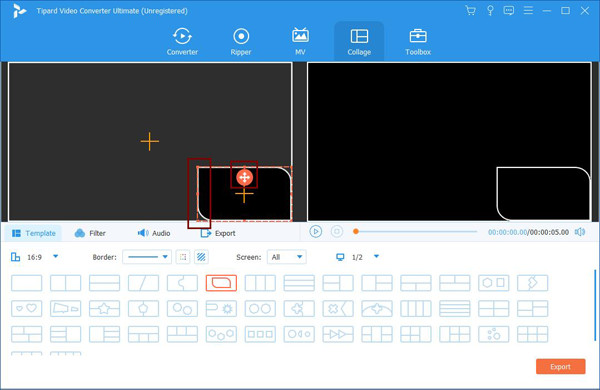 Step 2After choosing the template, you should click the Plus icon to add the desired video clips and combine reaction videos. Then move your mouse to the video, and you can edit, cut, and zoom in and out of the videos.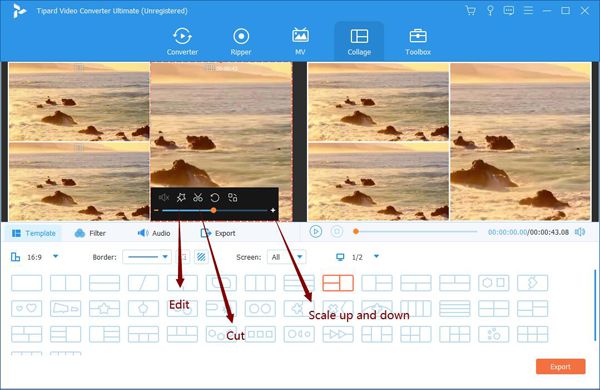 By clicking the Cut icon, you can choose the desired parts to play and sync the reaction video and the original video through the timeline.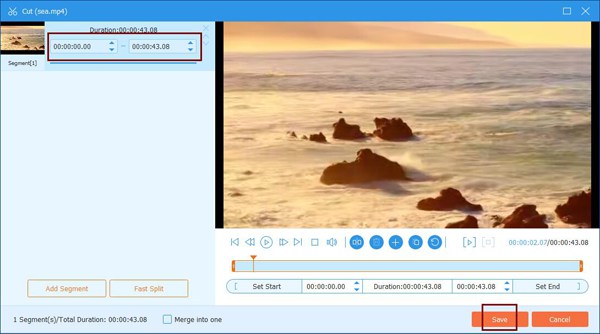 And you can click the Edit icon to crop, rotate, and add filters. Moreover, you can add subtitles to make your reaction videos more appealing with a better viewing experience.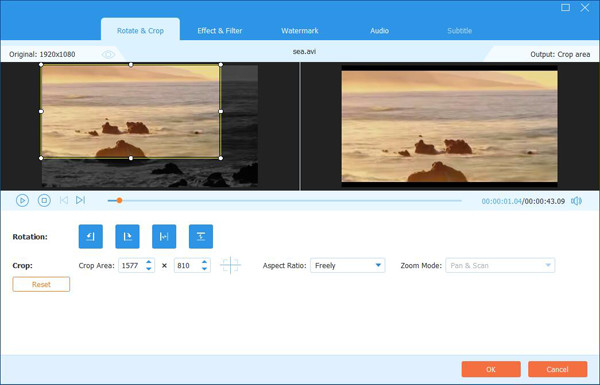 Step 3You can also click the Audio menu to add background music according to your need. Then click the Export option to choose the desired video format, resolution, and frame rate for different social platforms. After that, click the Start Export button to save the reaction videos on your computer.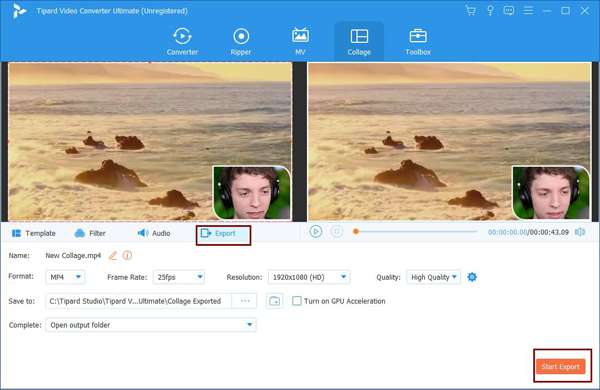 Part 2: Bonus Tips for Making Wonderful Reaction Videos without Copyright Strike
Tips for making reaction videos when recording:
1. Choose some popular and controversial events that happen recently as the topic.
To attract more views to watch your reaction video, you have to choose some hot topics and videos, including new songs, interesting video clips, memes, etc. In this way, those who are interested in the original videos will also watch your reaction video.
2. Pause the original video at the right time.
You should remember that reaction videos mainly focus on you. Thus, it's necessary to show your facial expressions or comments at some stunning moments when making reaction videos.
3. Create a clean and light environment for recording.
A comfortable reaction video is also essential to provide a better viewing experience for audiences. Thus, the recording place should be clean with sufficient light to show your face.
4. Don't stay too far away from the camera.
If you stay far away from the recording camera, your facial expression will be difficult to see, and your voice will be too small to hear clearly.
How to avoid copyright strike problem:
If your reaction videos are mostly occupied by others' videos, movie clips, or protected music, your videos may be forbidden through the automatic detection on YouTube. Here are four simple tips to make reaction videos without copyright strikes.
1. Don't remain the whole original video.
2. Turn down the original video volume.
3. Put your reaction video on the big screen and put the original video in the corner.
4. You'd better indicate the source of the videos.
Part 3: FAQs of Making Reaction Videos Easily
1. How to make reaction videos on Android/iPhone?
Since combining two videos into one screen is relatively complex for making reaction videos on mobile, you can directly search for reaction video makers on Google Play. Reaction Cam, iReact, and Reactoo are all good apps for creating reaction videos easily.
2. What videos are suitable for making reaction videos?
All the popular videos are good footage for making reaction videos, including famous songs, interesting memes, movie clips, hot news, and popular animations.
3. How to sync the reaction videos and the original videos?
If you use your camera to record reaction videos, you need to record the time point of the needed parts of the original video and pause your camera when finishing watching one footage. But the most convenient way is to use the computer camera to show your face and the original videos on one screen, and then record your computer.
Conclusion
When you want to make reaction videos, you can simply rely on Tipard Video Converter Ultimate to combine multiple videos, sync the videos, and add effects to the videos. Moreover, this article has introduced some useful tips for making wonderful reaction videos to attract more viewers and how to avoid the copyright strike problem. If you have any other questions, please leave your comment below.