A Step-by-Step Procedure on How to Do A Reddit Video Upload
Reddit is one of the leading forums encompassing a wide array of topics. It allows users or its Redditors to share text-based content, links, and images. In 2017, the platform introduced a native video hosting feature. It enables Redditors to capture videos or upload pre-recorded ones. With it, users can attract more views, comments, and karma in their chosen communities. But the question is, how do you post a video on Reddit? Check this post to learn how to do it and know the solutions for upload issues.

Part 1. Requirements for Posting a Video on Reddit
Reddit made specific requirements that users must follow to upload a video. So, if you're planning to post a video on this social news platform, make sure that you meet the following demands:
The video must be in MOV or MP4 format with H.264/AVC codec.
The video must not exceed 15 minutes and 1GB in size.
The video aspect ratio must be 1:1, 4:5, 16:9, or 4:3.
To post a video on Reddit without issues, every user must meet the list above.
Part 2. How to Post Videos on Reddit
There are different ways how to upload a video on Reddit. Users can post a video on the Reddit website using their computer and on the Reddit app for mobile device users. Also, the forum supports posting a video from a third-party platform like YouTube. Here we'll show you how to upload a video from a computer, mobile and embed a YouTube video to Reddit. Additionally, we have introduced an ultimate solution to meet Reddit upload requirements.
Method 1. Upload Video to Reddit from iPhone/Android
Step 1Open the Reddit app on your phone device and log in to it.
Step 2At the bottom part of your screen, tap the Plus or Create button.
Step 3Next, select the Video icon from the listing below your mobile's screen. And choose the video you want to upload from your gallery app. Or you can also record a new video by tapping the Record a video button.
Step 4Once done choosing or recording, tap the Next button. Then, it will direct you to the Adjust Clips section. Then, can trim the video to the desired length and tap Next.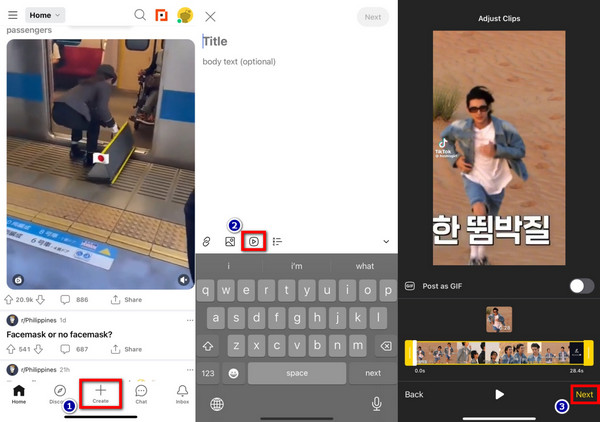 Step 5After that, you can add a title and a description to your Reddit post. Then, tap Next and choose a community where you want to share your post. You may type the subreddit's name or select it from your list of subscribed subreddits.
Step 6Finally, tap the Post button to upload your video via Reddit.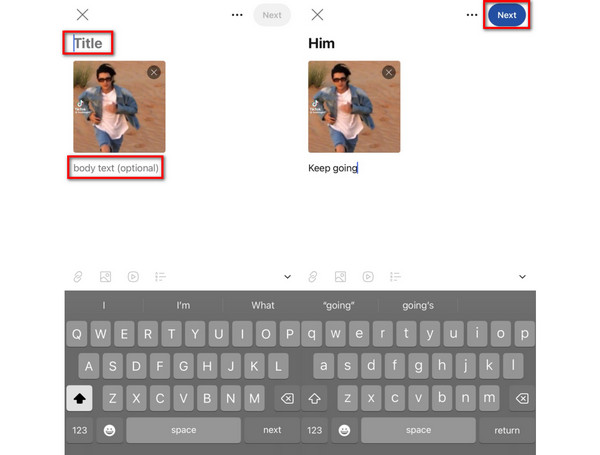 Method 2. Upload Video to Reddit from Windows/Mac
Step 1First, go to the Reddit website and log in to your account.
Step 2Afterward, click the Create Post or the Plus icon at the upper-right corner of Reddit's homepage. In this part, you have two post type options to upload your video: Post and Image & Video.
You can upload your video in the Post section by clicking the Add a Video button. Then, add a title and description.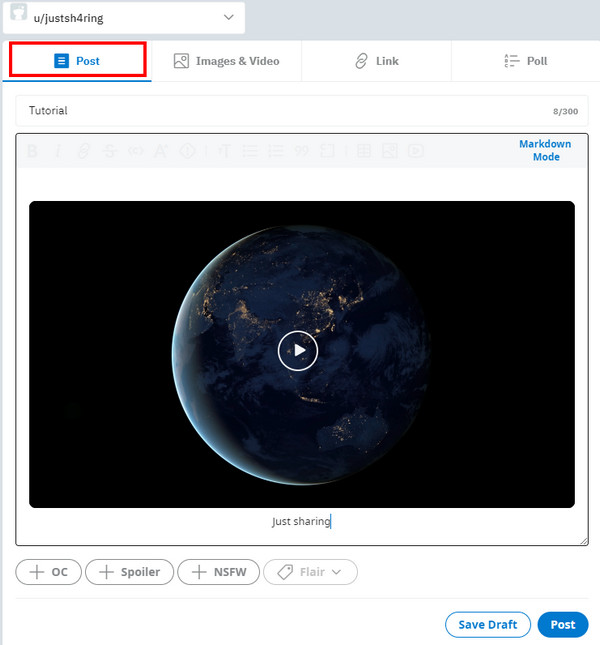 While the Image and Video option allows you to drag and drop or upload your video and only add a title.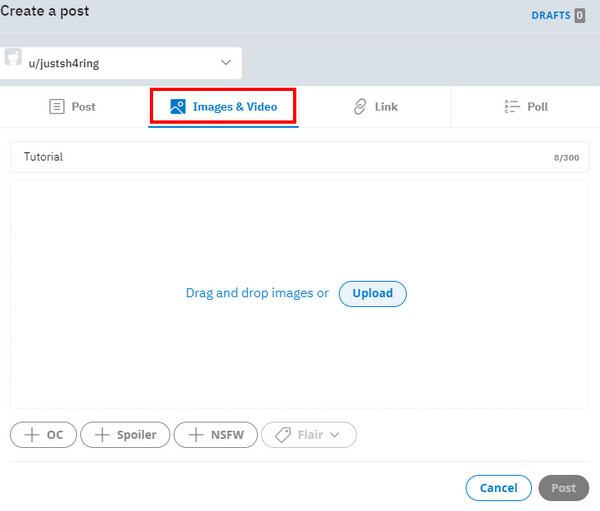 Step 3When you're done adding the video you wish to upload, Choose a community and a subreddit you need to post to.
Step 4Last but not least, click the Post button. And that's it!
Method 3. How to Embed YouTube Video in Reddit Post
To enhance your Reddit posts with engaging multimedia, you can embed videos from YouTube. By integrating videos from YouTube, you can gain and reach audiences. At the same time, you can provide a seamless viewing experience. To know how to embed YouTube videos in your Reddit post, follow the steps below.
Step 1First, go to YouTube and open the video you want to post on Reddit. Then, click the Share icon of the video and copy its link.
Step 2After which, open the Reddit website and click the Create a Post icon. Next, choose the Link in the type of post since you want to embed a video.
Step 3Now, paste the video link of YouTube you copied and add a title for your post.
Step 4At last, choose a subreddit and post the video from Youtube on Reddit.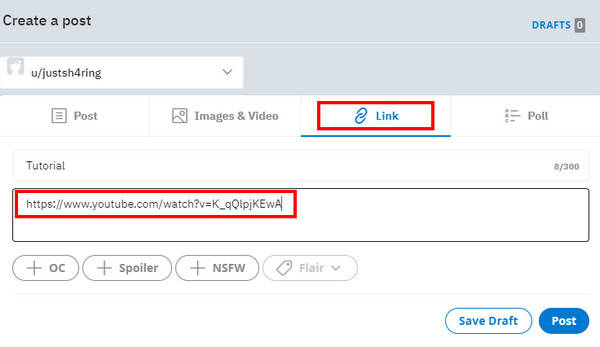 Bonus Tip. How to Convert and Edit Video for Reddit with Tipard Video Converter Ultimate
Do you find your video not meeting the Reddit requirements? Do not worry, Tipard Video Converter Ultimate can help you. It is an excellent converter tool that supports numerous video file formats, such as MP4, MOV, MKV, WAV, and more. Aside from that, it also allows you to adjust your video settings to follow the Reddit video upload limit.
Tipard Video Converter Ultimate can compress your video for Reddit if it exceeds 1GB. If the clip is too long and you need to cut it, you can use the editing feature of the program. In fact, the tool offers a lot of editing choices. With the Edit option, you can rotate and crop, add effects, filter, watermark, audio, or subtitle on your video. At the same time, the Cut feature allows you to trim your video. Finally, the Enhanced Video option enables you to improve video quality.
Moreover, using the tool, you can convert the video to MP4 or MOV for Reddit requirements. As a result, you can post a video on Reddit without any hassle. See the steps below to learn how to edit and convert your video using this tool.
Step 1To start with, download and install Tipard Video Converter Ultimate on your computer. The tool will launch after the installation immediately.
Step 2Then, click the Add Files on the top-left corner of the main interface to select the file you want to convert. Or, you can click the plus icon or drag and drop the video file.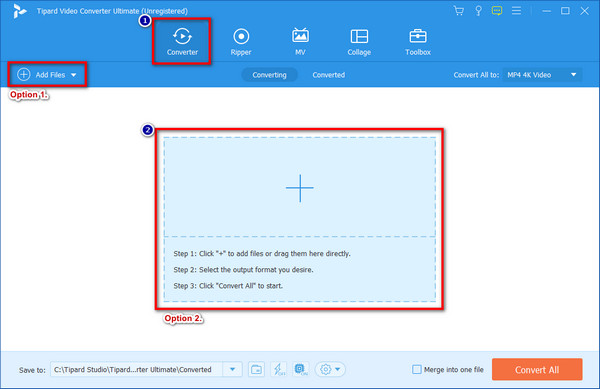 Step 3Before converting, you can edit your videos according to your needs. You can choose among Edit, Cut, and Enhanced Video options.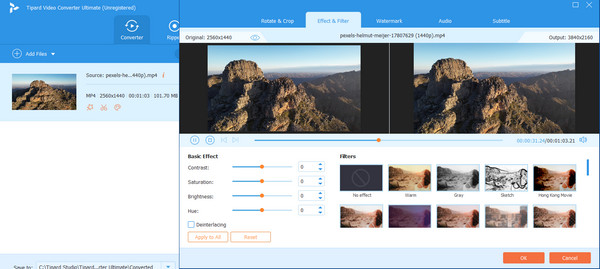 Step 4Afterward, choose an output format by clicking Convert All to. Select MP4 or MOV from the drop-down menu. Make sure that the video settings meet Reddit requirements as well.
Step 5Once done, click the Save to option in the bottom-right corner. Then, choose where you want to store the converted video. Finally, click Convert All to convert and save your video.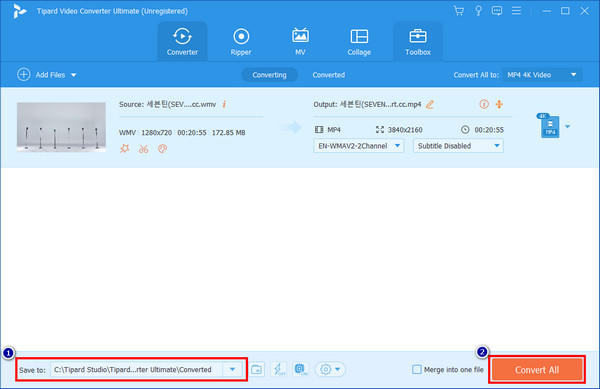 Part 3. Troubleshoot Reddit Video Upload Issues
Are you experiencing difficulties when attempting to upload videos on Reddit? Fret not, as we are here to assist you in troubleshooting these issues.
Problem #1. Reddit Can't Post Video
Uploading a video to Reddit may seem easy, as outlined in the steps above. Yet, some users continue encountering issues; the most common is upload errors. They get an error notification such as "Sorry, we accept only images (.png, .jpeg, .gif) and videos (.mp4, .mov)".
To fix this, try the following solutions below.
Currently, uploading videos to Reddit comments is not allowed. Instead, you can share video links from third-party sites.
Check if your video meets the upload requirements of Reddit. If not, change it using Tipard Video Converter Ultimate.
Make sure that you have a stable internet connection when posting to Reddit. So, try to reconnect to the internet and re-upload the video.
Check your smartphone's storage and Reddit app version. Clear cached files and update the app if needed.
Problem #2. Reddit Video Has No Sound
Many users face the issue of videos becoming mute after uploading them on Reddit. By default, videos on the Reddit app are mute, and you must manually enable the sound. If you can't hear videos on the Reddit mobile app, look for the mute icon at the bottom left of the video. Then, tap on it to enable audio.
Below are the ways to solve this type of problem.
Opt for the

Upload

button to import videos to Reddit instead of dragging them.
Share your video by uploading it to a third-party hosting site like YouTube. And then share the link on Reddit.
Ensure you're not watching videos in an NSFW community. It is because the platform auto-mutes videos there.
Either reinstall or update the app to the latest version to fix the problems.
Extended Reading:
5 Verified Solutions to Fix Instagram Videos Not Playing
How to Add Multiple Photos and Videos to One Instagram Story
Part 4. FAQs About How to Post a Video on Reddit
Can I send videos on Reddit messages?
Unfortunately, no. Reddit is not currently allowing users to send videos via Reddit Chat. But it allows you to send images and text-based messages.
Why can't I post videos on my own Reddit profile?
Reddit has specified that native media hosting is not intended for user profiles. If users wish to post videos on their profile, they can use a third-party media hosting service. After which, provide a link to the content.
Can you get banned for posting too much on Reddit?
Definitely, yes. You can get banned on Reddit for posting too much, especially if it's spammy or violates the platform's rules and guidelines. Subreddits may have specific posting limits to prevent excessive self-promotion or low-quality content. It's essential to follow the rules of each subreddit to avoid potential bans.
What video files does Reddit accept?
Reddit accepts video files in MOV or MP4 format with a size that should not exceed 1GB. And as long as the video is 15 minutes at maximum, Reddit accepts it.
Does Reddit allow you to download videos?
No. Reddit does not provide a built-in feature to download videos from the platform. Users who upload videos to Reddit become part of its native video hosting. And there is no official download option for these videos.
Conclusion
To conclude, that's all for how to post a video on Reddit. Follow the steps above to post your video and reach the audience you want for your post. If you can't upload your video due to the platform's demands, use Tipard Video Converter Ultimate. Use the tool to edit and convert your video without much hassle. The converter has a straightforward interface, so even a beginner can enjoy using it.