How to Combine Multiple Videos for Instagram - a Beginner's Guide
Instagram has been one of the most popular social networks across the globe. Whether you are a social media influencer, digital marketer, or a casual user happy to share your life with your friend, you might encounter a certain situation that you need to post two videos instead of one to your feed, and don't really know how to combine videos on Instagram.

If that is your problem, you have come to the correct place. We have compiled a list of useful tricks and tools to assist you in combing multiple videos for Instagram. The instructions we list here are simple, effective, and easy to follow. Each trick would take no longer than 10 minutes and waste you no time. You could perform these methods either on your iPhone or Android, on your PC/Mac, or simply use the native Instagram App workaround.
Part 1. Combine Instagram Videos on Android/iPhone
If you have already made several video shots on your mobile device already, you might want to consider a video editing app to combine your Instagram videos for Android or iPhone. Inshot is a great app that works sensationally, which you could download from either Google Play Store or Apple App Store.
Here are the simple steps you need to take to combine two videos together for Instagram. Open up the Inshot app on your Android or iPhone device, tap on the Video button and select the videos you wish to join. Tap on the Share icon on the top right corner. Next, tap on the Save button to export the combined video to your device.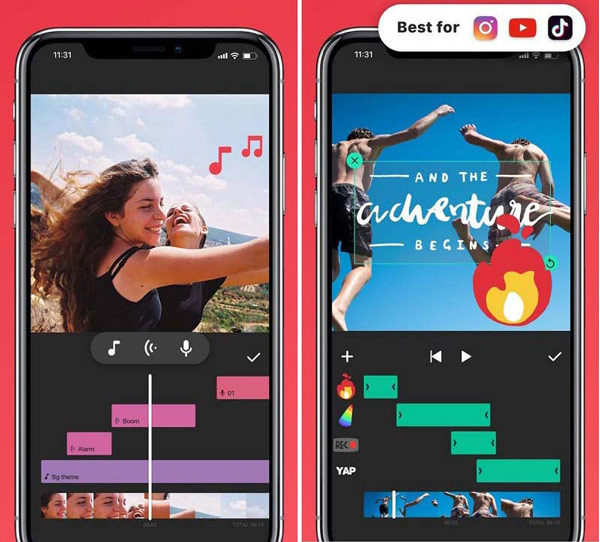 Part 2. Best App to Combine Videos on Instagram
It is always better to use a professional desktop-based video editing tool to combine your Instagram videos than merely using workaround tricks. This gives you more flexibility and reliability. Tipard Video Converter Ultimate is one of the most welcomed solutions for video editing, format converting purposes, enhancing your Instagram personal brand building. Other major features include:
– Combine, edit, crop, rotate videos without any hassle.
– Creating VIdeo Collages with premade templates.
– Add watermarks to your video.
– Create after effects filters easily.
– Editing audio tracks and subtitles.
– Convert your video to over 500+ Formats and YouTube, Facebook, Instagram, TikTok, etc.
– Quickly create GIF without any additional knowledge.
– 100% Clean and Safe software for both Windows PC and Mac.
Step 1Install Video Combiner and Import Videos
First things first, visit the official website to download the Video Converter Ultimate installer. Launch the program and open the program. On the main screen, click on the Add Files menu on the top left side of the screen, on the Open-File dialog, navigate to the path where your videos are located and import the video to the program.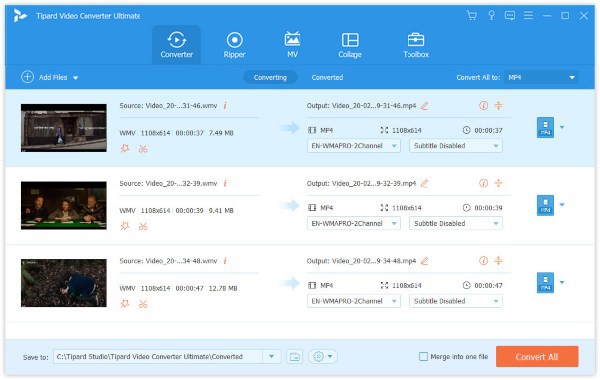 Step 2Edit Video Clips
Secondly, you need to edit each one of your video parts before combining them into one clip and upload to Instagram. Move your mouse cursor to the Library area. Locate the Edit button and click on it. If you are struggling to find the Edit button, just a quick hint: it looks like a Magic Wand icon.
Now the Edit Window is shown up to you, feel free to manipulate your video at your wish.
If you want to rotate or crop a video, click on the Rotate & Crop tab, and select the area of the video you wish to edit. On the other hand, if you want to add watermarks to the video, click on the Watermarks tab to proceed. You would be given options to easily add watermarks without advanced video editing knowledge.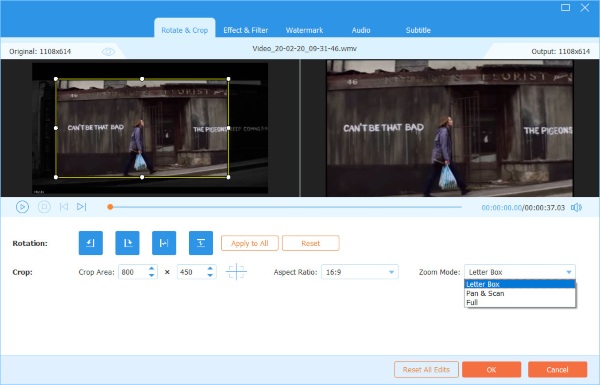 Step 3Combine Videos
The Next step is very important: On the left side of the Convert All button which locates at the bottom right side of the corner, there is an option called Merge into one file. Tick the option to make sure your video could be combined. After that, click on the Convert All button to export the final output video.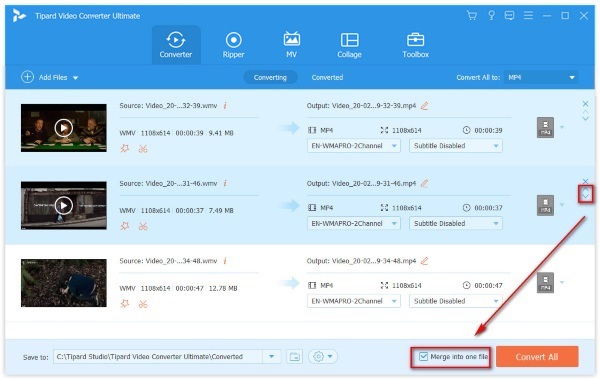 Part 3. Other Solutions to Combine Videos on Instagram
One of the easiest ways to combine two Instagram videos into one story is by using the built-in Instagram camera. You do not need any additional app to utilize this trick, simply tap on the record button to record your first video. Release the button when you finished recording, but don't exit the recording screen right now. Hold the camera icon once again, you would be able to record the second video. The App would automatically combine the two Instagram videos for you.
The build-in Instagram features within the app would show up once you confirm your recording. Feel free to rearrange, trim and edit your video prior to sharing your post with your followers and friends. Keep in mind that Instagram puts a 15 seconds cap onto your story and there is no way to circumvent it.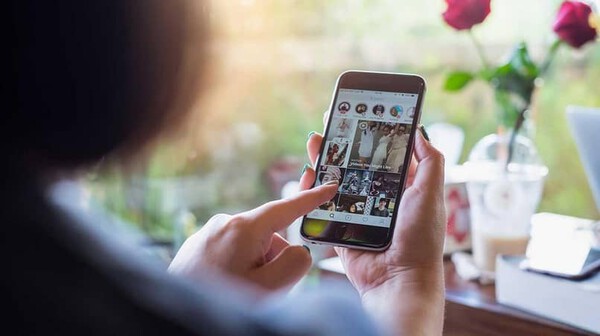 Part 4. FAQs about Combining Videos on Instagram
1. How do you combine two videos on Windows?
Windows 10 does include a video editor. As the successor to now abandoned Winodws Movie Maker, it has basic video features for beginner-level users.
2. How do I join 4 videos together on iPhone?
Most mobile apps will have a hard time editing processing larger sum of videos. We suggest switching to a desktop application instead.
3. What is the easiest movie maker software?
If you do not have the time to learn complex video editing software which takes months or years to master, use an easy-to-use professional app such as Video Convert Ultimate could help.
Conclusion
As we have discussed, there are multiple ways to combine a video for Instagram.
Now, you should understand how to put video clips together to make one video on your desktop, smartphone, or online. If you have better suggestions, please write them down below this article.