How to Make a Time-Lapse Video: Fast Track Your Videos on PC, Android, and iPhone
If you are a person that easily feels bored and annoyed on watching lengthy videos, then turn the videos in time-lapse. However, a wiser person will not depend on any video editing tools for this task. Making a time-lapse video needs to be handled well, although it is not as difficult as you think. Meanwhile, speeding up your videos will not only benefit your space storage as it affects the size due to the compression the speed-up gives. It also benefits most, especially the viewer, because a fast video creates adrenaline in them, making them catch their attention when watching.
For this reason, let us all see which tools and features you can use on your PC and mobile devices when creating a fast video. See the content below for useful information.

Part 1. An Overview of a Time-Lapse Video
Let us have the time-lapse definition before anything else. Time-lapsing a video is a method used to record and compress lengthy contents into a shorter sequence. It is an action that speeds up the video playback, showing an illusion of quick movement of scenes and objects. Videos on time-lapse are usually used to record instances that occur slowly, such as the growth of plants, movements of clouds, building construction, and even the busy or traffic movement of the cityscape. The process of lapsing time condenses the whole day's video into a short one.
Part 2. When Do We Need to Create a Time-Lapse Video
Several reasons will lead you to capture a time-lapse video. And to see the advantages of doing so, here are the instances when time-lapse can be useful.
1. Recording Long Processes
As mentioned above, time lapsing a video is an excellent process to condense long and slow content into a more handy and shorter format. Thus, if you are planning to capture the sunrise, sunset, decay of an object and any movement of a celestial body, then video time-lapsing is what you need to do.
2. Documenting Events
Aside from the recording process, time lapsing a video can also be used for documentation. Making you document the activities and events such as festivals, concerts, parades, and many more.
3. Storytelling
You may wonder how to create a time-lapse video in storytelling. Yes, time-lapse can be one of the means for effective storytelling, just like what bloggers do for their content nowadays.
Part 3. Best Way to Make a Time-Lapse Video on PC
Suppose you are already convinced how useful the time-lapse is due to the above-mentioned benefits. In that case, you must know about Tipard Video Converter Ultimate, for it is the best video editing program that offers you a spontaneous group of features and tools that are beneficial to beautify your media files. By accessing this time-lapse software toolbox, you can see a tool, namely Video Speed Controller, that will assist you in turning your regular videos into time-lapsed. This specific tool also enables you to reverse the fast video, where you can also slow it up to 0.125× from its original speed. Meanwhile, its speed-up option lets you quicken the video up to 8× faster!
Moreover, you can also customize your video output by adjusting its resolution, frame rate, format, quality, encoder, zoom mode, and audio easily. There are many reasons to like this software program that you shouldn't miss when you use it. Thus, here are the detailed steps on how to do a time-lapse video using this amazing tool.
Step 1Let us begin this step by grabbing the software to your computer. Please click the Download button applicable to the kind of OS you use.
Step 2Cast out the software once you have acquired it and proceed to its Toolbox tab menu. Then, in this Toolbox, select the Video Speed Controller. Then, hit the Plus button on the next window to upload the video you want to speed up.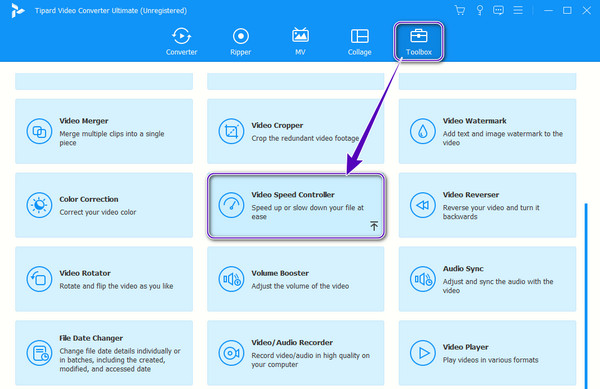 Step 3After that, set the video to your preferred speed by choosing among the speed choices under the preview part. Then, click the Coggle button if you want to customize the quality and other elements. Apply the changes by clicking the Export button of this time-lapse maker.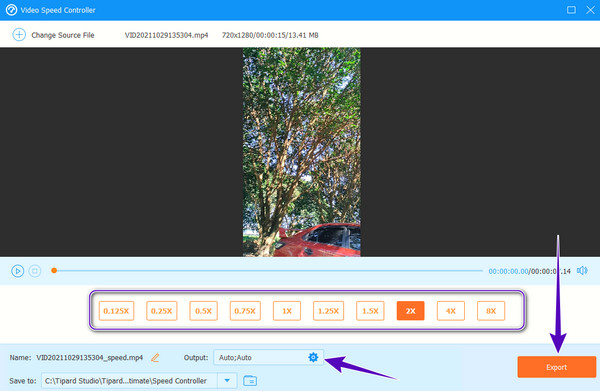 Pros:
• It is an easy-to-use program.
• Many tools and features to savor.
• It supports all popular video formats and other 500 more.
• It speeds up your videos while maintaining their high quality.
• It lets you customize or personalize your videos.
Cons:
• It is a paid editing program, although it has a free trial.
• It has no mobile version.
Part 4. Remarkable Ways to Create Time-Lapse Videos on Android and iOS
How to Do Time-Lapse Videos on Android
If you are an Android user wanting to speed up your existing videos, here is something for you. Do you know that your Photos app can accommodate your video editing needs? Yes, most Android phones nowadays are already infused with a multifunctional Photos app that will help users to edit and enhance their media files. Fortunately, this app also comes with a tool that helps you speed up or slows down an existing video. On the other hand, we still acknowledge the ability of your phone camera to capture in a time-lapse mode. However, here are the steps if you want to know how to create a time-lapse video on your Photos app.
Step 1Open your photo gallery and select the video you need to speed up. Then, tap the Edit tab at the bottom of your screen.
Step 2Once the editing options are shown, make a left swipe to find the Speed option and tap it.
Step 3Now choose your desired speed option by tapping it. Once done, tap the Checkmark icon at the screen's bottom right corner to apply the changes. Then, save the edited video.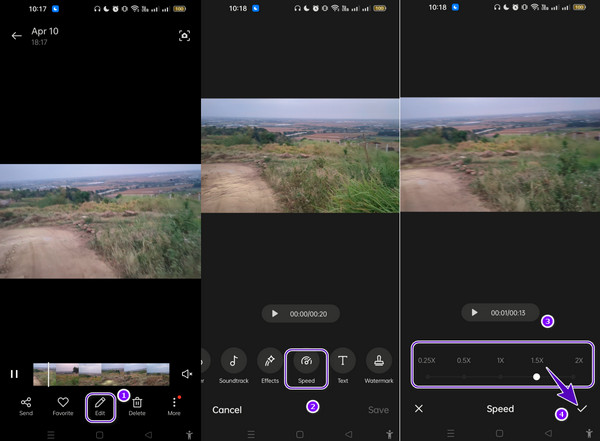 Pros:
• You don't need to install any app since it is pre-installed.
• It is infused with enough editing tools.
• It helps you speed up and slow down your videos.
Cons:
• It can only speed up your video twice its original speed.
• It cannot cater to big-sized videos.
How to Turn Video into Time-Lapse on iPhone
Perhaps you also wonder how to turn video into a time-lapse iPhone. Then, you must start looking for the iMovie app. Some iPhones already have it pre-installed, but many, especially the latest versions, unfortunately, do not. That means if you have the latest one, you will need to download it first. Meanwhile, there are a lot of great features and tools you can savor with the iMovie app. As a matter of fact, it is the editing field for Apple users, where they can trim, crop, enhance, and speed up their videos aside from creating a video with it. Now if you want to see the comprehensive instructions of this app when making a time-lapse video, then proceed below.
Step 1Make sure your iPhone has this app. Otherwise, you will need to install it first. Now begin the task by tapping the Create a New Project tab, then choose the Magic Movie option.
Step 2Now, look for the video you need to edit and tap it. After that, tap the Create Magic Movie tab.
Step 3Tap the video to show the editing options where you need to find the Speed button. Then, drag the slider right to speed up the video. Now can you slow down a time-lapse on an iPhone? Yes, by dragging the slider left on the same page. Finalize the changes by saving the video.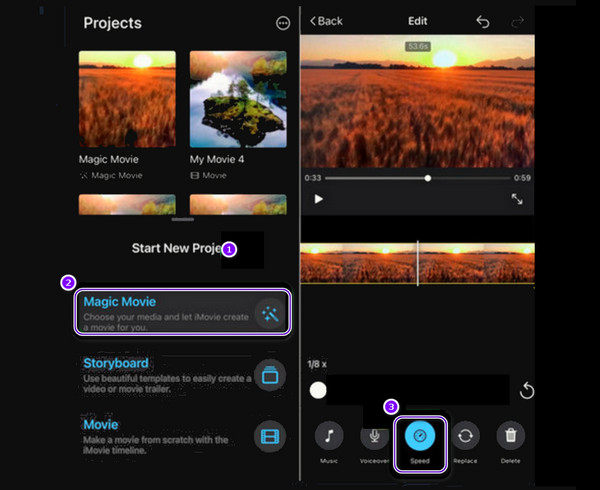 Pros:
• It has an easy navigation process.
• You can use it for free.
• Comprehensive editing tools.
Cons:
• It has limited customizations.
• It has limited format support.
• You need to install it.
Further Reading:
Ways on How to Make A Live Photo A Video Using an iPhone
7 Best Color Correctors: How to Correct Video Color Easily
Part 5. FAQs about Time-Lapse Videos
Can I create lengthy time-lapse footage?
Yes, you can. Creating time-lapse footage has unlimited duration. That means it can last for minutes or even hours if you want.
Is it possible to merge 3 time-lapse videos?
Yes, you can. To merge the videos, you will need a video editing tool like the Tipard Video Converter Ultimate. Reach for its video merger within its Toolbox and upload the videos you need to merge. After that, hit the export button to save the merged videos.
Can I slow down the recorded video in time-lapse?
Yes, you can slow down your recorded video in a time-lapse mode if you want the reverse effect.
Conclusion
This article has the best PC and mobile solutions to answer your question about how to make a time-lapse video. You do not need professional video editing tools to do the task efficiently. Sometimes you just need to be resourceful to see that even the simple tools are powerful enough to provide you with remarkable outputs, just like the Tipard Video Converter Ultimate. This simple yet powerful program caters to all your video editing needs.