3 Incredible Metadata Editors on PC and iPhone with Their Walkthrough Guide
You may be in the mood to explore the ways of metadata editing. For this reason, you are here to find the best various videos or MP4 tag editors that will help you with your task. For others who still do not know, metadata on videos is essential to depict the accurate information or details of the file. Furthermore, some look at the metadata before making any actions to modify the video. They also tend to personalize the data to legalize their ownership of the video. Therefore, to help you with this, we gathered the perfect solution where you could use any type of device for this task.

Part 1. How to Edit Video Metadata on Computer Online and Offline
Video Converter Ultimate (Offline Way)
There are various videos of MP4, AVI, and MKV metadata editors that you can use on Windows and Mac offline. However, not all of them can give you a neat yet simple and efficient way of modifying video tags. Thanks to this Tipard Video Converter Ultimate, that stands out among all the other offline tools out there. Furthermore, this software allows you to edit the data of your media files without any hassle since it makes the process easy and quick. It lets you smoothly edit your video's information, such as the genre, track, album, artist, title, year, composer, and comments. Imagine, you don't need to master its navigation first before doing this task since it provides you with an easy-to-understand interface.
Moreover, upon arriving at its interface, you won't ever deny its flexibility because aside from editing metadata of FLV format and 500 others, it also works to convert, enhance, and make videos. In other words, if you are looking for a video editor that has it all, Tipard Video Converter is what you need. Hence, to see how this amazing software works on your videos in metadata editing, then please rely on the steps below.
Step 1Install the Editor
Let us begin with the installation process of this tool. We have provided Download buttons below to access the tool quickly. Please click on what fits the OS of your computer. Remember, this tool is also the best MKV metadata editor for Windows and Mac.
Step 2Upload the Videos to Edit
Once the tool is available, launch it and prepare to upload the videos. Let's say you need to work on multiple videos. Then, you can use its Converter to upload the files by clicking the Plus icon.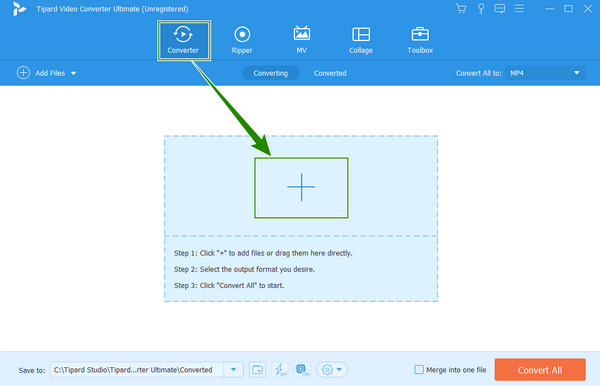 Step 3Access the Media Data Editor
When the videos are ready, click the circled i icon at the tail part of a file. This will lead you to the editing window.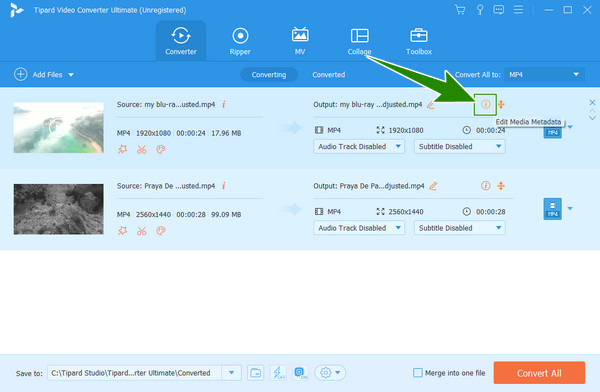 Step 4Edit the Metadata
Then, you can begin to edit the metadata of the file you uploaded. This is how to edit the metadata of MP4 videos. Modify all the presets available on the right side of the window. Then, clicking the Plus icon on the left side will enable you to upload a cover photo for your file. Once done, click the Save button.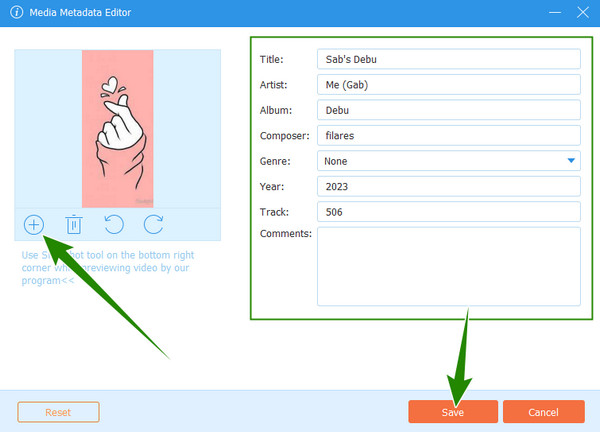 Step 5Acquire the Edited Videos
As simple as that, you can now hit the Convert All button. Wait for the swift conversion process to finish, then check your edited video in the folder named in the Save to section.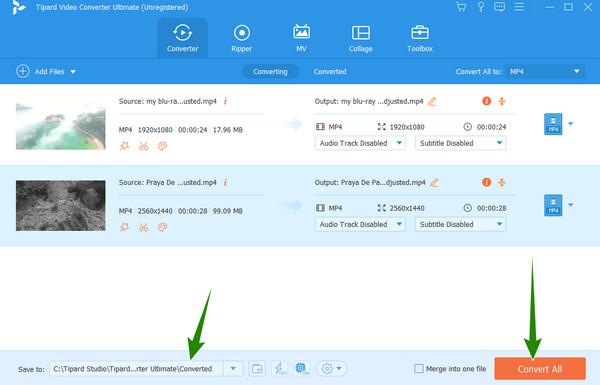 METADATA2GO (Online Way)
If you think you will need an MP4 video tag editor online, then we humbly introduce you to this METADATA2GO. This tool allows you to check, remove, and edit the metadata of your various files, such as videos, documents, and images. It is free to use, which brings you a nice, simple, and convenient way to access the hidden data of your files. Furthermore, METADATA2GO supports all standard formats your video, image, audio, and document have. On top of that, it won't require you to download anything besides the edited file output you worked on. However, you may notice how slow its importation process is. On the other hand, here are the steps to use this fantastic free MOV file metadata editor online.
Step 1Prepare the web browser on your computer device and bring yourself to the official page of this tool. Once you have arrived, drop the video file you need to edit at the center part of the page.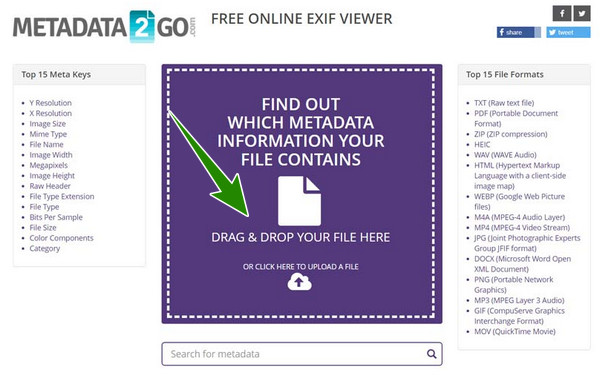 Step 2You will see the file's data on your screen when the video is loaded. Scroll down until you reach the Edit Meta button to click.
Step 3Once you are done editing the file, proceed to save and download the output.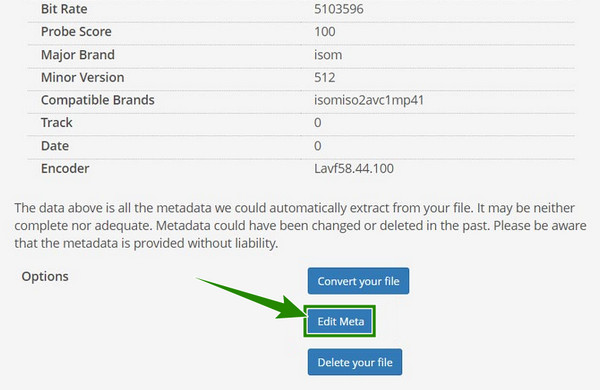 Part 2. How to Change Video Metadata on iPhone
Moving on to the mobile solution, let's give our eyes on this part. If you are using an iPhone and are looking for a practical way to edit your clip's metadata, then you can use the Metapho app to save you. This app comes with enough video editing presets, allowing you to freely edit the parameters and the data your iPhone videos hold. However, we cannot deny some testimonies of a few users who witnessed it crashing sometimes. Thus, grab your iPhone now and follow the given steps below.
Step 1Run the Metapho app on your iPhone and make sure that it already has access to your media files. If yes, you can now access the video with this M4V tag editor.
Step 2Now, open the video file that you need to edit, and tap the Edit Metadata tab.
Step 3After that, you can set the list on your screen and edit the video tag according to your need. Then, when all is good, tap the Save button.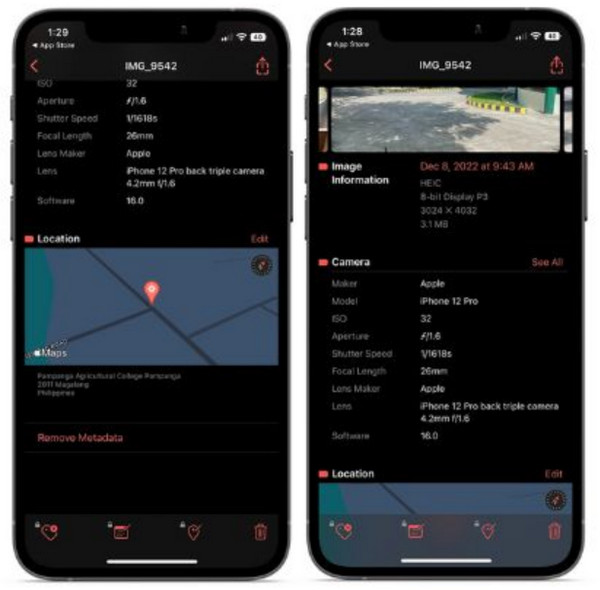 Extended Reading:
How to Remove Metadata from Media Files Easily and Quickly
How to Edit Audio Metadata of Any Formats on All Devices
Part 3. FAQs about Video Metadata Editing
Can I entirely delete the metadata of my video?
Yes, you can. You have all the prerogative to maintain, edit, or even delete the video metadata you own.
Is QuickTime a metadata editor?
No, it is not. Alternatively, you can edit tags of the QuickTime videos on your Mac using the Finder. Open the video Finder, then right-click the file to see the Tags tab. Consequently, you can edit the tags from there.
Can I edit the video metadata with a media player?
Yes. One of the media players you can use to edit the video metadata in VLC. However, you may find the process challenging, as everyone who tried it thought so.
Conclusion
There you have it, the feasible ways to edit video metadata with MP4 metadata editors of almost all formats, such as MP4, MKV, FLV, and AVI. Indeed, ordinary people might never bother to edit their video tags. But a video editor enthusiast will surely not miss doing it. The online and iPhone ways are good, but if you want to edit your video tags simply yet professionally, use Tipard Video Converter Ultimate!