Create HD Movies with the Best Professional Movie Maker
Since Windows Movie Maker isn't around anymore, users who need to create videos need to find an alternative. Among hundreds of HD movie makers around, some are designed with advanced professional features but are not user-friendly enough, others are way too basic and unreliable but fits for creating a quick, short clip.

In this article, we reviewed the top selections of the best apps to boost your productivity, comparing their advantages and disadvantages. We also cherry-pick the best overall software and provide a complete guide on how to use it as a great day-to-day video editing tool.
Part 1. Best HD Movie Maker Software Overall
Tipard Video Converter Ultimate has been widely used and praised as one of the best HD Movie Maker software. Produced by Tipard Studio, it has reliable and consistent video editing and processing performance compared to other options. Designed with the mind of professional experts, it is incredibly user-friendly and intuitive to use. Besides being just an HD Movie Maker Pro program, it also features:
– Excellent Video Converter that easily handles over 500 video formats
– 8K/4K UHD and 1080p/720p HD Video Support
– High compression rate with the least quality loss
– Powerful and easy-to-use editing tools. Easily clip, merge, crop, rotate videos
– Pick any customized and beautiful made themes to personalize your video
– Change the background music without any hassle
– Preview the final result in real-time
– Edit media metadata easily with the built-in editor
– Best GIF Maker available on the market
– 100% Clean and Safe
Follow the guide to make a movie clip with the best HD Movie Maker:
Step 1Import Files
Download the best HD Movie Maker for Pros from the official website. Install the program and open it. On the main interface of the software, click on the Add Files option on the top-left side of the screen. Import all the files you wish to edit. If you prefer another route, drag and drop all the files into the box.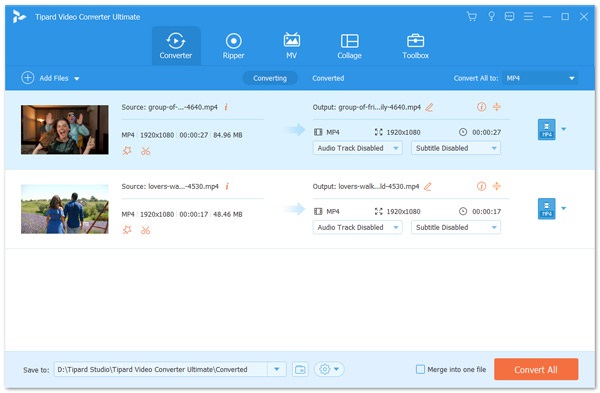 Step 2Enter the Video Edit Screen
In the next step, you need to enter the video editing screen. Locate the exact video you wish to edit, and click on the Edit button right next to the video thumbnail.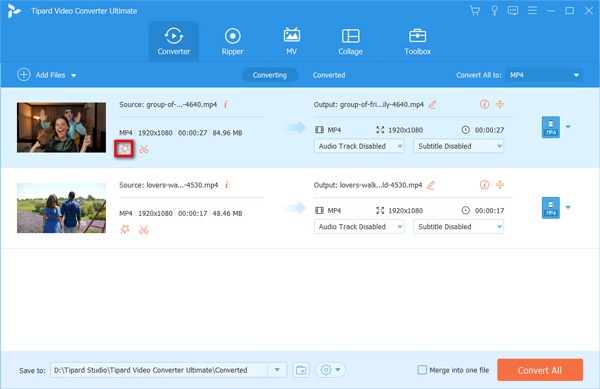 Step 3Rotate and Crop Video
On the Rotate and Crop tab, you would be able to rotate, crop your video as you wish. Other useful editing features include Aspect Ratio and Zoom Mode.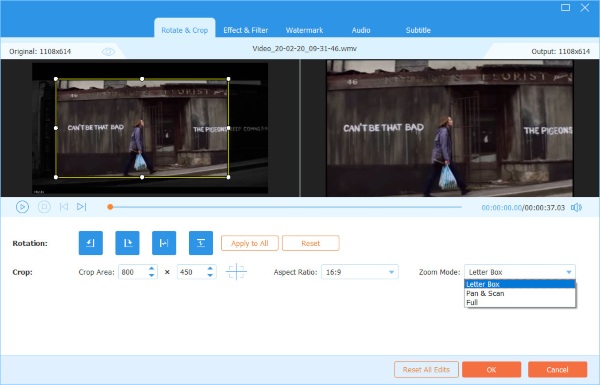 Step 4Create Effects and Filers to the Video
On the next tab named Effect & Filter, you would be given options to manipulate the Contrast, Saturation, Brightness, and Hue of your videos. Click on the Filters option to create a filter for your video.
Step 5Edit Video Watermarks
If you wish to add watermarks to your video, click on the Watermarks tab. You would be able to insert watermarks in the form of either texts or images. You could also change the Font, Size, Top, Color, and Opacity of your watermark texts.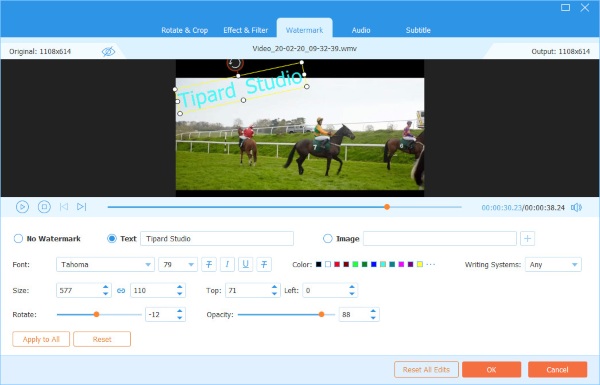 Step 6Edit Audio
On the Audio tab, you could add, remove or alter the audio track of the video. Move the Volume slide to change the sound volume. Move the Delay slider to create an audio delay effect.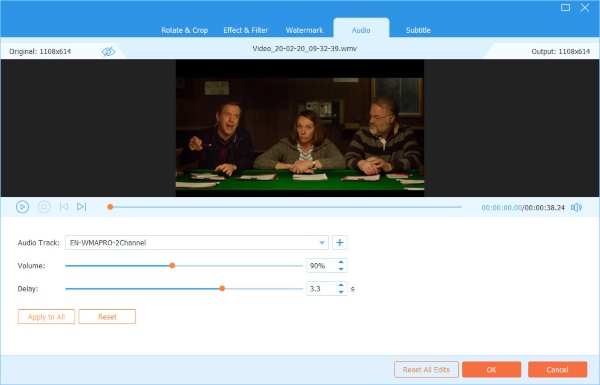 Step 7Edit Subtitles
Finally, click on the Subtitle tab to change the settings for video subtitles. Don't forget to click on the OK button to save all your video editing.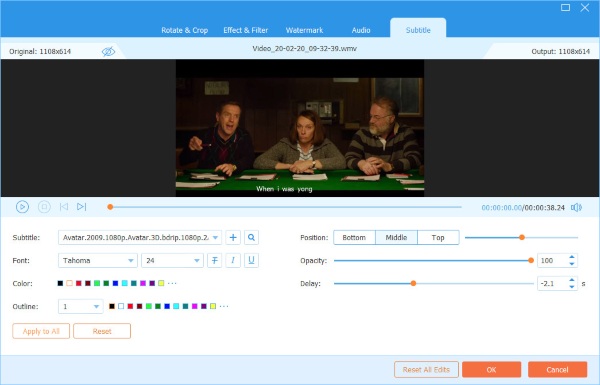 Step 8Export Your Video
Go back to the main interface. Choose a path to save your video to, and click on the Convert All button to export your video.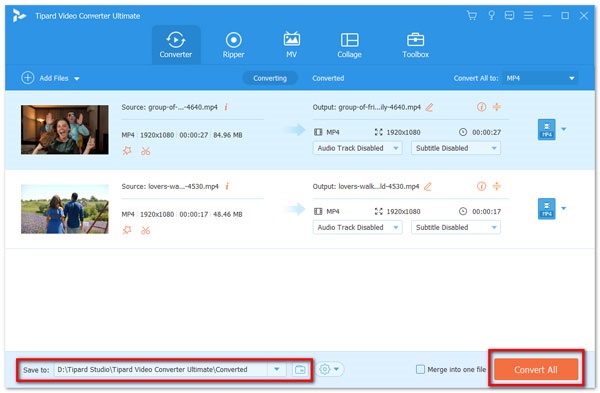 Part 2. Review Other HD Movie Makers
Avidemux
Probably the best open-source HD Movie Maker available. With a no-nonsense interface design, Avidemux has the most powerful features one could expect from a video editor. However, the program has limited output formats support and sometimes runs into performance issues.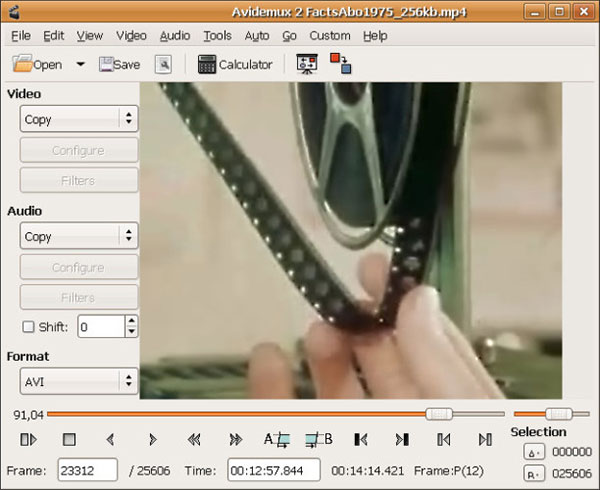 Windows Movie Maker
Windows Movie Maker used to be the go-to video editing solution for beginners on Windows PC. It has most of the basic features for entry-level users and is incredibly thrift on consuming CPU and RAM resources. Sadly, it has been officially discontinued by Microsoft, which is the major reason we do not recommend this product as an HD Movie Maker option anymore.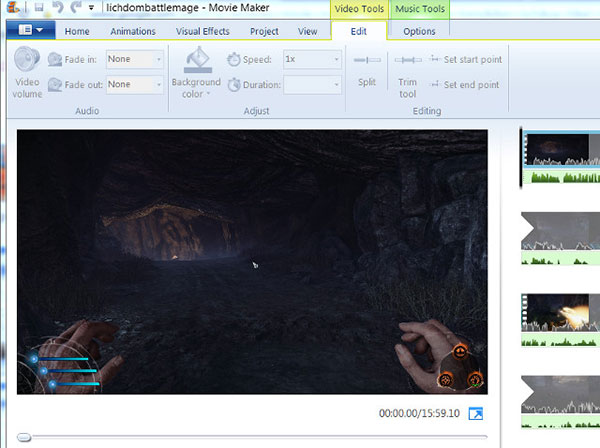 DaVinci Resolve
Designed by Blackmagic based in Fremont, CA, DaVinci Resolve has established name recognition among many new and professional video editors. The latest DaVinci Resolve 17 release has updated over 300 new features supporting over 2000 real-time audio tracks. However, it is overpriced for the average user and the free version has severe performance and feature throttles.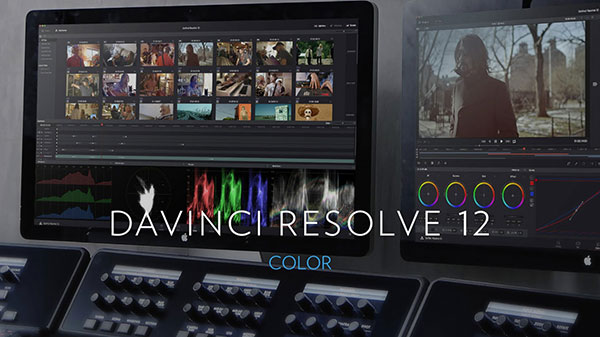 Part 3. FAQs about Picking an HD Movie Maker
1. Is HD Movie Maker Pro the same as Windows Movie Maker?
Windows Movie Maker has been officially discontinued on January 10, 2017. You couldn't find a direct successor of Windows Movie Maker rather an alternative to it.
2. Does Google have an HD movie maker?
Google Workspace Marketplace has a handy cloud-based app called Movie Studio video editor. It is perfect to make, edit, record, and remix videos easily. However, it requires constant Internet connections which is a letdown.
3. Is there any HD Movie Maker on Windows 10?
The default Windows Photos App is the built-in HD Movie Maker for Windows 10 users. The Photos App includes the capacity to edit HD movie videos with music, text, motion, filters, and 3D effects.
Conclusion
On a final note, we have reviewed the best HD movie maker for pros, and other well-known names. Comparing the advantages and disadvantages of each option, we hope you could make the best fitting video editing tools for your need.