How to Convert AVCHD to MP4 on Windows 10/8/7 or Mac OS X Quickly
"My friend took some videos at my birthday party with a camcorder, then he sent the HD videos to me using a USB flash drive, however, my computer cannot open the AVCHD files at all, how to convert AVCHD to MP4?"
As the first recording format for high definition videos, AVCHD has been around for decades. It records 1080i and 720p signals onto certain media using highly efficient codec technology. However, it is not friendly for playback on computer or mobile devices. That is what this article wants to tell you, how to convert AVCHD to MP4.
Part 1: Best Method to Convert AVCHD to MP4 on Computer
When we talk about high definition video conversion, quality loss is the biggest concern. From this point, you will need a powerful video converter, such as Tipard Video Converter Ultimate. The biggest benefit is to convert AVCHD videos to MP4 format while keeping the original video and audio quality.
Key features of the best AVCHD to MP4 converter
1. Batch convert multiple AVCHD to MP4 at the same time.
2. Optimize video quality using advanced technology while converting.
3. Support video conversion for portable devices, like iPhone.
Needless to say, it is the best option you can find on market to convert your AVCHD video files into MP4 format on Windows and Mac OS X.
How to Convert AVCHD to MP4 on Desktop
Launch the best AVCHD to MP4 converter after you install it to your PC. There is another version for converting AVCHD to MP4 on Mac. Then you will get two options to import the AVCHD videos. Click the Add Files menu to bring up the open-file dialog, and then open the videos. Alternatively, drag and drop AVCHD files into the dotted box directly.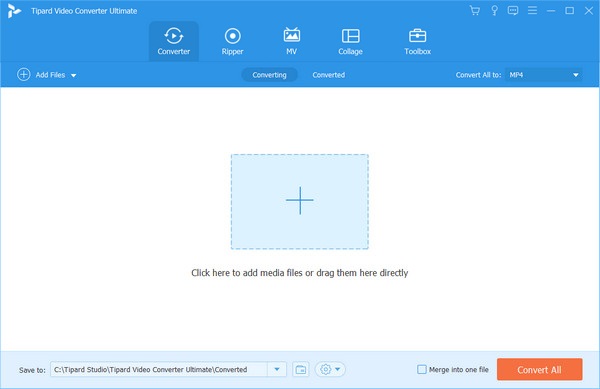 Step 2
Set MP4 as output format
Firstly, you can edit your videos and preview them with the built-in media player. Then click the Format icon on the first title to trigger the Profile dialog. Go to the Video tab, select MP4 from the left side, and pick the preferred preset. To playback the videos on portable device, go to the Device tab and select the target device model. Set output format for other videos.
Step 3
Convert AVCHD to MP4 in one click
Locate the bottom in the home interface. Set a specific directory to save the output by hitting the Folder icon. Finally, click on the Convert All button to start converting all AVCHD to MP4 immediately.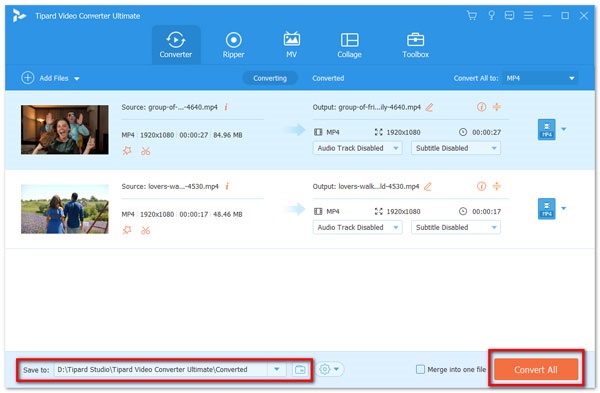 Part 2: How to Convert AVCHD to MP4 with HandBrake
There are some free ways to convert AVCHD to MP4, such as HandBrake. It is an open-source video converter, so you can use it without paying a penny. However, it can only process one video file at one time. Plus, the workflow is a bit complex.
Step 1Open your HandBrake, go to the Source menu at the upper left side and select Open File. Find the AVCHD file on your hard drive and open it.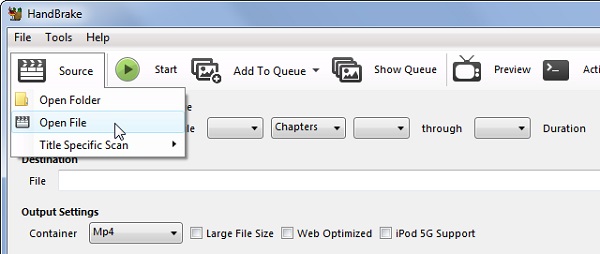 Step 2Set a specific folder to save the output by hitting the Browse button under Destination section. Then make sure to select MP4 from the Container drop-down list. Next, go to the Presets panel and pick a proper video quality.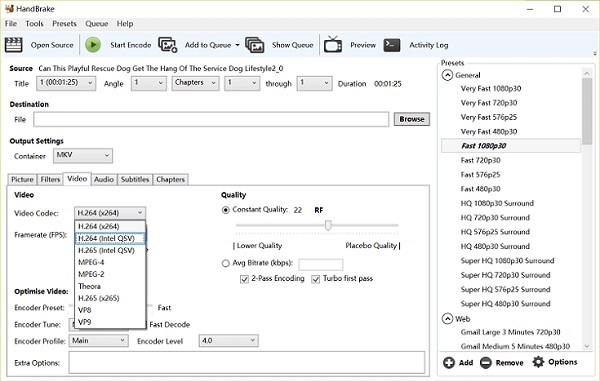 Step 3Simply click the Start or Start Encode button on the top menu bar to initiate converting AVCHD to MP4. Bear in mind that the output quality may be worse than the original video.
Part 3: How to Convert AVCHD to MP4 Online
There are a lot of online video converter apps, but only a few have the capacity to convert AVCHD to MP4. Convertio, for example, is such an online app. However, it only allows you to process AVCHD videos up to 100MB per task. If your video is very large, you have to pay for conversion.
Step 1Visit https://convertio.co/avchd-mp4/ in a browser to open the web app directly. Click the Choose Files button to trigger the open-file dialog. Then find the AVCHD video less than 100MB and upload it.

Step 2Once the video is uploaded, you will be taken to the settings page. Set MP4 from the format drop-down list. Optically, click the Gear icon to open the setting dialog. Here you can reset codec, resolution and other options. Click the Convert button to start converting AVCHD to MP4.

Step 3When the download page pops up, click the Download button to get the MP4 file.

Note: According to our test, this web video converter won't add watermark to your video files.
More MP4 converters online are here.
Part 4: FAQs of AVCHD to MP4 Conversion
Will AVCHD play on Mac?
The pre-installed media player on Mac, QuickTime, cannot decode AVCHD. If you wish to open AVCHD video files on Mac, you will use a third-party media player, like VLC, or convert it to MOV.
Is AVCHD good for editing?
Though an AVCHD file can store extensive information and data, it is only great for recording footage from the camera. When it comes to edit your AVCHD, it can be a challenge since most video editor software does not support the format. The best way to edit AVCHD video is to convert it to another HD video format, such as AVI, MKV, MP4, etc. You can learn the detailed information about AVCHD VS MP4.
How to convert AVCHD to MP4 on Mac?
Unfortunately, there is no built-in utility on Mac can convert AVCHD to MP4. Alternatively, you have to pick a third-party video converter, such as HandBrake, or an online video converter app.
Conclusion
This guide has showed you how to convert AVCHD to MP4 on desktop and online. Sometimes, you will get AVCHD video files from your digital camera or camcorder. You have three options to achieve the task. Video converter freeware is free to use with some drawback. Online video converter apps can only process short video clips. Tipard Video Converter Ultimate is easy to use without any restrictions. If you encounter more issues, please contact use below.