Free Online Movie Maker and Video Editor Apps Review, the Best 6 Choices!
How to find a working online movie maker with decent features? That could be a tough question for quite a huge chunk of people. Imagine you want to create your anniversary video, or you need to find a birthday wishes video maker, you probably need a lightweight, easy-to-use editing tool such as a free online movie maker. But what if you need something more complex like creating an intro video? What if I need to add lyrics to my video? What about adding watermarks? Are there any free video maker apps matching more complicated needs? In this article, we are going to give a detailed, comprehensive, and feature-rich list of movie making software reviews.

Part 1. Top 3 Free Movie Maker App
Windows Movie Maker
Windows Movie Maker is a legacy software developed by Microsoft. As a popular choice for PC users, Windows Movie Maker is capable of exporting videos to formats supporting popular video platforms such as YouTube, Facebook, Vimeo, etc. It is freely available and easy to learn and use, designed with the average consumer in mind. However, it has been discontinued and might not support the latest video formats and social media platforms.
Pros:
• Free movie maker comes native to PC
• Easy to use, easy to learn
Cons:
• Software is a little bit outdated
• Support for the latest formats and platforms is poor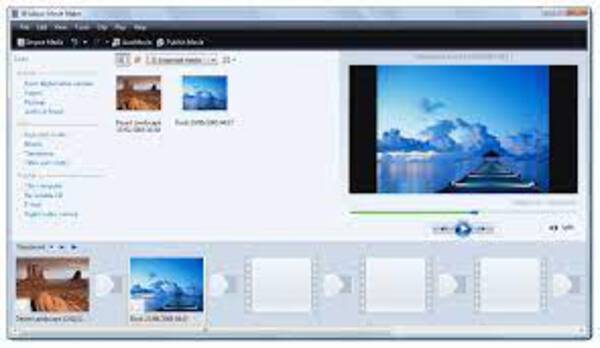 iMovie
For Mac users, iMovie is the default choice for casual video editing. Developed by Apple Inc., iMovie served surprisingly well for day-to-day usage and has native iOS support thanks to Apple developing team. As wildly popular as iMovie is, it is sadly not available for PC users and had functionalities limitations such as codecs restriction which leads to longer exporting time.
Pros:
• Well designed, easy to use, and learn
• Have good iOS support
Cons:
• Mac only, left PC users in the dark
• Some vital features (such as exporting formats) are overly basic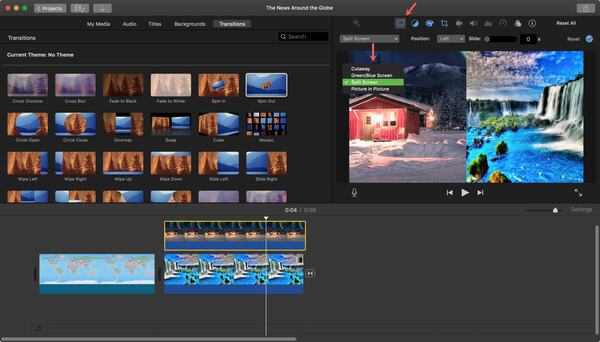 Tipard Video Converter Ultimate (Editor's Pick)
Whether you are a PC or Mac user and want to find a good and free movie maker app for your online usage, Tipard Video Converter Ultimate has all the aspects of your need covered. Designed with consumer needs in mind, Tipard Video Converter Ultimate has a splendid number of free templates to choose from, allows you to generate creative videos with a simple click.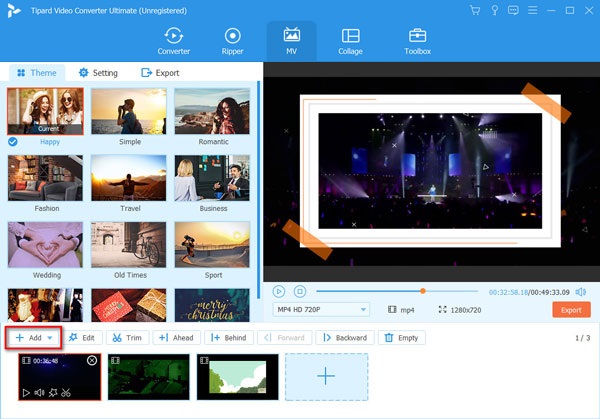 If you are a fan of making MVs, Tipard Video Converter Ultimate is the best app you need to try. Creating MV has never been so easy before. All you need to do is, launch Tipard Video Converter Ultimate, add your videos to the video maker program, you would be able to easily edit, trim, make adjustments, change video settings, pick a theme, etc. You are even able to add special effects to your video stash such as Fade In/Fade Out effects, Loop Play, and so on. You could also select your own personal background music as you desire to.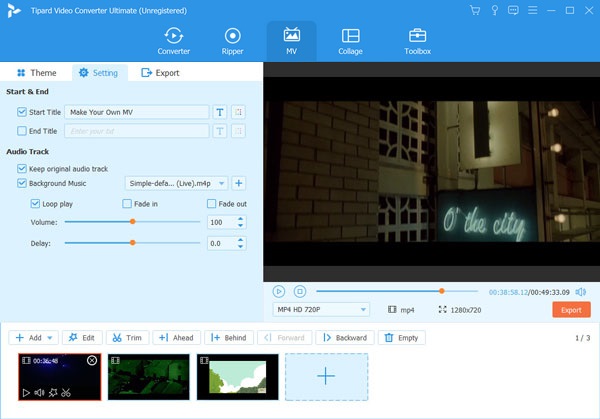 Comparing to Windows Movie Maker and iMovie, Tipard Video Converter Ultimate is well-supported and updated. It supports over 500+ types of video formats and all the major social networks such as YouTube, Facebook, Vimeo, Instagram, TikTok, etc. You wouldn't find a corner that is not covered. Tipard Video Converter Ultimate also has a great number of editing features and no performance compromise, on both PC and Mac. Thus, we select Tipard Video Converter Ultimate as the Editor's Pick free movie making software.
Features:
– Easy video editing tools, edit your video without any professional-level knowledge
– Feature-rich, including add watermarks, add background music, special effects, etc.
– Up-to-date with the latest popular formats and video platforms support
– Supports both PC and Mac
Part 2. Top 3 Free Movie Maker Online
Adobe Spark
Could be one of the best choices if you are using iOS, Adobe Spark delivers a huge pool of templates options crafted by the Adobe team to assist you to make the best personal video possible. Begins with a welcoming screen featuring the introduction document 'How to Make a Video', Adobe Spark would lead you up towards a great journey of inspiring and creative video-making.
Pros:
• Great native iOS support
• Intuitive, lightweight, clever design for the everyday user
• Rich template selections
Cons:
• iOS only. Browser version might experience performance limitations due to Internet connection quality
• For most of the premium content you need subscriptions to access.
YouTube Video Creator
If you want to find a free online YouTube video maker, finding out a web-based video maker could cut your budget by avoiding expensive professional video editing software. Using YouTube's native video editing tool also has another potential advantage: it bypasses the necessity to transfer the final format of your video to YouTube codecs since everything was already there. Sign in to your YouTube Studio account and upload any video as an example, you would be able to trim, edit, or add an end screen to your clip.
Pros:
• YouTube Integrated, perfect for the workflow of a YouTuber
Cons:
• Very basic features, not suitable for a lot of cases
• Internet uploading time could be unbearably slow for large video files, It would be not worth it unless you are creating YouTube content.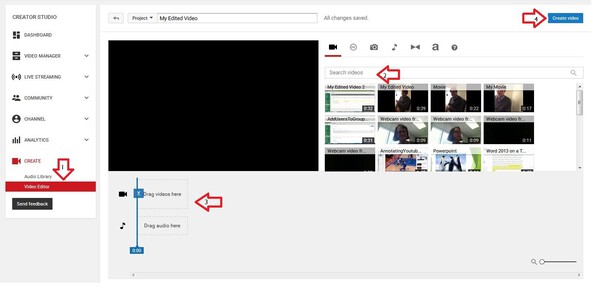 Animoto
Animoto is also another top candidate as a good online movie maker. It focuses on creating 3-4 short movies and has smart AI giving you suggestions alongside elegantly designed and professional-looking video templates. However, you need to purchase a $30/y fee to experience all of its features.
Pros:
• Artificial Intelligence algorithm would automatically guide you to create your dreamed video
Cons:
• Costs $30 per year, free version capped at 30 seconds length of videos.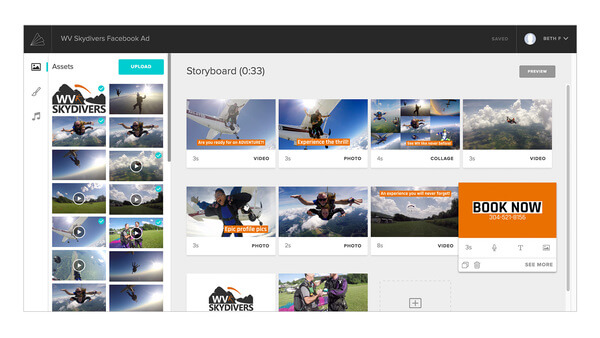 Part 3. FAQs about Movie Makers Online
1. Shall I use a free online movie maker or a movie maker app?
Commonly speaking, any wise consumer choice should be based on your particular use case. Video editing is different since of the limitation of bandwidth and hardware-intensive nature of video editing, we strongly recommend you to use a movie maker app instead of using an online app to complete your workload. It would deliver a better performance in a shorter time span.
2. Is there any free movie maker app as an alternative to iMovie on Android?
Sadly, the answer is no. iMovie is a great creativity toolset for iOS users, however, it is neither available on any Android market now, nor would be released in any perceivable future. Please try other iMovie for Android alternatives instead.
3. Where can I find Google Video Editor Online for free?
Google does not have a stand-alone free online video maker product. For Google, it is embedded as part of Google Photos as a functionality named video editing. It has basic features such as creating clips, change clips order and add background music.
Conclusion
In this article, we carefully go over the top choices of online video makers. Comparing the pros and cons of free online video maker apps and websites, we conclude that Tipard Video Converter Ultimate should be the go-to choice and selected it as the Editor's Pick option. It is the best online movie maker suitable for your needs.