10 Best Apps Like iMovie for Android to Edit Videos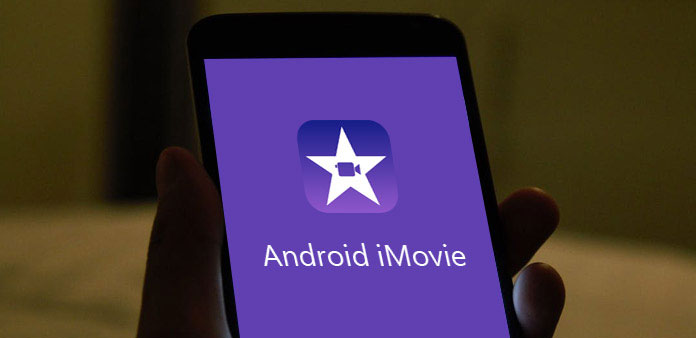 As is known to all, iMovie is an excellent video editor to turn your simple video into nice movie. It offers you a wonderful experience to edit your video by offering high-quality filters and effects on iPhone or Mac. And all the functions are studio-quality which can satisfies all your needs. However, unluckily, iMovie don't have version for Android. Android has taken a large part of market at present. Thus, more and more android users are eager to find iMovie for Android. iMovie download for Android tablets might come true quiet soon. But now, you should find iMovie alternatives to help you edit videos. Some of them are no less excellent than iMovie. In this article, it has prepared 10 best iMovie for Android alternatives for you.
1. Video Show
Video Show ranks the first of iMovie alternatives for Android. It is an application created by the Enjoy Mobi creative studio and it is regarded as one of the best video editors in Android market. Its simple and pink interface actually attracts many android users. With the help of Video Show, you can edit your video by changing the color of video and merging several videos. It does not matter if they do not have the same video format. Moreover, you are able to add music and subtitle on your video. And you can also record a voice note and add in to your video. However, its powerful functions may make you forget that it doesn't have the option for transition.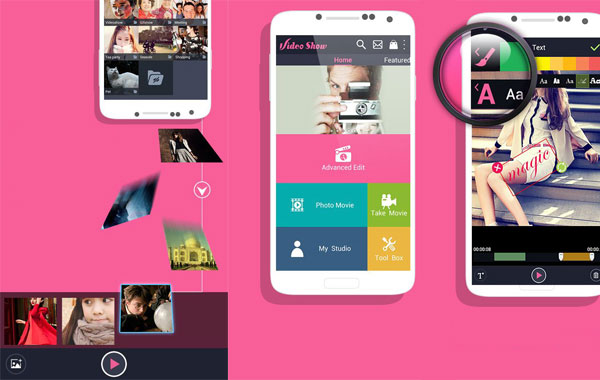 2. VidTrim
If you wanna download iMovie App for Android tablets, you can give VidTrim a try. Developed by Goseet media, it has a plain dark grey background and a simple designed interface. After you use it, you will find it is what you want. First of all, you are allowed to trim your videos and choose the best scene you want. Then you can add effects like edit your photo. What's more, you are able to extract the audio from your video. At last, you can keep the original quality or improve it with the help of VidTrim. You should be careful before you use it for it will take up too much your CPU resource, which will ruin your iPhone.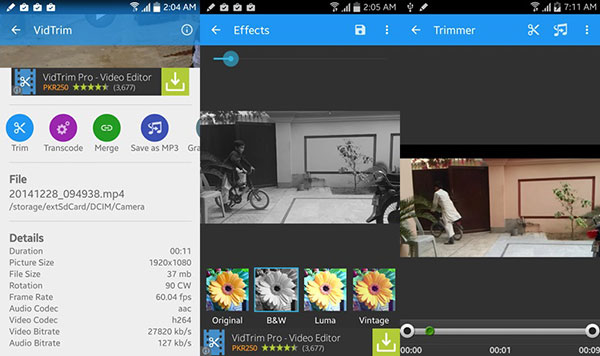 3. AndroVid
Another video editor similar to iMovie for android is AndroVid Editor. It is a professional video editor designed by the Zeoxy media. And before you start to use it, it has some self-explanatory icons to help you know the functions better. Then quickly choose a video from your video library to begin editing. Trim it, rotate it, add effects, add text, or even your favorite your songs and many other functions. It provides you a good experience of editing for it offers you a clear and simple interface. You can easily get what you need. Additionally, many powerful functions are only available if you purchase the app.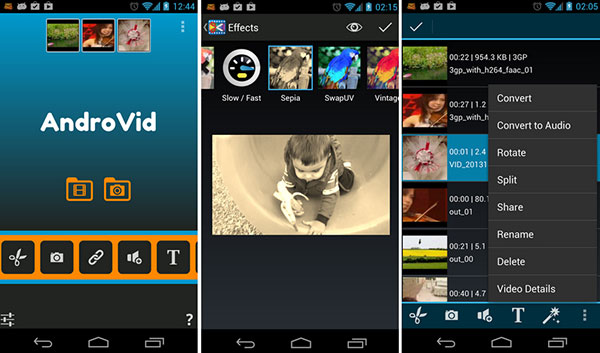 4. Video FX
Another powerful iMovie alternative for android is Video FX. The first time you launch this application; there are 8 option icons on the screen. And all the functions are clearly listed on it. It lets you to capture your video and trim, crop, rotate, add effects, add text, add music or voice note on it. In addition, it's cool that it allows you to do these adjustments while you are capturing video. Though it has a lot of powerful features, it has one deficiency which will bring inconvenience to people who want to download video to their video library. It only allows you to upload videos to YouTube or to another media service.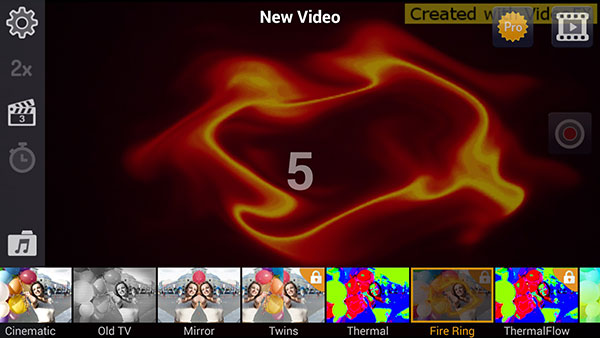 5. KineMaster Pro
KineMaster pro is a professional video editor to help you create and manage video on your android iPhone. It supports multiple layers of video, images, text, multi-track audio, precise cutting and trimming, precise volume envelope control, 3D transitions, color LUT filters, and much more. Otherwise, you can download layers, effects, stickers and more from the store to edit your video. Apart from the basic editing tools, it offers you to adjust brightness and saturation. iMovie for Android APK has the feature of speed control and allows you to trim frame-by-frame precisely. And KineMaster Pro is able to produce videos of any length with a 1080p resolution. After editing, you can share your work on work on YouTube, Facebook, and other social platform.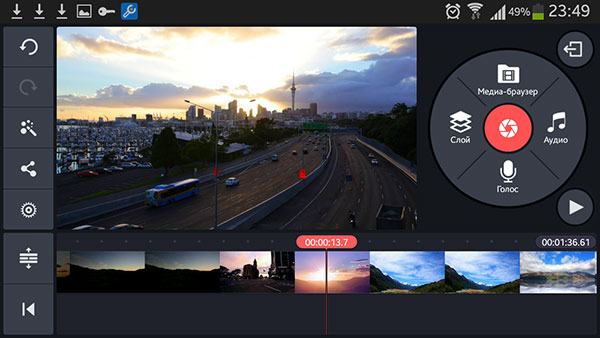 6. VivaVideo
Developed by the Quvideo Inc., VivaVideo is another professional iMovie alternative for android. It has a large amount of users in the android market for its powerful editing tools. With this free video editor, you can cut, paste your videos. Add effects, filters, titles and your favorite songs in it. After a few steps, your video totally changes its style and turn into a new one. There are more than 1000 video effects with different themes, music, stickers, facial effects, GIFs and filters to animated clips and subtitles. Besides the video editing tools, you can also access to camera with different video shooting lens, or even create slideshow for the Android iMovie alternative.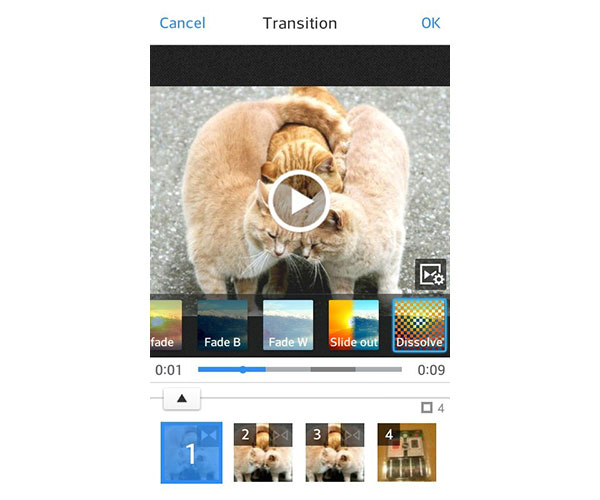 7. WeVideo
Different from other iMovie alternative for android, WeVideo is a browser-based Flash application. You need to upload your video to WeVideo website. Once you create a video in it, you are going to the part of movie editor. It uses the standard 3-window configuration including libraries of contents and effects, preview window and timeline. Additionally, you can add videos, photos and audio to this project. How to polish your video? It offers you more than 30 effects; color correction includes brightness, contrast, saturation, and hue adjustments; other effects includes dream, emboss, blur, sharpen, and zoom blur, and so on.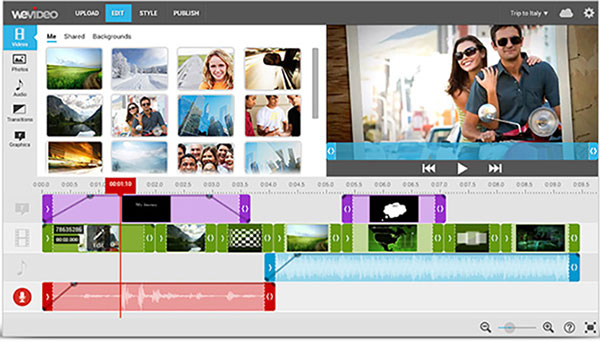 8. Video Maker Pro
Video Maker Pro is another free iMovie alternative for android. Once you have created a new video, you will be presented with a time-line based editing screen. Then you will find a plus button at the top of the screen. With Video Maker Pro, you can capture videos; merge video clips you want on your android phone. Moreover, it allows you to add music and text, make adjustments on effects and filters. After you finish your edit work, you are allowed to share your video to YouTube. Though it has almost perfect preference, you need to handle lots of advertisement when you decide to download it.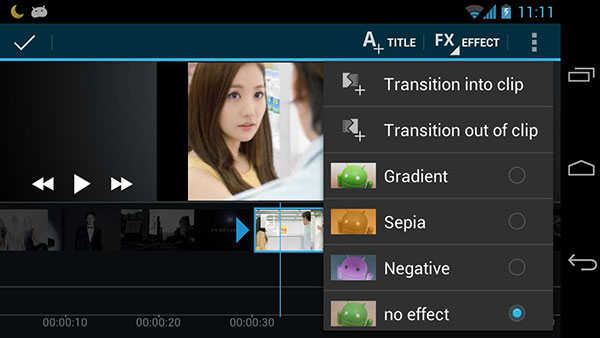 9. FilmoraGo
FilmoraGo is one of the best iMovie alternatives for android. It is a video editor which can make video using your photo album and edit your video. When you download FilmoraGo, it is equal to have a cameraman on your pocket. You are allowed to import new videos and other pictures. Moreover, you can extract pictures from your social applications like Facebook. Additionally, you can add effects and template designs to the clips. It lets you add sounds by choosing music from this app or extract sound tracks from other ways. You are able to choose the ratio as you click on the entire video you will not miss the quality of the clip.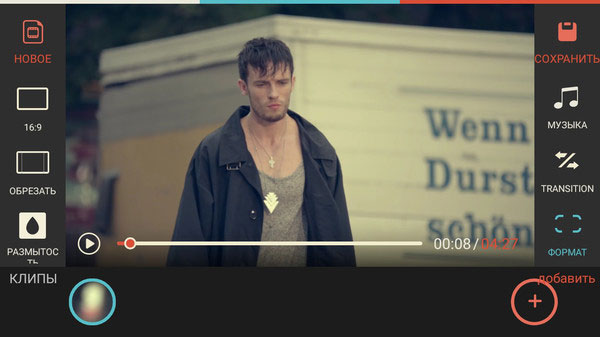 10. Tipard Video Enhancer
Apart from downloading video editor app on android phone, another way to get high-quality iMovie alternative for android is using desktop software. You can connect your android phone to computer and stream the video to computer. Then you need to launch an outstanding video editor. And it is Tipard Video Enhancer. If you want to create a perfect movie, you need to edit on computer for editing on smart phone has some restriction on functions and effects after all.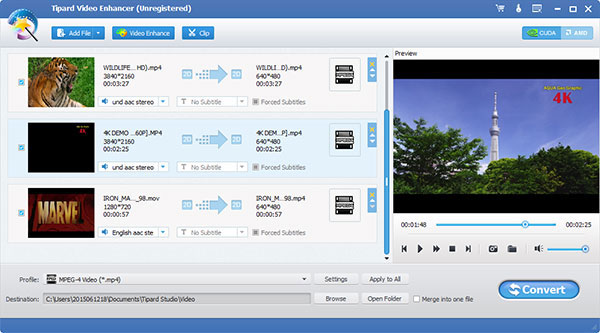 Tipard Video Enhancer almost ranks the first in my list of video editor. From its name, you can get its feature of enhancing the video quality in color balance and resolution even video de-shaking with one click. It also offers you to clear your video to remove video noise. Additionally, you can edit your video by adding 3D, crop, effects and watermark functions; you can rotate your video until it is in a suitable perspective; you can clip your video into fragments. After you finish editing, it supports you to convert videos to 4K UHD video and 1080p HD video.
Conclusion
This article has introduced 10 excellent iMovie alternatives for android. If you prefer to create new videos on your android phone, the first one to the ninth will be your best choices. And if you like doing more professional editing on your computer, Tipard Video Enhancer is already prepared for you. As for iMovie for android, you may need to wait a few time and every applications mentioned in these article can greatly replace the role of iMovie for android.