An In-depth Review of 3D Filters on Snapchat, Instagram, Facebook
It is fun to take photos using your smartphone, especially when capturing the best moments and sceneries. But did you know? You can add dimensions to your photos to make them more fun. You can capture or even record a 3D using your smartphone's most popular 3D effects in apps. And if you want to know the best app to use, you probably want to read this article. The article will help you learn the reviews, pros, and cons of 3D filters on Snapchat, Instagram, Facebook, and other tools.

Part 1. Most Popular 3D Filters
You can find many apps on Google Play Store or iOS App Store with 3D filters. However, every app does not have the same interface and capabilities. We searched for the best 3D filters and tried each of them to know what to recommend. You will know the most popular and most outstanding apps with 3D filters in this part.
1. Snapchat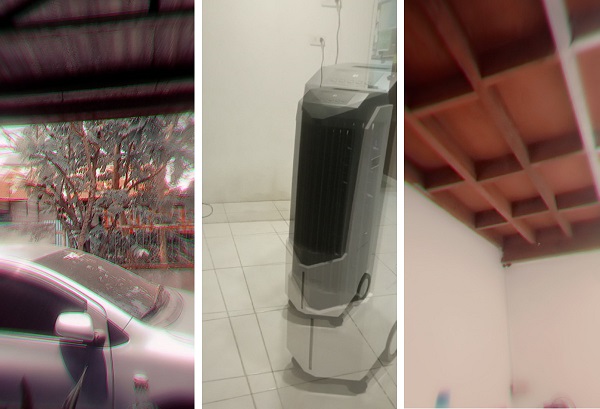 Snapchat is a social media application famous for its photo effects. It also enables you to send messages, photos, and videos to your friends. Snapchat contains numerous filters that you can use, such as 3D filters, 2D filters, anime filters, mask filters, etc. There are many 3D filters that you can use on Snapchat, such as 3D text, corpse mask 3D, Disney face 3D, spiderman 3D, and more.
2. Instagram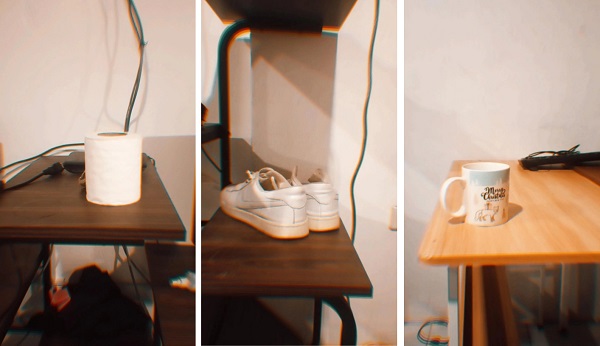 Instagram is another popular social media app that can take photos, videos, and live videos. It is a social media app developed along with messenger and Facebook. In addition to that, Instagram has many filters and editing tools that you can use. Also, you can adjust the exposure, brightness, contrast, saturation, warmth, and fade of your photo. And what's even more impressive is that you can take a 3D photo or video using the Instagram 3D filter. The 3D filters that you can find on Instagram are butterfly 3D mask, 3D pulse, filter 3D, 3D effect, and many more. These varieites of 3D filters have different effects, which are fun to use.
3. Facebook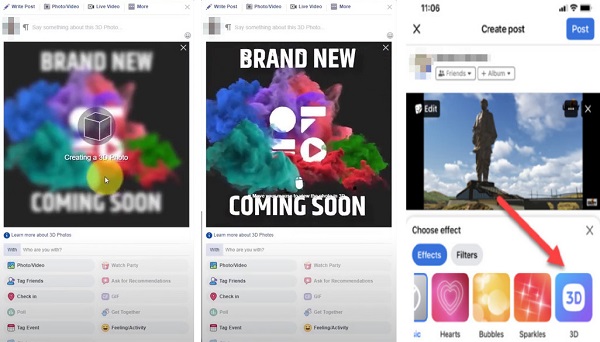 Without a doubt, Facebook is the most famous social media platform. It is an app that lets you connect to your friends and family online. This social media app can do almost everything other social media apps can do. It has a feature where you can chat, video call, share photos and videos, create a story, etc. Also, 3D filters on Facebook are a trend; if you want to shoot a 3D photo or video, you can use Facebook to do it. Facebook is an all-packed application that you can download on an app store. Using the 3D filter on Facebook is easy. You will not have difficulty accessing its 3D filter because you can create a 3D photo or video with just a few taps.
4. PopPic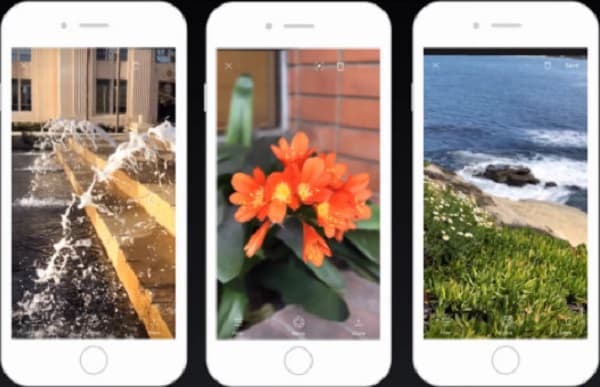 PopPic is a 3D camera app that many people use, especially to use a 3D filter. It has an intuitive user interface that even kids will be able to use it. In addition to that, this app works for multiple camera phones, like iPhone X and higher. Therefore, if you have an earlier version, it is not recommended. Its 3D filters have amazing features that include a variety of depth effects and filters. Also, it enables you to add motion to your image. Even more impressive is that the quality of its images is high. You will not have a problem searching for this app because it is available to download on Playstore and Appstore.
5. Zoetropic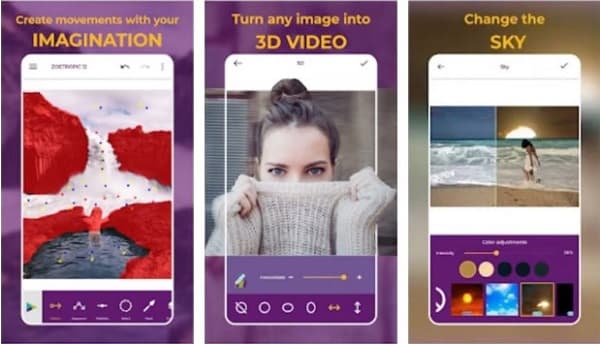 Zoetropic is another app you can download to make a 3D photo using its amazing 3D filters. Also, this app enables you to make your photo have a cinematic effect, where you can add music, text graphics, and filters. Moreover, Zoetropic has many 3D effect tools which are easy to access and fun to use. What's amazing is that it is free with in-app purchases and membership. It is also available to download on Android and iOS 14.1 or later.
6. LucidPix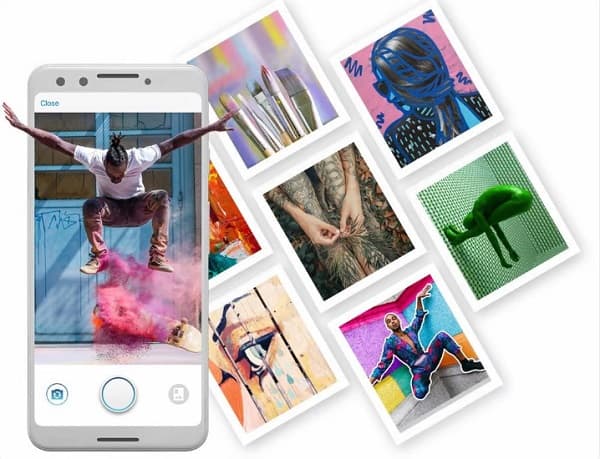 Another app that you must try is LucidPix. This app allows you to turn your 2D photos into 3D photos. It is a user-friendly app because it has a simple user interface. Furthermore, it has many interesting effects and 3D filters to use. Despite the that it adds watermarks to your image, you can use it for annual membership for $29.99 or $4.99 for a monthly membership so that it will not add watermarks to your output and have access to special features.
Part 2. How to Apply 3D Effect Professionally
We will teach you how to apply 3D effects easily on your video using the ultimate tool. To know how to do it, read this part comprehensively.
Tipard Video Converter Ultimate is a famous desktop application that enables you to create a 3D video. It also has many advanced editing features, like video merger, trimmer, GIF maker, etc. In addition, it supports numerous audio and video formats, such as MP4, MKV, FLV, AVI, WEBM, WMV, and 500+ more. It also allows you to choose the 3D effect for your video (Anaglyph or Split Screen).
Pros:
1. It supports 4K, 5K, 8K, and HD video resolutions.
2. It has a user-friendly interface.
3. It has a built-in DVD ripper.
4. Downloadable on all cross-media platforms, like Windows, Mac, and Linux.
Cons:
Purchase the app before accessing its unique features.
Step 1Download Tipard Video Converter Ultimate by clicking the Download button below. And then run the app.
Step 2On the software's main interface, go to Toolbox>3D Maker.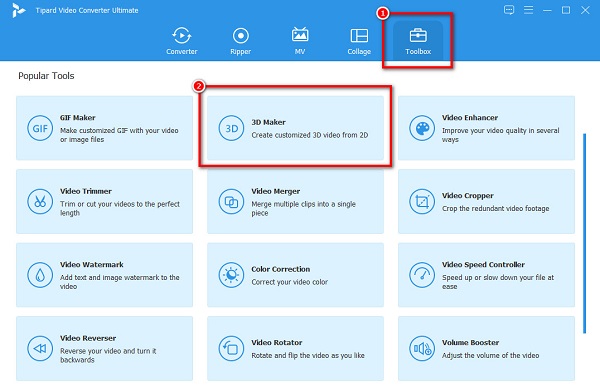 Step 3Next, a new interface will prompt where you will click the plus (+) sign button to upload your video.
Step 4Lastly, select the 3D effect you want (Anaglyph or Split Screen). You can also change the depth of the 3D effect by dragging the slider.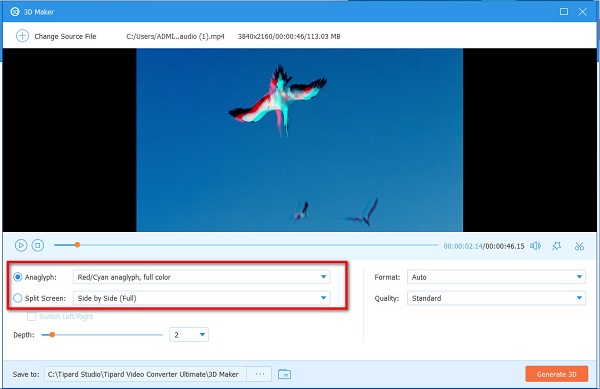 Step 5Lastly, click the Generate 3D button to apply the 3D effect to your video. And that's it! Your 3D video will automatically be saved on your device.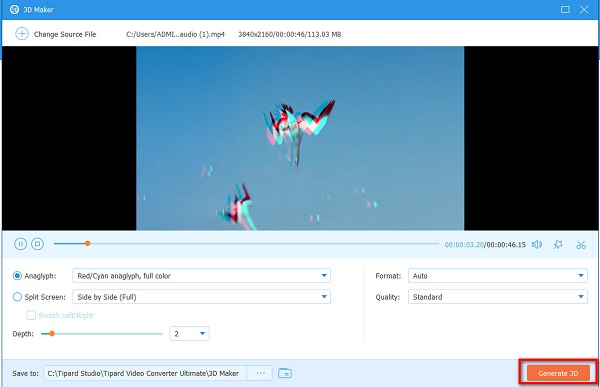 Extended Reading:
5 Outstanding 3D Maker Online and Offline for Free
Top Online and Offline 3D GIF Maker for Windows and Mac
Part 3. FAQs about 3D Filters
Where can I find the 3D filter on Snapchat?
You can find the 3D filter on Snapchat by going to Filters. Then tap the Search icon to browse for effect. Then type the 3D filter. You will see that the list of 3D filters will appear on your screen.
How to find the 3D effect on Facebook?
To make a 3D effect on Facebook, follow these steps:
Open the Facebook app.
Tap What's on your mind.
Tap Write Something in a group or on a page.
Select your photo and tap Done.
Tap Make 3D.
Then, tap Share or Post.
Can Instagram produce AR photos?
AR or Augmented Reality is a new type of photo that seems like a 3D photo. With the new update of Instagram, you can take AR photos using its AR filters.
Conclusion
All of the apps with 3D filters that are reviewed have the capabilities of making a 3D photo amazingly. Despite having different features, they are still an effective and convenient way to make a 3D image. However, if you want to make a 3D video, the best choice is to use Tipard Video Converter Ultimate.