Football Live Streaming Apps: Top 5 Apps for iOS and Android
With the growing football live-streaming apps today, we can no longer solely rely on TV and cable satellites to get the chance to watch and cheer on the games of our favorite teams. Most of the said apps are also available on smart TVs and web platforms. You may watch your favorite sports, especially the football game, such as the now on-rival FIFA Women's World Cup, on various devices. Thus, if you are interested in the football streaming apps we gathered below, then you may dive into the lineup by reading the content below.

Part 1. Recommendation: Record Moments of Football Games
Before you see the apps to watch football live, planning to record the game's best moments is recommended. Since the streaming apps are only intended to stream, here's a recommendation to capture the best moments of the football game, even from the FIFA Women's World Cup, on your phone with your computer.
Tipard Screen Capture
Here's the best solution you should grab to prepare you for capturing your most awaited football season: the Tipard Screen Capture. It is one of the best programs on the desktop and Mac, allowing you to screen record a video, game, Windows, webcam, and even your phone. Yes, this Tipard Screen Capture enables you to screen record even the things you play on your iOS and Android. Perhaps you wonder how this program lets you capture your phone screen. If that's the case, you must know about the mirroring ability with the help of the FoneLab Mirror app, which only requires simple knowledge about the task. Therefore, while you watch the live football on the app, you may also capture some clips on your PC for the first time.
Moreover, there are tons to enjoy from Tipard Screen Capture, as it offers multiple features and tools that will help you enhance the screen recording and the outputs. Therefore, if you want to record a football game on your phone using this software, please see the detailed steps below.
Step 1First and foremost, you must install the software on your PC. To help you do it quickly, click the Download buttons above. Once it is ready, launch it and get into its main interface. Now, click the Phone Midget button at the lower right side of the window. Then, on the next window, select the mobile platform you want to use. With this sample, we will use the Android Recorder option as it fits on our device.

Step 2After that, the tool will prompt a window of the next step you need to do. Now, please connect your Android to the WiFi connection where your computer is connected. Then, download the FoneLab Mirror app on your mobile device, launch it, and choose a method to connect it to your PC. If you have chosen the QR code way, then scan the code using FoneLab Mirror to connect to the screen recorder.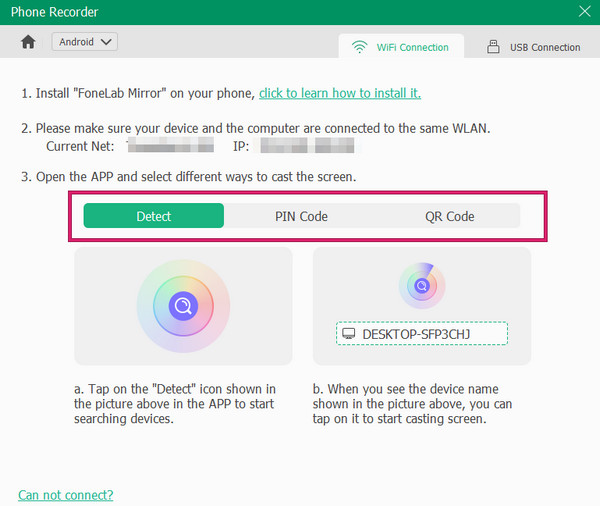 Step 3Once connected, launch the football live stream app on your phone, and click the Recording button on your computer screen to begin the phone recording. You can also navigate the adjusting tools in the same window to help you personalize the video output.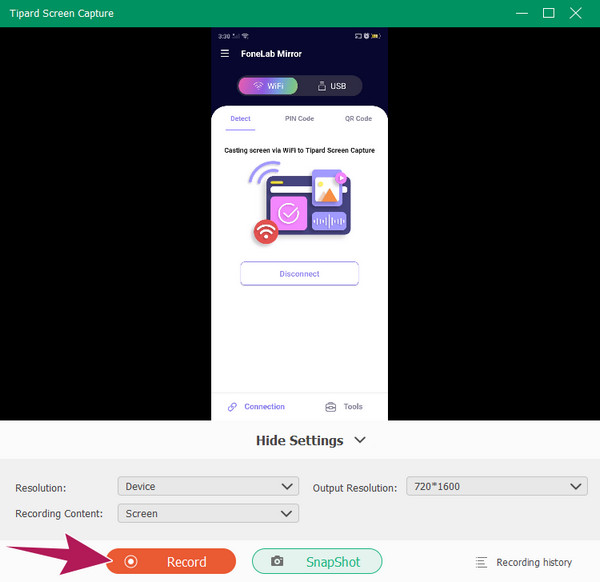 Step 4When the game is done, or you want to end the recording, click the Stop button. Then, a new window will appear where you will see a trimmer. From there, you may trim the screen recording if you want to. After that, when you think all is good, you may hit the Done button to save it.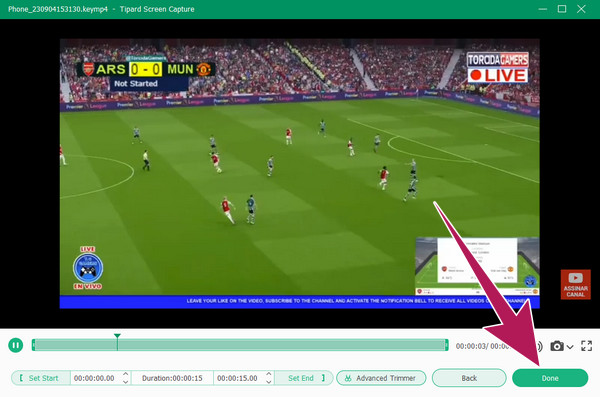 Note: If you are watching the FIFA Women's World Cup on the computer, Tipard Screen Capture can also help record the screen on Mac and Windows. Although the default recording feature of Mac does not record the internal audio, you can rely on Tipard and record both the system sound and your voice.
Part 2. Top 5 Apps to Watch Football Live Games on iOS and Android
Top 1. ESPN
First on the list is the ESPN football app. It is one of the most popular free football apps to acquire on Android and iPhone, with broadcasting rights serving all major sports. This app lets you watch numerous live events, expert analysis, premium articles, on-demand news, and more.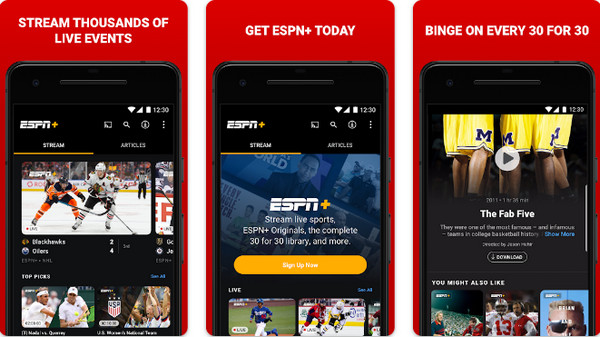 Features:
• Thousand live events.
• 30 for 30 libraries.
• ESPN exclusives or original sports.
Top 2. Watch NRL (Fox Sports)
Watch NRL is Fox Sports' official way to stream the NRL live and on-demand matches outside the Pacific Island, New Zealand, and Australia. With this app, you can download the matches and watch them offline.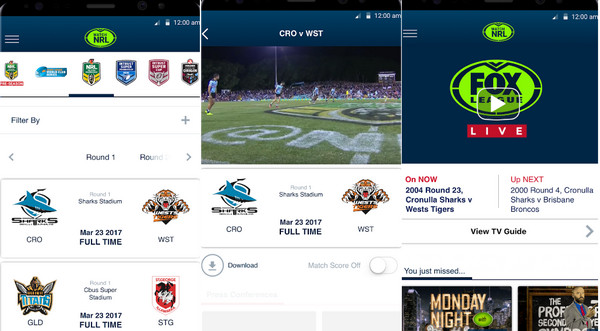 Features:
• Offline viewing.
• PC availability.
• Chromecast and Airplay playback integration.
Top 3. 365 Scores
Follow your best sports team with this app; it will give you everything you need. It offers live scores, roster updates, real-time stats, commentaries, upcoming schedules, sports news, and more. It is a good deal for those who do not want to miss any updates on their favorite football team, as this app provides you a pre-schedules and notifications about them.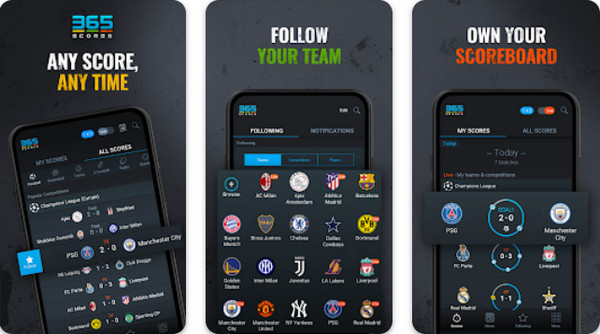 Features:
• Fast game notifications.
• Scoreboard owning.
• Team updates.
Top 4. Hulu
One of the best apps for streaming football is Hulu. It is home to many channels you can enjoy if you love sports. Aside from the sports channels, it also offers Disney bundles, which is also a good choice for kids. Hence, you can enjoy not only the games of the MLS, Premiere League, and UEFA Champions League but also get the chance to watch different originals.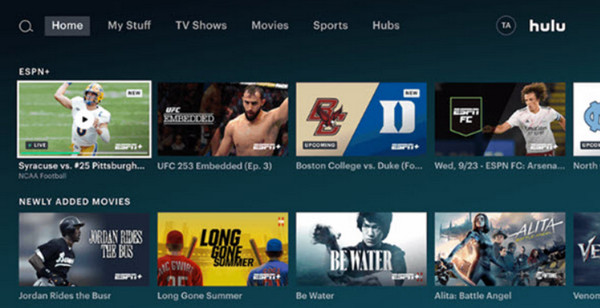 Features:
• Multi-device mainstream.
• Unlimited DVR cloud storage.
• Real-time game.
Top 5. CBS Sports
Lastly, another powerful app to watch live football streaming is CBS Sports. It is an app you can install on an Android phone, and it offers you an excellent transmission for all the popular sports out there. Aside from live sports, you can watch post-game coverages, expert analysis, breaking news, video clips, and more.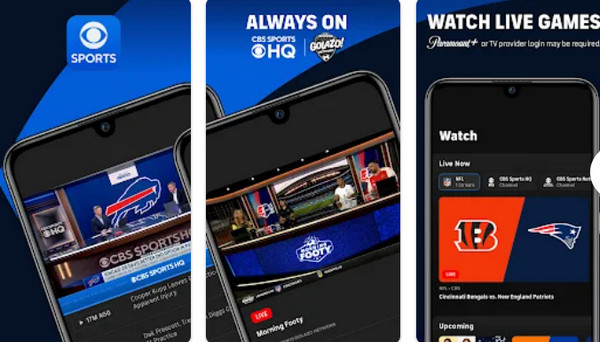 Features:
• Live events selections.
• Personalized sports news.
• 24/7 live news.
• Fast news, stats, and scores.
Extended Reading:
Top 5 Game Gapture Software to Record Game Video
How to Record Audio on All Platforms [Step-By-Step]
Part 3. FAQs About Football and Streaming Apps
Can I watch live football on a smart TV?
Yes. Some smart TVs come with pre-installed sports streaming apps.
Where can I watch the FIFA Women's World Cup 2023?
You can watch the RIFA Women's World Cup with streaming sites or apps such as ESPN, CBS Sports, Hulu, and many more.
Are there any online sites to watch live football games?
Yes, there are online sites where you can watch a live football game. Some of the popular online streaming sites are Sling TV, Live TV, ESPN, NBC, and CBS.
Does Peacock have NFL games?
Yes. Peacock streams the NFL season. Reports say that it will once again stream the 2023 NFL season, including the Football Night in America.
Is live football free with Amazon Prime?
Yes. Amazon Prime Video lets you watch the Premiere League football for free.
Conclusion
There, you have the best football live-streaming apps you are worthy to acquire on both iPhone and Android. We have also provided you with the recommendable method to maintain a copy of the football game wherein you will not need to download the video, and that is to create a new video by screen recording with the help of Tipard Screen Capture.