How to Remove or Recover Password from Excel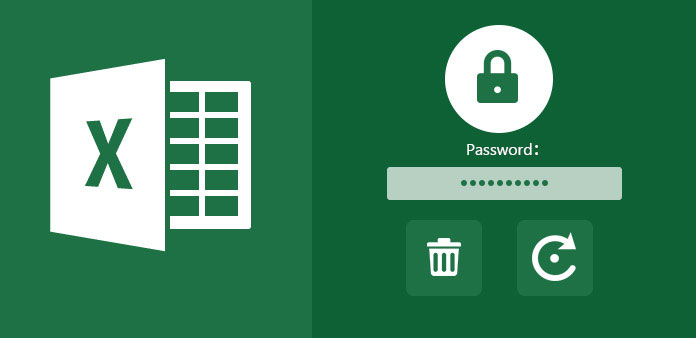 If you have followed experts suggestion and set password protect excel, you might want to know the way to recover or remove password from excel files. Although passwords could protect your excel files, sometimes they make your work complicated. I mean you have to enter the password every time you open the file. And if you set various passwords to different excel files, you may confused by these passwords. Can you imagine that you failed to open the excel file because of missing password when manager wants to view the file? So when you decide to set password on excel files, you'd better learn how to remove or recover password from excel.
Part 1. Delete password from excel
Microsoft provides three methods to set password on excel file, so there are three corresponding ways to remove passwords for Excel.
1. How to remove password from worksheet
Step 1
Open the excel file that you have set password on a worksheet in Excel program.
Step 2
Go to the worksheet with a password protection.
Step 3
Located to Review tab on top menu bar and tap on Unprotect Sheet option.
Step 4
In the pop-up dialog, you have to enter the password and click on OK to confirm removing password from worksheet.
This way could only remove the password from a worksheet but not the enter workbook.
2. How to unlock a workbook
Step 1
and drop the locked workbook into Excel program.
Step 2
Navigate to Review menu on top ribbon and tap on Unprotect Workbook option.
Step 3
In the pop-up box, you need to input the password and tap on OK to unlock the workbook.
This method could remove the password on a workbook.
3. How to remove password from an excel file
Step 1
In Excel application, go to File-> Open to import the excel file you want to remove password protection. You need to open the file with password.
Step 2
Back to File menu and open Info option. Then drop down Protect Workbook menu and choose Encrypt with Password.
Step 3
In the pop-up box, you need to delete the password and clean up the password field. Press OK and then Save the excel file.
When you open the excel file next time, Excel will not ask you to enter password.
Part 2. Remove password from excel online
Online Converter is a useful tool. It is able to convert XLS and XLSX file to other format. The most important part is Online Converter could abstract data from excel files without password. So you can transform a password protect excel file to HTML and then import the data from HTML to excel. At the same time, the password will be removed from excel document.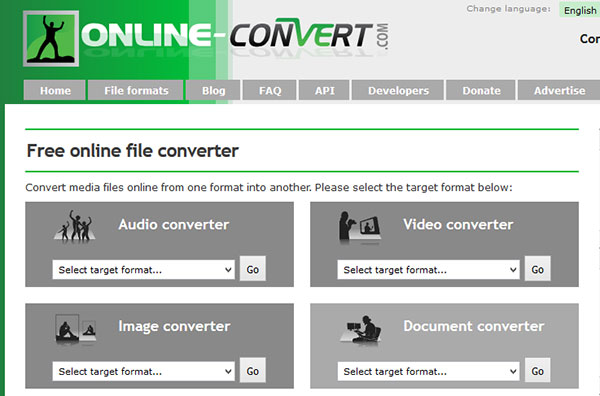 Step 1
Access online converter in your browser or type online-convert.com in address bar and press Enter key.
Step 2
In home page, locate to Document converter and tap on Go button to continue. Choose Convert to HTML option on the left side ribbon to go to HTML convert page.
Step 3
Tap on Browse button and import the password protect excel file. After uploading, press Convert file button to start transforming.
Step 4
When transformation is done, Online Converter will skip to download page automatically. You can save the HTML file to local hard drive.
Step 5
Open Excel program; go to File menu and choose Import option.
Step 6
Unfold the drop-down list of Enable and select HTML. If you cannot find HTML, you can choose All Files. Then navigate to the folder that you saved the HTML file and open it in Excel.
Although the data may become a bit messy, you can use Online Converter to remove password from excel document easily. And Online Converter promises to delete the original file within ten minutes.
Part 3. Recover Password from Excel
The purpose of setting password to excel file is to protect sensitive data. But Microsoft does not provide any channel to recover password from excel. There are several third party programs to crack password from excel files; however, we cannot guarantee the security. On the other hand, it is a waste of time to enter password every time open excel file.
If you want to protect your data, you can try another way: Windows password reset. If a person cannot log in your computer, he cannot open your excel files too. And Tipard Windows Password Reset is a good choice to manage and reset Windows passcode. It is able to reset Windows password and add account in pre-installation environment. So if you suspend that your computer is hacked, you can use Tipard Windows Password Reset to reset passcode before enter operating system.
How to create a bootable disc
Windows Password Reset is able to create both bootable USB drive and bootable disc. And the processes are similar, so you can make a decision according to your situations. We use bootable DVD as the example here.
Step 1
Install and open Windows Password Reset on an accessible computer and insert a new DVD.
Step 2
Click on Burn CD/DVD button to produce a bootable DVD.
Step 3
Wait for a few minutes until bootable DVD is done, tap on OK button and remove the bootable DVD.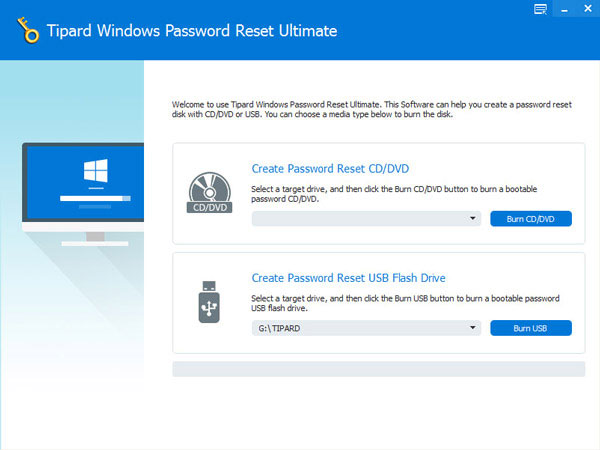 How to reset password
When you forget login password or suspend your computer is hacked, you can reset it in Windows Pre-installation Environment.
Step 1
the bootable DVD and restart your computer.
Step 2
The password manager screen will pop up automatically before enter operating system.
Step 3
Choose the account you want to reset password and tap on Reset Password button.
Step 4
In the settings dialog, type in a new password and press OK to finish resetting.
Step 5
Then you can remove the bootable DVD and start your computer as normal.
The entire process just needs a few minutes and several clicks.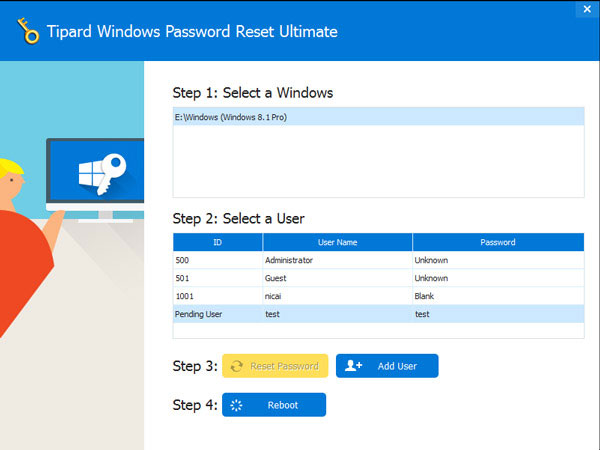 Conclusion
Based on the introductions above, you might understand the best ways to set password to a excel file and remove password from excel file. The excel file is usually a workbook that contains several worksheets. The different ways to set password to excel file have the different functions. You can set password to a workbook to prevent others from changing structures. If you need to protect one worksheet, you can just set a password on the worksheet. And Microsoft allows you to set different passwords on a excel file with different rights. You'd better write down your excel passwords, because Microsoft cannot help you to recover these passwords. The way is simple if you remember the password. Actually, you should try another way to protect your data on your computer: reset Windows password with Tipard Windows Password Reset. Besides excel files, Windows Password Reset could protect all the information and documents on your computer.