How to Remove Password from WinRAR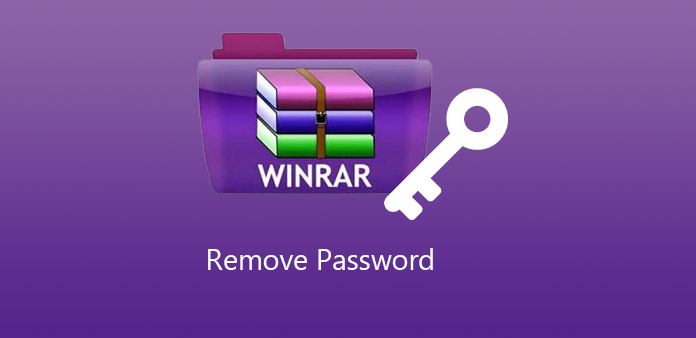 WinRAR is a kind of file archive for Windows. Users could use WinRAR to create and read RAR or ZIP files. WinRAR is useful when we transfer multiple large files. And as technology developing, WinRAR is available to Mac OS too. The way to open WinRAR is usually very simple. All you need to do is double-click the WinRAR file. However, to protect the copyright or the information in WinRAR, some people will set a password when they create WinRAR files. Then other people cannot open WinRAR or view the files without the password. When you download a WinRAR file from a website and find out you cannot view it, you must feel very annoying. Don't worry! You can learn how to remove WinRAR password in this post.
Part 1. WinRAR password remover on Windows 7/8
There are many WinRAR password removers for Windows 7/8 users, like, Ultimate ZIP Cracker. Ultimate ZIP Cracker could help users recover WinRAR and ZIP files when users forget the password. This program has a user-friendly interface. You can utilize this WinRAR remover easily.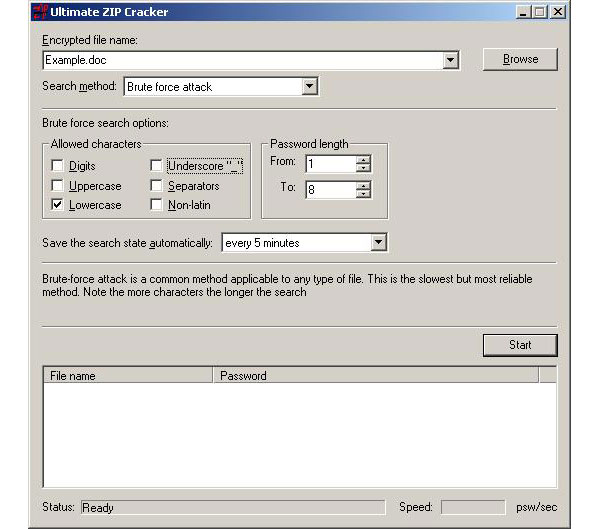 Step 1

You could download the installation file from official website and follow the instructions to install this program on Windows 7/8 computer.

Step 2

Launch Ultimate ZIP Cracker when you need to crack WinRAR password.

Step 3

Press

Browse

button and select the RAR file that you want to crack.

Step 4

Then you can select a method to recover your RAR file in the drop-down list of

Method

. Ultimate ZIP Cracker provides multiple methods to crack a password-protect RAR file, like brute force attack and dictionary attack. We select brute force attack method.

Step 5

In the settings section below, you could tell some information about your password, like the types of characters in password and the length of the password. That could accelerate the process of cracking.

Step 6

Finally, press Start button to begin removing WinRAR password. The whole process may take a few minutes depending on the complexity and length of the password.
Part 2. Crack WinRAR passcode on Windows 10
Although there are many WinRAR password removers in market, the programs that support Windows 10 are rare. RAR Password Recovery is a freeware and compatible with Windows 10. If you cannot remember the password of RAR archive file that created for a long time, you can utilize RAR Password Recovery to retrieve the password on Windows 10 for free.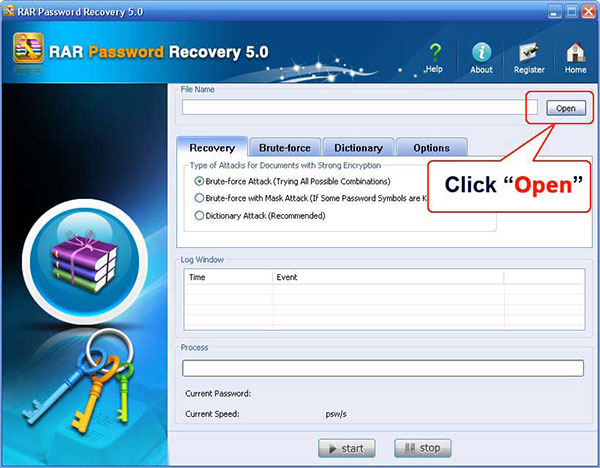 Step 1

You should install the latest version on your Windows 10 computer firstly.

Step 2

When you need to retrieve the password of RAR file, open RAR Password Recovery.

Step 3

Click

Open

button in the interface and choose the WinRAR archive file you'd like to crack.

Step 4

RAR Password Recovery allows users to crack the password with three methods, including

Brute force Attack

,

Brute force with Mask Attack

and

Dictionary Attack

. Brute force attack will try to guess the password by testing every single combination of characters to find out the password. The second option is similar with Brute force attack. But you have to remember password length and the type of characters. Dictionary attack will remove RAR password according to the default dictionary. You can select a method to recover RAR password depending on your situations.

Step 5

Once you press Start button, it will begin cracking password-protect RAR file.
Although RAR Password Recovery is a freeware, this program is safe. There is no virus attack or other negative report about this RAR password remover.
Part 3. Retrieve RAR archive file on Mac OS
Considering WinRAR is available to Mac OS, some users may need a WinRAR password remover for their Mac computer as well. There are several RAR crack utilities for Mac. However, they all use command-line interface. And RarCrack 0.2 is one of the best solutions for Mac users. The built-in brute-force algorithm will help you find the RAR password as soon as possible. rarcrack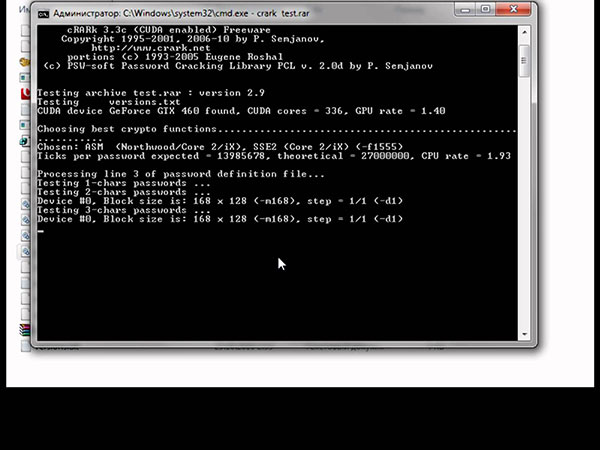 Step 1

After install RarCrack 0.2, you can use it to crack password-protect RAR on your Mac computer.

Step 2

When you need to retrieve RAR file, open RarCrack 0.2 and

enter rarcrack your_encrypted_archive.ext [--threads thread_num] [--type rar|zip|7z]

in the command-line interface. You can specify the options in [] or let RarCrack detect automatically.

Step 3

Press

Enter

key on your keyboard to start cracking.

Step 4

After cracking process started, you can specify the details of password, if you remember. You could run RarCrack to create a XML status file and modify the character set. When you restart RarCrack, this program will utilize the new parameters to crack RAR password.
If you want to Command method is more complicated than GUI program.
Part 4. Recover WinRAR password online
WinRAR password removing programs are not portable, no matter the GUI programs or the command-line utilities. That is the reason that many people prefer to online programs, like Online Zip converter. This online service has the ability to convert RAR file to Zip file and remove the password at the same time.

Step 1

Go to archive.online-convert.com/convert-to-zip in a browser on any computer.

Step 2

Tap on

Browse

button to upload the password-lock RAR file from the computer. Or you can enter the URL of RAR file stored online. The uploading process may take a few minutes depending on the size of RAR file.

Step 3

When the file uploaded, press

Convert

file button to activate the transforming process.

Step 4

After transformation, you can download the Zip file and open it on your computer freely.
Online Zip converter is an amazing tool. When you convert the RAR file, this online service could remove the password simultaneously.
The benefit is that Online Zip converter does not spend a long time to guess the password.
It wipes the password from Zip file directly.
Conclusion
This article has introduced multiple ways to remove WinRAR password. And these programs all have their unique benefits. Ultimate ZIP Cracker has two versions. Users could use free version to crack WinRAR files. But if your password is more than five characters, you have to purchase the full version. Crack WinRAR is a freeware and compatible with Windows 10. If you want to use this program, you'd better to download it from official website directly. RarCrack 0.2 is a dedicated for Mac users. And advanced users are more likely to use RarCrack 0.2's command-line interface. If you feel that command is too difficult, you can try online WinRAR password remover instead, like Online Zip converter. This online service has the ability to remove WinRAR password directly.