File Date Changer: How to Modify the File Date in 3 Accessible Ways on Mac and Windows
Are you in a situation where you need to change the file creation date due to the major modification you have done on the file? However, this tiny problem exists since you do not know how to do it on Mac and Windows. Fortunately, we have provided a complete tutorial on the default solutions for both Windows and Mac, with the best file date changer that you can use on both platforms. Therefore, expect that by the end of this article post, you will be able to change the date of your files anytime and anywhere. Hence, proceed with the content below to see the tutorial you need.

Part 1. Best Solution on How to Easily Change File Date on Windows and Mac
Before meeting the default solutions on how to change the date created on a file on a desktop and a Mac, let us begin with the best one. This Tipard Video Converter Ultimate is a multi-platform and multifunctional video editing software available on Mac and Windows. Furthermore, this amazing software contains a powerful Toolbox where its File Date Changer lies along with numerous others. One of the attributes that this single tool comes with is its ability to work on batches of files. This means you can upload any number of videos, audio, and images and modify their dates simultaneously. Aside from that, you can modify not only the accessed date of each file but also their modified and created dates.
Another thing that makes it the best file date changer is its support of more than 500 different formats. In addition, it is also a software that won't require an experience in video editing since it is very easy to navigate. In fact, even first-time users can be confident in doing any of its offered procedures in editing since it has a straightforward interface. You will surely be in love with how easily and quickly you can change the file's date, that after uploading your files, tweaking your preferred date, and hitting the apply button, you can instantly have your target output! Notable, isn't it? And to show you this unique trick, see the steps on how to change the date created on a file below.
Step 1Have this excellent software installed on your computer by clicking the Download buttons below. Please use the button that fits the type of computer OS you are using.
Step 2Once the software is available on your computer, run it. You can see its neat interface and quickly interact with what you see. Then to start, click the Toolbox menu, scroll onto the available tools, and click its File Date Changer tool.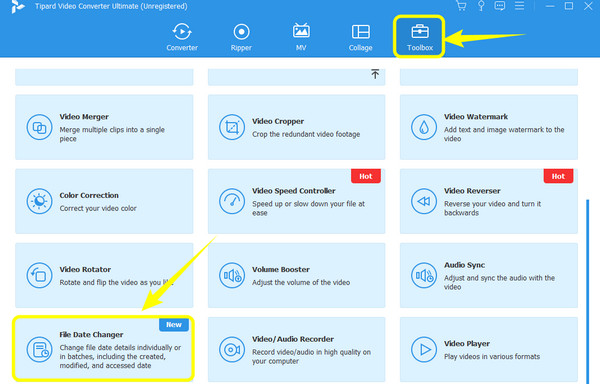 Step 3After clicking the tool, it will bring you to the next window. This is where you can upload any number of files you need. To do so, click the Plus icon at the center.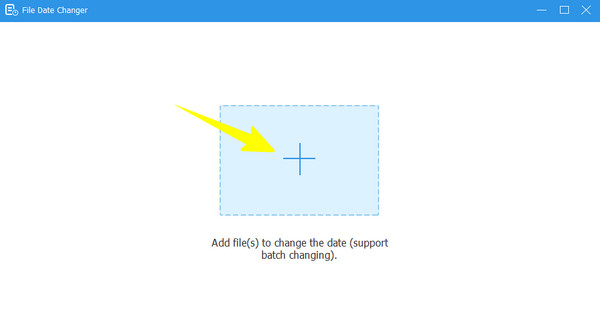 Step 4Once all files are loaded, you can now modify their dates. You can change the file's modified date, created date, and accessed date accordingly by clicking on the item till the Arrows appear indicating for edit. After editing all the file dates, simply click the Apply button.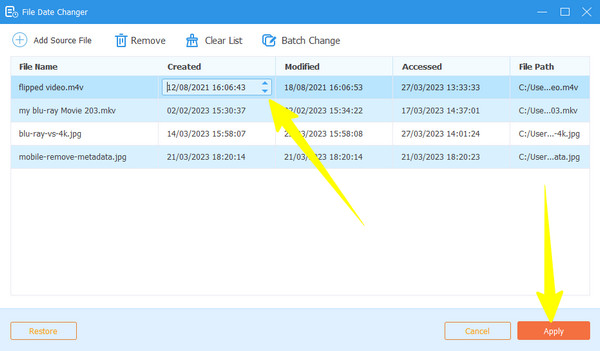 Part 2. Default Way to Change the File Date on Windows
There are two ways to change the date of your files on Windows, one is through File Explorer, and the other one is through the Powershell app. However, both ways can only modify the file's date and turn it to the current date when you have modified it. As we are looking for easy solutions in this post, we highly recommend you use File Explorer instead of Powershell, which applies a command-based procedure. Furthermore, with File Explorer, you can update and remove the personal details of all your files on your PC, such as the author's name, ratings, etc. However, as mentioned previously, you cannot change the latest dates you updated, changed, and saved. On the other hand, let's begin this tutorial by teaching you how to change file dates on Windows 11/10 with the earlier built-in way.
Step 1On your Windows computer, locate the file you need to edit, and right-click it. Then, choose the Properties option on the menu given.
Step 2Then, on the new window, go to the Details panel and click the Remove Properties and Personal Information tab at the bottom. Then, on the additional prompted window, toggle Remove the following properties of this file. Please remember that if you toggle this option, all the file properties will be deleted. Hence, you can choose to create a copy first before removing it. Then, click the Select All button, followed by the OK tab.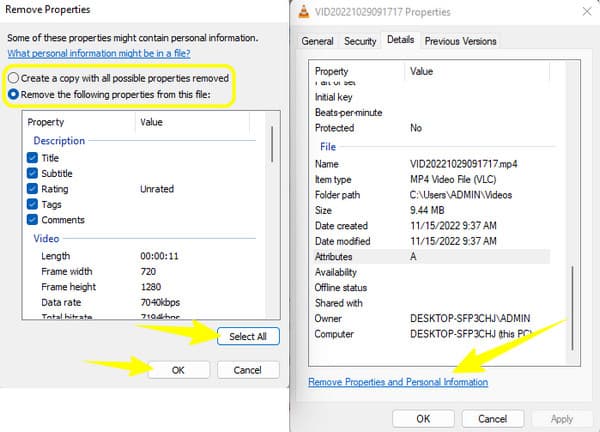 Step 3Afterward, go to your storage, where a copy of the file is placed, and check the details in its property. Finally, you will see that the date has been changed to the current day you edited it.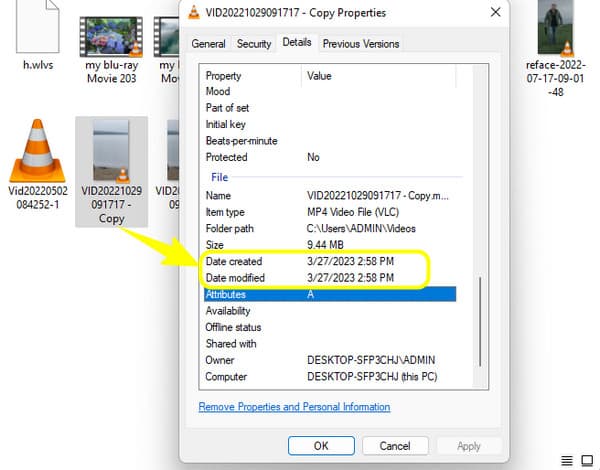 Part 3. Default Way to Change the Date of the FIle on Mac
This time, let us know how to change the date created on a file on Mac using the Terminal. This Terminal app is a built-in app on Mac that offers functions including date changing. It comes with a command prompt for modifying your file's details and deletion partitions to help you save much space on your device. However, you may find it limited since you cannot use it for multitasking. In addition, beginners might find it perplexing due to its technical procedure. Therefore, we urge you to understand the simplified steps we provided below.
Step 1Launch the Terminal app on your Mac using Finder.
Step 2Once the app is launched, type this code touch -t 201302161530 and change the date using this arrangement year-month-day. In addition, you can also include the time for the new information.
Step 3After that, copy the file's path to edit and paste it into the interface. Once done, hit the Enter key. There you have it. You've just changed the file creation date using Terminal.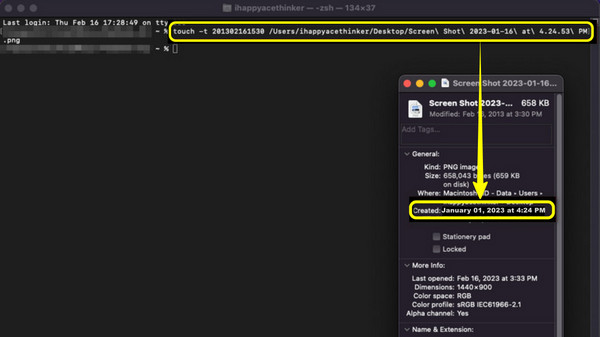 Extended Reading:
How to Edit Audio Metadata of Any Formats on All Devices
How to Edit Video Metadata: 3 Easiest Ways to Perform
Part 4. FAQs About Changing the Date of Files
Will anyone know when I change the file's date?
No. No one will know when you change the date of your file since there is no trace left out.
Can I retrieve the original date of the file after changing it?
No. No app will allow you to retrieve the original date unless you edit it and return it to the original one.
Can I edit the change file creation date of a PDF?
Yes, only if you convert the PDF to a readable file format.
Conclusion
There you have it, the default file date changers of Windows and Mac. Both are reliable enough to use. However, both have obvious disadvantages that lead to a demanding procedure. Good thing there is this Tipard Video Converter Ultimate for the smoother, easier, and quicker procedure on this task.