How to Attain Lossless WebM to MP3 & MP3 to WebM Conversion [Proven Ways]
You will need a reliable MP3 to WebM or WebM to MP3 converter to help you extract the sound of your WebM files. Admit it, the audio quality in WebM is excellent, but you wouldn't want to play the whole video just to listen to its audio. It is a great decision to transform the audio content into an audio format you can play on all media players, like MP3. Another reason to prove our agreement with this decision is that the WebM file is not common for devices and players. Therefore, whether you like it or not, you will need to convert it to other formats.
Fortunately, this article provides you with the provenly best-converting tools that will convert your media files most reliably. Thus, if you want to see the tools, bring yourself to the content below.

Part 1. Compare WebM and MP3
What is WebM?
WebM is a media format for videos. It contains a VP8 video and a Vorbis Audio, making it a quality format. In addition, it is a file format used as an alternative to MPEG4 standards and H.264, which makes it suitable for non-commercial and commercial applications. This WebM format has an open compression supported by the major web browser as its compression serves HTML5 videos.
What is MP3?
MP3 is a file format for audio that can condense or compress audio files. This format uses a lossy algorithm of compression which helps the content to reduce its size significantly. On the other hand, one may choose not to apply a lossless compression using MP3 as long as different bitrates are applied.
| Features | WebM | MP3 |
| --- | --- | --- |
| Quality | High video and audio content. | Loq audio quality due to lossy compression. |
| File Size | Big | Small |
| Compatibility | Modern media players and web browsers. | All media players. |
Part 2. How to Convert WebM to MP3
Top 1. Tipard Video Converter Ultimate
Tipard Video Converter Ultimate offers an all-out media file conversion. It can turn WebM to MP3 at a 60 times faster rate considering the conversion of bulk files. Thanks to the Ultrafast, GPU acceleration, and Artificial Intelligence that it offers. In addition, it doesn't only work on those mentioned formats but more than 500 others. As to be an all-out media conversion, this Tipard Video Converter is loaded with editing tools and features that can support you on your file enhancements. Such tools will be great for your MP3 and MOV outputs, the watermark remover, audio sync, volume booster, video enhancer, compressor, trimmer, merger, and many more.
Moreover, if you happen to consider converting back the MP3 to WebM, you can guarantee a qualitative output since it allows you to customize the output format according to your preferences. Plus, you will only need to spend a couple of minutes fulfilling your desired conversion process. How? See the steps below.
Step 1Prepare your computer to grab this remarkable converter using the Download button below. After grabbing it, run the software to start the process. Under the Converter menu, click the big Plus icon at the center and upload all the WebM files you need to convert.
Step 2This is how to change WebM to MP3. Go to the Convert All To portion and hit the arrow button there. Then, click the Audio tab on the new window, and choose the MP3 format option.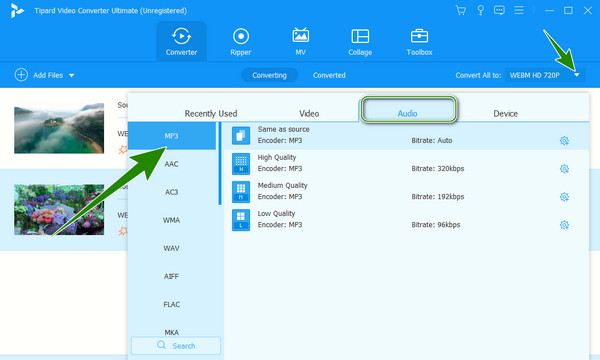 Step 3After that couple of steps, you can now hit the Convert All button located at the bottom-most right corner of the interface. Wait till the conversion process finishes, then check the outputs afterward.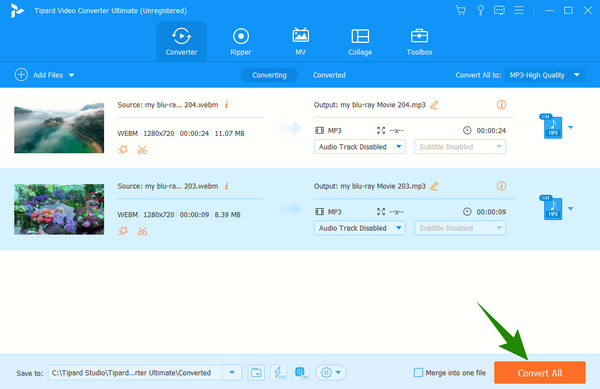 Pros:
• It is a tool dedicated to file conversion.
• It converts the files in bulk with an ultrafast conversion process.
• It comes with many extra features.
• It has a GPU acceleration that is good for your computer.
Cons:
• It is a subscription-based converter.
Top 2. VLC Media Player
The next tool that gives you all-out software you can freely acquire on Windows, Mac, and Linux is VLC Media Player. Yes, it is the media player you probably have on your computer already, and it is software capable of converting media files to any format you have in mind. To convert WebM to MP3 using VLC is a practical solution due to its dual purpose, saving you time in acquiring a third-party converter. Aside from that, this media player also comes with extra features that will allow you to trim videos, and many more. How to use the VLC in converting media files? See the following steps below.
Step 1Run the VLC media player on your computer device and start by going to the Media tab menu and clicking the Convert/Save tab from the options prompt.
Step 2Once a new window appears, click the Add button to upload the WebM file. Then click the Convert/Save button at the bottom to proceed to the next window.
Step 3After that, another window will prompt, where the WebM to MP3 conversion comes in. Go to the Profile section and choose the Audio MP3 option there. Then, finally, hit the Start button to prompt the conversion process.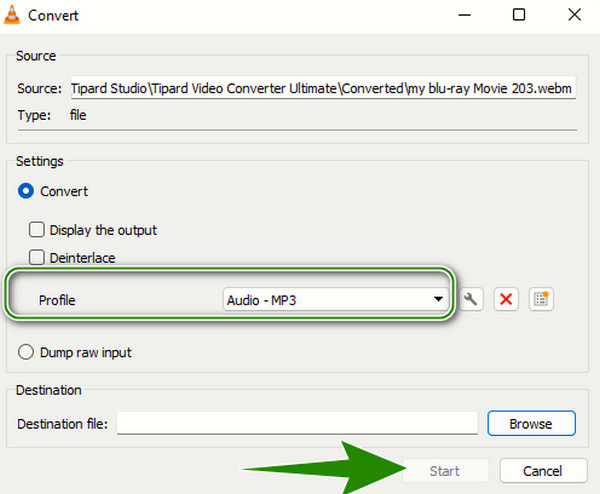 Pros:
• It is a free and open-source program.
• With tons of features to utilize.
• It supports nearly common media formats.
Cons:
• The conversion process might require more work for first-timers.
• It lacks advanced features.
Top 3. Audacity
Another open-source software that you can use is this Audacity. Just like the previous one, you can utilize this tool for free while offering a wide array of editing and audio recording tools. Technically, it is an audio Swiss army knife for edits and recordings, but it can also enable you to convert WebM to MP3 either on Mac or Windows computer. However, since it is a purely audio-editing program, you will need to grab the FFmpeg library for your uploaded video format like WebM. Nevertheless, this tool comes with great helpful options for generating, analyzing, tracking, and transporting menus. On the other hand, if you want to know how Audacity works, see the steps below.
Step 1Make sure your device already has Audacity that you can launch on this step. After opening the tool, hit Edit > Edit > Preference to access the FFmpeg Library Locate. Download it, and confirm by clicking the OK tab.
Step 2After that, hit the File menu and select the Open option to upload the WebM file.
Step 3Then, once the video file is in, re-click the File menu and choose the Export option this time. On the window prompted next to the Export option, hit the Export as MP3 option, then hit the Save button.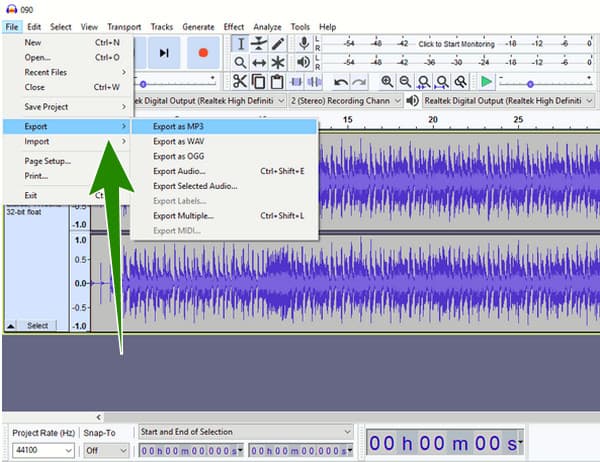 Pros:
• It is a powerful audio and recording tool.
• It is a free and open-source program.
• Easy to use.
Cons:
• It needs a third-party library to upload a video file.
Part 3. How to Change MP3 to WebM Easily
Converting your video files to audio is easy, but converting audio into video is a bit unusual. It is because it requires a different technical element to succeed in transforming the audio from audio to video container. For this reason, we gathered two of the best media converters to help you complete your task.
1. Tipard Video Converter
With Tipard Video Converter Ultimate, no file you cannot convert when using it. Therefore, you can grasp the simple steps below if you want to turn your MP3 to WebM with an increased bit rate.
Step 1Get your MP3 files ready as you launch this ultimate converter. On its main interface, click the Add icon at the center and bring on your MP3 files together. Once they're in, reach for the Arrow button of the Convert All To section.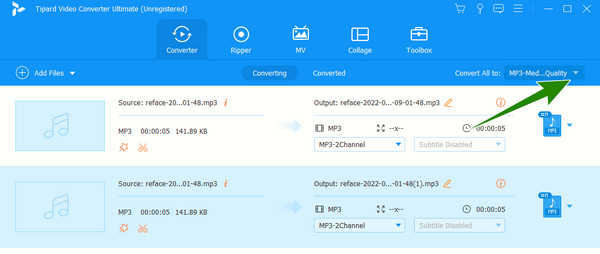 Step 2Then, go to the Video option on the new-flashed window to see the WebM format you must choose.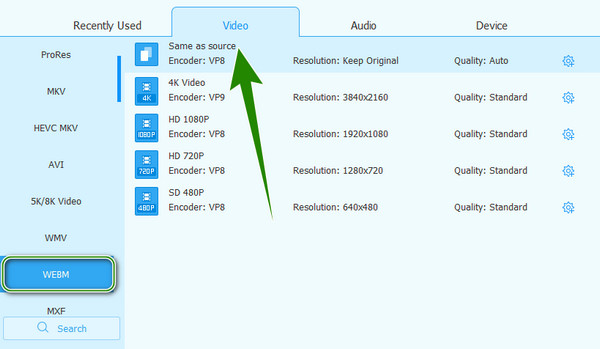 Step 3After that, start the conversion process by hitting the Convert All button.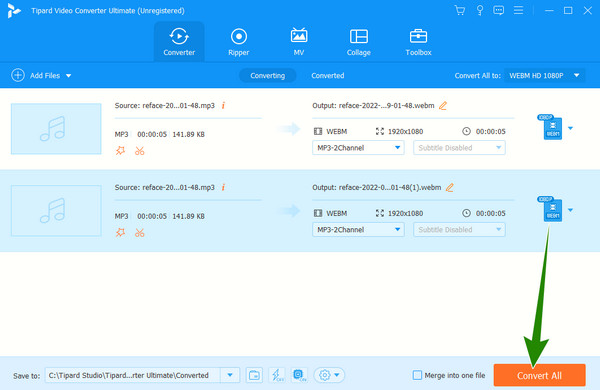 2. Miro Video Converter
When it comes to turning an MP3 into a WebM file, Miro Video Converter is a good choice to consider. This tool will not require you to install any add-ons just to fulfill its conversion duty. One of the great features that it can offer you besides the conversion tool is its ability to optimize and publish your video files online easily. Moreover, its functions cater to flash videos like OGG Theora, Windows Media Video, and other digital standard formats such as MP3 and MP4. Additionally, it is one of those tools that have an easy-to-use interface, where you can drag the MP3 files and drop them into the software for importation.
Step 1Download and install the software on your computer device, and click the Choose Files button to upload the MP3 file on the interface. As mentioned above, you can also drag and drop the file to the user interface to import the file.
Step 2Next is to click the Format button and select the WebM format option from its menu.
Step 3Finally, hit the Convert to WebM HD button to begin the conversion process. After this, you can check the output saved in the destination file shown in the software. And you also can use it to convert MKV to WebM.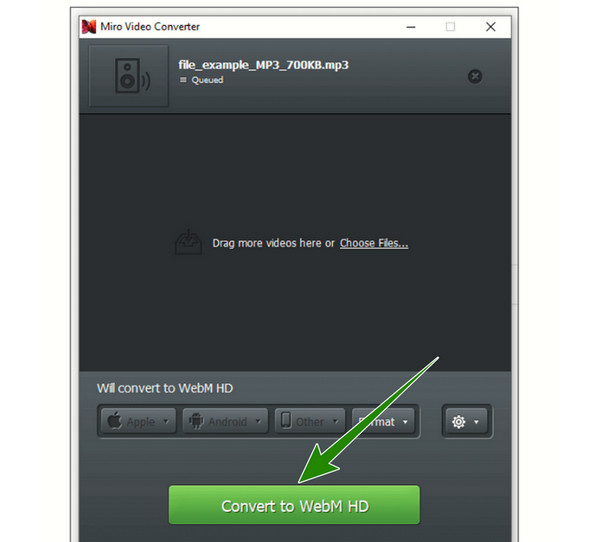 Part 4. FAQs about MP3 and WebM Converting
Can I convert WebM to MP3 free online?
Yes, one of the online free converters that you can use in transforming MP3 to a video file in WebM format is FreeConvert.
Can I use the WebM format for an audio player?
Although WebM contains video and audio content, appreciating its excellent audio track on an audio player is not possible.
What built-in software can I use to convert MP3 to WebM?
QuickTime Player is a built-in player on Mac, and it can convert MP3 to a video format like MOV. However, it cannot convert to WebM due to a lack of support.
Conclusion
There you have it, the attainable lossless WebM to MP3 & MP3 to WebM converting tools today. Mastering their ways of converting files is not a difficult thing since they are explained thoroughly in this article. All of the listed tools are good. But if you want to have advanced software with features, the Tipard Video Converter Ultimate is the best option.