Trusted Converters of MOV to MP3 & MP3 to MOV on PC
The main reason for you to convert MOV to MP3 is due to compatibility purposes. However, we cannot deny the fact that once the media content is transformed into MP3, it becomes compressed due to the compression this file format contains. For this reason, you cannot escape the reality where the quality of the file becomes condensed as well, resulting in a lesser quality grade. For this reason, what will you do if you want to transform the MP3 to a MOV file and bring back its original quality? Well, that would be the job of a good media file converter.
However, as you see various converters in the market today, we wouldn't bet they all are the best for the job. This is because they still show room for failure. Fortunately, this article will provide you with the trusted MOV to MP3 & MP3 to MOV converters that are worthy of seeking. Continue to read below for further information.

Part 1. Compare MOV and MP3
Before we explore the great ways to convert both MOV and MP3 inversely, let us comprehensively compare the two with the table below.
What is MOV Format
MOV is a default movie file format extension of Apple QuickTime. Furthermore, this format uses a MPEG-4 container to store video, audio, and text through different tracks. It is occasionally referred to as the iMovie video due to its native design, which is playable on all Apple devices, including Google Drive. This makes it limited to Apple devices and unavailable on other media players.
What is MP3 Format
MP3, on the other hand, is the universal format for audio files. It stores music, songs, and recordings in a much smaller file size, unlike the other audio formats. As a universal format, an MP3 file can be played on all media players and devices. Meanwhile, when it comes to the quality, an audio file within the MP3 container varies due to the bit rate that was used in its compression.
| Features | MOV | MP3 |
| --- | --- | --- |
| File Type | Video | Audio |
| Usage | For storing, sharing, and editing video. | For audio playback and storing. |
| Quality | Store high-quality videos with their audio. | It has a lossy compression, so the audio quality is compromised. |
| Size | It can be large due to the video content. | Small. |
Part 2. 3 Best Ways to Convert MOV to MP3
1. Tipard Video Converter Ultimate
Here's the crowd's favorite when it comes to converting files, the Tipard Video Converter Ultimate. It is a generous MOV to MP3 converter that provides you with great tools added to its conversion feature. Once you acquire it on either your Mac or Windows, you will be amazed at the technologies that will manifest upon installation. This Tipard Video Converter is infused with GPU acceleration, Artificial Intelligence, AMD, NVENC, Intel, etc., that help to provide you with a 60 times faster and smoother conversion process. Furthermore, this software doesn't only support MOV and MP3 formats, but it also supports the 500 plus more. Unlike others, you can work on your numerous files at once, making you transform in just a matter of time.
Key Features
• GPU acceleration, Ultrafast conversion, and Artificial Intelligence power.
• Convert MOV to MP3 on Mac and Windows in three easy steps.
• Support for more than 500 video, audio, and device formats.
• Batch conversion process quickly.
How to Convert MOV Video to MP3 Audio Losslessly
Step 1Install the software on your computer using the Download buttons above. Once done, launch it and begin to import the MOV files by clicking the Plus icon at the center of its interface under the Converter menu.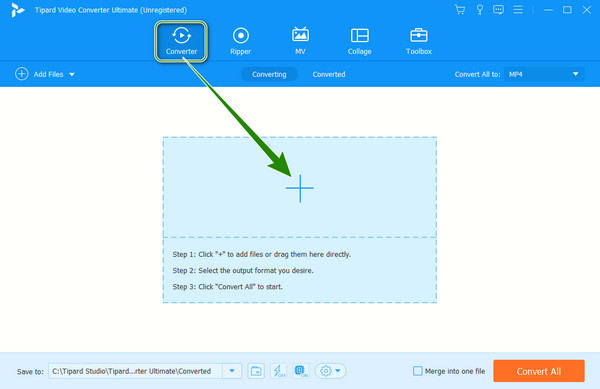 Step 2After that, click the Arrow button in the Convert All To section to flash a new window. On the prompted window, go to the Audio section and choose the MP3 option among the given formats.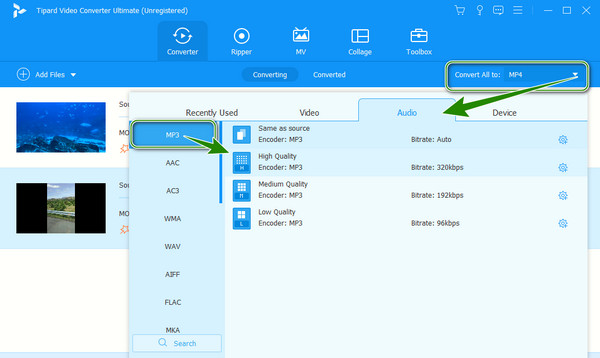 Step 3As simple as that, you can now hit the red button at the bottom part of the main interface of this MOV to MP3 converter, which says Convert All. The conversion process will then start. You only need to wait for seconds, then check the converted file.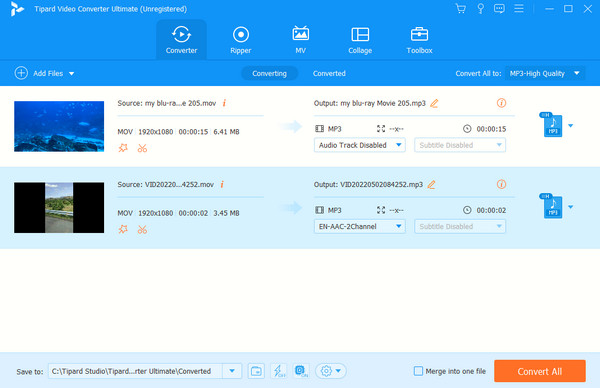 2. VLC Media Player
VLC Media Player is a tool that comes next on this list. It is a media player that has been around the corner for almost 20 years now. As time passed by, it was innovated to have extra tools where a video converter was included. And now, VLC enables you to convert videos and audio files to your desired output formats as long as it supports them. Such media formats that it supports are FLAC, MP4, MKV, AVI, WAV, AAC, OGG, and many more. However, as universal as it may seem, VLC's conversion feature is not for everybody, especially for beginners. It requires extra settings to convert MOV to MP3 on Mac and Windows successfully.
Key Features
• It extracts audio content from any MOV and other numerous video formats.
• It comes with a Youtube Downloader.
• Infused with a graphic equalizer.
How to Use VLC in File Conversion
Step 1Launch the media player on your computer and proceed to click the Media tab menu. Then on the options prompted, choose the Convert/Save option.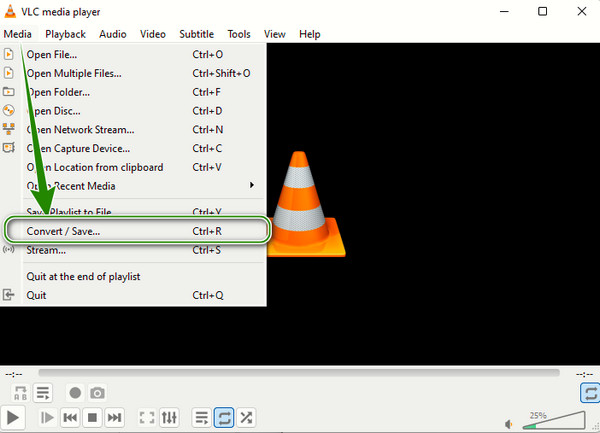 Step 2After that, hit the Add button in the new window to upload the MOV file you need to convert, then hit the Convert/Save tab at the bottom to proceed.
Step 3In the next window, find an MP3 container in the Profile section. Next is to click the Browse tab to set the file destination and end it by clicking the Start button of this MOV to MP3 converter.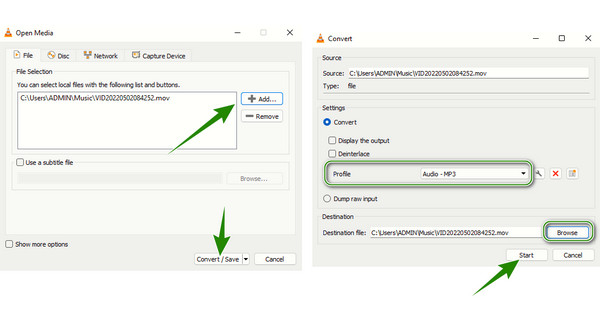 3. CloudConvert
If you want an online converter to work on your MOV videos and MP3 files, then you may want to use this CloudConvert. Aside from that, this converter also caters to various files such as eBooks, archives, images, spreadsheets, presentations, and documents. With this Cloud Convert, you can alter some variety of your file's characteristics, such as their sizes and resolutions. Moreover, it can also be used to ZIP compress the files you work on by simply dragging and dropping them to combine. Henceforth, you can convert the MOV to MP3 on Mac and Windows with this converter using common browsers.
Key Features
• Convert various media files and documents for free.
• Wide importation selections include Google Drive, URL, Dropbox, OneDrive, and computer.
• Audio editing options.
How to Use CloudConvert
Step 1Using your browser, visit the main page of CloudConvert, and hit the Select File tab to upload your MOV file directly from your computer. Otherwise, click the Arrow icon of the said button to grab the file from various storage.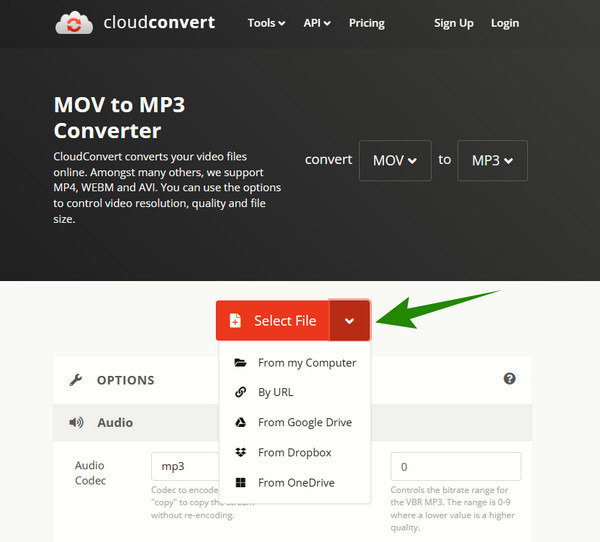 Step 2Once the file is uploaded, go to the Convert To portion to choose the MP3 format from the choices in the Audio section.
Step 3Finally, hit the Convert button of this MOV to MP3 converter, and wait for the process to finish. Once done, download the output to obtain it.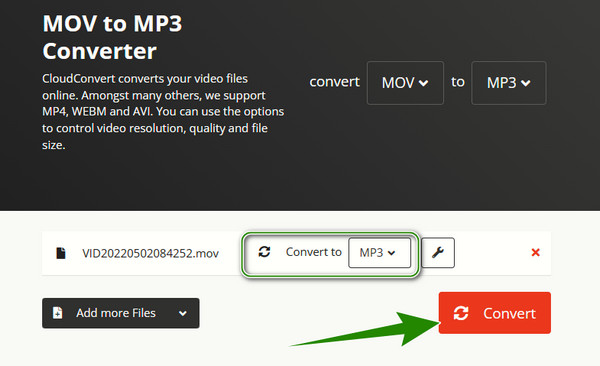 Part 3. Trusted Ways to Convert MP3 to MOV
Let's now proceed to the trusted converters that you can rely upon when converting back the MP3 files to MOV formats.
1. Tipard Video Converter Ultimate
As mentioned above, this ultimate converter enables you to convert video to audio and audio to video excellently. Please proceed below to see the inverse way of converting the MP3 audio files into the MOV format.
Step 1Prepare your MP3 files and upload them to the software by clicking the Add icon in its interface. Once the audio file is uploaded, click the Arrow icon of the format selection at its tail part or the one on the Convert All To section.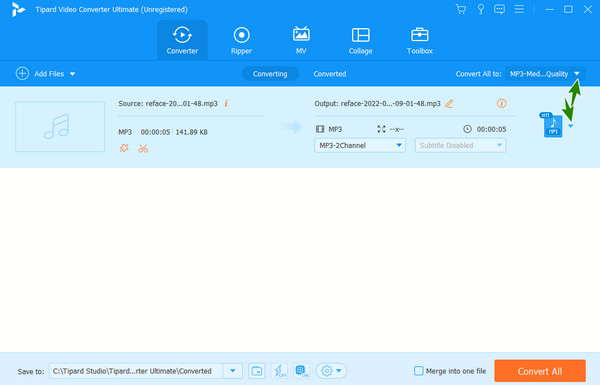 Step 2Next, to convert MP3 to MOV, hit the Video option on the new window that will show after clicking the arrow. Then, look for the MOV video format and choose your desired encoder on the side.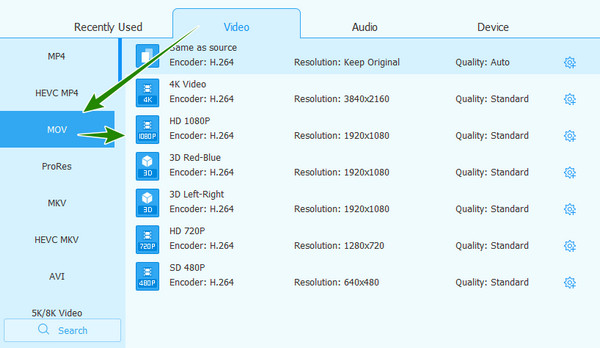 Step 3Finalize it by clicking the Convert All button. Wait for the rapid conversion process to finish, then check the output after. This tool also can help you convert GIF to MOV.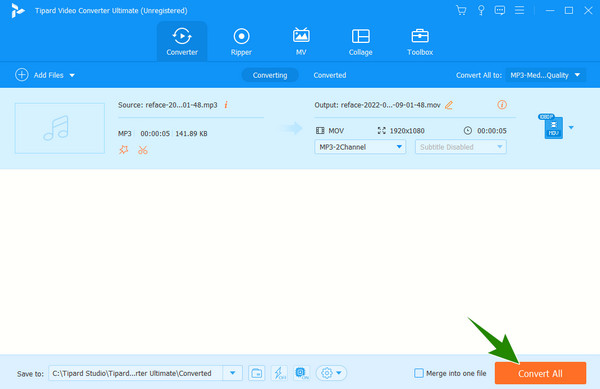 2. FFmpeg
FFmpeg is another software that can help you convert MP3 audio to video MOV files. It is the best tool to be used, at least by tech-savvy users. Furthermore, it is a tool that supports nearly all common audio, photo, and video formats for its conversion function. FFmpeg lets you extract and edit a video's audio or soundtrack while simultaneously letting you convert the audio back to the video or convert MP3 to MOV. However, as we have mentioned previously, it is a tool that is not advisable for beginners due to its command-line procedure since it doesn't have the regular GUI. Nevertheless, getting in touch with FFmpeg to work on your free and paid videos is a good choice, for it processes a professional-like output quality.
Key Features
• Convert video to audio & audio to video professionally.
• Convert the entire file or even a specific part of a file.
• Trim, crop, combine, rotate, and resize media files.
• Decode and encode duplication.
Step 1Download and install FFmpeg on your computer device first and foremost. You may find the installation demanding, but that is all needed to succeed in running it.
Step 2Once launched, click the Windows plus R keys on your keyboard, and hit the OK option to run the command panel.
Step 3Start making commands by clicking the space enter, then the enter cd, followed by the space bar. After that, locate the file storage of your MOV video. Please use this command line, ffmpeg -i source_movie.mov -vn output_movie.mp3. What's more, you can use FFmpeg to reverse videos.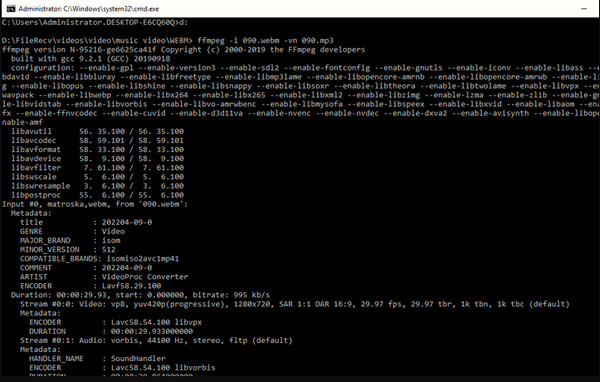 Part 4. FAQs about Converting MOV to MP3 and Vice Versa
Is QuickTime the best way to convert MOV to MP3 on Mac?
The QuickTime player can transform a MOV video to MP3 via exportation into an audio file. However, if you are looking for the best converter on Mac, QuickTime is not on top since it is not a dedicated converter but a media player. The best way to convert media files on Mac is by using a power converter like Tipard Video Converter Ultimate.
Which is better, MOV or MP3?
If you are referring to sound quality, MOV is far better than MP3.
Can I retain the video content once I convert the MOV to MP3?
No. The MP3 format is a container that can only hold audio contents such as music and recordings and will not retain the video content of MOV.
Conclusion
Reading this article will lead you to meet the trusted converting tools to convert MOV to MP3 files. All of the tools above have easy-to-follow procedures for converting, except for FFmpeg, which experts should use. Hence, if you are a beginner who doesn't want to undergo the difficult procedure but wants a professional output, then use Tipard Video Converter Ultimate.