What is BurnAware: Key Functions, and Alternatives
If you want to have an accurate burning process, then you must have a powerful burning program. But what are the powerful burning programs you must have? Fortunately, you can have one of the most powerful, which will be the topic of this article, the BurnAware. Therefore, taste this comprehensive review as it outlines the key functions and alternatives you can use in its absence.

Part 1. What is BurnAware
BurnAware is a DVD burning software that is designed to create, read, write, and copy continents relating to discs. It was developed by BurnAware Technologies, which works independently on Windows OS. Furthermore, this tool has a user-friendly interface that features various options to accommodate its burning function. Pursuing its features, it offers options for professionals to customize disc layouts, and file systems, verify burned data, disc spanning, and more. Another reason people consider this burner is that this burning software supports various session discs, enabling you to add more files to your existing discs.
Meanwhile, to feed your curiosity about the rate or if you want to know if BurnAware is free and safe, then you can confirm. This burning software has three main versions, the Free version, the Professional version, and the Business version. Each version has its various functions, and yes, you are thinking it right, the more the version is advanced, the more features and functions it has.
Part 2. BurnAware Tutorial
BurnAware is an easy-to-use burning program, and it allows you to handle various kinds of files. Hence, let us have this BurnAware free tutorial for beginners to cope with when they suddenly decide to utilize BurnAware.
Step 1As a normal way to begin, install the burning software on your computer. Grab the version that will fit your needs and your pocket.
Step 2Once you get it, launch it and click the Data button from the four major options you will see on its left side. Then, you can choose freely from the various functions on the right. However, this time you can choose the Data Disc to enable you to upload the videos you want to work on.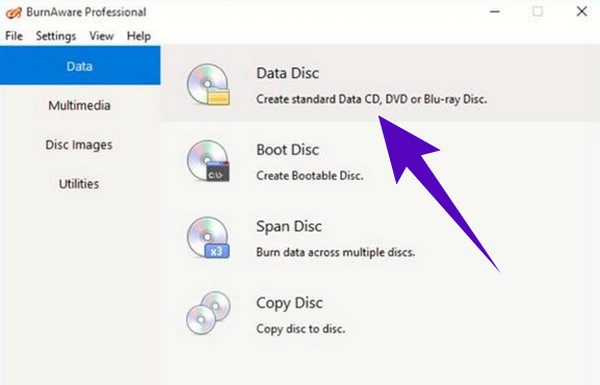 Step 3After locating the videos and bringing them into the interface of this burning software, then you will find the Burn button easily. Click the button and wait patiently till the burning process finishes. And that is how to use BurnAware to burn a DVD.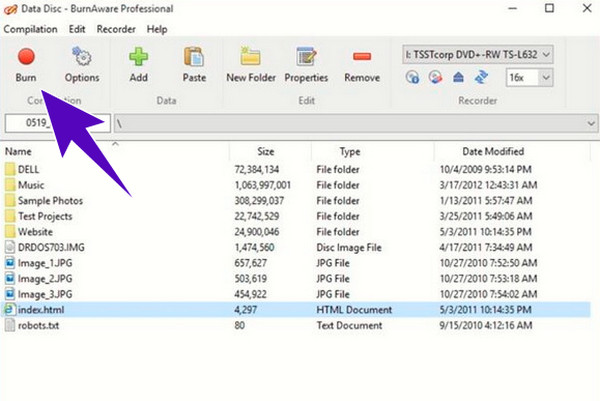 Part 3. Alternatives to BurnAware
In all reviews to read, there will always be alternatives to present. That being said, allow us to bring out the best DVD and Blu-ray creators you can use to alternate BurnAware utilities.
Tipard DVD Creator
Tipard DVD Creator is software that allows you to create DVDs and Blu-rays out of different video formats. It provides you with the best solution to create DVDs if you want a DIY DVD-creating process, for it offers you multiple functions to edit or personalize your DVD. Some customization menus it gives you are for the template, where you can personalize the frames, texts, and buttons. In addition, you can also merge videos or chapters in one and split a video or chapter into several ones.
Moreover, you can enjoy other editing features to crop, rotate, cut, add filters, adjust effects, subtitles, and more before you burn DVDs. Meanwhile, you can have this alternative of BurnAware for free on Mac and Windows as it provides you with a free trial using its free download buttons. So, if you want a better experience with burning DVDs, grab this Tipard DVD Creator now! Then, feel free to follow the tutorial prepared for you below.
Step 1Launch the DVD burner after installing it using the Download buttons below. Then, insert your DVD into the drive, and click the DVD Disc button from the welcome interface.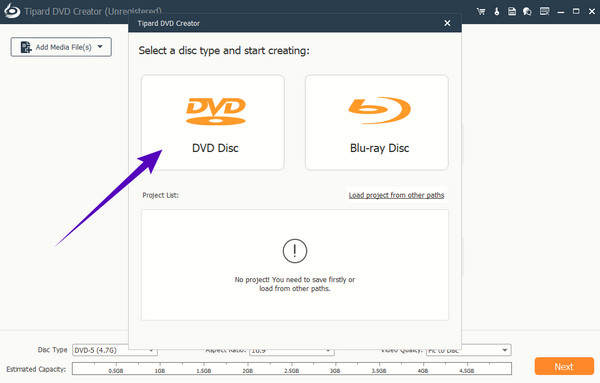 Step 2Afterward, click the Add Media File(s) button at the center of the main interface and upload the video files you need to burn. Also, you can optionally click the Power Tools button to navigate to the editing tools. Otherwise, hit the Next button.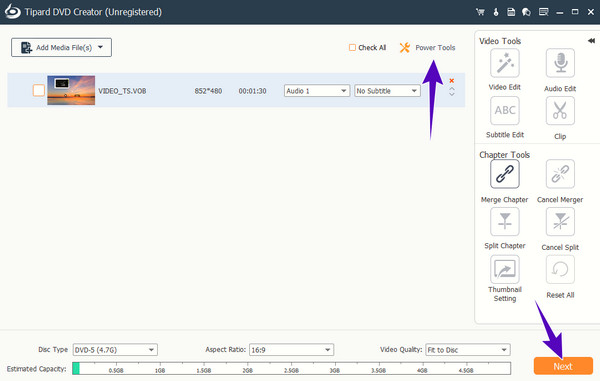 Step 3As simple as that; you can already hit the Burn button when you reach the next page. Then, wait for the process to finish, then check on your burned DVD.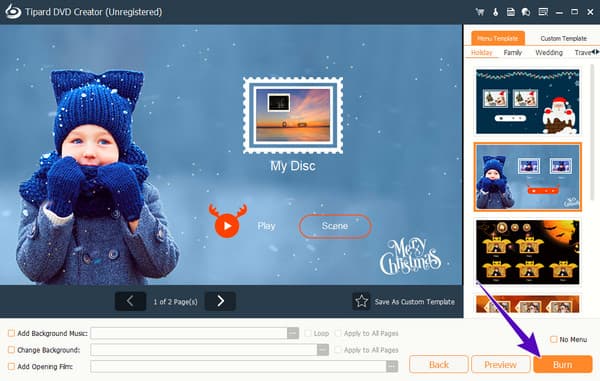 Tipard Blu-ray Creator
If you want to work for Blu-rays, you can cling to this Tipard Blu-ray Creator. This, too, allows you to create Blu-ray discs from AVCHD and HD/SD videos, then make ISO and folders from nearly all video formats. One of its best features is its ability to convert and burn Blu-rays in batches and super fast procedures. Also, it offers tons of featured menus, such as style templates, audio tracks, and subtitles. And for its editing tools, you can edit the audio, add audio, add a watermark to the video, then adjust its effects, trim it, and crop it.
What's more, you can have this BurnAware alternative without spending much. As a matter of fact, it offers you a free trial that includes all of its remarkable features to enjoy. Therefore, have a smooth burning experience even for your 4K Blu-rays when you grab this Tipard Blu-ray Creator now!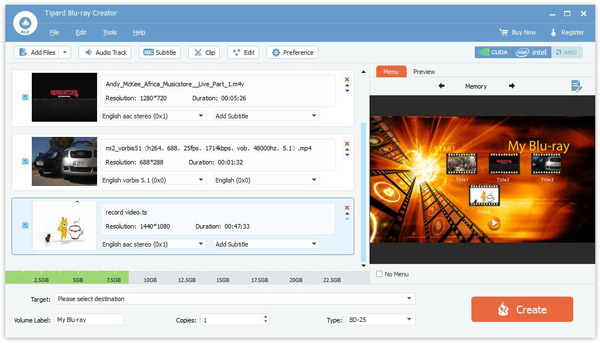 Part 4. FAQs about BurnAware
Is BurnAware free and safe on Mac?
No. Unfortunately, BurnAware is only available on Windows OS only. However, if you are looking for a safe DVD burner to use on Mac, then go for Tipard DVD Creator for Mac.
How do I burn MP4 to DVD using BurnAware?
To burn MP4 to DVD with BurnAware, you just need to upload the MP4 video when you add files. Then, choose the disc type and click the burn button.
What format do I need to burn a DVD to play on a DVD player?
To create a DVD out of burning that you can play on a DVD player, you have to make sure that you use a DVD-Video format. This format is the standardized type that has the structures and specifications for the DVD menu, video, and audio contents.
Conclusion
This post is a write-up of the review of BurnAware. It provides you with enough information that will let you know the software well. Furthermore, it also comes with a tutorial that will lead you to learn how to manage it well. However, as everyone does, they still look for better-burning software since BurnAware has many limitations. Thus, we randomly provide you with the best alternatives that you can use instead. Therefore, if you want to focus on burning Blu-rays, then you can choose to have the Tipard Blu-ray Creator. On the other hand, if you want to burn DVDs with touches of Blu-rays, then the Tipard DVD Creator is the best choice.