Blu-ray Regions: What Are They and How to Play Them in Various Regions
Blu-ray is the elevated foundation for video and audio made for home theater. It is the successor of the DVD that comes with a higher-quality audiovisual display. However, similar to DVDs, Blu-rays also come with drawbacks, and one of them is being locked due to their regions. If this is still vague to you, then you are in the right place. This article will explain to you all about Blu-ray regions with some extra parts that will help you in your Blu-ray endeavor.

Part 1. What are Blu-ray Regions
The Blu-ray regions are the territorial areas divided for content playback and distribution on Blu-ray Discs as their main purpose. Each region or area has a designated code, which is why many of the Blu-ray players and discs are made and encoded to be compatible with a particular region. Thus, you might ask why they need to create Blu-ray region codes. To answer that, it must have been for payment.
Normally, movies are released in one area and distributed to other countries a few months later. This means a Blu-ray version may already be released while the movie still shows in theaters. Considering the differences in price ranges across different markets, imagine if the region codes are not available; people may grab a cheaper version from other areas. This will hurt the film producer's profit. Thus, the Blu-ray region can help them guarantee the huge possible return on their investment for the movie. So that's the reason why Blu-rays do have regions.
Part 2. Blu-ray Region Codes Explained
Unlike the DVD regions that use numbers to indicate their particular region area, the Blu-ray region codes use letters to help you recognize what region on the disc can be played. There are three different Blu-ray codes, and these are Region A, B, and Region C. Blu-ray discs that were manufactured in the geographical region are embedded with their letter of representation. The table below will help you perceive the designated countries for each region code.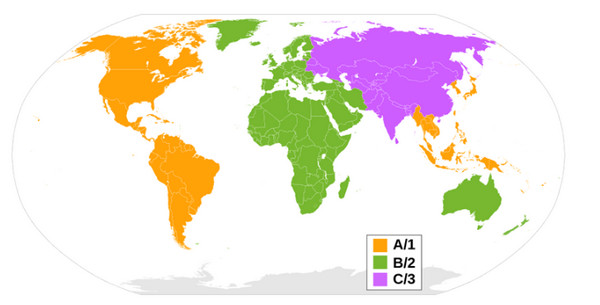 | Region Code | Countries |
| --- | --- |
| Region A | North America, South America, Central America, Japan, Hong Kong, South Korea, North Korea, Taiwan and Southeast Asia. |
| Region B | French territories, Europe, Greenland, Australia, the Middle East, Africa, and New Zealand. |
| Region C | Pakistan, India, Central, China, Russia, and South Asia. |
Part 3. Region-Free Blu-ray Players
Can't you play and watch the Blu-ray you have due to a certain region code? In that case, you need to use a region-free Blu-ray player to play your movies like the two below. These are the best choices for many users who have experienced the same failure on region-coded Blu-rays.
Tipard Blu-ray Player
Tipard Blu-ray Player is a reliable software program that allows you to play movies with different region codes. With this player, you can enjoy watching Blu-rays without meeting any restrictions or issues. Furthermore, this Blu-ray Player enables you to watch the movie using a trouble-free interface because this Tipard Blu-ray Player has an intuitive interface, which is easy for you to understand. As a matter of fact, it only takes you a few clicks to open your Blu-rays. It is more special because it supports up to 4K Blu-rays for discs, ISO, and folders.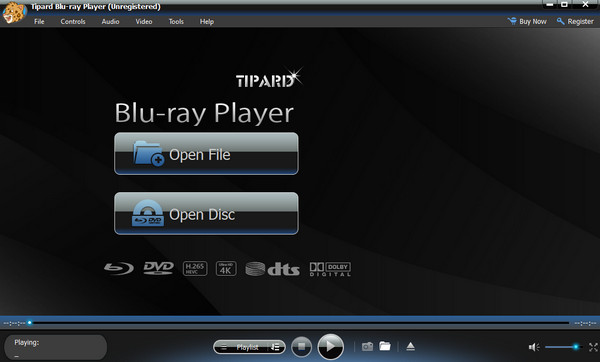 Macgo Blu-ray Player
Macgo Blu-ray Player is another region-free Blu-ray player that you can try. It is another tool that can read your Blu-ray discs no matter what region they have. With the assistance of this Macgo Blu-ray Player, any type of Blu-ray you have. However, as its name suggests, it seems like it only works best on Mac computers. Another drawback of the Macgo Blu-ray Player is it doesn't support Ultra HD movies.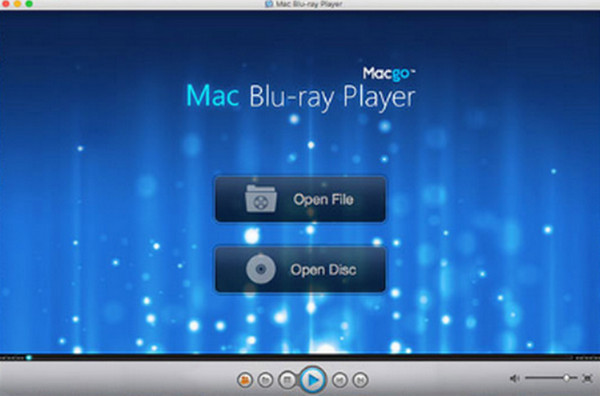 Part 4. How to Bypass Region Locking
1. Use a Region-Free Player
As the easier and quicker solution to bypass the region locking of Blu-rays, you can use a region-free Blu-ray player like the two recommended above. This is the perfect way for those who do not want to do some technical solutions. Suppose you choose the Tipard Blu-ray Player to play freely any region-coded. In that case, you must now install it on your computer and follow the steps below.
Step 1 Place the Blu-ray disc on your computer's disc drive, then open the player.
Step 2 Click the Open Disc button, and go for your inserted disc to open.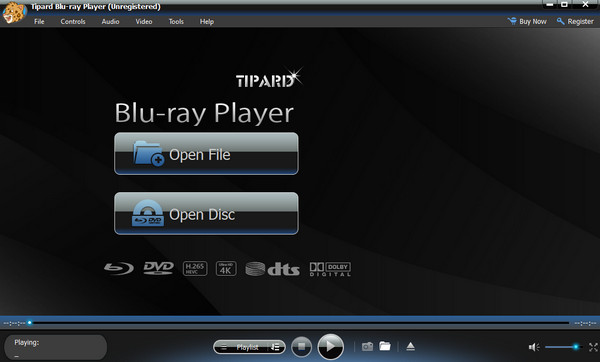 Step 3 After that, it will automatically play on your screen.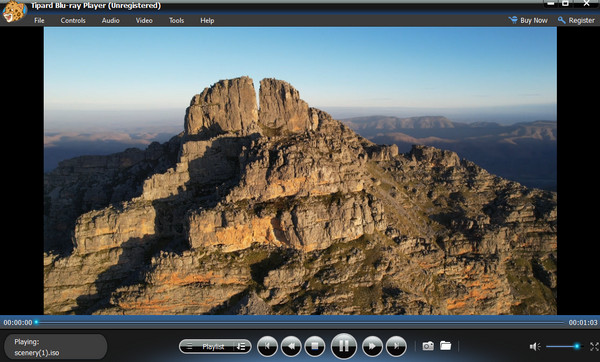 2. Make the Blu-ray Region Free
What does region-free mean on Blu-ray? It means having a Blu-ray without region-locked. This leads us to another good option, and that is using a Blu-ray ripper like the Tipard Blu-ray Converter. This program is perfect for providing you with mesmerizing digital video out of your Blu-rays without losing their quality. Furthermore, it offers hundreds of different video formats that you can use for your output, like MP4, MOV, AVI, WMV, MKV, and many more. It lets you create 4K videos in just a few seconds. Thanks to its hardware acceleration and ultrafast technologies, it allows you to obtain a 60 times faster ripping process. Here's how you do it.
Step 1While your Blu-ray disc is still on your disc drive, open the ripper and click the Plus button at the center to upload it.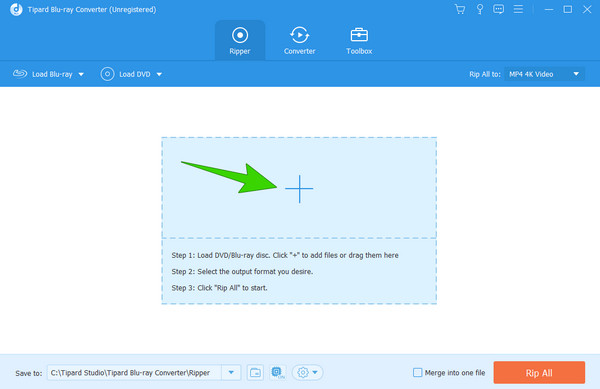 Step 2Go to the Rip All To section and click the arrow button. Then, choose the video format you desire and the type of source you want.d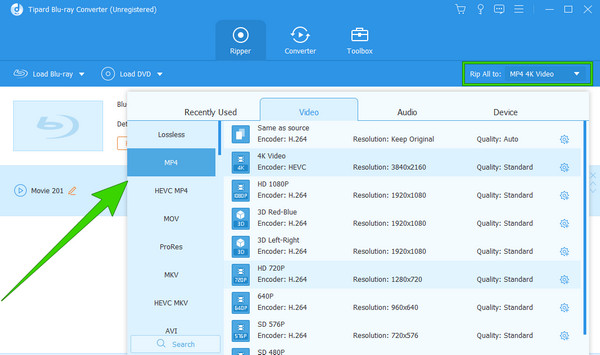 Step 3After that, hit the Ripp All button to start the ripping process.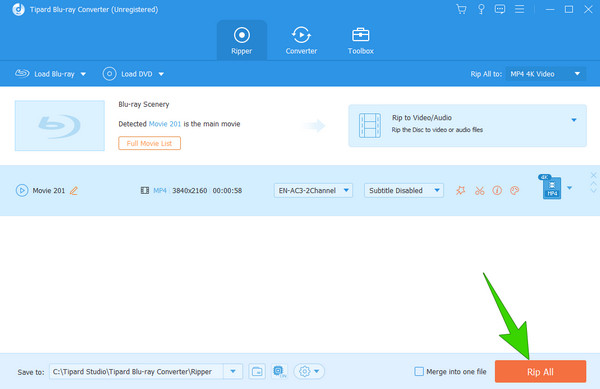 Part 5. FAQs About Blu-ray and Regions
Do regions matter for Blu-ray?
Yes. Region codes matter for Blu-rays since they are used to control and protect the copyright of their distribution. The region codes restrict and prevent unauthorized playback.
Are Blu-rays region-free?
Normally, Blu-rays are not region-free, for they are region-coded for their protection. However, there are writeups that there are 4K Blu-ray movie titles that do not have regions for some reason.
What Blu-ray region is the USA?
The Blu-ray region for the USA is Region A. Blu-ray discs with this region encoding are only intended to play on Blu-ray players from the Americas, which includes Canada, Mexico, the United States, and other countries within this region. Thus, a Blu-ray player from Region A will play Blu-ray discs with the same region coding without issues.
Conclusion
So those are the Blu-ray regions for a typical Blu-ray disc. The ways to bypass the region codings and the best players you can use to watch your Blu-rays freely are also provided. We hope that this post helped you learn about Blu-rays and their codes. Therefore, you may share this post with your friends.