5 Best Video Recorder Software for Free to Record Videos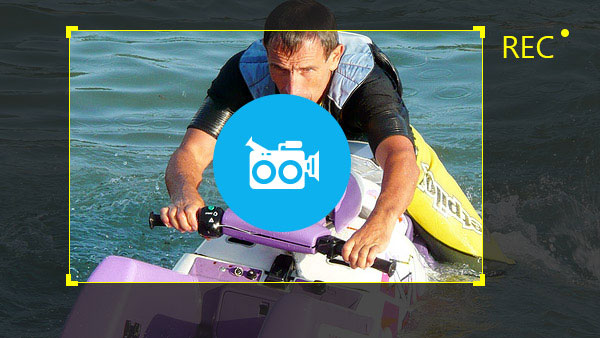 It is said that an image is worth a thousand words. Then a video must be more valuable than a million words. Free video recording software is a convenient tool to capture our computers' screen. Such video recorders are useful in different conditions. When we ask for technology supports, a video recording of screen could help technical staffs to understand the problems. When you discover your favorite TV programs without download permission, you can use a video recorder to grab and watch them offline. When you display a new skill in game, you must want to share the game video with your friends. Therefore this article will introduce the top 5 free video recording software. So you can get the videos you'd like to without paying any penny.
1. Top free video recorder on Windows
CamStudio is the popular free video recording software. It could capture all actions on your computer, including screen, windows, audios, audios and more. The biggest advantage of CamStudio is to create standard AVI videos. When you edit the recording video, you will understand the benefits of AVI video. It is an uncompressed video format, which could retain original quality. So with CamStudio, you can get a high quality video recording.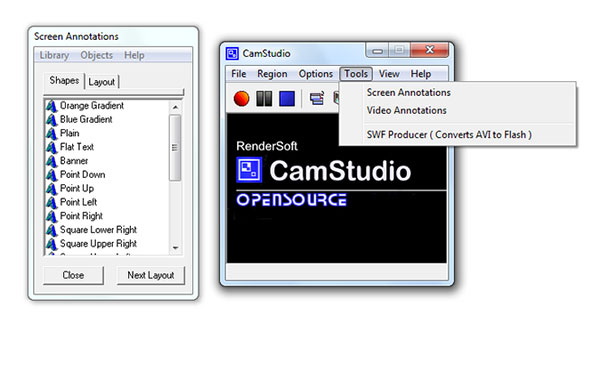 The principal feature of CamStudio
1. After install this free video recorder on your computer, you can record digital videos at any time. It is one of the most stable video recorders.
2. You can customize the recording area. CamStudio provides multiple options related to recording region, like Region, Fixed Region and Full Screen. Another feature about recording area is Autopan. Once you enable this feature, CamStudio will record the area to follow the cursor around.
3. This digital video recorder lets you to control the cursor during recording. You can decide to show the cursor or not.
4. CamStudio offers extensive options about audio recording. You can determine to record audio or not, record audio from microphone or from system, and so on.
5. Another useful feature is to add screen annotations during recording.
6. Its built-in SWF Producer can convert AVI into flash video.
2. Best free video recording software on Mac
If you are looking for the best free video recorder on Mac computer, QuickTime is the answer. When it comes to the wide variety of video recorders available on Mac computers, QuickTime is often overlooked. Of course, you can use software, such Camtasia for Mac, to recording videos. However, if I tell you QuickTime has most features that other paid video recorders have, you will agree that QuickTime is the best free video recording software for Mac users.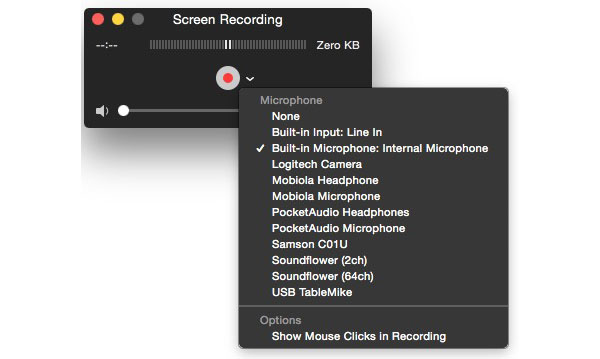 The simple features of QuickTime video recorder
1. QuickTime is a pre-installed video recording program. All the Mac users could use it without installing anything else.
2. It has the abilities to record movie, audio or screenshot.
3. The interface of QuickTime video recorder is friendly. Although QuickTime seems simple, its features are more extensive than you thought.
4. This free video recording software supports to record audio along video images. And you can adjust the volume within QuickTime.
5. You can decide the audio and video input sources depending on your demands.
6. If you are a blogger or need to create screencasts, QuickTime's screen recording feature could meet your requirements.
7. QuickTime is also a media player, so you can preview the recorded video within it.
3. Best video recorder for cross-platform users
As the number of multi-device users increasing, more and more people want to enjoy seamless experience cross platforms, including video recording. There are some free video recording software available to both Windows and Mac OS. And Camtasia Studio 8 is the best one. Camtasia Studio 8 provides paid version; however, the free version is excellent enough to appear on this list. Compared to other video recorders, Camtasia Studio 8 is more like a professional program, including its interface and features.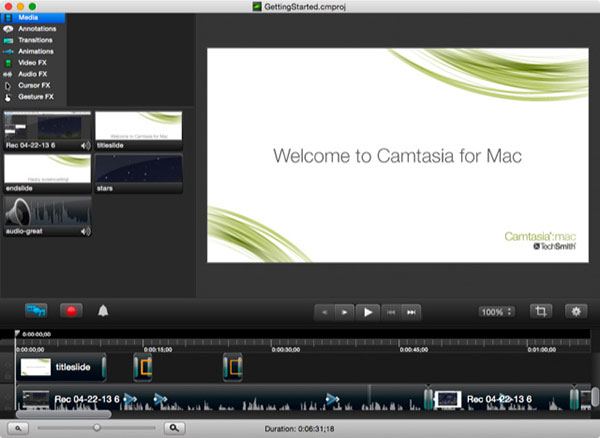 The professional features of Camtasia Studio 8
1. The built-in Camtasia Recorder supports to record digital videos at any size.
2. Besides online videos, it could capture the videos from web camera.
3. When you take screencasts, this free video recording software permits you to control the audio inputs and its volume.
4. You can use it to record any actions on screen, from online chat to video streams and video games.
5. The most unique features are smart animations. For example, Camtasia Studio could zoom or pan according to your cursor placed on the screen automatically during recording.
6. After recording, you can polish the original video or save it to Google Drive or hard drives within Camtasia Studio 8 directly.
4. Top digital video recording website
Free online services, including free online video recorders, are always attractive, for they are convenient and portable tools. Screencast-O-Matic is the best online video recording tool and best free video recording software. That is not only because everyone could use it without registration, but also because it is as powerful as desktop programs. Although you do not need to install anything on your computer, its pop-up recording box is similar to a video casting program.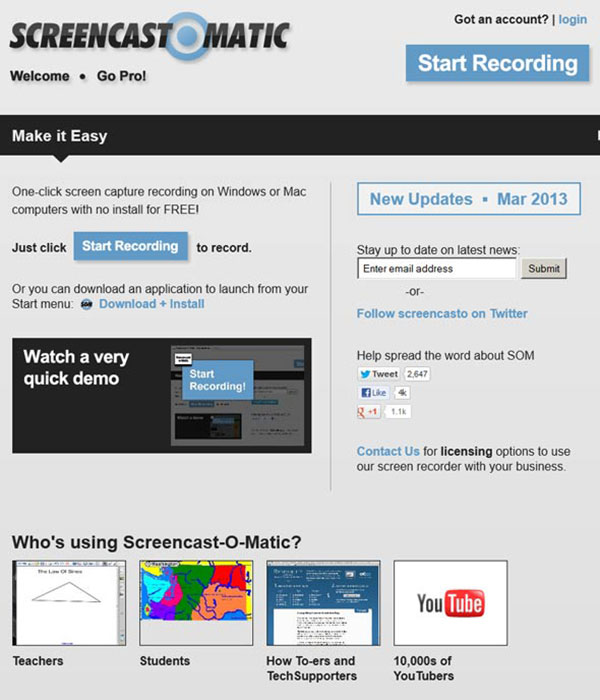 The basic features of Screencast-O-Matic
1. You can record digital videos or computer screen right from your browser.
2. It is based on browsers rather than operation systems. So every computer that has a browser could run this video recorder, no matter the computer system is Mac, Windows or Linux.
3. Screencast-O-Matic provides more preset recording size, like 640×480, 800×600 and Full Screen. You can also adjust recording size manually.
4. This free video recording software allows users to add annotations during recording.
5. The free version has the duration limit, up to 15 minutes.
6. After recording, you can share the video online directly.
5. Best open source program to record digital videos
Open source software is a big family with a lot of developers. Some developers have released video recorders, like Open Broadcaster Software, also known as OBS. OBS is the best video streaming and a free video recording software. Compared to its extensive features, its interface and skin are much simpler. Even beginners will not be lost in this software.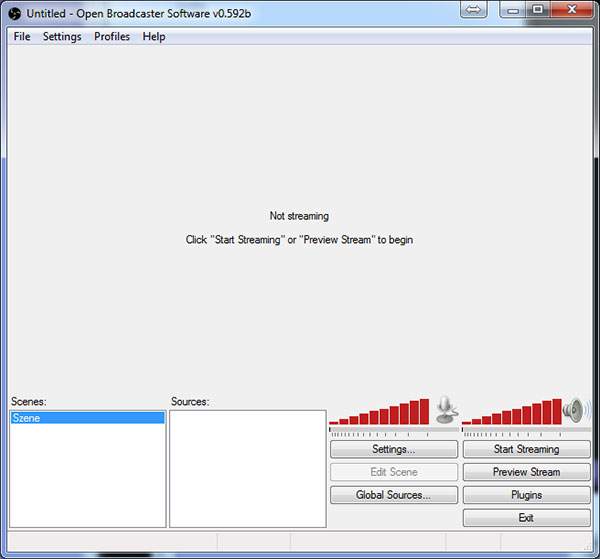 The useful features of Open Broadcaster Software
1. It has a straightforward interface. Once you open OBS, it will take you to the recording window with only several buttons.
2. OBS permits users to control the recording quality. You can reset resolution, bit rate, frame rate and other parameters.
3. This free video recording software has built in game recording mode and live stream mode. So you can record game videos or broadcast live stream easily.
4. There are more than 20 plugins for advanced users.
5. And you can find tutorials or ask for help in OBS developers' community.
Conclusion
This article has introduced top 5 free video recording software. They are all excellent video recorders and have some unique advantages. CamStudio, for example, appears in this list, for its easy-to-use features and high quality outputs. QuickTime is the best free video recording software to Mac users, because it is always here waiting for you. Camtasia Studio 8 is the best video recorder among minorities that support multiple systems. Moreover, it integrated a video editor. Screencast-O-Matic is the best online video recorder and Open Broadcaster Software is the best video recorder among open source programs.