2 Nextiva Recorders to Record Calls and Voicemails on Nextiva
Nextiva is a business VoIP and communications platform that helps users work anywhere with calls, voicemails, video conferences, text messages, sales CRM, and more. It combines phone system with business apps, AI, and automation together to offer more effective service. Are you looking for a Nextiva recorder to capture some valuable calls or voicemails?

While the daily usage of Nextiva, it's quite necessary to record some important calls, meetings or conferences. This post gives a review of 2 great Nextiva recording tools, including its official Nextiva recorder app. You can get the key features of each recorder and then make your choice.
Part 1. Default Nextiva Recorder
Nextiva has a built-in recorder, Nextiva Call Recording app to capture calls. It allows you to capture incoming and outgoing calls for storing, reviewing and training purposes. You can easily get the Nextiva recorder in NextOS. It offers an automatic recording way to to record users' voicemails and calls. You can select when the calls should be recorded from Never, Always, Always with Pause/Resume, On Demand, or On Demand with User Initiated Start.
This official Nextiva recorder enables you to set up call recording announcements based on your need. You can choose to inform the call being recorded or not by ticking the Play recording start/stop announcement checkbox.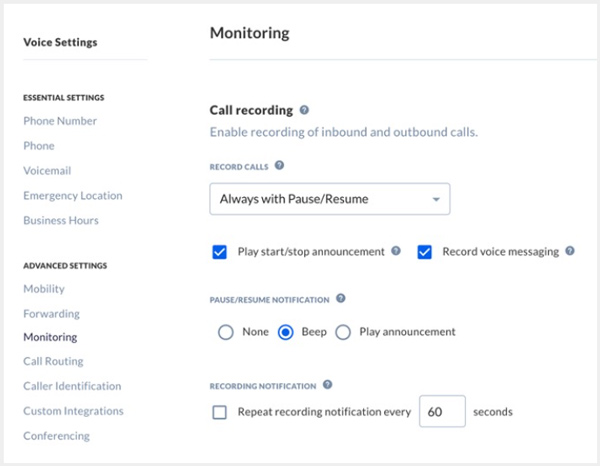 This Nextiva recorder will automatically start the call recording. But you need to enable call recording for a user one by one. After that, you should ensure that an administrator, supervisor, or the agent can access recorded calls.
Before you record Nextiva calls, you should log into NextOS, choose Users, then Actions, next Voice Settings, and click Monitoring to locate the Call Recording and enable it there. Then you can custom the recording settings according to your need. The Nextiva recordings will be archived for up to six months. They are easily accessed and downloaded with the Nextiva Call Recording app.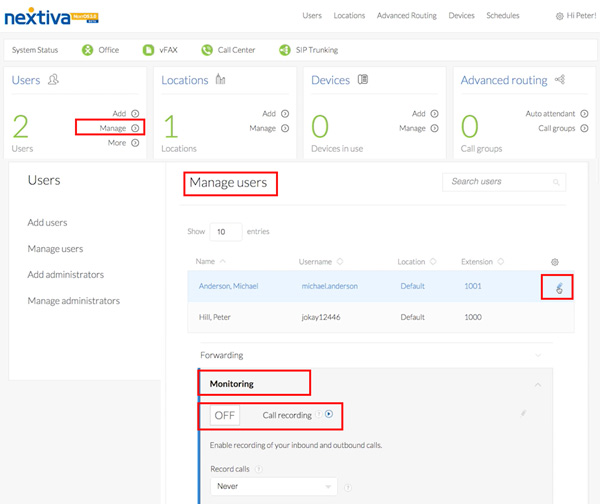 Part 2. Professional Nextiva Recorder
If you want to capture all Nextiva activities including voice calls, video conferences, online meetings, and more, you can turn to the professional Nextiva recorder, Screen Capture. It is specially designed to record any videos and audios displayed on your computer. It has the capability to record Nextiva with high quality, even up to 4K. This Nextiva recorder can save the captured file in any popular video or audio format you need, such as MP4, AVI, FLV, MOV, MKV, AAC, M4A, WMA, MP3, and more.

1. Record any calls, voicemails, conferences and more on Nextiva with high quality.
2. Powerful recording features to capture Nextiva calls and edit recorded Nextiva files.
3. Record online meetings, video/audio calls, gameplay, music, lectures, and more.
4. Save Nextiva recordings in any format including MP4, MOV, FLV, AVI, MP3, AAC, and M4A.
When you want to capture Nextiva calls or voicemails, you can choose the audio recorder feature. You are allowed to record the Nextiva audio through system audio, microphone or both.

If you need to capture visual conference on Nextiva, you can select the Video Recorder. It enables you to record Nextiva with entire screen or selected region.

This all-featured Nextiva recorder is equipped with many useful features for you. You can go to Preferences window to adjust various settings. You can also change the output format as you like. Compared with the official Nextiva recorder, it can offer you a better recording experience.
Part 3. FAQs of Nextiva Recorder
Is Nextiva free?
No, Nextiva is not a free business communications platform. Its starts at $18.95 per month per user, depending on the user's number and term length. You can pick a Nextiva plan based on specific package features like visual voicemail, mobile device support, remote collaboration tools, and others.
How do I set up Nextiva?
First, you should select a suitable Nextiva price plan according to your business. Then you can create and sign in an account. Follow the instructions to transfer your existing phone numbers to Nextiva server and add users to your account. After that, you can download the Nextiva app to your computer and mobile devices. If you have a VoIP desk phone, you can also connect it to Nextiva.
How do I download Nextiva app?
Nextiva allows you to use its service on both computers and mobile phones. You can go to its official site to download Nextiva app. It is compatible with Windows, macOS, iOS and Android.
Conclusion
We have mainly talked about 2 Nextiva recorders in this post. When you want to capture Nextiva calls or voicemails, you can rely on its built-in recording app. If you like to record Nextiva videos, you can give the recommended Screen Capture a try.