How to Download Anime MP3 in High Quality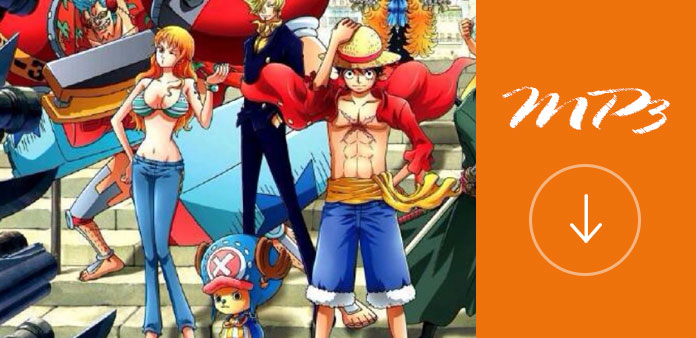 Anime MP3 is attractive to anime fans and ordinary people. Some people like anime OST over anime videos. Given it was usually produced by musicians, it makes sense that the website attracts many fans around the world. Most websites provide online playing service. However, it is difficult to download anime OST to local hard drive. Listening anime MP3 on computer or smartphone offline will give you a better experience, especially under poor internet environment. So you may want to know the ways to download anime MP3 effectively and quickly. This pose will tell you the best ways to download the desired files and their details.
1. Download anime MP3 on Windows
There are many MP3 downloaders for Windows; however, you must want to learn the best one to download your favorite MP3. Tipard Screen Capture is one of the best Downloader, for it is able to capture the Anime MP3 with 100% original quality. That will give you a better music experience offline. Another advantage of Screen Capture is compatible with almost all versions of Windows systems, including Windows 10. Moreover, Screen Capture is easy to use.
How to download anime MP3
Step 1

Search for your favorite anime MP3 online in your browser.

Step 2

Launch Screen Capture on desktop and tap on Record Audio tab to go to audio recording window.

Step 3

Screen Capture's interface is concise with only two options and two buttons. You should enable System Audio and disable Microph Audio at the same time. System Audio will record the sound from soundcard; Microph Audio will capture your voice from microphone.

Step 4

After settings, play your favorite MP3 music and tap on the REC button to start downloading.

Step 5

During recording, you can control the audio with blue PAUSE button. And Screen Capture will show you the length of the audio in real time.

Step 6

When completed, click on the red button again and save the file to your computer.
2. Record anime MP3 on Mac computers
To download high quality anime MP3 on Mac computer, you have to grasp a powerful application, like Audio Hijack. Audio Hijack is an interesting audio recorder. The biggest advantage of Audio Hijack is compatible with Mac applications, like Safari. It provides extensive features related to audio recording, including quality settings, Timers and more. You can install Audio Hijack on your Mac computer and explore its potential. We will introduce the basic workflow to download the MP3 from anime below.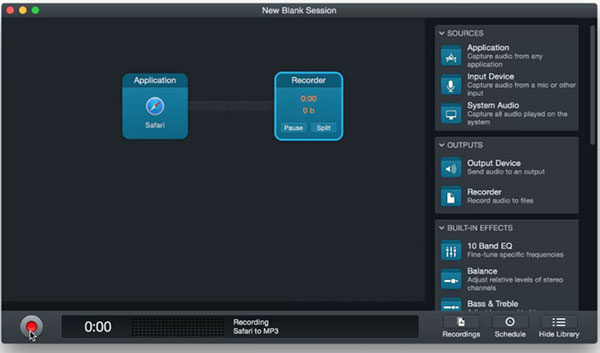 How to grab anime OST with Audio Hijack
Step 1

Open Audio Hijack in Applications and locate to right menu bar in its interface.

Step 2

Drag Application option from SOURCES section and drop it to main window.

Step 3

Tap on the Application option in main window to pop up the setting dialog. And then select Safari in the drop-down list of Source.

Step 4

Turn to right menu bar again. Drag and drop Recorder option from OUTPUTS area to main window.

Step 5

Minimize Audio Hijack application and launch Safari. When you discover the anime OST that you want to download, play it within Safari. Audio Hijack will detect the music and start recording automatically. When the music is done, you can go to Audio Hijack and save it to your Mac computer.
3. Grab anime OST within browser
Audio downloader extensions are another convenient way to grab anime MP3. And Audio Downloader Prime is one of the best extensions to Firefox. This anime MP3 downloader has millions of users and gets five-star rating in Firefox Add-ons store. Audio Downloader Prime is a legal application and you can use it without paying any penny.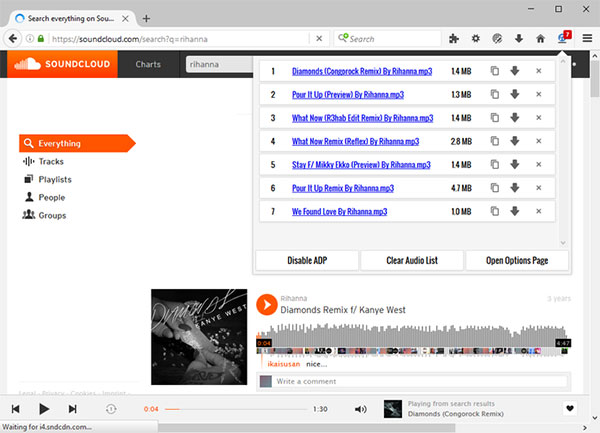 How to grab anime MP3 with Audio Downloader Prime
Step 1

Go to Firefox Add-ons store, search for Audio Downloader Prime and install it into your Firefox browser.

Step 2

When installation succeeds, Audio Downloader Prime icon will appear on top ribbon of Firefox.

Step 3

You can listen to anima OST on some dedicated websites. And when you discover the anime MP3 you want to download, you should play it within Firefox.

Step 4

Once press Audio Downloader Prime icon, you will find the title shows in Audio Downloader Prime box.

Step 5

Then you can tap on the download button with downward icon to grab it to your computer.
Audio Downloader Prime is able to download anime MP3 with any quality and any size.
4. Get anime MP3 online
If you do not like to install applications on your computer, you can use online audio downloaders instead, like anything2mp3. It is a free online service that allows internet users to grab anime MP3 from URL. anything2mp3 supports almost all online music websites, so you can use anything2mp3 to grab your favorite easily.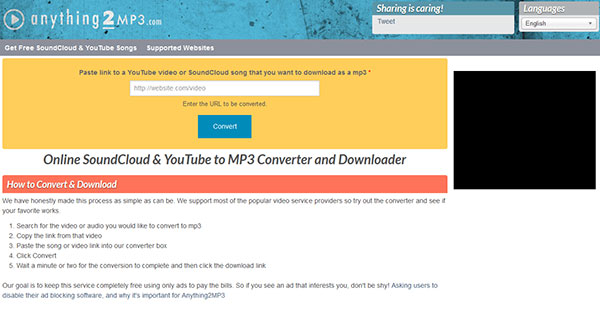 How to grab anime MP3 from URL
Step 1

Search for the anime OST online and copy the address of the web page that contains it.

Step 2

Open a new tab in your browser and visit anything2mp3.com.

Step 3

In the home page of anything2mp3, drop the web page address in URL field.

Step 4

Once your press Convert button, anything2mp3 will take you to the output page.

Step 5

Then you can download the anime MP3 file to your local drive. Although anything2mp3 cannot always grab MP3 file from URL successfully, anything2mp3 still a good supplement to desktop downloaders.
Conclusion
This article has introduced multiple ways to download anime MP3 to hard drives. For Windows users, Tipard Screen Capture is the best way to download anime OST in high quality audio file. If you are sensitive with the music quality, you will be attracted by Screen Capture and its powerful audio downloading features. Moreover, the workflow of Screen Capture is simple, so everyone could use it without any guidance. On the other hand, Audio Hijack is a good choice for Mac computer users to record anime MP3. You can install this audio recorder on your Mac computer and explore its potentials. Audio downloader extension is another way from websites. Audio Downloader Prime is such an extension that is available to Firefox and Chrome. You can find it in Firefox Add-ons store and Chrome App Store. The steps to download anime OST with Audio Downloader Prime are not complicated at all. Finally, we introduced how to download anime MP3 file from a URL with anything2mp3. You can choose an appropriate way to get your favorite according to your situations.