3 Best Alternatives of Audio Hijack Pro of 2023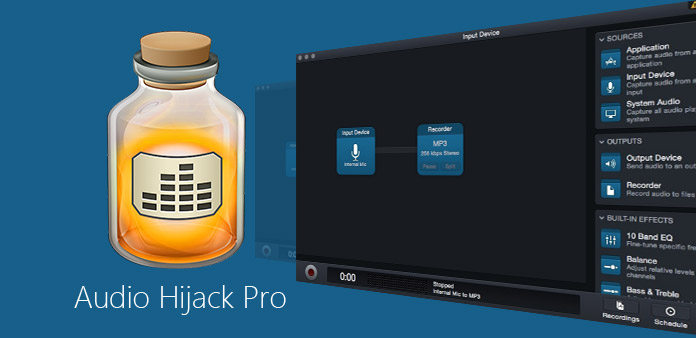 Among audio recorders for Mac computer, Audio Hijack Pro is a powerful program. It has a special design compared to other programs. You can drag options from menu bar to main window and customize settings. It makes boring settings process more interesting. And the different combinations of options will produce different effects. With the program, Mac users could grab audio from any input source, including applications, built-in DVD player, microphone, Skype calls, and so on. Although there are some questions related to piracy around Audio Hijack Pro, it is still a useful and legal program on Mac computer. But if you want to learn more choices, we will introduce several best Alternatives.
Audio Hijack Pro review
As an audio recorder for Mac computer, It is compatible with many built-in applications. Safari, for example, is embedded audio input sources. If you set Safari as the audio input of Audio Hijack Pro, this audio recorder will capture the sound from Safari automatically when you play music in Safari.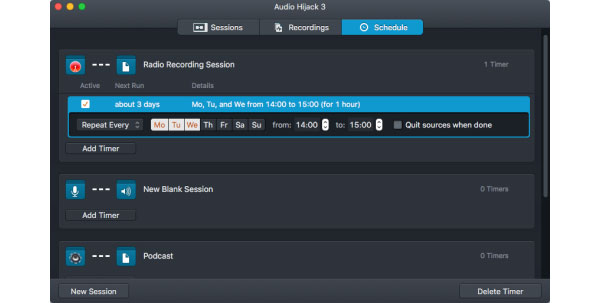 Pros & Cons
Pros
1. Audio Hijack Pro is a user-friendly audio recorder. Once tap on Record button, it will capture all audio available.
2. It has plentiful input sources, including computer system, microphone, QuickTime Player, iTunes, Safari, DVD player, iChat, Skype and more.
3. The embedded Timers will start or stop recording automatically. That is a useful feature to record online audios.
4. Users could control the audio recording totally. This Mac audio recorder allows users to set the length of every piece of recording, tags and other effects.
5. Besides MP3, it is able to save the recording in an AIFF file and burn a CD.
6. You can eve play music on iPhone and use it to record it through iTunes.
Cons
1. The workflow is a little complicated, beginners have to follow the tutorials.
2. Although advanced users prefer to extensive custom settings of Audio Hijack Pro, others may feel frustrated to face so many settings.
3. Users may need to install extra features to get it work as they want it.
4. Audio Hijack Pro is a paid program.
Best alternatives for Mac users
1. QuickTime Player
QuickTime Player is the built-in audio recorder for Mac computers. So if you would not like to install third party applications on your computer, you can enjoy QuickTime Player's audio recording function. Compared to Audio Hijack Pro, the workflow of QuickTime Player is much simpler. All you need to do is play the music you want to record and tap on QuickTime's recording button. To beginners, QuickTime Player is one of the best alternatives of Audio Hijack Pro.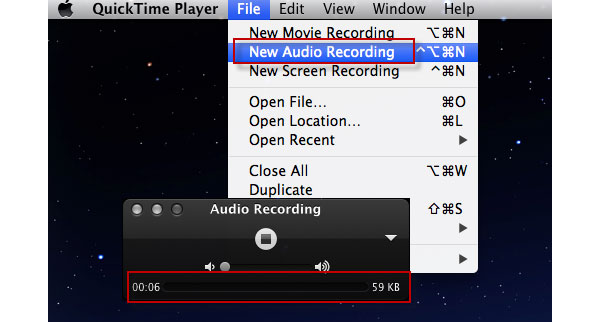 1. QuickTime is a pre-installed program, so all Mac users could use it without paying a penny.
2. It has the abilities to record all sound on your Mac computer. And you can set the audio input source.
3. QuickTime Audio has a concise interface. You can make some simple settings in the drop-down list.
4. QuickTime is also a media player, so you can preview the recordings within QuickTime Player.
QuickTime Player may be a little simple to advanced users and does not offer plentiful custom settings; however, QuickTime Player could meet all basic demands about audio recording on Mac computer.
2. Audio Recorder
Audio Recorder is another simple sound recording application for Mac users. This Audio Hijack Pro alternative is a freeware and compatible with both Windows and Mac OS. Although Audio Recorder does not have fantastic skin and interface like it, its audio recording features are excellent. Users could customizes various parameters and control their audio recordings. Or you can just enjoy the presets and start recording directly.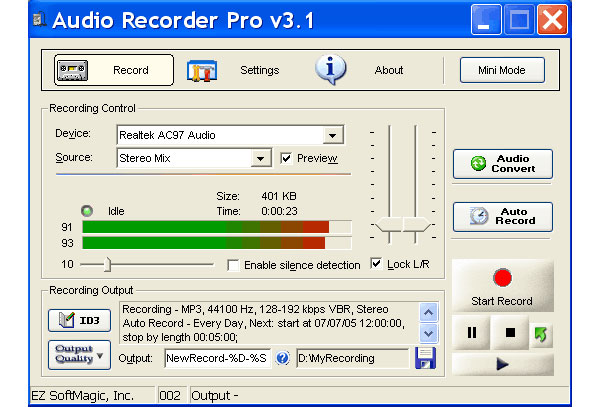 1. Audio Recorder could capture any sound on your computer and save in MP3 files.
2. You can explore in its Settings window and tweak the output quality and file size manually.
3. It is able to blend the sound from microphone and system.
4. Audio Recorder is able to play the audio automatically after recording, if you check Preview option.
This audio recorder has the ability to convert original recording file to other audio formats.
Audio Recorder has a paid version too. If you want to have more features, you should pay for upgrade.
3. Tipard Screen Capture
Tipard Screen Capture is a smart audio recorder. It has an intuitive interface, so every user could navigate within it easily. The most amazing feature of Screen Capture is to record any sound in highest quality. So you do not need to worry about the issues about muffler and noise.

1. You can enjoy the 100% original quality of the audio with Screen Capture.
2. It is able to capture system audio and microphone simultaneously or separately.
3. This audio recorder does not have limit on recording length. And it allows users to monitor the length of the recording in real time.
4. Screen Capture will save recordings in high quality audio formats, like MP4, AAC, M4A and WMA.
In short, Screen Capture could meet all requirements about audio recording. And this audio recorder will capture the sound in high quality without extra settings.
Conclusion
This article has reviewed Audio Hijack Pro based on testing and online researches. It is a professional audio recording program for Mac computers. Using it to record sound is more like a creative job. Users could compose different options and customize settings to record any sound on their computers. So, even though users record the same audio; the outputs may be different depending on their settings. But to beginners and amateurs, the workflow of it is too complicated to understand in short time.
Therefore, we introduced some alternatives of Audio Hijack Pro. These alternatives all have simple interface and workflow, so everyone could enjoy the audio recording features. QuickTime Player is an easy-to-use audio recorder without plentiful settings. Audio Recorder is a simple audio recorder for Mac users. You can decide to customize settings or keep presets. And Tipard Screen Capture is the smart audio recorder for Windows users. You can enjoy original quality audio recordings without complicated settings, because Tipard Screen Capture will detect your hardware and use a powerful algorithm to record sound in highest quality.