How to Record and Download Zoho Meeting
Zoho Meeting is a popular online meeting and webinar platform that allows you to make online meetings with real-time voice, video, remote control, screen sharing and more. In addition, it provides users with a simple way to record meeting content. Do you know how to record a meeting in Zoho?

However, there are some limits of the Zoho Meeting recording. Considering that, this post like to show you how to record Zoho Meeting in detail. Moreover, you can learn a better way to capture your Zoho Meeting videos.
Part 1. How to Record a Zoho Meeting
Zoho Meeting offers a simple way to record and download the meeting content. While as it mentioned above, there are some Zoho Meeting recording limits.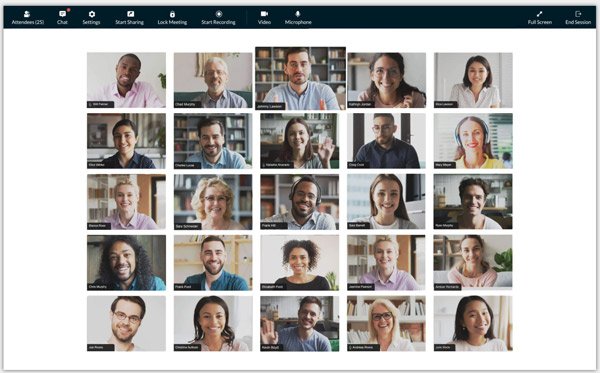 The Zoho Meeting Record feature can only be used by paid subscribers. What's more, only the presenter of a meeting can record the meeting. Another thing you should know is that, only the audio and screen sharing can be captured in recordings. Video won't be recorded. The following guide will show you how to record Zoho Meeting as a host.
Step 1
If you are the presenter of Zoho Meeting, you will see a Start recording option on the left pane. When you want to capture the meeting content, you can simply click on it to start the recording.
Step 2
You can easily finish the Zoho Meeting recording by clicking on the Stop recording. You can check and manage the recorded file in My Recordings. You can find it on the left panel.

Your Zoho Meeting recordings are displayed with the Play, Share, Download, and Delete options. You can freely manage them based on your need. If you have the need to download Zoho Meeting recording, you can do it there.
Part 2. How to Get Zoho Meeting Recorded Videos
You are not allowed to record Zoho Meeting if you are not a host or paid account. Even as a paid Zoho user and the meeting host, you can't get Zoho Meeting recorded as a video file. To capture Zoho Meeting and save it as a video, you can rely on the professional meeting recording software, Screen Capture.
1. Record Zoho Meeting and any other online meetings with high video and audio quality.
2. Capture 4K Zoho Meeting videos with full screen or selected region.
3. Powerful editing features and save recordings in MP4, MOV, FLV, AVI, MP3, AAC, M4A, etc.
4. Record Zoho Meeting from webcam and capture sound from microphone and system audio.
5. Support the latest Blue-light real-time HD video encoding and accelerate technology.
Step 1First, you can free download, install and run this Zoho Meeting recorder on your computer. It enables you to record a Zoho Meeting on both Mac and Windows PC.
Step 2When you enter this recorder tool, choose the Video Recorder feature.

Step 3Custom the Zoho Meeting recording region and audio recording source according to your need.

Step 4Click the REC button when you want to start the Zoho Meeting recording process. While capturing Zoho, you are offered some features to add text, line, arrow, specific labels and more. When the meeting is over, just click Stop button to finish the recording.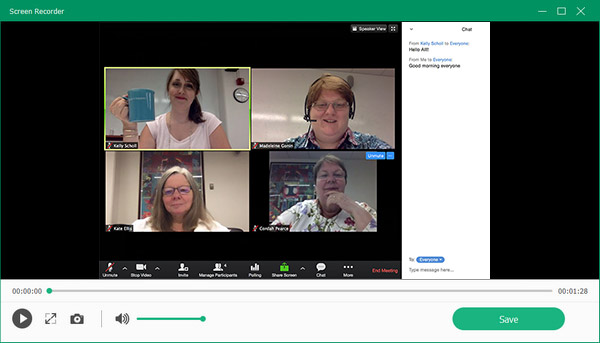 The Zoho Meeting recorded video will be automatically saved in MP4 format. This Screen Capture also allows you to capture Zoho Meeting in another popular format. You can go to Preferences to change it. Get more meeting recorders here.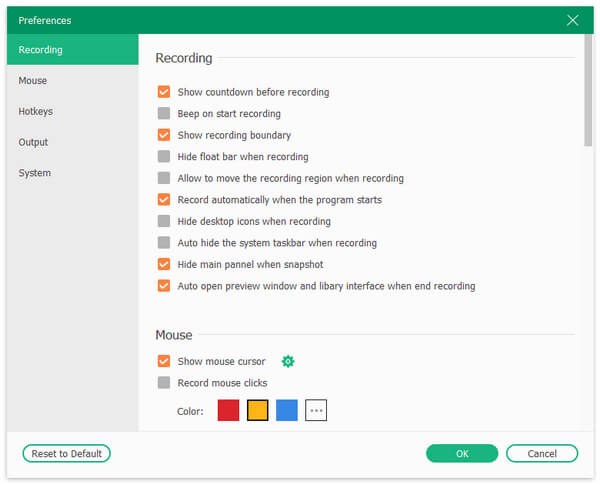 Part 3. FAQs of Zoho Meeting Recording
Question 1. Is Zoho Meeting encrypted?
Yes. Zoho Meeting is encrypted with DTLS-SRTP encryption for video and audio. It has a special encoding process to make the recorded data become unrecognizable, until it can be deciphered by the intended recipient.
Question 2. Is Zoho Meeting free?
Like Zoom meeting, Zoho Meeting is not totally free. But it offers a free meeting service for users to make online meeting with 2 participants, and webinar with up to 5 attendees.
Question 3. How do I host a Zoho Meeting?
When you want to setup a meeting, you can use the Meet Now feature from the record's details page. You can go to the Leads/Contacts module, select a record, click on the More icon and then choose Meet Now option from the drop-down list. After that, click Start Meeting, click View Invitation link to copy and send the invitation link other participants.
Conclusion
After reading this post, you can get 2 easy ways to record Zoho Meeting. You should give the recommended Screen Capture a try if you want to save Zoho Meeting as a high-quality video. For more questions about Zoho Meeting, you can leave us a message.