2 Ways to Record Webinar on ClickMeeting
ClickMeeting is a browser-based video conferencing and webinar platform. For later reviewing or checking, you may need to record some important ClickMeeting webinars. Luckily, ClickMeeting is integrated with a screen recorder that can help you record a conference or webinar with ease.

This post will show you how to record ClickMeeting with its built-in recorder. Moreover, we like to introduce you with another powerful webinar recorder to record a conference on ClickMeeting.
Part 1. How to Record a Conference on ClickMeeting
ClickMeeting is designed with a recording feature. When you want to record the ClickMeeting webinar, you can make the recording with it. But this ClickMeeting record function can only be used by organizer or host. Moreover, when you perform a conference or webinar recording, all participants will see a notification of this operation on their screens.
Step 1
Go to ClickMeeting and log into with your account. ClickMeeting offers a 30-day free trial. You can choose to create a ClickMeeting account or directly sign in with Google account.
Step 2
Now you can create a webinar or join a conference. Click your Account Panel in the upper right corner and choose Account Settings option from the drop-down menu. Under the Advanced Setting tab, tick the Recording Auto-Start checkbox. Click Save to confirm your operation. By doing so, ClickMeeting will automatically record your event when you start one.
If you are the presenter or host, you can also click on the red REC button to start the ClickMeeting recording.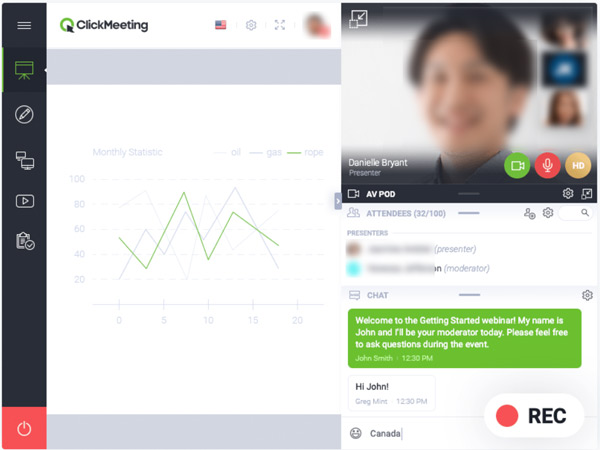 Step 3
As soon as the conference or webinar is over, ClickMeeting will stop the recording process. You can go to Account Panel to access the recordings you have made. The ClickMeeting recording file will be saved in MP4 format.
MP4 is a universal format to open on almost devices. However, if you want to save MP4 as GIF, you can read it in this post.
Part 2. Better Way to Record ClickMeeting
With the default ClickMeeting record feature, chat box or attendee list won't be recorded. What's more, this recording function is limited to the host. If you prefer to record ClickMeeting secretly, or want more recording options, you can try the professional conference and webinar recording software, Screen Capture.
1. Record any conference call and webinar on ClickMeeting with high quality.
2. Powerful recording features to record ClickMeeting and add various elements.
3. Record online meetings, video/audio calls, gameplay, music, lectures, and more.
4. Export ClickMeeting recording file in MP4, MOV, FLV, AVI, MP3, AAC, M4A, and more.
Step 1Double click on the download button above and follow the instructions to free install and run this ClickMeeting recorder on your computer.
Step 2To record webinar or conference on ClickMeeting, you can choose the Video Recorder feature. As you can see, it also offers the audio recorder and screenshot functions.

Step 3Custom the screen recording region and audio recording source based on your need. During this step, you can turn on Webcam to capture your face.

Step 4When you want to record a conference on ClickMeeting, you can simply click on the REC button. During the ClickMeeting recording, you are allowed to add text, line, arrow and labels. The recorded ClickMeeting webinar file will be saved in any popular format based on your settings.
Part 3. FAQs of ClickMeeting Record
Question 1. Is ClickMeeting free?
No, ClickMeeting is not a free webinar platform. It offers 1 30-day free trial. After that, you need to pay at least $25 per month to use it.
Question 2. Do I need to be on camera for a webinar?
Camera is not a rigidity requirement for webinar. You don't need to be on camera if you are hosting a webinar. While in some cases, you'd better be on camera as an audience. When you attend a web seminar, you can also choose to not be participate on video.
Question 3. How many events can I host on the ClickMeeting platform?
ClickMeeting enables you to create as many events as you need. There is no specific limits for the events. You are allowed to make and prepare hundreds of events as you like. ClickMeeting allows you to make permanent or time-scheduled events.
Conclusion
This post mainly talked about how to make the ClickMeeting recording. We share 2 methods to record a webinar or conference on ClickMeeting. You can select your preferred way to record ClickMeeting.