How to Watch and Download LOL Replays without Losing Quality
League of Legends is an exciting game and you never really know what is lurking around the corner. It makes sense that it is easy to say I know what I did wrong there, once you have finished up your match of League of Legends. There will be deeper understanding on offer if you watch your League of Legends replays or others strategies. However, how to use the replay feature in LOL, where to find replays and how to download them for watching offline? This guide will answer these questions in detail.

Part 1: How to Watch LOL Replays
The replay feature in LOL is activated by default and you do not do any setup. However, LOL only save your last 20 replays. Don't worry. We will share the procedures in various situations.
How to Download and Watch LOL Replays
Step 1Wait for your match to end. The go to the Profile menu in LOL client.

Step 2Head to Match History and scroll down to find the replay that you want to watch.
Step 3Click the Download icon next to the replay and download it to your hard drive. By default, replays will be saved to C:\Users\\Documents\LeagueofLegends\Replays. Now, you can watch LOL replay.
How to Watch Shared LOL Replays
If you get a Twitch replay shared by your friends ended with rofl, follow the steps below to watch it.
Step 1Create a desktop shortcut for your LOL client. The path of LOL client is C:\Riot Games\League of Legends\RADS\solutions\lol_game_client_sln\releases\[version]\deploy. Right-click League of Legends.exe, choose Send to and then Desktop.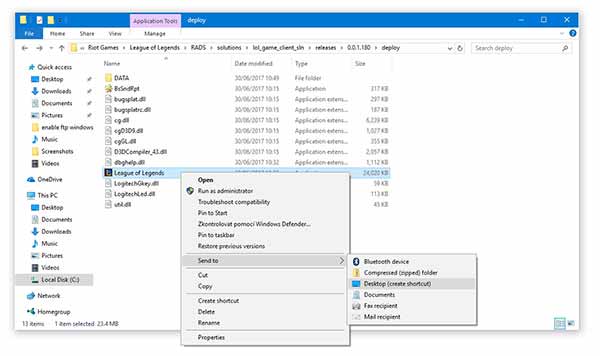 Step 2Go to your desktop, drag and drop the LOL replay file into the shortcut. A few seconds later, it will begin playing.
Note: This way is only working if you have the same game version as the replay in your client.
How to Watch Expired LOL Replays
You might notice that you cannot watch old LOL replays. In fact, you just need the old version of LOL client.
Step 1Open a file Explorer window and find the old LOL replay.
Step 2Right-click on the rofl file, select Open with and open it in any text editor, like Windows NotePad. Browse and find the LOL client version.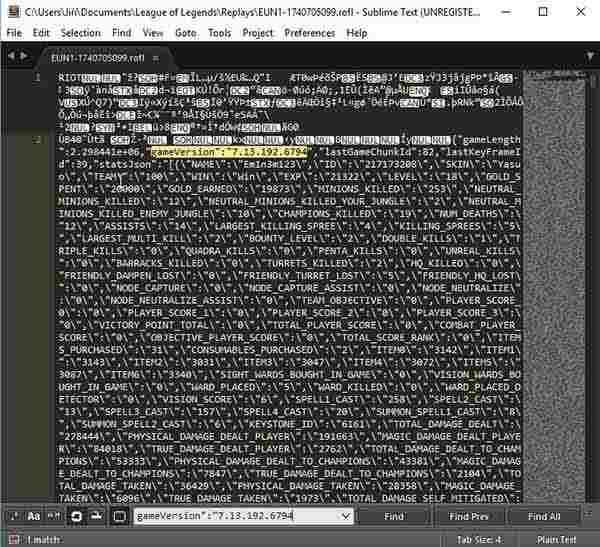 Step 3Download the old version client and re-install it on your computer. Now, you can watch the old LOL replay.
Part 2: Best Alternative Way to Create LOL Replays
The replay feature in LOL has several shortcomings. Firstly, it can only keep the last 20 replays. If you want to watch expired replays, you have to install the corresponding client. Moreover, the replays are saved in encrypted ROFL files. It means that you can only watch LOL replays in the client.
How to download LOL replays in standard video files? The answer is Tipard Screen Capture. It is able to download your favorite matches without LOL replays. Moreover, you can add your face and voice to the replay videos through your webcam and microphone. For beginners, the interface is straightforward and easy to learn. For advanced users, there are a variety of custom options to create desired effect.
Basic Features of the Best LOL Replay Downloader
1. Download LOL replays by recording it in real time.
2. Enhance video quality automatically with advanced technology.
3. Record any gameplay in standard video files.
Needless to say, it is the best option to download LOL replays for watching later offline.
How to Download and Watch a LOL Replay
Step 1Install LOL Replay downloader
It offers two versions, one for Windows 10/8/7 and the other for Mac OS X. Install the right version on your computer and launch it. Then choose the Video Recorder option to open the main interface. By default, it will save the LOL replay as MP4 in your media library. You can change it on the Preferences dialog by hitting the Gear icon.

Step 2Record a LOL replay
Open your game client or website and find the match you want to download as LOL replay. Turn to the LOL downloader, and set the recording region in the Display section. Make sure that the Display is turned on. Then enable System Sound and adjust the volume. If you wish to add your face and voice to the LOL replay, enable Webcam and Microphone; otherwise, disable them.
Once the LOL match begins, click the REC button on the downloader to begin recording the LOL replay.

Step 3Download LOL replay
When recording LOL match, you can also edit it with the Edit button on the toolbar or take screenshots with the Camera icon. When it is done, hit the Stop button to open the LOL replay in preview window. Here you can play the recording. If you are satisfied with it, click on the Save button to download the LOL replay to your hard drive.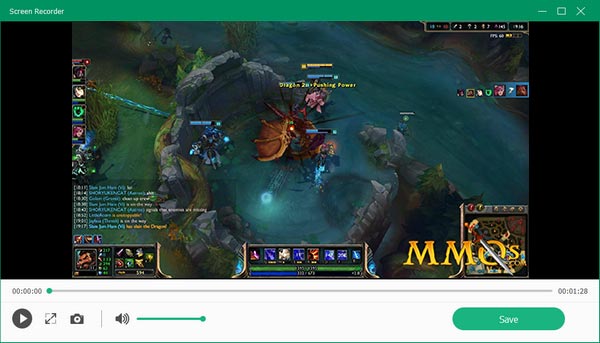 Part 3: More Tips about LOL Replay
In addition to download LOL replay, there are more things you should know about it and we list them below.
LOL replays vs. highlights. A replay is the copy of entire match, while the highlight allows you to choose specific scenes in the match. You can download and watch both LOL replays and highlights.
How can you find the location of your downloaded LOL replays? Open the client, go to the

Settings

menu, and head to the

REPLAYS

tab. Here you can find and change the location of replays and highlights.
To watch a LOL replay after downloading, open the client and find the replay in

Match History

. Now, the download button will turn to watch replay. Hitting the button and it will play immediately.
LOL replays are encrypted. Even if you download it to your computer, you can only watch it in the client.
In addition to the amount limit, the replays last for the length of a patch cycle. It means that your replays will be gone if you update your LOL client.
Part 4: FAQs of LOL Replay
What is a ROFL file?
A ROFL file is a replay file created by LOL. It contains a video of gameplay that has been downloaded from the match. Normal media players cannot play the ROFL files. You have to use the LOL client to watch them.
How do I save a LOL replay in MP4?
It is well-known that LOL replays are saved as ROFL format. If you want to produce MP4 video files from LOL match, you have to use a third-party game recorder.
Can you watch LOL replays on your phone?
To watch LOL replays on your smartphone, you need to convert the ROFL files into standard video format, such as MP4. Then transfer them to your handset and watch them.
Conclusion
This guide has talked about the knowledge about LOL replays. As an important feature in the game, you can download and watch your matches as well as share them to your friends. Considering the downsides of the built-in feature, we also shared how to download LOL replays as standard video files with Tipard Screen Capture. This game capture tool is not only easy to use, but also able to save any matches as MP4. More questions? Please leave your message below.