3 Ways to Record Clash Royale on iPhone, Android and Computer
Clash Royale is a real-time multiplayer collectible card game. You can Knock the enemy King and Princesses to defeat your opponents and win Trophies, Crowns and glory in the Arena. This strategy and tower defense game is quite popular on mobile devices like iPhone, iPad and Android phone.
You can see many captured Clash Royale gameplay videos on YouTube and some game sites. Are you looking for a game recorder to record Clash Royale?
This post tells 3 easy ways to capture the whole gaming process or some great strategies on Clash Royale. Whether you are using iPhone, iPad, Android device or playing the Clash Royale on desktop, you can find a right game recorder to record your game playing with ease.
Part 1. How to Record Clash Royale on iPhone and iPad
When you want to record Clash Royale on an iOS device like iPhone or iPad, you can rely on the built-in screen recording feature in iOS. It can capture any activities on screen with high quality. This part will show you how to use this screen recording to record Clash Royale.
Step 1
You can arise the Control Center to check if the Screen Recording feature is added. If not, you should add it to Control Center first.
Open Settings app, choose Control Center and then Customize Controls. Scroll download to locate the Screen Recording option, tap the + icon ahead of it.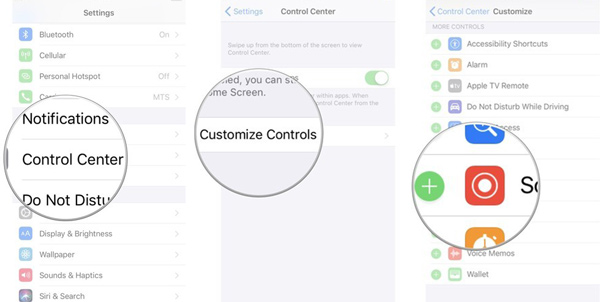 Step 2
When you want to capture your gameplay on Clash Royale, you can swipe your finger from the bottom part of screen to display the Control Center. Then tap the Screen Recording icon to start the recording. During this step, you should enable the microphone.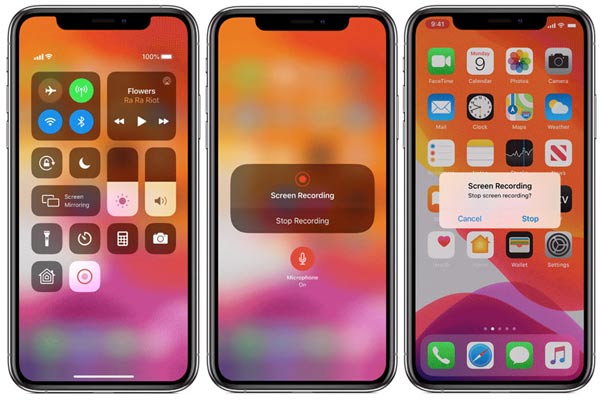 Step 3
To stop the gameplay recording, you can tap the record icon again. Or you can tap the red status bar on the top screen and then choose Stop. The recorded Clash Royale video will be saved in the Photos app.
This recording way can only capture sound from microphone. You are not allowed to record Clash Royale from system audio. So, while the gameplay recording, you should avoid the background noise.
Apart from recording games via the iPhone built-in recording feature, you can also use iPhone and Android recorder applications to capture gameplay.
Part 2. How to Record Clash Royale on Android Phone
If you want to record Clash Royale on an Android phone, you should get a third-party screen recorder app. You can go to Google Play Store to find a suitable one. Here we introduce you with the popular Game Recorder+ to record Clash Royale on Android.
Step 1First, you should go to Google Play Store, search for and install the Game Recorder+ app.
Step 2Open the Game Recorder+ and tap MORE in the top right corner. You can adjust the recording settings there.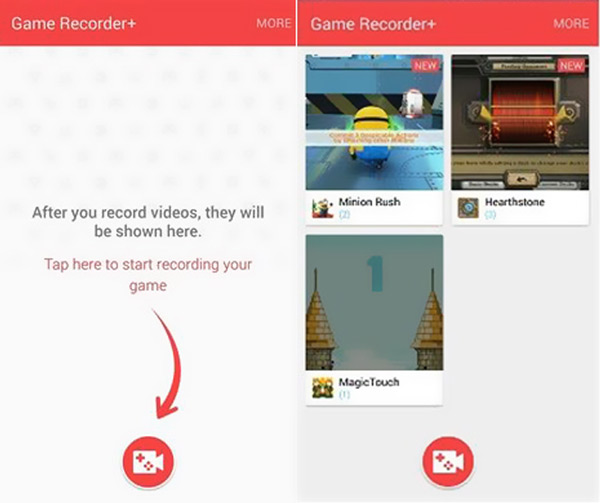 Step 3When you want to capture your Clash Royale game playing, you can simply tap the red Record button.
Part 3. How to Record Clash Royale Gameplay on Windows PC and Mac
With some Android or iOS SDK, you can play mobile games including Clash Royale on computer. To capture Clash Royale gameplay on a Windows PC or Mac, you can rely on the powerful game recording software, Screen Capture.
1. Record Clash Royale gameplay on both Windows 10/8/7 PC and Mac.
2. Capture game playing on Clash Royale with entire screen or selected region.
3. Capture game audio from system audio card, microphone, or both.
4. Capture your own face through webcam and add it to the recorded video.
5. Record online videos, 2D/3D gameplay, video/audio chats, music and more.
6. Support advanced accelerate technology and Blue-light real-time HD video encoding.
Step 1Free download, install and run this Clash Royale game recorder on your computer. Select the Video Recorder feature to record your game playing.

Step 2Custom the screen and audio recording settings according to your need.

Step 3Click REC button to start recording Clash Royale. You are allowed to add arrow, text, line, rectangle, ellipse and other annotations while and after the recording.
Step 4After the game recording, you can directly view and edit the recorded gameplay video. Then click Save button to save it in MP4, FLV, MOV, AVI, or another format you need.
Part 4. FAQs of How to Record Clash Royale
Question 1. How do I record high quality gameplay videos on iPhone?
You can capture your gameplay with high quality even up to 4K on iPhone. But it depends on your iPhone or iPad model. You can open Settings app, choose Camera and then tap Record Video option. Here you can custom the recording settings including video formats and frame rates.
Question 2. What is the strongest Clash Royale card?
You can't simply say which Clash Royale card is the strongest. But Mini pekka is definitely one of the strongest cards in the game.
Question 3. What does Pekka stand for?
P.E.K.K.A stands for Perfectly Enraged Knight Killer of Assassins. It is the last troop in the standard Barracks that will be unlocked when you hit Town Hall 8.
Conclusion
As a Clash Royale game player, you may often want to capture some valuable or funny Clash Royale moments. Here in this post, you can find 3 easy ways to record Clash Royale game playing. Leave us a message if you still have any questions about Clash Royale or gameplay recording.