How to Use Fortnite Replay Mode and Download Fortnite Replays
Have you ever wanted to capture some awesome Fortnite killstreaks or hilarious deaths for sharing them with your friends? Now you can easily record your Fortnite gameplay with Fortnite replay mode.
The Fortnite replay mode in the latest Fornite update version 3.5 allows you to revisit your greatest plays and funny mistakes with ease. This gameplay recording system can save matches and help you make improvement or check what happened during hectic gunfights. The question is how to access and use Fortnite replay.

This post will give you a detailed guide about how to use Fortnite replay mode to capture your game playing. Moreover, we will show you how to download Fortnite replays.
Part 1. Access and Use Fortnite Replay
You can play Fortnite games like Save the World, Fortnite Battle Royale and Fortnite Creative on Sony PlayStation 5/4, Nintendo Switch, Xbox One, Windows PC, Mac and iOS/Android devices. But the Fortnite replay mode is not available on mobile phones for now. So you can only use this Fortnite replay mode on your computer or game console to capture game playing.
To find and access the Fortnite replay functionality, you should go to the Battle Royale menu, choose the Career tab, and then select the Replays option. When you get there, you can see a list of recent games and unsaved Fortnite replays.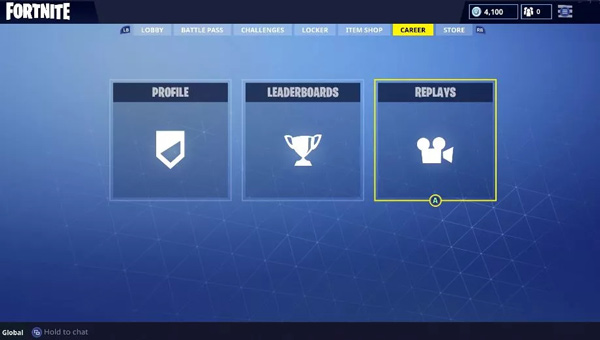 How to use Fortnite replay mode
The Fortnite replay mode allows you to custom the camera angle, change the video speed, skip around the recording, and tweak the visuals and more. When you are in the replay mode, you can record the Fortnite gameplay based on your need. You can see these controls at the bottom of the screen.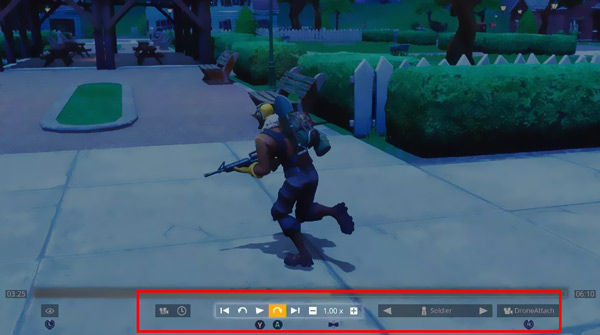 On the right side of the speed controls, you can use the player select tool. It helps you to switch perspective and follow nearby player. Here you can also open map to check a list of players within range at any given time.
There are two more icons on the bottom left. You can click the clock icon to quickly jump to any moment in the recording. The left camera icon allows you to adjust more gameplay settings.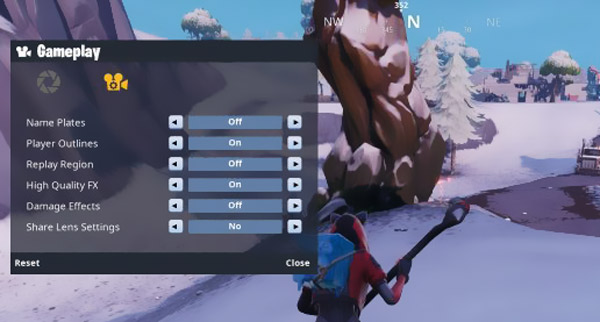 The Fortnite replay tool brings several different playback options. For instance, you can freely control the camera angles, slow down or speed up specific parts of the clip. Moreover, you are allowed to set aperture and focal distance, custom camera modes tied to various Drone settings.
To save your Fortnite replays, you can back to the Replays option under the Career tab. Choose the match in the list and then select Rename and Save.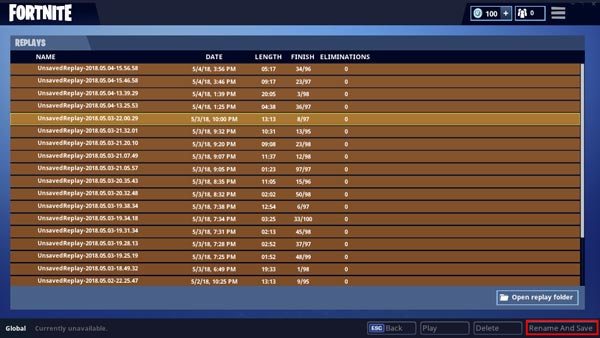 Note that, in some cases, renaming will cause Fortnite crash. So, you'd better not actually rename your Fortnite replays.
Part 2. How to Download Fortnite Replays
Where are the saved Fortnite replays? When you want to upload a video to YouTube, you may have no idea where to find these recorded Fortnite replays. The truth is, Fortnite replays are not real videos. You need to rely on some third-party tool to download Fortnite Replays.
Here we strongly recommend the all-featured Screen Capture to help you download Fortnite Replays and save them in MP4, FLV, MOV, AVI, or other formats you need. It is designed with the advanced Blue-light real-time HD video encoding technology and can record Fortnite gameplay in 60fps with high definition. So, from the very beginning, you can use it to capture the whole game playing.
Step 1First, you can free install and run this Fortnite gameplay recorder on your computer. It is compatible with Windows 10/8/7 PC or Mac. When you enter it, you can choose the Video Recorder feature.

Step 2Whether you want to download Fortnite replays, or directly capture your Fortnite gameplay, you should set the screen recording area and audio source.

Step 3Click REC button to start the recording process. If you want to download a Fortnite replay file, you have to record it again. While the recording, you can add arrow, text, line, rectangle, ellipse and more to the recorded video.
It supports the latest accelerate technology to ensure you have a real-time 4K/2K game recording with low CPU, GPU and RAM. So, the recording won't affect your game playing experience.
Step 4You will be taken to the Preview window when the recording is finished. You can view and edit it with ease. After that, you can click Save button to save the recording file in MP4, MOV, FLV, or another output format you need.
Part 3. FAQs of Fortnite Replay
Where are the Fortnite replays saved?
Fortnite replays are saved in a FortniteGames folder. You can locate it in C\Users folder\Local\AppData\FortniteGames. When you open this folder, choose Saved and then Demo to find your Fortnite replays. These files are in .replay format..
Why my Fortnite replays are deleted?
A new Fortnite update will automatically remove the previous Fortnite replays. If you don't download Fortnite replays, they will be deleted.
How are my Fortnite replays stored?
Fortnite replays are stored on your game console or computer locally. The last 10 matches are stored automatically on your console, and last 100 are stored on PC. There unsaved replays will be overwritten when you play more games. So, you should manually save some valuable Fortnite replays.
Conclusion
After reading this post, you can learn more information about Fortnite replay. Hope you can better use Fortnite replay mode and enjoy your gameplay.