If We Dropped iPhone in Water, How to Fix and What to Do Then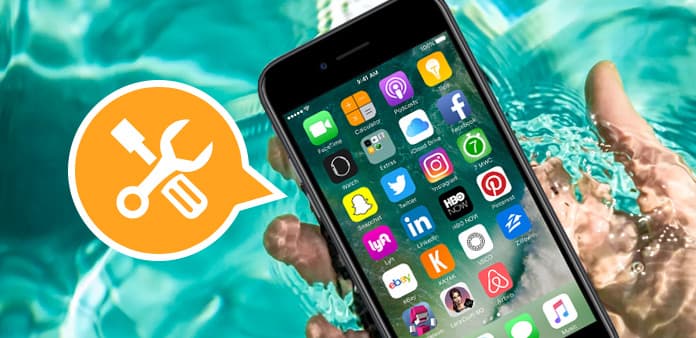 iPhone water damage must be a problem as thorny as iPhone smashed. More than an iPhone, you may lose some important iPhone data like contacts which are too late to be synced. But there is still a chance for you to fix your iPhone, we will show you how to dry your wet iPhone and you'd better try your best to rescue it.
Part 1: How to fix submerged iPhone
1. Surely you should get your iPhone out of water as swift as you can, and then turn it off in case of short-circuits. Keep in mind never turn it on in 48 hours.
2. Take out the SIM card, SIM card tray and everything else you can remove. If you are a DIY-type user, you can also remover battery, but it means you'll void your warranty service.
3. Get a fabric (towels, T-shirt, whatever at hand) to dry out the iPhone immediately. Wipe everywhere you can reach especially buttons, speakers, and microphones. You can gently shake your iPhone when you wipe it.
Don't use heat treatments like hair-dryer, or they will damage the iPhone instead of repairing it.
4. Find a zipper storage bag and filled it with uncooked rice, it would be better if you can get some silica-gel sachets and food dehydrators.
5. Put your iPhone in the zipper storage bag and make sure it was immersed with rice.
6. Leave the zipper storage bag at a warm and dry place for 48 hours.
7. Turn on the iPhone after you make sure the Liquid Contact Indicator (LCI) is not red but normally white or silver. You can find the LCI location as the picture below shows.
We can't guarantee this solution must be effective to your iPhone, because it depends on too many external factors that we can't predict. Whatever the solution it is, you may rescue your iPhone successfully, or just run it to the Apple logo interface. In case of the iPhone becomes paralyzed again, you'd better back up the important data ASAP. We recommend you to back up iPhone data with third-party software – Tipard iPhone Transfer Ultimate, with which, you can recover faster and electively, such as you can transfer contacts from iphone to computer as you wish.
Part 2: How to restore iPhone data
Three ways are provided for you by Tipard iOS Data Recovery to recover your iPhone data, i.e. directly recover form iPhone, iTunes backup, and iCloud back.
If your iPhone is repaired by Apple Store, you will bring back your iPhone without any memory. In this case, iOS Data Recovery doesn't support to recover iPhone data directly, you can only recover from iTunes/iCloud backup. You can learn to retrieve iPhone data with iCloud backup from this article: How to Backup and Restore iPhone to iCloud in Different Ways, and the same way to recover with iTunes backup.
If your iPhone is fixed successfully, we will show you how to recover iPhone data directly with iOS Data Recovery.
Step 1
Connect iPhone to the program
Download and install iOS Data Recovery. Connect your iPhone to computer via USB.
Step 2
Choose Recovery Way
Choose Recover from iOS Device from the top bar, and click the Start Scan button to scan your iPhone data includes those you've deleted.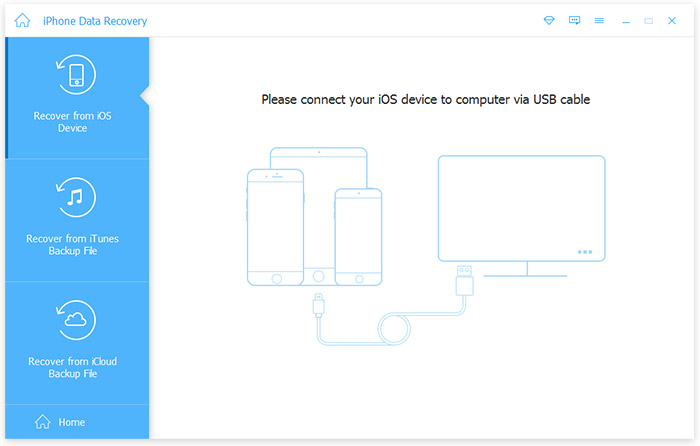 Step 3
Preview iPhone data
Choose data like Camera Roll and Calendar on the left side-bar to Preview.
Step 4
Recover iPhone data
Check specific item and then click the Recover button at bottom-right to recover those you need.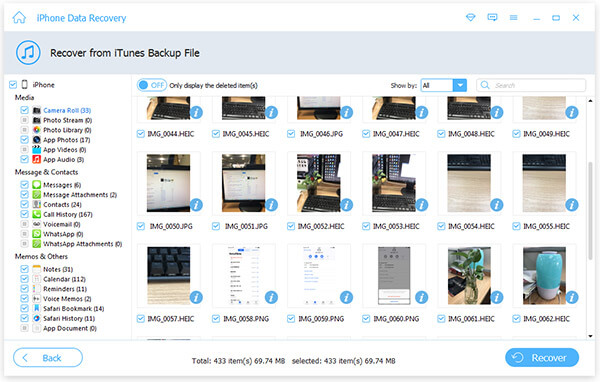 Congratulations if you rescued your submerged iPhone successfully, also congratulations if you saved data you treasured successfully.
You May Like the Hot Software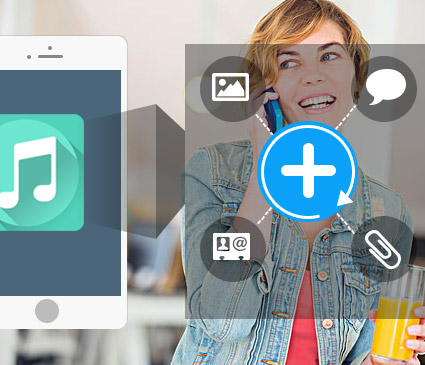 Recover deleted data from iPhone directly
Retrieve lost data from iCloud/iTunes backup
Preview data in detail before recovering iPhone
Support all iOS devices – iPhone, iPad, iPod Touch
Highly compatible with iOS 9.3