How to Fix iPhone Blue Screen in Top Methods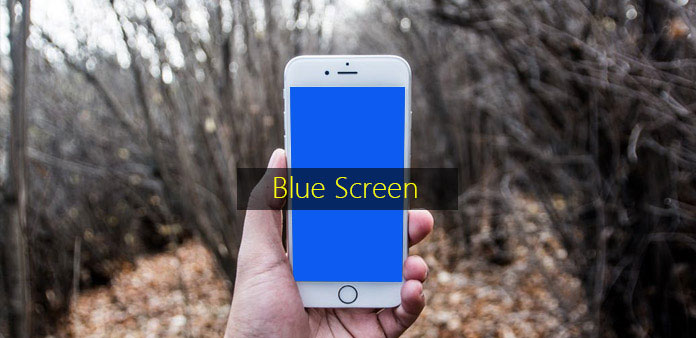 The blue screen issue always occurs suddenly, when you are playing games, taking photos in the graduation of your child, or other situations you need iPhone most. Its name of blue screen of death (BSOD) may describe this awkward case most. No matter what you are doing, your iPhone screen will be totally blue all of a sudden, and it is what iPhone blue screen do. If you are suffering blue screen on iPhone unfortunately, then spend few minutes on this article, to figure out why and how iPhone blue screen problem is.
Section 1: What operations cause iPhone into Blue Screen crash
Q 1: I have an iPhone 5 running iOS 7.0.04. Few days ago, my iPhone restarts randomly. During my using of iPhone, the system will crash and result in blue screen of death. My iPhone is out of warranty, so I wanna to know my iPhone 5 blue screen crash is the hardware or software issue?
A 1: It would be better if there were more information to refer. Both hardware and software issues can cause blue screen of death on iPhone. Check whether your iPhone has felled or soaked with water. And see whether you have multitasking between apps later.
Q 2: After I did the latest update of my iPhone 5s, it will not reboot. There is only the iPhone blue screen with Apple logo.
A 2: Sometimes the wrong or paused iPhone update will lead into blue screen issue because of iOS system problem. Try to restart iPhone to have a try first. Or you can use iOS system recovery software to fix disabled iPhone without data loss. The latter one is safer and easy to operate with.
Q 3: The iPhone 5s screen is blue, I tried to restart and upgrade, but nothing changed. No sudden rebooting has occurred.
A 3: If there is no long screw damage of your smart phone and other hardware damages, it seems to be the software issue. There are several causes you can check and sift. Software bugs or faulty apps will influence the overall performance of your iPhone. And app multitasking will also cause iPhone 5 blue screen loop. The memory overflow is the import factor, which will even more device issues.
Section 2: How to Fix iPhone Blue Screen without Data Loss
Tipard iOS System Recovery is the most professional desktop software, to save your iPhone from all kinds of awkward situations, with lost data recover and fix iPhone into normal state again.
What can Tipard iOS System Recovery Do
• Fix iPhone from DFU mode, recovery mode and other iOS issues to normal state.
• Support all iOS devices, including iPhone 7, iPhone 6S Plus, iPad Pro, iPod and more.
• No data loss with easy to use interface.
Which iPhone Issues can Be Fixed
Disabled iPhone; frozen iPhone; bricked iPhone; iPhone blue screen; iPhone black screen; iPhone red screen; iPhone white screen.
How to Fix Blue Screen of Death on iPhone
Step 1
Connect iPhone to computer.
Use lightning USB cable to connect iPhone with computer. Launch the iOS system recovery interface, and hit Start button in the corner to detect your blue screen iPhone.
Step 2
Repair iPhone blue screen problem.
Check the detected iPhone information below, click Repair icon if there is nothing wrong. Keep iPhone connected to computer during the whole iPhone blue screen fix process, and it may takes a moment.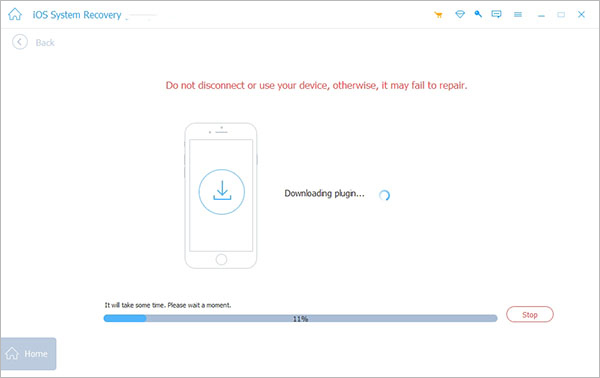 Note: Your iPhone fix b upgraded to latest version after restoring, and the jailbreak state will be recovered into non-jailbreak. The unlocked network will be relocked again.
Section 3: How to Fix Blue Screen via Restart and Restore iPhone
There are also alternative solutions of blue screen error on iPhone, by restarting or restoring iPhone, to force the iOS device return to the former state. But it does not work all the way.
Restart iPhone to Fix Blue Screen of Death
Restarting iPhone is the normal solution to fix iPhone stuck issues, as well as other digital devices similar errors. In most cases, the iPhone crash issue can be solved, by manual restart.
Press and hold the Home and Power options until the Apple logo appears, then to check whether your iPhone blue screen fixed after restart or not.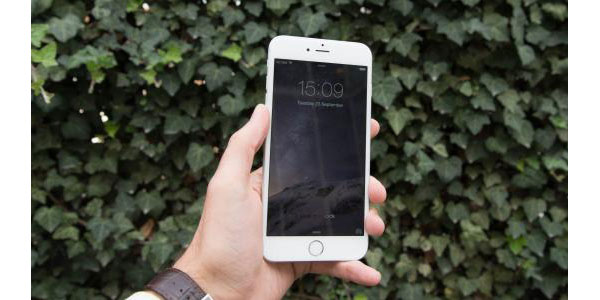 Restore iPhone to Fix iPhone Blue Screen
If you do not have recent iTunes backup files, it is not the good way to solve blue screen on iPhone by restoring. iTunes will remove all your previous iPhone data after restoring, and the blue screen error may not be fixed sometimes. But if you insist on restoring iPhone to deal with blue screen, then follow operations of iPhone blue screen restore below.
Turn off your iPhone first, and then use USB cable to connect iPhone to computer. Hold the Home button until the iTunes logo appears. Later, the notification to ask you whether to restore iPhone to factory settings with all media and other data being removed, hit Restore to continue. Then wait a moment to complete the whole iPhone restore with iTunes, to solve blue screen problem.

Bottom Line
There are totally three ways to fix iPhone blue screen of death by iOS system recovery software, restarting and restoring. The first choice is safe and easy to operate. And the latters are not all workable for all blue screen issues, sometimes you may even lose iPhone data, with the screen stays blue still. In a word, using iOS data recovery software to fix blue screen on iPhone belonged to Apple is the recommendation, for people who have important data saved in iPhone without backups.