5 Best Android Backup and Restore Apps You Should Know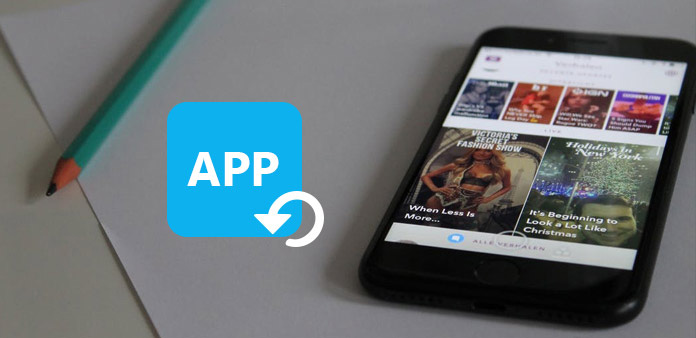 Once a time I accidentally deleted all pictures my Android phone, I felt very frustrated because all these photos were so precious which recorded my daily life. What's worse, I didn't backup Android apps data, which means I couldn't restore them. It is the reason why I write this article about some best Android backup and restore apps. I sincerely hope my horrible experience will not happen to you.
Part 1: Why should you use Android Back and Restore Apps
In this information era, or to be exactly, phone era, we are increasingly relying on mobile phones. Can you imagine that you go to work or travel without your Android phone? It is the reason that you need to use backup and restore App on Android.
Now we can do almost everything on the phone. You can pay for shopping or going to the restaurant by Apple Pay on phone, or even taking bus, opening air conditioning, and chatting with your long-distance friends with your mobile phone. Of course, in your spare time you can listen to music and play games. But if you remove the game all of your stats and high scores will reset and all of your progress will be lost. That is why we need to back up and restore our Android APP and APK data and restore them.
Part 2 Top 5 Android Phone Backup and Restore Apps
In this part we are going to talk about top 5 backup and restore apps for Android phone. If you want to keep a backup for the Android content, just choose the best program from the following list.
#1 App Backup Restore
App Backup Restore is the best free android backup and restore app for Android users. Auto Backup, Restore, Transfer your Apps and Personal data for FREE. Transfer can Backup & Restore apk files of apps that are not frequently used to save storage of phone. Easiest Backup & Restore multi versions to avoid unnecessary updates. Backup & Restore Personal data for safety. iCloud Backup & Restore for data security. Transfer & Share APK files between Android devices.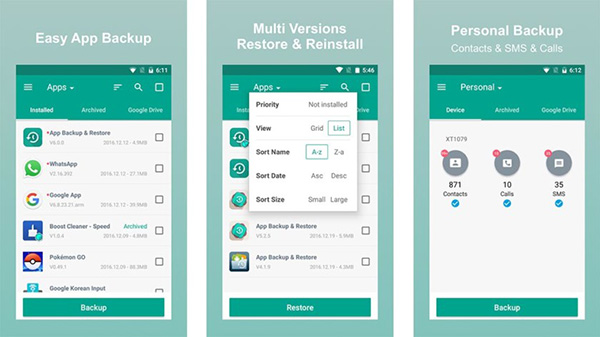 #2 Easy backup & Restore
If you want to backup and restore your Android app data in an easy way, you can also try the Easy Backup & Restore. It allows you to back up applications quickly. Your MMS, Calendar, and users dictionaries can also be safeguarded. The backup can be saved to the Google Drive and other cloud service directly. But you should root your Android phone in order to access these features of the backup and restore App. Apart from that, as one of the free application, it can be your good choice to find your deleted music back.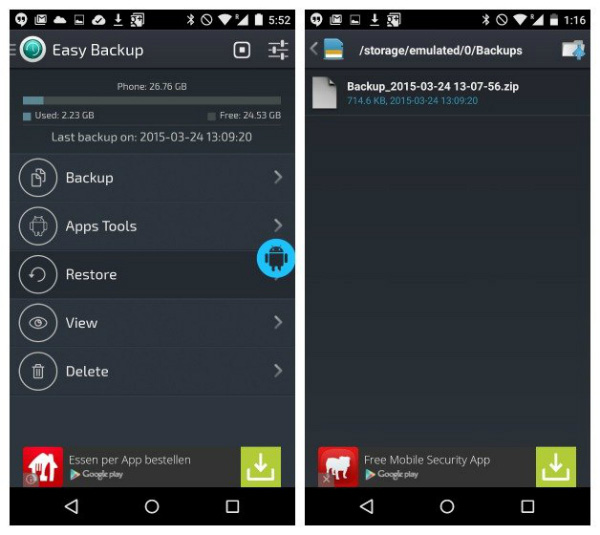 #3 Titanium Backup App
If you are not clear about how to backup and restore apps data on Android phone, Titanium Backup, which has been increasingly popular for a while now can also be your great choice because of its powerful utilities. However, it requires advanced Android skills because it needs root Android phone beforehand. But apart from that, the App backup and restore apps, media files and other important system data. In the process of backup, you can use external SD card. You can choose to download free or paid version. The paid version allows users to store data on Android device via cloud storage.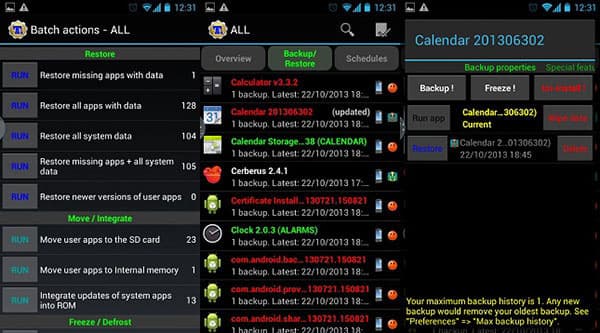 #4 Helium
Helium is a backup and restore APK that saves data or information and app files in SD cards, PCs or cloud storage. You can access this information in a simple way. One good feature about it is that it requires no rooting. And it allows users to sync data to other Android devices. And you can always feel free to release up the space of Android by removing the unwanted files with the APP to backup and restore. More good features are being developed. All in all, you find its good points after using it for a while.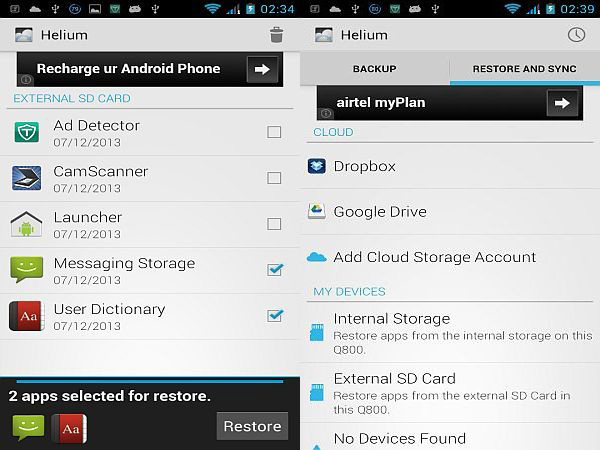 #5 Super Backup & Restore
Super Backup & Restore gives users a great backup and restore option because it has enough buttons to guide users through the entire process easily. Users can backup apps, SMS, Bookmarks, contacts and other basic information. What is more, you can also backup, restore and delete Android files to SD card or Gmail. With its paid version, you can also use cloud and automatic backup.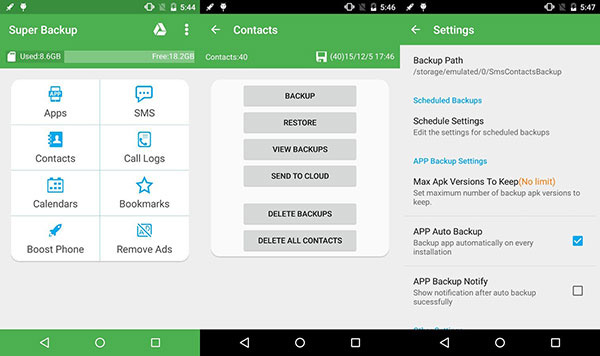 Part 3: Great Android Backup and Restore Apps on Computer
What should you do if you want to have a better backup and restore app for Android phone? As for the case, Tipard Phone Transfer and Tipard Android Data Recovery should be your first choice. Just learn more detail about these programs and process to backup and restore files for you on Android.
1# Tipard Phone Transfer
Tipard Phone Transfer is able to transfer your contacts, photos, videos, music files and more from your Android phone to your new phone with just one click. It supports both Android and iOS devices. The backup and restore app for Android can also help you export data from the dead/smashed device and restore them to your Android device. Now follow the steps and see how it convenient to backup and restore Android apps data.
How to Backup Android files
Step 1
Download and install the program
Download and install the backup and restore App on Desktop. Launch the program and then connect your two phones to the computer via USB cables. They will be automatically detected.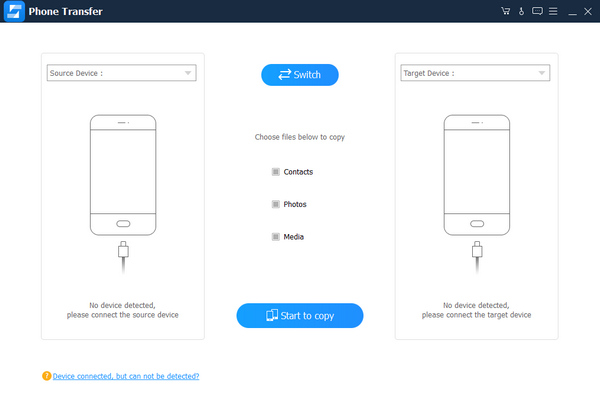 Step 2
Start to backup
If you want to backup all the data from your Android to another phone, click the "Start to Copy" button to begin the transfer process. You can select to backup just contacts, photos or media files.
2# Tipard Android Data Recovery
Tipard Android Data Recovery can help you backup and restore Android content with few clicks. It works well to recover contacts, messages, photos, videos, music, audios, call logs, message attachments, and more on Android phones/tablets or external SD card. Just follow the steps, you can restore your deleted Android files with several clicks:
How to restore Android data
Step 1
Connect your Android device with USB
Download and install the restore app for Android on your computer, and then launch the program on your computer. Launch Android Data Recovery and connect your Android device to computer via USB cable. Wait for seconds before the device is detected.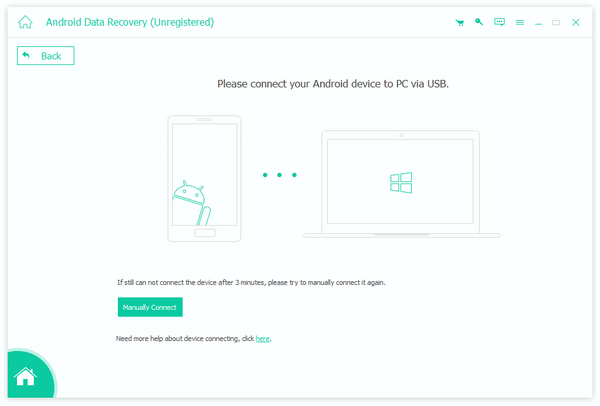 Step 2
Choose data types to restore
Open the debugging mode on your Android phone, which enables the application backup and restore files from Android. You can choose to restore contacts, messages, picture library and other documents. After your selection, the program will scan the data.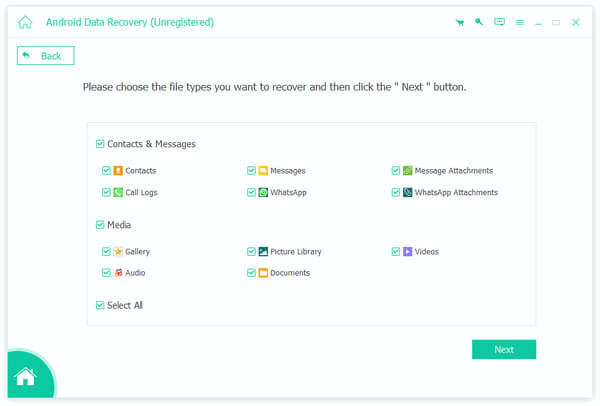 Step 3
Restore files from Android
After finish scanning, the files type will be listed in detail on the left sidebar of the interface. Preview each data and check them you want to recover, click "Recover" button to complete recovering process.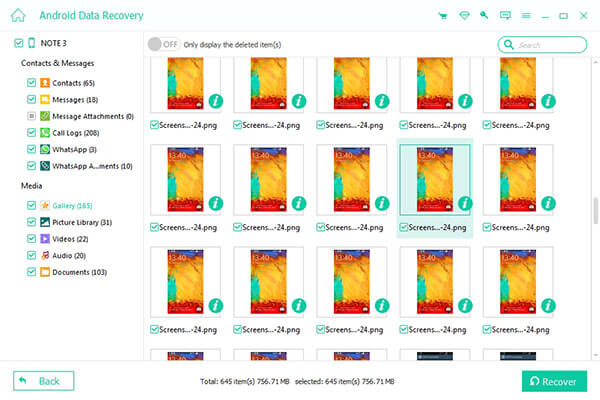 Next time you accidentally delete some data on your phone (Well it better doesn't happen), I hope the listed 5 Android Backup and Restore Apps can help you very well. Anyway, you can share this article with your friends in the event of the similar situation.