5 Best Messaging Apps for Android Tablet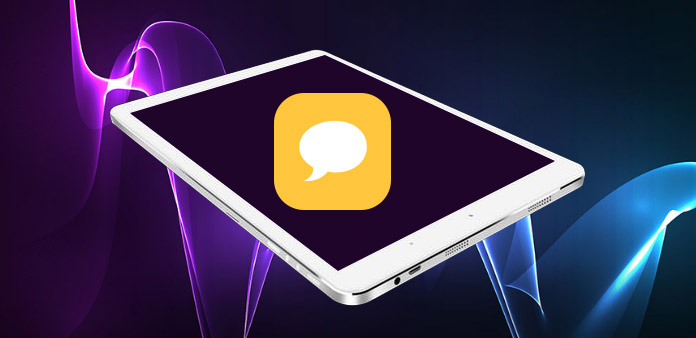 Are you still using the old messaging app on your new tablet? Do you feel boring to send text message alone? Don't worry! We are going to share the best messaging apps for tablets in this article. These apps all have unique advantages. Some of these apps, for example, cloud help you to create personalize messages and send it to your friends. Others could simplify the process of messaging. To help you use these best messaging apps for tablet, we will share their tutorial as well. In short, you can learn multiple best messaging apps for Android tablet and their usage in this post within a few minutes.
Part 1: Simplest messaging app for tablet: Google Messenger
Google Messenger is one of the best messager apps for tablet. You can use it to interact with your friends via text, picture, voice messages, emoji and videos. It could give you smooth communication experiences.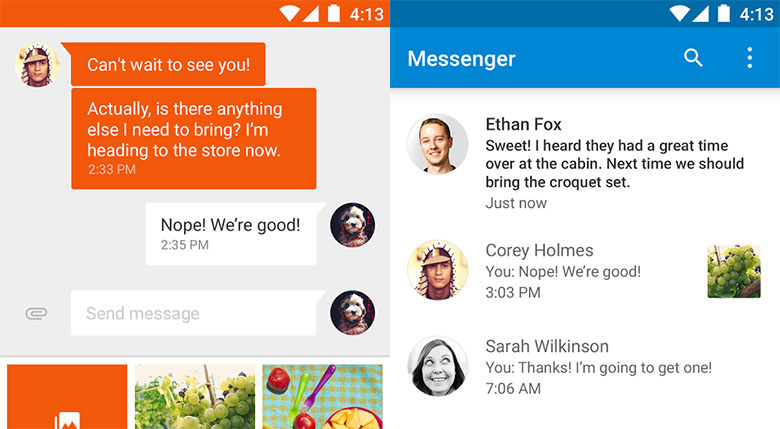 How to use Google Messenger on your tablet
Step 1
Send message
Open Google Messenger app and tap Compose on the bottom. Input a name on your contacts into the To field. Then you can create the message with text, picture, emoji or video in Send message box. Once you tap on the Send icon, the message will send to your friend immediately.
Step 2
Read new message
Once you receive the new message notification, you can open it in notification panel and read it in Messenger. If the message contains a media file, you can hit Play to open it. To look at the information about sender and more, hit and hold the message.
Step 3
Reply the message
After reading the message, you can reply it in Send message box as you wish. Finally, tap on Send icon to send your reply.
Part 2: Most personalized messaging app for tablet: Handcent SMS
Handcent SMS is a popular messaging app among tablet users, partly because it offers extensive custom options. Users could totally control their messages. Moreover, you can use Facebook account to login this app and read Facebook posts. Its custom options may confuse beginners, so we will show you the guide in details.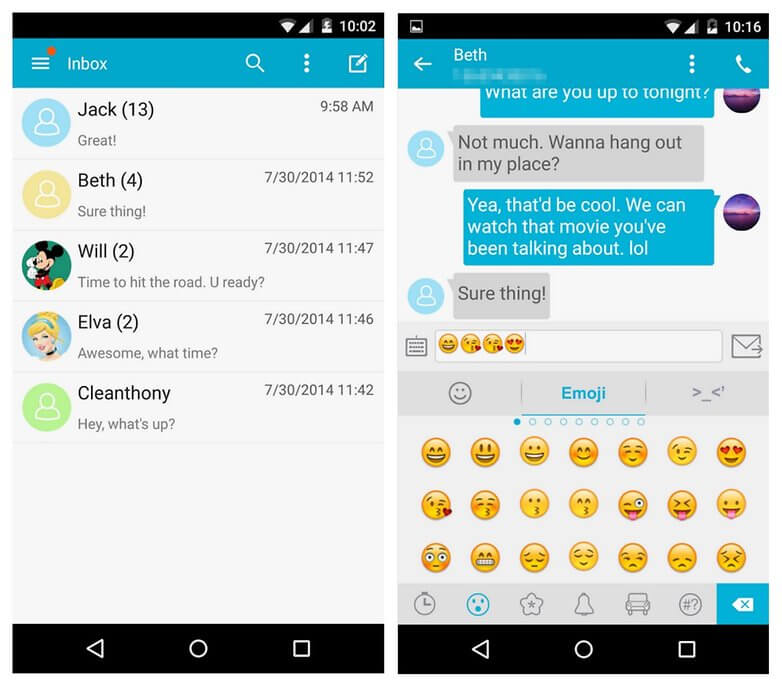 How to use Handcent SMS
Step 1
Customize settings
After you install this messaging app for Android tablet, run it and go to Settings to customize anything you want to, such as Handset services, Application Settings, Custom Style, Notification settings and more. It may take a while to explore these custom settings.
Step 2
Change theme
If you want to change theme of Handcent SMS, you will need to register an account online. Then you can change theme as you wish.
Step 3
Read SMS
When you receive a new SMS, this messaging app can pop up a notification. And you can read and reply the message on the pop-up notification without opening Handcent SMS app.
Part 3: Most secure messaging app on tablet: Signal Private Massager
Signal Private Massager is a messenger application for tablets available to both Android and iOS. Similar to WhatsApp, Signal could identify your contact through mobile number without new account. The most advantage of Signal is to gear toward privacy and security. If you usually send and receive sensible messages on your tablet, Signal is your best messaging app choice.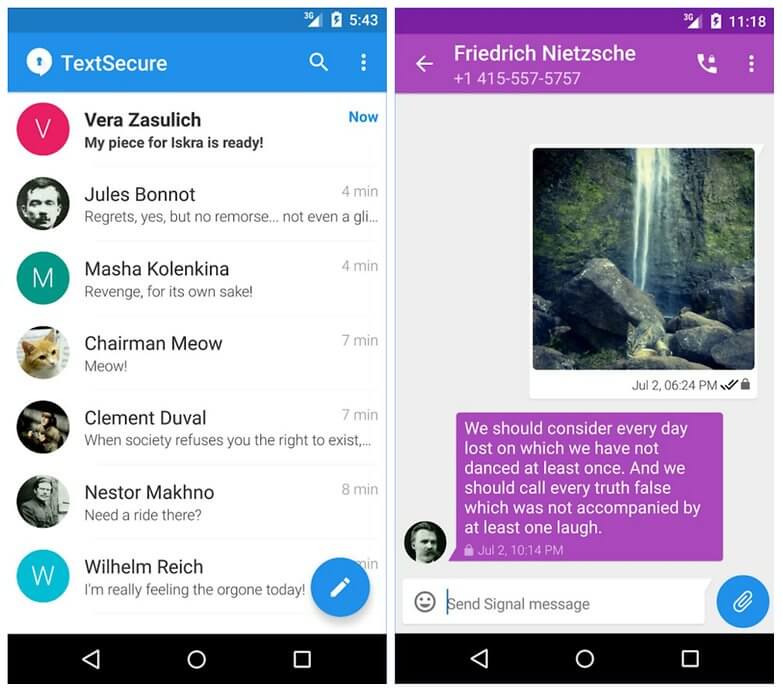 How to use Signal keep your message safe
Step 1
Installation
You can download Signal from Google Play Store or App Store and install it on your tablet for free. During installation, you need to input your phone number and decide whether set it as the default messaging app on Android tablet.
Step 2
Settings
Open the Menu screen with three vertical dots icon and tap on Disappearing messages. Then this messaging app will hide SMS on a contact by contact basis automatically. You can also set a time limit on the disappearing messages feature.
Step 3
Send and receive message
Then you can use Signal to send and receive message as other messaging apps.
Part 4: Best messaging app for multiple platforms: MySMS
MySMS is a special messaging app for tablet. Unlike other messaging apps, it has the capacity to send, receive and sync messages between your PC, smartphone and tablet. You can use MySMS on Android tablets, iPads, Mac, Windows and web browsers. If you use multiple devices in daily life, MySMS allows you to receive important SMS in time.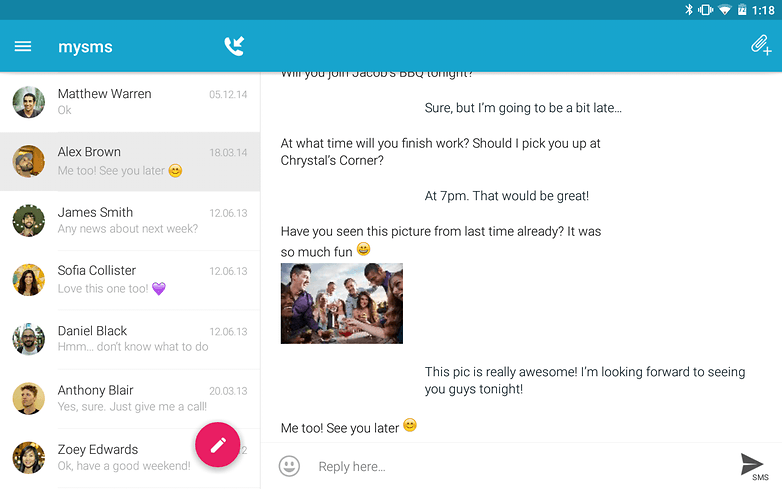 How to use MySMS on multiple devices
Step 1
Download MySMS
Download MySMS from App Store or Play Store and install it on your tablet. You can download desktop app from its official website for your computer.
Step 2
Registry
Create a MySMS account with your phone number on tablet; then MySMS will sync your SMS and contacts to the cloud. Use the same account to login the desktop app.
Step 3
Receive and sync SMS
Then you can receive SMS on your tablet or computer. The message will sync to your account and other devices.
Part 5. Best multimedia messaging app: QKSMS
If you feel boring to send text message, you can QKSMS as the messaging app for tablet. It supports a wider range of multimedia, including GIF and videos. Moreover, QKSMS offers plentiful emoji to make your messages interesting and attractive. This messaging app for tablet is easy to use.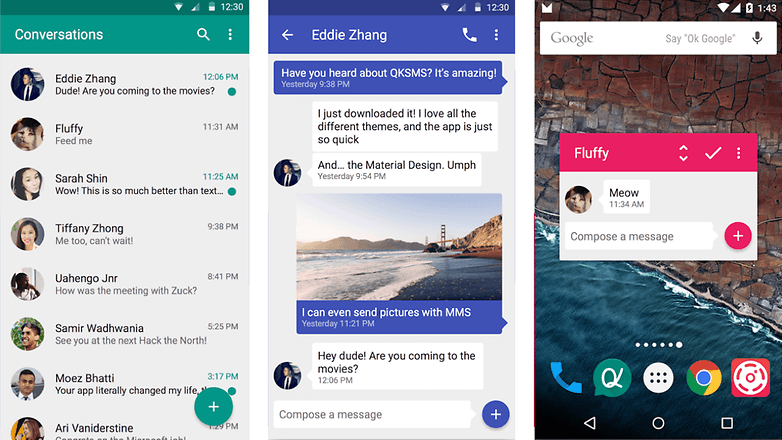 How to send interesting messages
Step 1
Customize configuration
After installation, run QKSMS and go to the Settings screen. Here you can change the messaging app and message notifications, like the background color, front size and more.
Step 2
Receive and reply SMS
When you receive a new message, QKSMS will show you a pop-up notification. You can check the message and replay it on the notification.
Step 3
Create multimedia message
Open QKSMS and choose a name from the contact list. Tap on the Plus icon next to the Compose a message box and select any picture or video on your tablet. Then you can send the multimedia message immediately.
Conclusion
In this post, we have identified and shared top 5 messaging apps for tablet. They all have some benefits and advantages. Google Messenger, for example, has a well-designed interface and is easy to use. Handcent SMS offers more extensive custom options than other messaging apps on tablet. Signal Private Messanger provides many useful features to keep your messages private. MySMS is the best choice for cross-platform users who have multiple devices. And with QKSMS, you can create messages with multimedia and tons of emoji. To help you use these messaging apps for tablet, we also introduced their guides in this article.