What is Apple CarPlay: Discover Everything About This Smart System
In the era we are living in now, innovation never stops on buildings and devices alone, but it also levels up your convenience on driving as Apple features a great system to navigate. Yes, car drivers can now get the most out of their trip experience due to the availability of Apple CarPlay. Thus, if you are a driver who needs to make a call, send and receive messages, listen to music, and many others, without taking an effort to check on your phone, then this CarPlay is a must-have. Therefore, continue reading the outline below to give you comprehensive information about this system.

Part 1. What is CarPlay
CarPlay is among the ace features of Apple Inc that offer great benefits for drivers. It is available to almost all new cars and has the same interface as the iPhone. Apple CarPlay has been a safe, helpful, and intelligent entertainment and assistant system wherein users can use their iPhones in the car. This car system lets you maintain your attachment to your iPhone while still fixing your eyes on the road since there are Apple CarPlay apps that you can acquire in it. This simply means that this feature will let you access essential turn-by-turn directions from your mobile, send and receive messages, make and take calls, and listen to music while you are driving.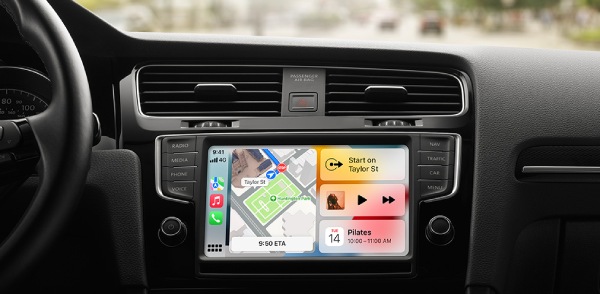 The Birth of CarPlay
Apple Inc introduced iOS in cars on June 2013. Unfortunately, the initial version of the CarPlay has never been released publicly.
Apps You Can Install with CarPlay
There are actually a lot of built-in apps in CarPlay, and many of them have been in it even today. However, everyone acquires these specific apps in their CarPlay as their iPhones integrate with it. They are actually the blockbuster apps or the top picks for many.
•

Music Apps

- Yes, even if it is an app from iPhone, you can still have third-party music apps to install and enjoy in your Apple CarPlay stereo. You can actually install Spotify, Tidal, Youtube Music, or any other music player.
•

Map Apps

- To help you with your directions, you can install a map app such as Waze. It is the most popular today because it enables you to arrive at your destination as soon as possible.
•

Food Apps

- If you want to grab a bite, food apps will help you get it done quickly and more affordably. With most food apps today, you can make a pre-order of your choice to lessen the time you usually put into when ordering food.
•

Sports Apps

- With your Apple CarPlay wireless adapter, you can watch your favorite basketball league. You can install sports apps like MLB.
Further Reading
10 Best Good Music APPs for iPhone to Stream Music and Listen Offline
3 Best Methods to Get Free Apps for iPhone
Compatible Cars for CarPlay
Due to the beneficial abilities that cause public demands for CarPlay, many car brands have acquired it for the cars they sell. Below is the list of Apple car key-compatible cars.
• Audi
• BMW
• Chevrolet
• Ford
• Honda
• Hyundai
• Jaguar
• Jeep
• Kia
• Mercedes-Benz
• Nissan
• Subaru
• Toyota
• Volkswagen
• Volvo
How Much is Apple CarPlay
CarPlay is typically free for most cars. However, some car manufacturers are charging customers to unlock this system. Reports have shown that customers have been charged an amount ranging from $100 to $400, depending on the car dealer, in order to use CarPlay..
How to Set Up CarPlay
Most cars that come with CarPlay support the wired lighting connection. These vehicles that use a wired CarPlay also use the basic setup procedures. However, if you have the wireless one, then you must perform a different procedure in pairing your devices. Thus, below are the steps for both wired and wireless for the Tesla Apple CarPlay.
Set Up for Wired CarPlay
Step 1Start your car, and connect the lighting cable wire to your iPhone.
Step 2Then, connect the end of the wire to the USB port of your car.
Step 3After that, tap the Project or the CarPlay button from your infotainment screen and do the steps to proceed with the connection.
Step 4On your iPhone, tap the Yes or Allow button.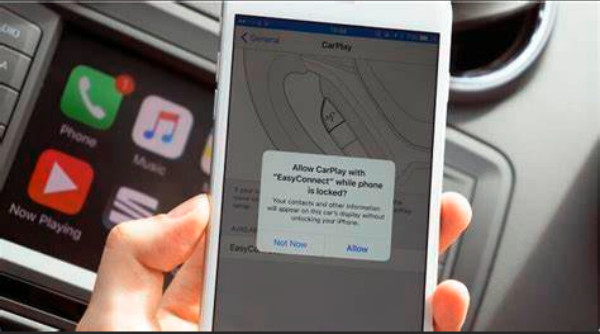 Image Source: m4vgear.com
Set Up for Wireless CarPlay
Step 1Start your car, and on the CarPlay screen, go to settings. Then, tap the Bluetooth & Devices button and the Add another device tab.
Step 2Above is how Apple CarPlay does work. Tap for your iPhone as you search for devices to pair.
Step 3After that, follow the prompt to connect the CarPlay to your phone.
Note: If you want to turn off the CarPlay on your mobile phone, you can go to your phone settings. Then, tap the CarPlay button, and search for the car that is synced with your device. Tap it, and tap the button that says forget this car, then on the succeeding screen, tap the forget button.
Tipard Video Converter Ultimate
If you want to experience excellent video-edited playback in your CarPlay, you better know about this Tipard Video Converter Ultimate. It is software that can turn a substandard video into a good quality since it has many editing tools that will help. It has tools that let you enhance and edit your video's resolution, brightness, quality, framerate, aspect ratio, color, and more. Additionally, it enables you to convert your video files to hundreds of different video types to fit your Apple CarPlay. It also lets you mix multiple music, edit them, and sync them to the video you want to play on your CarPlay. Furthermore, if you have music that is not compatible with your Apple devices, you can use this converter to make it compatible and put the music on your iPhone successfully. Then you can easily sync that music to your car with the Apple CarPlay.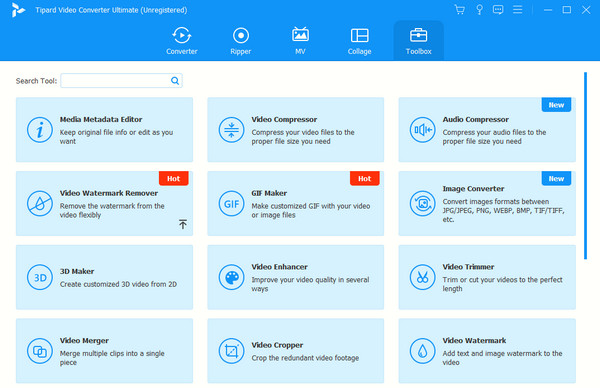 Part 2. FAQs about Apple CarPlay
Can Apple AirTag track a car with Apple CarPlay?
No. Apple's AirTag is not integrated with CarPlay as the last update.
Does Apple CarPlay work with Bluetooth?
Yes. As a matter of fact, you can use Bluetooth to connect your iPhone with CarPlay wirelessly.
Is there a monthly fee for Apple CarPlay?
It depends on your car dealer. Other car dealers add the additional payment of the CarPlay on top of their customer's monthly car payments.
Can all iPhones use CarPlay?
No. CarPlay is only compatible with iPhones with iOS 7.1 and later. Thus, if you are using an older model of iPhone, it might fail to connect to your CarPlay, especially if it comes with the latest vehicle.
What is the difference between Bluetooth and Apple CarPlay?
Bluetooth and CarPlay differ in purpose, device compatibility, and functionalities, for they are two different things.
Conclusion
There you have it. Everything you need to know about Apple CarPlay as a first-time user. May you find this article helpful in providing you the even the apps and instructions about enabling this car device. However, you must always consider the importance of the compatibility of your CarPlay on the model of iPhone you use because you may fail to pair them if you don't meet the requirement. On the other hand, if you want extra software to beautify the videos and music you want to play with CarPlay, then get the Tipard Video Converter Ultimate.