How to Get Free Apps on iPhone (iPhone 7/6)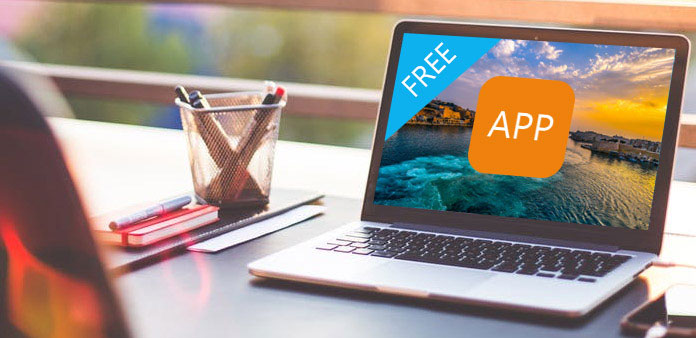 How to download free apps is always a hot question among iPhone users. And it is such an essential question for everyone. Free apps can easily be searched in App Store, but some may be confused about how to get the app downloaded and installed to iPhone. Should you jailbreak iPhone in order to download these apps? The article explains other methods to get free apps without jailbreak on iPhone. Just check out more detail from the article now.
Method 1: Download free Apps on iPhone within App Store
Download apps on App Store on iPhone is the most traditional and safe method. And it is a good way to get free apps for iPhone users. However, sometime, it should be confused for the green hand on how to handle the App Store. Thus, this part may give you a detailed introduction about downloading free apps within App Store. Besides, we also offer some utility tools for app price tracker.
1. How to download free apps on the App Store
Step 1: Find free apps on App Store
Open your iPhone's App Store, and then click Top Charts in the bottom-center if the screen. Tap Free icon that is near the top of the screen. And you will find all the free and high-quality apps are on the list.
Step 2: Get the free App on iPhone
Once you find the desired free app, you can tap GET button. It's to the right of the app's icon. Then click Install icon that will appear in the same place as GET. Doing so will prompt your app to download.
Step 2: Install the App free
You should enter your Apple ID and password. Otherwise, the app will not be downloaded. After few seconds, the free app will appear on the home screen. And also, you can tap Open in the right of the app in App Store to launch it.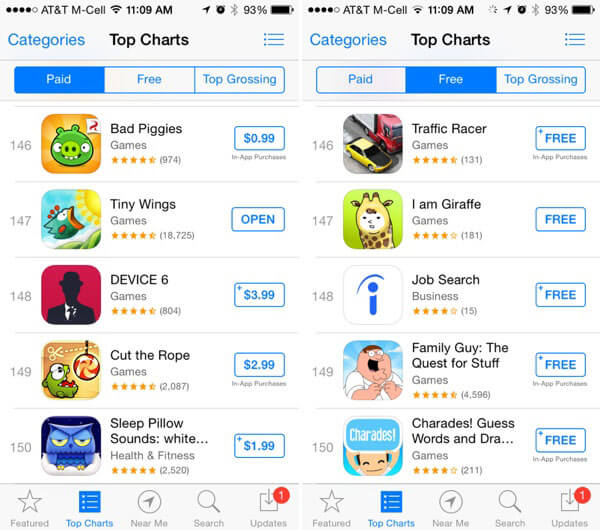 2. How to track free apps on iPhone
Apart from the brief introduction of obtaining free apps from App Store, we still have another useful tool for you, which can help you track the price of apps in App Store. Moreover, when these apps drop in price or become free, you'll receive a notification. AppShopper is the powerful application to track free apps on iPhone.
Step 1: Log in AppShopper with an account
Click Sign in icon in the top-right side of the web page. Register your account by following its prompt box. And then sign up your account by clicking Sign up button.
Step 2: Confirm the Email from AppShopper
After that, open your e-mail address, and then open the email from the AppShopper.com sender. Click the link in the e-mail body, which will take you back to AppShopper site. Then tap Sign in, and you will enter your account and password. Doing so will log you into your AppShopper profile.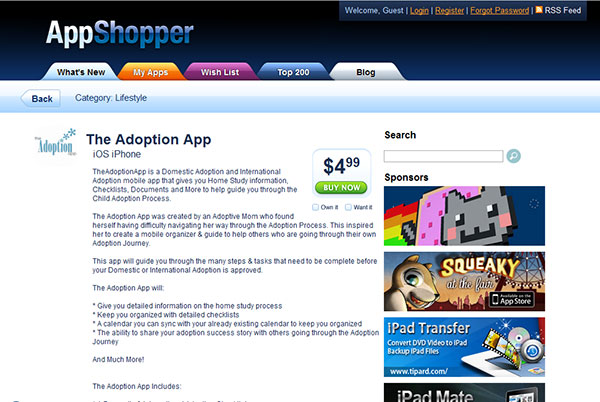 Step 3: Create Wishlist for free App
Click Wishlist near the top of the page. Scroll down to the Notifications section and click both options. Then scroll up and click the AppShopper banner. Doing so will save your settings for getting free app and return you to the main page.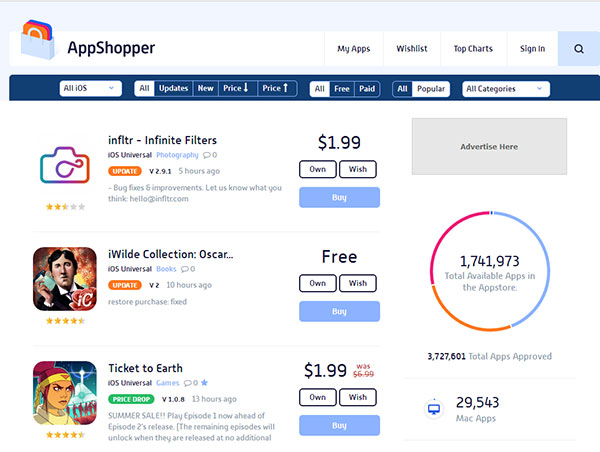 Step 4: Add Apps to Wishlist
Select the app on which you'd like to keep an eye. And then click Wish button. If the selected apps drop in price or become free, you'll receive a notification.
Method 2: Get free Apps on iPhone by Third-Party App Store
A third-party App Store gathers all the free apps so you can download them directly to your devices. And one of the applications is AppCola, which is a third-party iOS system utility designed to find and obtain free apps for iPhone. And here we come to the guide of AppCola.
How to get apps for free by AppCola
Step 1: Log in the site of AppCola on your iPhone and download it.
Step 2: After doanloading, the icon of AppCola is on the home screen. Click it to open AppCola.
And before launch this app, we need to make iPhone trust this app. Click Setting > General > Device Management. Then you will find this progress and trust it.
Step 3: Find the application you want to download. All the apps in this progress are free to get, and you can use the search function to find what you want.
Step 4: Click Install button on the right of the app. And few seconds, the free app will appear on the screen.
Another third-party App Store I want to recommend to you is vShare, which is similar to AppCola. It offers you all the free apps and you can download them freely on your iPhone. And the steps of using vShare are the same as AppCola. First of all, log in the site of vShare and download it to you iPhone.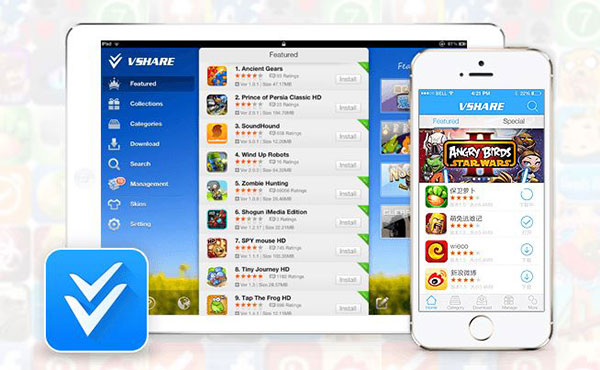 Method 3: Obtain Apps for free on iPhone within online tools
Some online tools may give you a surprise. And in this part, there is one site I want to share with you, which offers free apps with high quality for iPhone. Come and see how to use HiPStore.mobi to download free apps on iPhone.
It is the heaven of free apps. And it has two versions for iOS and Android. And I am sure you cannot wait to ask me how to download free app on it. Move on.
Step 1: Log in the site ios.hipstore.mobi. In the home page, you will find five options on the top of the site. Choose APPLICATIONS, and then choose apps you want to download.
Step 2: Click the icon of selected app.
Step 3: Click Download to download free apps on iPhone.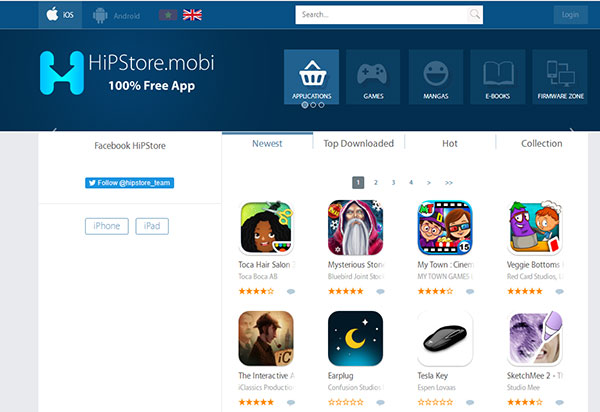 More: Transfer Apps to iPhone with Tipard iPhone Transfer Ultimate
Another way to get free apps is from other people's iPhone. That sounds amazing, right? Actually, it is a simple process that only needs iPhone transfer software to help you. With the help of it, you can transfer the app files you want from iPhone to another iPhone freely. And if you want me to recommend an excellent transfer program, no doubt, it is Tipard iPhone Transfer Ultimate. This program is a great iPhone Transfer software that meets all your requirements to transfer, manage and backup iPhone/iPad/iPod files. And with this program, you can transfer free apps between your devices.
How to transfer app from iPhone with Tipard
Step 1
Download and install Tipard iPhone Transfer Ultimate
Once you install the program on your computer. You can connect both your iPhone to computer via USB cable.
Step 2
Find App files to transfer
You can select your app files on the left. Click one type of files, and all the files under this category will be displayed on the right. Then you can click one you want.
Step 3
Start to transfer
Click Export to - Export to another device. After few seconds, you will transfer app from iPhone from another iPhone.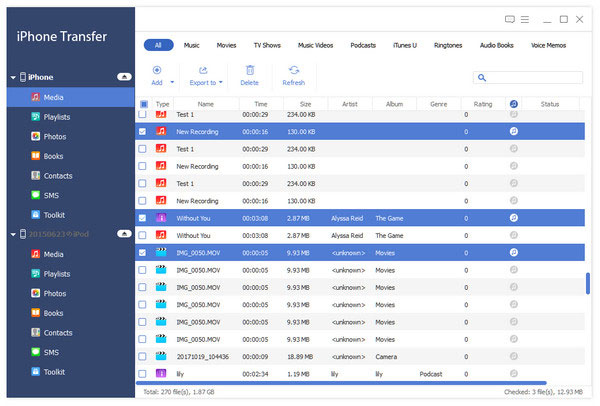 Conclusion
Three different ways are for all the iOS users to get apps for free. If you are a newbie, we have the specific guide on how to obtain apps freely on iPhone. And you can also use Tipard iPhone Transfer Ultimate or other programs to achieve the goal with ease. More questions about the problem, just share your information in the comments with us.

Click here to join the discussion and share your comments